African American Media: Evolving in the New Era
By Emily Guskin, Paul Moore and Amy Mitchell of the Project for Excellence in Journalism.
The ethnic media play an important role by providing news in both foreign languages and in English about places and issues that are often absent from the mainstream media.  This year, to provide greater depth, we are issuing reports on different groups at different times.
First, releasing the chapters on different ethnicities separately gives each individual ethnic medium a singular focus.  Also, the timing fits more naturally with the release of data sets.  This way, we can provide the reader with the most up-to-date information instead of the previous year's.
The first report, here, focuses on African American media.
The African American media in 2010 mirrored the kinds of challenges and changes that mainstream news organizations also faced.  Most African American media outlets either began or planned to upgrade their digital enterprises in an effort to reach new audiences. But beyond that, it was a mixed year for the sector.
African American newspapers, now mostly weeklies, moved in different directions, but those innovating with new sections and coverage did increase their circulation.
Most of the major magazines had flat or reduced circulations, but the advertising picture was more promising. Some major publications had double-digit gains in ad pages after a difficult 2009, but one major publisher seemed at a crossroads.
Online, the digital gap separating African Americans from other ethnic groups is closing and various publishers are looking to electronic tablets as the next frontier.
In television, two of the largest cable channels geared to black audiences now air weekly news talk shows, a shift in the last year.
In radio, the biggest African American-focused broadcaster saw its stock delisted on the Nasdaq exchange but managed to restructure and restore its stock price to a level that met the exchange's standards.
"Overall, it was a year in which people were trying to catch their breath… [trying to] move forward… try[ing] to survive and wait[ing] for the economy to rebound," said media columnist Richard Prince.1
But some also think that with the experience of years of struggle, the African American press is remarkably resilient.2 "The African American press will continue to have to reinvent itself to provide quality, relevant coverage during an era when readers want more information more quickly, and advertisers want a return on their investment more clearly defined," said Neil Foote, a senior lecturer at the University of North Texas Mayborn School of Journalism. "Since general market media has been severely hit by declining ad dollars, black media has been hit even harder." 3
Newspapers
Slightly less than a third (30%) of African Americans report getting most of their national and international news from newspapers, according to a December 2010 Pew Research Center for the People & the Press survey, a number similar to Americans overall (31%). In addition, 86% of blacks receive most of their news from television and 35% who use the internet for news. (Two responses were allowed.)4
Within that 30%, African American papers compete with other print outlets, both mainstream and niche.  There is no firm count of how many African American newspapers survive. Allied Media Corp., an ethnic marking firm, lists 250 newspapers, though some may be defunct. The largest industry group is the National Newspaper Publishers Association, also known as the Black Press of America, which counts 200 black-owned newspapers as its membership. None of the African American newspapers print daily editions any more. Most are weeklies, and at least one publishes three times a week. A few are using the web actively, particularly to reach younger readers.
In 2010, the fortunes of these papers varied. Some produced growth in circulation by launching targeted zoned editions designed to fill in what they perceived as diminished coverage from mainstream press whose newsrooms were shrinking. Other papers suffered circulation declines, at least in part in comparison to circulation spikes a year earlier associated with President Obama's inauguration and the death of Michael Jackson. And in one city, the owner of one paper bought his former rival publication and now operates both.
But some argue the numbers alone do not tell the full story.
Many who operate these newspapers see themselves as a voice for their communities. "Our circulation may not be the strongest, but people are reading us, and people care what we say," said Elinor Tatum, the publisher and editor-in-chief of the New York Amsterdam News.5
And like many of those in the ethnic press, they see a vital role, too, in covering news missing in the mainstream media. "It's news you can't really get anyplace else," said Jake Oliver, the editor of the Afro American.6
But a continuing challenge, African American publishers argue, is persuading major advertisers that African American newspapers are a place to reach black Americans. Danny Bakewell Sr., who publishes two papers in Los Angeles and is the chairman of the National Newspaper Publishers Association, was frustrated that the NBC television network, for instance, did not use African American papers to advertise two shows on the network that featured black stars, Undercovers and The Event. "The real issue is advertising…. It really is a function of getting black newspapers in front of major advertisers and trying to create a meaningful partnership with them," he said.7
Certainly some African American newspapers saw gains in 2010.
The Washington Informer, a free weekly newspaper that serves the Washington, D.C., metro region, enjoyed third-quarter circulation growth of 5.4%, to 18,695, up from 17,739 in 2009.
One reason may be that the Informer has put an emphasis on creating partnerships with other ethnic news media. It now shares coverage with a local Spanish-language newspaper, Washington Hispanic, on such issues as health care and financial literacy.
"African Americans and Hispanics need to find a way to bridge whatever communication gaps there are.  Whenever we can work with Washington Hispanic, we do," said the Informer's advertising and marketing manager, Ron Burke.8
The Informer also has a twice-a-week show on DCTV cable access, which examines many of the issues covered in its newspaper.9
Another paper that had circulation gains in 2010 is the Afro American, which also serves the Washington market and is the oldest black newspaper in the city.
The key for the Afro is that it launched a new targeted edition in nearby Prince George's County, Md., in May 2010. The Prince George's County edition carries some of the same content as the D.C. edition of the paper, but its Page One coverage is tailored to the suburban community.
Largely as a result of local expansion, the Afro American's Washington edition showed a circulation increase in 2010, up 9.4% compared with the same period in 2009.
The circulation of the Baltimore edition of the Afro American, by contrast, declined 4.4%, to an average of 6,923 for the six months ending September 30, 2010, down from 7,244 for the same period in 2009. The paper is planning to launch a suburban edition in surrounding Baltimore County in 2011 to try to duplicate the results in Washington.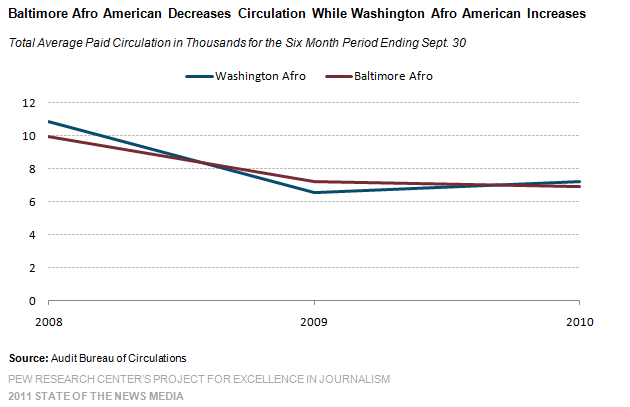 Baltimore County has grown in the last decade, which could help the Afro American's effort. According to the U.S. Census Bureau, African Americans made up about a quarter (25.3%) of Baltimore County's population in 2009, which was 5.2 percentage points higher than in 2000, a growth of almost 50,000 people.  At the same time, the median household income also grew in Baltimore County to $63,348, up 25% from $50,667 in 2000.10 "The massive migrations out of the inner city over the last 10 years have created pockets…of black communities [where they weren't before]," Oliver said.11
But even with the expansion, the Afro had a challenging year, particularly in advertising revenue. "The first quarter was devastating for us," Oliver said. "Come March everything stopped cold.  We always do O.K. during Black History Month [February], but there was nothing.  No advertising on any level." He attributed the decrease to the overall economic conditions.12
Advertising picked up in midsummer. Much of the spending came from national advertisers and local political campaigns. "I'm optimistic, but…disappointed that it's not happening at a faster pace," Oliver said.13
One area of intense focus for the Afro is its web-based offerings. It sends out a series of e-mail blasts each day, a weekly wrap-up and toward the end of 2010, a special sports e-mail feed that covers local NBA and NFL teams, games played by historically black colleges, and high school sports. The Afro also tweets live sports coverage at @AfroNewsLive.  And it is working on an iPhone app to work in conjunction with its e-mail blasts.
The newspaper's biggest online project in 2010, Oliver said, was putting the paper's archives online, which were posted released in January 2011.14
The paper worked in partnership with Google to scan a large percentage of the newspaper's past editions, dating as far back as the early 1900s.  Oliver hopes that people can use the online archive, not only for research but also to just explore.
"The gift of a Google search capability makes it easy," Oliver said.15
The newspaper continues to monitor online readers to better understand its audience.  The most popular stories on the site, according to audience data, tend to be those focused on black celebrities and sports figures. But Oliver says the newspaper's biggest obligation is still "to give them news, real news."16
One paper suffered a sharp drop in circulation in 2010. The Amsterdam News, one of the largest businesses owned and operated by blacks in New York, suffered a drop in circulation of nearly one half from 2009 to 2010.  For the six months ending September 30, 2010, the New York Amsterdam News had an average circulation of 9,750, a 44% decline from 17,477 for the same period in 2009.17
That number maybe somewhat misleading. Publisher and editor-in-chief Tatum attributed the decrease to two "extremely significant events in the African American community" in 2009, the inauguration of Barack Obama and the death of Michael Jackson, that gave circulation figures an artificial rise.18
Souvenir copies of editions, according to Tatum, helped boost sales of the paper from an average of 11,958 in 2008 to more than 17,000 in 2009. With no similar events in 2010, Tatum said that she had expected the numbers to decline. But not all of the drop may be a onetime event. The 2010 figures are still lower than in 2008.
On the other side of the country, two competing papers came under the same ownership. The Los Angeles Sentinel, Los Angeles' oldest subscription-based African-American newspaper, bought the free L.A. Watts Times in June 2010.
The Watts Times, a tabloid-sized paper, was started after the August 1965 riots, originally focusing on just that community.  In 1976, it became the L.A. Watts Times when it expanded its coverage to all of Los Angeles County.19
Publisher Danny Bakewell Sr. said he planned to keep the Sentinel and Watts Times as separate weekly publications.20
Bakewell said owning two newspapers gave him the ability to expand his audience, but he worries that the subscription model might become obsolete. "The fact that [The L.A. Watts Times is] a free paper gives us a broader capacity to deal with distribution," Bakewell said, "The question is, what is the remaining life of a paid newspaper?"21
Circulation figures for the paid paper are no longer obtainable because the newspaper stopped subscribing to the audit service.  Bakewell said the papers would be under a new auditing system soon.
To boost sales for the Los Angeles Sentinel, the Sentinel runs ads in the Watts Times, and the company distributes the free paper in more affluent areas.   Bakewell also plans to increase the newspapers' social media aspects. "We want to make sure we're communicating on all of the different platforms," Bakewell said, and he added, "We want to make sure we're blogging, at least daily, even though our paper is weekly."22
African American Wire Services and Press Organizations
One other event relating to African American media is worth noting: The black press had a new place to turn to for content by the end of 2010. Hazel Trice Edney, the former editor-in-chief of the National Newspaper Publishers Association, established the Trice Edney News Wire in November.  The wire provides news stories, reports and opinion articles to black-owned or black-oriented newspapers, radio stations and websites. The wire service provides several syndicated columnists, including the Rev. Jesse Jackson, Julianne Malveaux, president of Bennett College for Women, and Marc Morial, the president of the National Urban League.
In its first month and a half, 60 mostly media outlets had signed on for subscriptions, which cost $100 monthly, $500 for six months or $1,000 for a year. This was twice the number the agency had projected it its business plan.  The news wire also sends breaking news articles to more than 1,000 news agencies via e-mail. "Newspapers are hungry for this content," she said, "Not just because it's black, but because it's from Washington and because we have access to this administration, to this Congress and others."23
She plans to market the wire service to other news outlets besides those owned by African Americans.  While the service has potential, it is too early to determine how successful it has been so far.
Trice Edney's former employer, the National Newspaper Publishers Association, also known as the Black Press of America, bulked up its website in 2010.  Danny Bakewell Sr., the chairman of the association and publisher of the Los Angeles Sentinel and L.A. Watts Times, said the organization planned to start blogging to provide more opinion writing and would reorganize its leadership in 2011. "We see this as a very promising time for us," Bakewell said.24
Another black media group, the National Association of Black Journalists, already reorganized its leadership in 2010. That association named the former deputy director of the National Bar Association, Maurice Foster, as its executive director. Foster succeeded Karen Wynn Freeman, who resigned in 2009 after a no-confidence vote by the board of directors.25 The black journalists association, according to published reports, ended 2010 with a surplus of more than $191,000, a reverse from a deficit of $338,901 at the same time in 2009.26
Magazines
Another important sector of African American media is magazines. The universe of black magazines is increasingly diverse, but among those that contain some news coverage, five publications dominate — Ebony, Jet, Essence, Black Enterprise and Uptown.27
Only one of these five, a new lifestyle magazine called Uptown, geared at affluent readers, showed growth in readers and ad pages in 2010. The other four — including the largest black-owned magazine publisher — dropped in circulation. The advertising picture was more varied.4
Much of the attention during the year was focused on Johnson Publishing, the owner of Ebony and Jet. Both publications had drops in circulation and ad pages and both made major management changes during the year.
Both Ebony and Jet struggled in 2009 with declines in circulation and number of ad pages. Despite significant overhauls, the picture only got worse in 2010.28
At Ebony, a general interest monthly magazine, ad pages dropped by 11.2% in 2010.29 Circulation declined by 14%, for the six months ending June 30, 2010, to 1,114,849, down from 1,301,760 during the same period the previous year.30
Jet, a small-format weekly news and entertainment magazine, had even more drastic decreases. The number ad pages dropped 22.6% in 2010.31
Circulation fell 12% to 762,250 for the first six months of 2010, compared to 868,983 the same period the year before.32
To curtail these continuing losses at its signature magazines, Johnson Publishing instituted a series of significant changes in management during the year. The biggest involved the hiring of former White House social secretary Desirée Rogers as CEO and the resignation of president Anne Sempowski Ward. The company also sold its historic building in Chicago in November 2010.
There were editorial changes at both magazines, as well. At Ebony, Harriette Cole, the creative director and acting editor-in-chief, left. The former deputy editor-in-chief of Harper's Bazaar, Amy DuBois Barnett, was then hired as editor-in-chief.33 Darhil Crooks, the art director at Esquire, was hired as creative director at Ebony.34
And at Jet, editor-in-chief Mira Lowe resigned in January 2011.35
Click here for a more detailed list of some key changes.
One problem is that the magazines' readers skew older (Jet's average reader is 37 and Ebony's 41). As a result, the company is looking to expand its base through more social media and interactive tools, and introduced an iPad app in October.36
Rogers also wants to market the company's Fashion Fair cosmetics line to other women of color and to revive the Fair itself, which was canceled last year.37
At least one observer thinks the moves might work.  "[Johnson Publishing] seems to have a new spirit about them.  They're not just sitting there idly," said media columnist Richard Prince.38
Other critics, though, feel Johnson Publishing still does not have a clear direction. "It has to stake a claim to transition from solely a 'publishing company' to a multimedia company, positioned to reach audience in print, on air, online and via mobile/smart phone/tablet," said Neil Foote, a senior lecturer at the University of North Texas Mayborn School of Journalism.39
Another magazine that made changes in top management in 2010 was Essence – and with much greater success.
Ad pages in Essence increased 12%.40 Circulation in 2010 was down slightly, 2.4%, to 1.07 million, relatively steady from 1.09 million the same period the year before.41
As the year came to a close, Angela Burt-Murray, the magazine's editor-in-chief for the past five years, left. In her time at Essence, she created the magazine's first news section, hired both its first Washington correspondent and its first Africa bureau chief.42 Sheryl Tucker, who took a buyout as an editor-at-large at Time Inc. in 2008, was brought back as interim editor.43
That was not the only personnel change at Essence that made news. Earlier in the year, the magazine hired Ellianna Placas, a white woman formerly with The Oprah Magazine and US Weekly, as its new fashion director. Michaela Angela Davis, the onetime editor-in-chief of Honey, a black fashion magazine, criticized the decision on Twitter, which resonated among a number of readers.
"I understand that this issue has struck an emotional chord with our audience," Burt-Murray told the New York Post, "However, I selected [Placas], who has been contributing to the magazine on a freelance basis for the last six months, because of her creativity, vision, the positive reader response to her work and her enthusiasm and respect for the audience and our brand.'44
By year's end, Placas remained in place and the controversy was making less news.
Another magazine in the sector that enjoyed a better 2010 was Black Enterprise, a magazine geared toward African Americans in the business world. The number of ad pages sold increased 12.1%.45
Circulation was more difficult. It declined 10% in 2010 to 476,968 subscriptions for the six months ending June 2010, compared to 527,655 in 2009.46 The magazine released an iPad app in August 2010.
There are also two newer magazines that have recently become major players nationally in the African American market, and both enjoyed some gains in 2010.
JONES Magazine, which began in 2005, increased its circulation in 2010 because it expanded from a regional publication based in Houston to a nationally published magazine.  JONES focuses on fashion, food, travel and home design. As of January 2011, audited circulation data was not available.
Vibe Holdings LLC, which owns both Vibe and Uptown magazines, gained both a new investor and chairman in early 2011. In February, Magic Johnson Enterprises and Ron Burkle's Yucaipa Cos. agreed to invest in Vibe Holdings, installing former basketball star Earvin "Magic" Johnson as company chairman.47 In the deal, Robert Miller, who cofounded Vibe, became chairman of the Vibe and Uptown magazine group.48
This comes after Magic Johnson was unable to reach an agreement to purchase Johnson Publishing last year.49
Uptown magazine grew in circulation significantly in 2010, even before Johnson's investment. The magazine, a niche publication geared to affluent black readers in Washington, Chicago, Atlanta, New York City, Charlotte, Detroit and Philadelphia, enjoyed a 37% increase in circulation in 2010. Its total circulation remains far smaller than the other four African American oriented magazines examined here (209,998 versus 1,066,482 for Essence and 1,114,849 for Ebony). Still, its success in 2010 spurred the magazine to increase its publication schedule from six to eight issues per year starting in March 2011. The magazine also decided to devote additional pages to local content.50
In December 2010, the company announced that TV personality Star Jones was joining the magazine as editor-at-large.
Vibe Holdings' other magazine and namesake, Vibe, briefly ceased publication in June 2009. InterMedia Partners purchased the hip-hop magazine's assets in August and brought the magazine back in December.51
The new version now has a focus beyond music, but it published only four times in 2010 and had a smaller paid circulation guarantee at 300,000, compared to 600,000 when it closed.
"We have a smaller cost basis and a lot of emphasis on digital," Leonard Burnett Jr., co-CEO and publisher of the magazine, told AdAge.52
Ad page numbers could not be obtained for Vibe for 2010.
Digital
The digital divide between whites and other ethnic groups is narrowing. A number of different indicators show African Americans and Hispanics turning to the internet in higher percentages than in years past.
An estimated 71% of African Americans use the internet, according to a Pew Internet & American Life survey conducted in May 2010. This still trails whites (80%) and Hispanics (82%), but closes the gap more.53 Emarketer data show young African Americans' time spent on the internet has almost caught up to time watching television.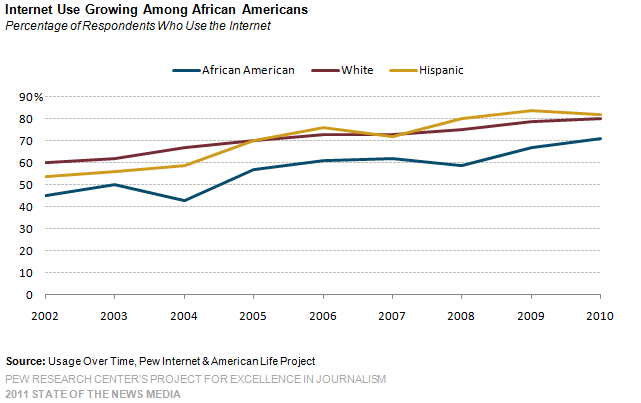 More than a third of African Americans (35%) said they get most of their news on the internet, according to December 2010 data from the Pew Research Center, making it the second-most-turned-to source, after television, for news and just 6 percentage points behind whites.54
Moreover, 42% of African Americans who were on the internet the day before said they had gathered news online, nearly on par with white respondents (43%).  This number took a leap from April 2009 when only 32% responded affirmatively.55
African Americans are more socially active online than other ethnic groups. While these data do not predict online news consumption directly, they show that African Americans are active online:
African Americans are more likely to have created their own web content – by blogging, microblogging and social networking –than whites or Hispanics. Almost a quarter (22%) of blacks created or worked on their own online journal or blog, compared to 14% for whites and 13% for Hispanics.56 African Americans also use social or professional online networking sites in greater proportions than whites.  In May 2010, some 71% of African Americans said they used online networking sites like LinkedIn or Facebook, compared with 58% of white.57
Microblogging was also more popular among African Americans than other ethnic groups.  A quarter of blacks said they used Twitter or another service to share updates about themselves, compared with 20% of Hispanics and 15% of whites.58
In a Pew Internet & American Life study focusing on Twitter usage that was released in December 2010, 13% of non-Hispanic blacks reported that they use Twitter – making them more than twice as likely to use Twitter than white internet users.59
Among the most prominent news websites geared toward African Americans, many are owned by large media corporations:
The Grio, an NBC-owned website that was launched in 2009 as a video-focused news site, hired Tom Joyner Morning Show commentator Jeff Johnson as a contributor in late 2010.60 The site received 671,000 unique visitors in November 2010.61
The Washington Post-owned TheRoot.com was founded by Harvard professor Henry Louis Gates Jr. as a site for commentary on the day's news "from a variety of black perspectives."  In November 2010 it had 545,000 unique visitors.62
Radio One's NewsOne, another news site geared toward African Americans, had 359,000 unique visitors in November.
In January 2011, Huffington Post and BET co-founder Sheila Johnson announced the  launch of a section of Huffington Post devoted to African Americans called HuffPost GlobalBlack, which is expected to debut in March.63
Television
An overwhelming 86% of African Americans turn to TV for most of their news, compared to 64% of white respondents and 66% of Hispanics, according to a December 2010 Pew Research Center for the People & the Press survey.  But black-oriented TV news programs have been rare and few have long staying power. In 2010, though, the largest cable channel geared toward an African American audience jumped back into news.
In October, BET, the most popular network geared toward African Americans with an average of 506,000 viewers, launched Weekly With Ed Gordon.64 It is in the style of a Sunday morning political talk show and is shown at 11 p.m. on Sundays. BET's last attempt at a weekly news series, the Truth With Jeff Johnson, was created to cover the 2008 presidential election and premiered in August 2008. The show was pulled off the channel after the election in November of that year.  According to senior vice president for news, Keith Brown, BET executives felt that it was important to have a weekly news presence on BET, and Weekly With Ed Gordon was created.65
"African Americans are disproportionally affected by [what our country is facing today]," Brown said. "And it is important to have a forum to discuss these issues… from an African American perspective."66
When the show began in September, it aired at noon, but BET soon moved it to Sundays at 11 p.m.  The show was already airing in repeat at 11 p.m., and, according to Brown, garnering higher ratings.67
Guests on the program have included African American political analysts, members of the U.S. House of Representatives and former Secretary of State Condoleezza Rice.
Profit for BET overall climbed in 2010 to $259.4 million, an 8.8% increase from $238.5 million the year before.68
Another black-geared cable station, TV One, also has a political talk show.  Washington Week with Roland Martin airs at 11 a.m. on Sundays, filling a more traditional time slot than the BET program. The program also attracts guests from Washington's political scene, including the chairman of the Council of Economic Advisers, Austan Goolsbee, Agriculture Secretary Tom Vilsack, and columnists, reporters and political analysts.
TV One had its second consecutive profitable year in 2010: Making a profit estimated at $22.6 million, a 135% increase from $9.6 million in 2009.69
And a new network, half owned by an African American, started in 2011 when the Oprah Winfrey Network (OWN) debuted with great fanfare. The new cable channel, which took over what had been the Discovery Health channel, is geared to women ages 25 to 54.70 Discovery will retain 50% ownership of the station, while Winfrey's production company, Harpo, will control the other half. Unlike BET or TV One, OWN is aiming for a general audience.  Still, it is one of the few television channels that is at least partly owned by an African American.71
Under the details of the split ownership, Discovery gave Winfrey the channel and $100 million in startup cash while Winfrey provided her brand name, her library and Oprah.com. Christiana Norman, formerly of MTV and VH1, was hired to run the network.72
For its first year, the station plans 600 hours of original programming and another 600 hours of acquired programming.  The station is focused on shows that aim to embody Winfrey's philosophy of "live your best life," including Master Class, a show that profiles famous people and features Winfrey in every episode, a behind-the-scenes show about her existing talk show, and a documentary series about Sarah Ferguson, the Duchess of York. Syndicated repeats include Dr. Phil's show and reruns of the Oprah Winfrey Show.73
Discovery Communications announced in early January that it expected the channel to be profitable in its first year. OWN had a particularly strong showing of viewers its first weekend, about 770,000 viewers during its first half hour and 1.2 million watching prime-time episodes of Oprah's behind-the-scenes show.  Programming that did not feature Oprah herself did not fare as well, though.74
These new programs may be coming at the right time. In 2010, African American cable subscriptions rose slightly to 61% from 59% in 2009. Subscription rates for cable fell for all other ethnic groups measured in the same time period.75
Radio
In African American radio in 2010, at least two programs went off the air and the largest black broadcaster emerged from financial problems.
Despite black radio's relative popularity, most African Americans do not use it to receive news. Only 9% of African Americans used radio to get most of their news, according to a December 2010 Pew Research Center for the People & the Press survey. Twice as many whites (18%) got most of their news from the radio and 12% of Hispanics did the same.76
The dominant radio company in black radio, Radio One, reached a refinancing agreement with its lenders in November 2010 after falling out of Nasdaq listing compliance in September. Radio One owns or operates 53 radio stations in 16 urban markets in the United States and has interests in TV One and Reach Media, which is the parent company for the Tom Joyner Morning Show, which reaches nearly eight million listeners every week on more than 100 affiliates. Reach also owns Black America Web.
Radio One was notified by Nasdaq in September that its stock had fallen below the exchange's minimum of $1 per share for 30 consecutive business days and was given 180 business days to bring it back up. By the second week of November, Radio One had succeeded in doing so.77
For the nine months ending September 30, 2010, Radio One had a $4.8 million profit, compared to a loss of $26.2 million during the same period in 2009. But the third quarter of 2010 was not nearly as profitable as the third quarter in 2009. For the three months ending September 30, 2010, Radio One had a profit of $6.9 million, compared to $14.5 million for the same period in 2009.78 Still, the company was doing much better compared to the losses it suffered in 2008.
A handful of smaller African American news radio shows failed in 2010. One program was UpFront With Tony Cox, a daily news and talk show produced by the African-American Public Radio Consortium. The show, which aired in 17 markets across the country, ended on May 14, 2010, because of lack of funding.79
One of the few black voices on Boston radio, Jimmy Myers, also lost his Sunday show in 2010 when the station that aired the program changed its format for weekend programming.
Despite his status as one of the few black radio personalities in Boston, Myers saw himself differently. "I've never considered myself a black broadcaster.  I've always been a broadcaster who happens to be black," he told the Boston Herald.80
African Americans: Making Sure We're Not Silent
From early 2009 to early 2010, PEJ did a study on the coverage of African Americans in the mainstream press.  As a group, African Americans attracted relatively little attention in the U.S. mainstream news cycle that year.  The coverage focused more on specific incidents rather than broader issues and trends affecting blacks in America.
This relatively low level of mainstream media coverage suggests to many an opportunity for growth in the market served by the black media.
"There will always be an appetite and a market for [the black press]," said media columnist Richard Prince. "People tend to see things that they don't see anywhere else.  And just as important, they're written with the point of view that people can relate to."81
"For too long, others have spoken for us," said Hazel Trice Edney, who runs the Trice Edney News Wire. "I don't see that changing anytime soon.  Even with a black administration, the president can't speak for all of us.  We need 'presidents' on each block.  Black media will continue to thrive as that voice and to fill those historical voids that still exist."82
People turn to his papers, said Danny Bakewell Sr., who publishes two papers in Los Angeles, because they give those readers perspectives on the news that no one else will give. He said, "People buy black newspapers for a very simple reason: We want to see ourselves…. In terms of getting a perspective of what's happening in the world and how we're playing into that, that becomes the epic value of the black press…. We're making sure we're not silent."83
Endnotes
Alternative Weeklies: Seeking to Stay Relevant
By Emily Guskin, Paul Moore and Amy Mitchell of the Project for Excellence in Journalism.
Alternative weeklies went through a year of signs of business improvement, some cases of personnel turmoil and modest but noticeable efforts to move toward a digital future.
The combined circulation of the top-25 U.S. weekly papers that belong to the Association of Alternative Newsweeklies, all free publications, declined only 0.59% in 2010 compared with a 9.92% decrease the year before. This compares to a 2.5% decrease for the top-circulating mainstream daily newspapers.1
One of the largest declines, 12.45% occurred at the Seattle Weekly, a paper that has been losing circulation since 2007.
The biggest winner among the largest alt weeklies was Creative Loafing (Atlanta), whose circulation sales rose 3.9% to 100,384 in 2010 from 96,654 the year before.
The largest alternative weekly in circulation, New York's Village Voice, saw circulation fall 3.6%, to 190,053 for the 12 months ending June 2010.
The Voice also went through turmoil inside the newsroom early in 2011.  Publisher Michael Cohen announced he would leave in April, to be replaced by the current publisher of SF Weekly, Josh Fromson (SF Weekly's advertising director, Gil Padia, will replace Fromson at SF Weekly.)2 And two long-time icons of muckraking exposés at the Village Voice also left amid controversy. Wayne Barrett, who had been at the Voice since 1973, was laid off, and reporter Tom Robbins quit in protest over Barrett's firing.3
Another alternative weekly witnessed newsroom controversy as well. In June 2010, Chicago Reader publisher Alison Draper and parent company CEO Marty Petty fired long-term editor Alison True.4 Draper said she and Petty fired True because of "nothing short of a leadership issue," explaining to the paper's senior editor Michael Miner that True was "highly successful leading the paper," but that she was not the best person to lead the Reader in the future.5 Miner described True's firing as a "tragic misjudgment" in a blog post the day she was fired.6 True had been at the paper for 26 years and was its editor for 16 years.7 Then in November, after four months in the editor's position, True's replacement, Kiki Yablon, unexpectedly announced her resignation. Associate publisher Geoff Dougherty took over as interim editor, but in January, also departed, citing personal reasons.8 Subsequently, in February, Mara Shalhoup, the editor of Creative Loafing (Atlanta) was hired as editor, with a start date in early March. 9
Another paper lost a long-term employee in 2010 when Paul Curci, the publisher of Philadelphia City Paper, stepped down after 27 years, 14 of those as publisher. Associate publisher Nancy Stuski replaced Curci on Dec. 31, 2010.10
In Minneapolis-St. Paul, Minn., another publisher left. In February 2011, City Pages publisher Mark Bartel stepped down from the paper after 13 years.11
There was also a change in ownership for at least one alt weekly in 2010. In April, Syracuse New Times owner Art Zimmer sold the alt weekly to William Brod, a local entrepreneur.  The 71-year-old Zimmer said the need for new and younger leadership prompted the sale.12
Digital and design
For a medium that has survived over the last several decades as a source of information about culture and personnel connection, alternative weeklies have a slightly different potential with digital media than some other forms of journalism. Information about where to eat, and where to see concerts and movies are central to the publications' revenue and readership. Accordingly, several alt weeklies launched free smartphone apps in 2010, with many focusing on helping users better navigate the social scene.  "Some media outlets are doomed if they don't read the cultural trends," author and media specialist Patricia Martin said, "But independents have a secret weapon, they just need to optimize it."13
In June, SF Weekly released an iPhone app designed to guide users to things to do in San Francisco.14 A month later, Village Voice Media's papers (City Pages, the Houston Press, the Phoenix New Times, the Village Voice and Westword) released similar iPhone apps of their own.15
In January, the Charleston City Paper and the Philadelphia Weekly released apps that guide users to happy hours and in July the Pittsburgh City Paper followed suit.16
The Jackson Free Press in Mississippi released an iPhone news app in May and the Palo Alto Weekly in California released both iPhone and Android versions in July.17
Other alt weeklies got face-lifts. During the spring, Village Voice Media announced its plans to replace the traditional covers of all 14 of its publications with glossy ones by 2012.18
Some conversions have already taken place, including at the Houston Press and SF Weekly, which switched over in 2010. 19
Other papers that undertook design changes in 2010 included Creative Loafing (Atlanta), Texas Observer and the San Francisco Bay Guardian.20
Legal issues
One other front worth mentioning involving alternative weeklies during the year was in the courtroom. The long-running alt weekly legal debacle between SF Weekly and Bay Guardian continued in 2010.  In 2008, a jury found the Weekly guilty of selling ads below cost in an effort to drive Bay Guardian out of business. The court ordered the newspaper to pay its competitor $21 million in damages. In an effort to help Bay Guardian collect its award, a Superior Court commissioner ruled in April 2010 that the plaintiff was entitled to half of SF Weekly's ad revenue. SF Weekly immediately appealed the decision, but the ruling was upheld in August in California's First District Court of Appeals.21 The following month, SF Weekly and Village Voice Media petitioned the state Supreme Court to review the decision.22
Other alternative weeklies also found themselves under legal attack.  A Virginia state delegate, Joseph D. Morrissey, sued Richmond's Style Weekly for libel because a 2008 article in the paper stated that the state delegate committed illegal acts and unethical behavior. The case was settled out of court for "a significant cash settlement," Morrissey's lawyer told the Richmond Times-Dispatch.23
Elsewhere, a federal appeals court upheld the dismissal of a defamation suit against the Cleveland Scene brought on by an Ohio doctor.24 And in Baltimore, a jury sided in favor of the plaintiff in a defamation suit against the Baltimore City Paper, ordering it to pay $350,000 in damages after the paper reported that a Florida man was a federal fugitive when he was not.25 In Washington, D.C., the owner of the Redskins football team, Dan Snyder filed a lawsuit against the City Paper in February 2011, claiming the paper libeled and defamed him in a series of articles, seeking $2 million plus unspecified punitive damages.26
Gay Newspapers
There was news involving another set of newspapers not traditionally defined as alternative weeklies — papers targeted at gay audiences. One of these papers, The Washington Blade, experienced a revival in 2010.
Even after its parent company, Windows and Unite Media, closed in November 2009 the Blade successfully rematerialized in 2010.
Staff members of the Blade continued publishing the paper under the name DC Agenda until April 2010, when they acquired the assets of the Washington Blade in bankruptcy court and brought the Blade name back.27
Other papers formally owned by Windows and Unite Media closed, including the Houston Voice, the South Florida Blade, and 411 Magazine.
At least one gay newspaper grew. Since the New England Blade closed in 2008, the free Bay Windows in Boston increased its circulation ten-fold to 20,000 in 2010, from 2,000 in 2008.28 It also absorbed a monthly newspaper aimed at gay and lesbian seniors in February 2011.29
Endnotes
Last year we examined the entire directory of newspapers belonging to the Association of Alternative Newspapers, but circulation figures were not available for all of them in 2010. Thus, we narrowed the focus to the larger American weeklies. ↩
Zaragoza, Jason. "Village Voice, SF Weekly Change Publishers."AAN. Jan. 26, 2011. ↩
Peters, Jeremy W. "Barrett and Robbins Out at Village Voice." The New York Times. Jan. 4, 2011. ↩
Miner, Michael. "Alison Draper on Alison True." Chicago Reader. June 29, 2010. Creative Loafing owns Chicago Reader. ↩
Miner, Michael. "Alison Draper on Alison True." Chicago Reader. June 29, 2010. Creative Loafing owns Chicago Reader. ↩
Miner, Michael. "Alison True Fired as Reader Editor." Chicago Reader. June 25, 2010. ↩
Miner, Michael. "Alison Draper on Alison True." Chicago Reader. June 29, 2010. ↩
Zaragoza, Jason. "Chicago Reader Editor Announces Resignation." AAN. Nov. 22, 2010. ↩
Miner, Michael. "Reader Names Mara Shalhoup Editor." Chicago Reader. Feb. 7, 2011. ↩
Zaragoza, Jason. "Philadelphia City Paper Publisher Paul Curci Announces Departure." AAN. Oct. 14, 2010. ↩
Shaffer, David. "City Pages Publisher Leaves." Star-Tribune. Feb. 16, 2011. ↩
"Longtime Owner Sells Syracuse New Times." AAN. April 9, 2010. ↩
"What is the 'Secret Weapon' of Alt-Weeklies?" AAN. June 21, 2010. ↩
"Announcing the Free SF Weekly iPhone App, The Definitive Guide to S.F. – You're Welcome." SF Weekly. June 4, 2010. ↩
"VVM Releases Five Free iPhone Apps." AAN. July 29, 2010. ↩
Curry, Joshua. "City Paper Launches Free iPhone App to Find Local Happy Hours." Charleston City Paper. Jan.14, 2010. And "Philadelphia Weekly Re-Launches Happy Hour Guide as Free iPhone App." Press Release. Jan. 12, 2010. And "Pittsburgh City Paper Launches Cocktail Compass Happy Hour iPhone App." Press Release. July 13, 2010. ↩
"'JFP Mobile' App Live in the Apple Store." Press Release. May 13, 2010. And "Palo Alto Weekly Launches Apps for iPhone, Android." Press Release. July 22, 2010. ↩
"VVMH Plans to Roll Out Glossy Covers for All its Publications." Press Release. March 5, 2010. ↩
Connelly, Richard. "Houston Press Goes All Glossy." Houston Press. Oct. 7, 2010; "SF Weekly Goes Glossy." Press Release. March 4, 2010. ↩
"A New START for Atlanta's Alt Weekly." June 10, 2010. And "The Redesign of the Texas Observer." Feb. 1, 2010. And "San Francisco Bay Guardian Redesigns Website." AAN. Feb. 12, 2010. ↩
Lee, Henry. "Appellate Court Upholds Bay Guardian Damages." SF Gate. Aug. 21, 2010. ↩
Zaragoza, Jason. "Bay Guardian's Battle with SF Weekly Shifts to Calif. Supreme Court." AAN. Nov. 4, 2010. ↩
"Morrissey, Style Weekly Settle $10 Million Libel Lawsuit." Richmond Times-Dispatch. April 13, 2010. ↩
"Appeals Court Upholds Dismissal of Suit Against Cleveland Scene." AAN. Jan. 7, 2010. ↩
Kearney, Brendan. "Defamation Costs." On the Record. Sept. 24, 2010. ↩
"Coach vs. Reporter." Washington Post. Feb. 4, 2011. ↩
Zak, Dan. "Gay Weekly D.C. Agenda Sets a Memorable Date: The Return of the Washington Blade." Washington Post. April 27, 2010. ↩
Diaz, Johnny. "Standing Proud, Still." Boston Globe. Dec. 5, 2010. ↩
Diaz, Johnny. "Bay Windows Acquires Monthly Paper." Boston Globe. Jan. 26, 2011. ↩
Ethnic & Alternative Media Glossary
Ethnic media
Ethnic media is a term that is still sometimes debated. Some will argue that for ethnic media to truly be considered "ethnic media," it must be both produced/owned by and targeted at a particular ethnic community. Others say that if an outlet is simply targeted at a particular ethnic population that is enough for it to be considered ethnic media.
Cume
Is short for "cumulative audience" and is a measure of the total number of unique listeners over a period of time.
Backgrounders
Key Changes at Johnson Publishing:
Televisa and Univision
Under the terms of the agreement, Televisa invested $1.2 billion in Univision and contributed its 50% interest in the cable TuTV channels for a 5% equity stake and debt convertible into an additional 30% equity stake of Univision in the future, with the option to acquire an additional 5% equity stake in Univision. Univision now has control of TuTV.
Univision also agreed to expand its Program License Agreement (PLA) with Televisa. In addition to an expanded list of exclusive U.S. Spanish-language broadcast rights, Univision got exclusive U.S. Spanish-language digital rights to Televisa's programming. In other words, Univision has the U.S. rights to deliver Televisa programming on the internet and use Televisia online, network and pay-television programming on its three networks (Univision, TeleFutura and Galavisión). The PLA agreement was also extended from its current expiration date of 2017 to 2020 and could be extended to 2025 if certain conditions are met.
Televisa also will receive more royalties from Univision because of these revised terms – from 9.36% of television revenue (excluding major soccer events) to 11.91% of Univision's revenues through December 2017. In 2017, royalty payments to Televisa will increase to 16.22%. Televisa will also receive an incremental 2% in royalty payments on any Univision audiovisual revenues above its 2009 revenue base of $1.6 billion.16
This could bode well for the private equity group that bought Univision in 2006 – having Televisa and its content on board should help the company break even, and might even result in a profit.17
Univision Personnel Changes
Sylvia Rosabal, VP and director of news coverage left the company after 26 years.
Daniel Coronell was named as VP of network news. Coronell was most recently in charge of Noticias Uno, a national broadcast on Colombia's Cana Uno.
Patsy Loris was promoted to senior director of news; she had previously been senior executive producer of Al Punto.
Marilyn Strauss, a 24-year veteran of Univision, was promoted to news assignment director.
Angel Matos became director of news operations, moving up from his position as manager of news operations.
Solangelee Molina-Torres became director of special projects.18
In addition to the management changes at Univision, there were shifts in the on-air talent in early 2011.  While these changes mostly came from within the company, they show that the company is willing to shake things up.
Premier Impacto moved Ilia Calderón from its anchor desk to Noticiero Univision: Edición Nocturna in March 2011. In July 2011, Pamela Silva Conde is set to take Calderón's place. Conde is the wife of Univision Networks president César Conde.19
Despierta América also made some significant changes in talent, dismissing an anchor who had been with the program since its inception. In June 2011, Neida Sandoval, the last original member of the show and an anchor since 1997, was taken off the morning news desk.
Martín Berlanga took over the weekend anchor seat in March 2011. He had previously been a correspondent at Univision and replaces Enrique Teuteló, who had been weekend anchor and part-time anchor for the 11:30 p.m. newscast for the past two years. According to Media Moves, Teuteló was let go by Univision.
Maria Antonieta Collins returned as a Univision reporter in February 2011. After 18 years as a reporter and anchor for the network, she left to join Telemundo in September 2005 as the host of Cada Día, a daily morning show that was cancelled in 2008.20
Comcast
In response to concerns that Comcast did not do enough to advance diversity, in July 2010, the company pledged to add eight independent television channels, four each controlled by African American and Hispanic interests in addition to "external advisory councils" for "diverse communities."
Comcast also pledged to increase spending by $7 million on advertising in minority-owned media and to launch 10 independent channels, including eight Hispanic owned and operated channels. The first, a channel described as "American Latino operated and programmed in English," will launch by July 2012.21
Telemundo Anchor Changes
Alan Tacher and Idaly Ferrá were dropped from the program, while Rashel Díaz remained. Díaz was joined by Daniel Sarcos, Omar Germenos, Azucena Cierco and Ramón Zayas as an in-studio news anchor and producer. Previously Cierco was at Al Rojo Vivo con María Celeste; Sarcos was the host of Venezuela's Super Sábado Sensacional and Trato Hecho (the Spanish Deal or No Deal); and Zayas was a weekend anchor for Telemundo in New York.22
Telemundo Correspondents
Enrique Acevedo in Miami came from Televisa in Mexico City where he was an anchor and reporter.
Julio Vaqueiro started as the Mexico correspondent. He had been a writer, reporter and news anchor for an independent pay TV channel in Mexico, Efecto TV.
Nayeli Chávez-Geller began as the New York correspondent. She had been a New York-based freelance reporter for CNN en Español and Univision.
Rogelio Mora-Tagle returned to Telemundo's Miami headquarters from his position as correspondent in Mexico City.23
Other Stations
Azteca América
Owned by Mexico's TV Azteca, and is the largest network geared specifically toward Mexican immigrants in the U.S.
Founded in 2001 as a West Coast regional network and by March 2010 expanded to 67 affiliates that reach 89% of the U.S. Hispanic audience.24
In January 2011, Azteca América launched an L.A. newscast produced by the Hispanic News Network and broadcast from Davenport, Iowa – but it was only produced for one month.25 That same month, Azteca began to produce a national news broadcast for the U.S., Noticiero Nacional Azteca América, from its Mexico City studios.
América TeVé
Aimed specifically at Cuban Americans, operates only three TV stations.
In April 2011 company executives announced plans to launch a 24-hour news channel by late summer or early fall.
Also in April 2011 the network launched a news, opinion and interview program called Sevcec a Fondo with host Pedro Sevcec.
LATV
A bilingual channel that had been focused on entertainment, decided to expand its programming to include news in May 2011. Noticias LATV debuted on May 16, airing weekdays at 8 p.m. ET, and Al Empezar el Día, a three-hour magazine-style morning show, airs at 11 a.m. ET.
 In June 2011, Eduardo Blancas took over as lead anchor of Noticias LATV. He had previously been an anchor for the Hispanic News Network-produced Azteca América newscast.
Latino Public Broadcasting
A nonprofit organization funded by the Corporation for Public Broadcasting that creates programming geared toward the Latino population, founded in 1998.
Programming is distributed to various PBS stations and other public television entities.
Its executive director, Patricia Boero, resigned March 8, 2011 and, on July 6, will be replaced by the former director of station relations for PBS, Sandie Viquez Pedlow.
V-me
A Spanish-language public television network in the U.S., launched in 2007.
It is a partnership of Educational Broadcasting Corp., the investment firm the Baeza Group, Spanish media conglomerate PRISA and the venture capital firm Syncom Funds.
It has 40 affiliates, all digital channels piggybacking on PBS stations.26
The station airs a variety of programming, including lifestyle content, news and current affairs programs Oppenheimer Presenta (with Andrés Oppenheimer) and Jorge Gestoso Investiga, and sports and music events. It also airs educational preschool programming like Plaza Sésamo.
Liberman Broadcasting
Most of Liberman Broadcasting's radio stations are music-based, but the company, which also has television stations, is the largest privately held Spanish-language broadcaster in the U.S. based on its revenues. Liberman Broadcasting had net revenue growth of 13% in 2010 compared with 2009.27
Spanish Broadcasting System (SBS)
Spanish Broadcasting System is the largest publicly traded Hispanic-controlled media company in the U.S., and in 2010 it went to court with Arbitron. SBS also owns Mega TV.
In March 2010, SBS headed to arbitration with Arbitron over its refusal to pay for Portable People Meter (PPM) data, which SBS claims are flawed. SBS stopped allowing Arbitron to track its stations for PPM because it was no longer under a court order to do so.28
The company also changed the format of a Spanish news/talk station into a music station in 2010 in order to gain higher ratings.
LA Public Media and LA>Forward
L.A. Public Media and LA>Forward, launched by Radio Bilingüe and the Corporation for Public Broadcasting in 2009, were both suspended in June 2011. The programs were initiated to create a public media platform in Southern California for Latinos, African Americans and Asian Americans, but Radio Bilingüe could not secure a radio broadcast outlet. Federal funding cuts to the Corporation for Public Broadcasting's digital appropriation also limited the agency from guaranteeing support to the programs.29
Hispanic Radio Update
While the number of Spanish-language radio stations  grew in the past year, it was at a mere 0.7%, or six more stations in all for a total of 812, as measured by M Street Corp. Compared with the expansive growth that occurred between 2002 and 2008, few in the industry see this slight uptick as very positive.
Frank Saxe, the editor of Inside Radio, a sister company of M Street Corp., sees two main reasons for the slowdown. First, Saxe says, Spanish-language radio took a harder hit during the recession years of 2009 and 2010 than general market stations. And now, these Spanish-language stations are having more trouble recovering.
The big Spanish-language radio companies have not been spared. Univision Radio lost revenue in 2010, as did Spanish Broadcasting System, which reported its fifth consecutive negative quarter for its radio division. The third-largest Spanish-language radio owner, Entravision, did see some gains in 2010, but those are largely attributed to the World Cup.
Endnotes