Magazines: Are Hopes for Tablets Overdone?
By Katerina-Eva Matsa, freelance journalist Jane Sasseen and Amy Mitchell of PEJ

Consider it a sign of the times: when Time Inc., the country's largest magazine publisher, went looking for a new chief executive officer last year, it turned to an expert in digital advertising. In December 2011, Time named Laura Lang, then head of digital ad firm Digitas, to run its magazine operation. Lang had no previous background in magazines.
As with everyone in magazine publishing, Lang will have her work cut out for her.  While the worst of the industry's painful slide appears to be over, the difficult transition continues as readership goes digital.
Magazine publishers' two main revenue sources remain in print –sales and advertising– and both fell again in 2011. Circulation revenues were lower, as were the number of print ad pages sold.  The weak economy and the shift to digital share the blame.  So far, most magazines are not capturing enough of the growth in digital to make up for what is disappearing from print. The industry's digital revenues, while fast growing, are just 5% of the total, lower than in newspapers. (See Newspaper Essay for more) There are exceptions, though, which may point the way for others. Four years after launching an aggressive strategy to prioritize digital, The Atlantic announced that it earned more from digital advertising than print ads in the month of October.
Readers, meanwhile, are migrating fast to digital and mobile, a move that accelerated in 2011 with the explosion of tablets and smartphone ownership. Thanks in part to the popularity of apps such as the Apple Newsstand, which make it easy to find and download magazines and other publications, that acceleration is likely to continue.
The shift is bringing new opportunities for magazine publishers, along with an array of new financial and technical challenges. (See Digital section for more)
The good news for magazine publishers is that the newest mobile devices, particularly tablets, may provide a particularly good environment for magazines. Research shows that people read more long-form content on the new devices and that they spend more time on magazine apps specifically than with those of other media. (See Mobile section for more)
The bad news for magazine publishers is that the number of platforms they must compete on is proliferating.  Keeping up with the rapidly growing array of new technologies that consumers are adopting will require large investments, even as revenues show little or no growth.  While many magazine publishers believe tablet ads will eventually prove a lucrative replacement for print ads, it is far from clear when that will occur.  In the meantime, publishers are increasingly leveraging the power of their well-known brands into other arenas – events, e-commerce and even entertainment – in the effort to find the new revenues needed to ensure a strong future.
Industry Over All
The magazine industry started 2011 on a positive note, as advertising appeared to rebound in the first quarter. But the turnaround was not sustained. For the fifth year running, advertisers cut back on the number of print ads purchased and consumers bought fewer magazines in 2011.
Total circulation for the final six months of 2011 dropped 1%, a marginal improvement over the 1.5% decline in the same period the previous year.
While there is some evidence emerging that the growing popularity of tablets and smartphones will be a boon to the magazine industry, for now most still rely heavily on print. And the environment for magazine publishers there remains difficult.
Print subscriptions – one of the two major components of magazine circulation, along with newsstand sales — were essentially flat compared to 2010. They rose just 0.04% during the second half of 2011 at the 413 U.S. consumer magazines measured by the Audit Bureau of Circulations for which prior year's data were available.
Subscription numbers provide only limited insight, however, since publishers can manage them by discounting pricing. Newsstand sales are seen as a more accurate barometer of the industry's vitality.
On that front, the struggle was clearer. Single copy sales declined 9% in the second half of 2011 – the fourth year in a row that they have dropped sharply. (See data section for more)
The top 25 magazines did not do much better than the industry overall; two-thirds suffered circulation declines.
 The advertising picture, judging by the most reliable measure – the number of ad pages sold – fared even more poorly than circulation. After notching a slight uptick early on, total ad pages for the 213 U.S. magazines tracked by the Publishers Information Bureau fell 3.1%, to 164,225 for the full year.1
Ad pages fell in 9 of the 12 categories that Publishers Information Bureau tracks.2 (See data section for more)
One big culprit was the sluggish U.S. economic recovery. With consumers still reluctant to spend, advertisers pulled back. They also shifted more marketing resources to digital and elsewhere.3 In the hard-hit food and food products category, for example, Kraft cut spending on print ads by 39% even as it raised marketing spending overall.4
Another loser was automotive ads. Following big gains in 2010, automobile ad pages declined 5.7% in 2011.  The reason went beyond the slowing economy: Toyota and Honda cut back after the March earthquake and tsunami in Japan disrupted production, which allowed rivals to reduce their media budgets as well.  General Motors alone cut its magazine ad budget nearly 44% for the first nine months of the year.
Even in a downturn, some categories did well. Financial, insurance & real estate ad pages grew 12.7%, the strongest gain for the year. Toiletries and cosmetics ads rose 3.5%.
While the number of ad pages sold fell, there is evidence that revenues from digital operations finally began to make a meaningful impact at many consumer magazines. Though digital accounts for just 5% of revenues today, it jumped an estimated 15.7%, according to the market research firm Veronis Suhler Stevenson.
That helped end the industry's three-year revenue slide in 2011. Total revenues at consumer magazines, including advertising, circulation and digital spending, grew an estimated 1.2%, to $20.9 billion for 2011, according to Veronis Suhler and Stevenson.
Over the next several years, Veronis Suhler and Stevenson projects further improvement, as print advertising recovers modestly and digital spending accelerates. By 2015, it estimates total magazine revenues will rise to $23.7 billion.
Elsewhere, too, the industry saw some much-needed stabilization. After four years of shedding large numbers of jobs, employment at U.S. magazines fell only 1.7% in 2011, according to Advertising Age's analysis of recent Bureau of Labor Statistics data.5
Publishing companies also continued to invest. Some 239 new magazines were launched in 2011, according to MediaFinder, up from the 193 that debuted in 2010. And only 152 magazines folded during the year, a sharp improvement over the 176 that shut in 2010 and the 596 that died the year before.6
Among the more prominent new magazines: Hearst Corp., the publisher of such magazines as Cosmopolitan and Esquire, launched HGTV Magazine, a home-improvement and real estate publication, in partnership with cable channel HGTV.7 And in October 2011, Condé Nast launched a print edition of its Style.com fashion website.
The top categories for new magazines launches in 2011 were food, which boasted 25 new publications, and regional interest, with 20 new entrants.8 And despite the overall drop in advertising by food companies, magazines in this category witnessed the largest increase both in circulation numbers and ad pages.  The Food Network magazine alone reached record circulation of roughly 1.5 million copies a month, less than three years after its launch.9 It increased its circulation by 11% in 2011 and its ad pages by 11.5%.10
Acquisitions rose as well. Hearst paid French publisher Lagardère a reported $866 million for a portfolio of nearly 100 publications in 14 countries, including Elle and Car and Driver.11 It now puts out more than 300 editions around the world, including 20 in the U.S.12
Meredith acquired FamilyFun from Disney Publishing Worldwide in January 2012. The acquisition includes the highly popular magazine and related assets, including digital magazine apps.13 It also bought Everyday With Rachel Ray and the top food website Allrecipes.com from The Reader's Digest Association.14
Still, the difficult economic climate, flagging print ad volume and the costs of investing in new technology took their toll on the four largest American magazines companies – Time Inc., Meredith, Hearst and Condé Nast. The two that are publicly held, Time and Meredith, saw no virtually no growth in revenues and, as in past years, relied largely on managing costs to keep profits up.
Revenues at Time Inc., the magazine division of Time Warner, came in at $3.7 billion, unchanged from 2010.15 Advertising revenues fell 1% and subscription revenues dropped 2%, although the declines were partially offset by an increase in custom publishing revenues. Thanks to a reduction in restructuring costs, however, Time Inc.'s adjusted operating income rose 10% to $580 million.16
The magazine publishing unit of Meredith, which owns women's magazines such as Better Homes and Gardens, had a tougher time. Total revenues dropped 2% for the fiscal year that ended June 30, 2011; while advertising declined 5% and circulation slid 7%, an increase in sales of Better Homes and Gardens branded goods and strong digital marketing revenues helped mitigate the decline. Here too, tight controls on costs, primarily on processing, paper, and distribution, allowed operating profits to grow 6%, to $180 million.17
Things got worse, however, in the in the first half of fiscal 2012, which ended in December. As revenues continued to fall, operating profits declined 12%.18
As a private company, Hearst does not release detailed financial information. But in a year-end letter to employees, David Carey, the president of Hearst Magazines said that 40% of its revenues now stem from U.S. print and digital, while international produces another 40%. The remainder comes from services.19
With pressure on print advertising, magazines' biggest source of revenue, expected to continue, publishers are intensifying efforts to create alternate revenue streams. Much investment is going into developing digital and mobile versions of their publications. But publishers also are trying to leverage their brands into other areas such as e-commerce, events, marketing, consulting – and even entertainment.
"The traditional model is coming undone, but we've got fans of our brand that we can serve in different ways," said Scott Havens , senior vice president of finance and digital operations for The Atlantic Media Co. "If you have established a level of trust with your readers, you should be able to move them to other things; readers want exclusive access to other goods or services tied to the brand."20
In August 2011, Condé Nast signed a deal with Fremantle Media Enterprises, the marketing arm of the production company behind reality TV hit American Idol. According to Advertising Age, Fremantle will work with three Condé Nast brands — Self, Golf Digest, and Epicurious — to develop linked consumer products and video instruction. The deal could also include TV.21
Two months later, the publisher also created a new division, Condé Nast Entertainment, and hired Dawn Ostroff, the former president of The CW cable network, to run it.  The longtime cable executive is expected to develop television, online and video programming culled from its publications and the people who write and edit them.22
Meredith also enhanced its e-commerce abilities. It launched a deal site within the website of Parents Magazine that offers users discounts on toys, kids clothes and other family products.23 It also expanded a partnership with Wal-Mart to sell furniture and housewares under the Better Homes and Gardens brand.24
Rival Hearst, meanwhile, expanded in digital marketing services. It bought digital ad agency iCrossing in 2010 and beefed up units that develop blogs, video, and other content for brands.25 In December, iCrossing itself acquired Red Aril, a data management company that helps advertisers and publishers improve their audience targeting.26 Hearst president David Carey says that roughly 20% of Hearst's revenues now come from these digital marketing and fulfillment services—a business that has grown significantly the past two years.27
Digital
Those efforts will help diversify revenues. But publishers are putting most of their efforts into the digital space.
Readers have already begun a sharp migration. At Time Inc., 15% of readers now access content in digital form only, while 30% read both online and in print, according to the December 2011 American Magazine Study by Affinity Research. Other publishers show similar trends.28
The problem for publishers is that they take in little money from digital subscriptions. PricewaterhouseCoopers estimates that consumer magazines in North America collectively brought in just $4 million from digital circulation in 2011. Print circulation revenues, on the other hand, were $9.2 billion.
As publishers begin to charge for content online, those revenues could grow rapidly. By 2015, PricewaterhouseCoopers estimates that revenues from digital circulation will increase to $611 million. That will do little more than offset the projected decline in print circulation revenues of $445 million.29
As consumers continue to migrate online and adopt tablets and smartphones, digital advertising revenues are expected to rise as well. PricewaterhouseCoopers tracks only digital circulation. Veronis Suhler Stevenson tracks a broader measure for total digital and mobile revenues, including circulation, advertising and spending on mobile apps. It estimates those revenues will grow from $1.05 billion today to $2.3 billion in 2015. Digital revenue, as a share of total magazine revenues, is estimated to nearly double, to 9.9%.30
Mobile
If the revenue shift is slow, however, there is no mistaking the direction: the rapid growth of tablets, e-readers and smartphones is fundamentally altering the landscape for magazine publishers.
Tablet ownership grew nearly 50% in the second half of the year, to 18%, according to a PEJ study released as part of this report, while 44% of U.S. adults now own a smartphone. (See the special report for more)
Mobile has created significant new opportunities for magazine publishers – and new financial and technical challenges. Many magazine publishers believe tablet advertising will be key to rebuilding the ad revenues that have migrated away from print. Not only do tablet ads more closely mimic the high-quality visual experience of a magazine than do website ads. They also give advertisers the ability to add interactive features, potentially increasing rates.  But keeping up with the rapidly growing array of new technologies and platforms that consumers are adopting requires significant investment at a time when budgets are stretched tight.
The explosion of mobile may be particularly good for magazines: According to PEJ's study "Tablet Revolution" released in October 2011, some 22% of tablet users report reading magazines of some kind on their tablet at least weekly. That is more than twice the percentage of the general population that regularly turn to a news magazine in print or online (8%) and seven times the percentage of the general population who said that of specialty magazines like The Atlantic.
A November 2011 study by the Association of Magazine Media also found high levels of engagement with tablet publications. Some 59% of survey respondents said they had increased the amount of time spent reading magazines online since buying a tablet; 66% said they planned to consume more digital magazines and 63% want even more magazine content in digital form.31
That potential is one reason why Facebook co-founder Chris Hughes purchased the New Republic in early March. In an interview with NPR, Hughes said he believed readers would increasingly turn to digital media for long-form journalism, because tablets allow them to "pause, linger, read and process very important ideas."32
The top priority for many magazine executives in 2011 was building tablet apps – a desire fueled by Apple's decision last spring to allow publishers to sell magazine subscriptions in iPads, rather than just single copies. In August 2011, for example, Time Inc. announced that it would put out tablet versions of all 21 of its magazines by year end, which it successfully accomplished. At the time, only its four biggest publications – People, Time, Fortune and Sports Illustrated – had apps. Hearst Magazines and Condé Nast made similar announcements.
Some 83% of magazine publishers responding to a survey conducted by the Audit Bureau of Circulations said they currently produce mobile content for smartphones, e-readers or tablet computers, roughly double the number two years ago. Magazines have been faster than newspapers or business publications to develop apps.33
The availability of magazines on mobile devices was also greatly enhanced in 2011.  When the iPad 2 was released in the spring of 2011, there were only two ways to access new issues and apps: iTunes and Zinio.  But following the introduction of Apple's Newsstand in October 2011, and the later launch of the Kindle Fire and the Barnes & Nobles Nook with hundreds of titleseach, digital subscriptions and single issues are now far more readily available. In addition, social magazines like Flipboard, Zite, Pulse, Livestand and Google's Currents offer tablet owners one-stop-shopping channels to sample magazine content.
Apple's Newsstand has been the most successful of those apps. Although the number of publications on it is still somewhat limited, for many publishers who have chosen to go on Newsstand it has been little short of a game-changer. By making it easy to find publications' apps and store them all in one digital bookshelf, the Newsstand created a huge spike in magazine downloads:  Condé Nast reported a 268% jump in digital subscriptions in the two weeks after Newsstand was launched. Bonnier, the publisher of Popular Science+ announced that it sold 3,900 subscriptions and 3,200 single copies in six days on the Newsstand. Before that, digital subscriptions had averaged about 75 a day.34
The Newsstand's success has made Apple an almost unavoidable force in the publishing ecosystem. For publishers, there are several downsides with that as well. For one, Apple takes a 30% cut of all digital subscription sales.  And it refuses to actively share customer data with publishers on the readers who come to their magazine apps through Newsstand. The lack of that data, which is increasingly critical for digital advertising, appears to be the key reason Time Inc. has refused to sell its magazines through the Newsstand. Instead, readers who want its digital apps sign up directly with Time Inc. itself.
So far, that refusal does not appear to have hurt Time's ability to attract readers to its apps. In August, it announced that its digital magazines and other content apps had been downloaded more than 11 million times. It also sold more than 600,000 digital single copies of People, Time, Sports Illustrated and Fortune. 35
Other publishers have also begun to benefit from the shift to mobile. Condé Nast reported that its apps drew 500,000 subscribers by September.36 And Hearst Magazines president David Carey told the Reuters Media Summit in November 2011 that it would have nearly 400,000 subscribers on various mobile apps by the end of 2011; with subscriptions increasing 10% to 15% every month, he expects to hit one million such subscribers this year.37
The survey by the Association of Magazine Media also highlights a new revenue opportunity –one that publishers have been quick to exploit. Some 55% of adults surveyed told the magazine association they like to read digital "back issues" of magazines on their tablets and e-readers. Publications ranging from The New Yorker and Popular Science to Martha Stewart Living have begun packaging special issues and selling back copies on mobile devices.38 For publications with popular evergreen content, such sales can make up anywhere from 25% to 40% of single-issue sales on the iPad.39 Hearst's president David Carey noted in an interview with Mr. Magazine that "about 30 percent of our single copy sales are for issues that are no longer available for sale on ink and paper."40
News Magazines
With all that as a backdrop for magazine generally, what is the role of the newsweekly in an era of 24/7 digital news and the rapid expansion of mobile devices? When consumers can get breaking news and even sophisticated analysis almost instantly, the willingness to wait until week's end for the newsweeklies' take on news and culture has, for many, virtually disappeared.  The rise of highly-specialized outlets such as Politico in the political arena, or TMZ in entertainment, has further eaten away the appeal of the traditional general interest news magazines that aimed, by definition, at a mass audience.
We have documented the shakeout of this sector over several years in this report. Yet these questions continue to change, presenting a challenge to the survivors in this space, including the winner in the general interest arena, Time, the revamped and sold Newsweek, and to a lesser extent smaller niche magazines such as The Economist, The Atlantic, The Week and The New Yorker.
The problems are currently most acute at Newsweek, which is still struggling to redefine itself and become financially viable under editor-in-chief Tina Brown nearly a year and a half after it was sold by The Washington Post and merged Brown's web publication, The Daily Beast.  Time has had greater success so far at retaining a voice that connects with large numbers of readers, while the smaller players have each found niches that appeal to a more targeted segment of the audience:  The Economist, The Atlantic, and The New Yorker deliver smart, deeply analytic coverage, while The Week gives busy readers who still want a fast, aggregated digest of the week's news coverage. But all will have to remain vigilant to ensure that their formulas remain relevant for readers.
Yet there was good news for news magazines in 2011: the worst of the multi year decline appeared to be over for the majority of the news magazines this report analyzes: Time, Newsweek, The Economist, The Week, The Atlantic and The New Yorker.  Circulation improved for most, as only Newsweek and The Atlantic lost readers. And while ad pages were down again, the drop was less extreme in 2011 than in the previous years. (See data section for more)
Both Time and Newsweek sold more issues at the newsstand in 2011 than in 2010. Thanks probably in part to the high interest in the upheaval in North Africa and the Middle East, and the deaths of Osama bin Laden and Steve Jobs, Time's newsstand sales increased 6%. The October 17, 2011 issue with Jobs on the cover sold 165,000 copies, a 137% increase over the previous 12-issue average.41
As Brown began to put her stamp on Newsweek, it too benefited from a rebound. Newsweek's single copy sales rose 2% in 2011, a big improvement over the 32.7% decline it suffered in 2010.
Still, such single-issue sales remain well below the levels achieved by both publications before the 2008 recession.
By contrast, the smaller news magazines suffered declines in single issue sales in 2011. The Atlantic saw an 8% drop at the newsstand, followed by The Economist with a 13% fall. The New Yorker and The Week did a bit better, with declines of 2% and 1% respectively.
The picture was reversed, however, when it came to subscriptions. The smaller publications did better than the traditional market leaders in selling base subscriptions, a number that helps set the rate they can charge advertisers. The Economist enjoyed the highest annual gain, at 3%.
The advertising climate for news magazines also continued to deteriorate. For the year, all the news magazines studied in this report suffered significant downturns in ad pages. As a group, they lost 5.6% compared to the year before, according to the Publishers Information Bureau. Newsweek, as it transitioned to new leadership and new editorial priorities, was hardest hit, with a 16.8% decline. The Week was next, with a 12.9% fall.
Newsweek
For the revamped Newsweek—together with its sister online site, The Daily Beast — 2011 was a difficult year. Since the two were merged, the magazine has been redesigned, the web sites have been joined, prominent journalists have been hired (in some cases rehired), and a new editorial sensibility has taken hold. Under Brown, who had previously edited The New Yorker and Vanity Fair before launching The Daily Beast, Newsweek has featured a host of splashier covers such as Republican presidential contender Michele Bachmann ("The Queen of Rage"), a digitally enhanced Princess Diana (how she might have looked at age 50), and Mitt Romney (as a dancing Mormon from the Broadway musical "The Book of Mormon"). While those efforts have brought attention, the numbers suggest they have not yet turned around the beleaguered publication.
The year 2011 marked the fifth consecutive one of declining circulation. And even though average subscription prices were cut almost a dollar versus a year ago, Newsweek lost almost 100,000 subscribers, a 3.5% drop.42
While the provocative covers have helped at the newsstand, such sales make up only 3% of Newsweek's total circulation.
The Daily Beast-Newsweek combination also appears to be navigated deep water financially. Ad pages plummeted 16.8% more from already reduced levels of 2010, although the slide was nearly halted by the fourth quarter. According to AdWeek, the combined publications – now referred to as "NewsBeast" – lost an estimated $30 million in 2010. Barry Diller, the chief executive of the online company IAC, who backed The Daily Beast and championed the merger with Newsweek, told Wall Street analysts in June that he expected the merged pair to hit the black by early 2013, something that AdWeek estimates "will be a daunting task.43
Efforts on the digital side are also a work in progress. Newsweek's website was integrated into The Daily Beast's site in August 2011. Brown hired blogger Andrew Sullivan from The Atlantic, where he had a following of over million unique monthly visitors. Merging the two was supposed to boost traffic; instead it has fallen significantly. When the deal closed, The Daily Beast's audience was 2.2 million, while Newsweek drew 3.1 million unique monthly visitors, according to Compete.com.   Combined traffic for the two sites for the five months following the August merger averaged 2.5 million; in January 2012, that inched up to 2.9 million.
One big factor: Newsweek got more than 50% of its pre-merger traffic from a content deal in which it paid MSNBC and MSN to run its stories, giving Newsweek exposure to a much larger audience. When that deal, which reportedly cost $1 million a year, ended around the time of the merger, much of Newsweek's online readership vanished.44
The Daily Best Newsweek combination under Brown has had difficulties with personnel. In November 2011, the publisher, the managing editor and the executive editor all left. By February 2012, Jane Spencer, who had taken over as executive editor of The Daily Beast in the first reshuffling, went on a sabbatical. Brown brought back Deidre Depke, a former editor of Newsweek.com, to replace her. That level of change makes building a consistent editorial product that readers can recognize more challenging.
Time
Time may be the winner among major newsweeklies, but it can hardly coast.  While Time saw a 1% increase in subscriptions, total circulation was flat for 2011.  Ad pages fell by 2.5%. That was an improvement over the 2.9% drop in 2010, however.  
To maintain its overall audience, Time is investing heavily in digital initiatives. But, unlike some others, it has not added digital-only subscriptions. Beginning in July 2011, it offered "all-access" subscriptions that allow mobile readers full access to the magazine and all of its digital content, including online extras available only to subscribers.  It has also added popular content in niche areas such as ideas and entertainment.
By at least some measures, those efforts have allowed Time to replicate the same strong position online in relation to its news magazine rivals that it holds in print. Time logs the most monthly unique visitors among the six, according to data provided by Compete.com.
Time also is adding to its editorial staff, for the first time since 2008. It increased staff by 13% in 2011, according to published staff boxes, to a total of 143 members of staff, including six additional people for online.
The Economist
After several years of stellar growth in the U.S., The Economist hit a bump in 2011 as ad pages fell 2.9%.
The Economist Group, which owns The Economist and several other publications, does not disclose results for the magazine alone. For the group as a whole, however, revenue for the first half of the fiscal year that ended Sept. 30th rose 4%, to $255 million, with profits up 6% to $40.7 million.45 (In fiscal 2011, almost half of the company's revenue came from North America.)
Those results were helped by The Economist's high-end pricing strategy. Unlike its American rivals, which have typically charged readers little in order to build a larger subscriber base, The Economist has positioned itself to attract a smaller, more elite audience at a premium price. An annual subscription to The Economist goes for $126.99, compared to $30 for Time or $39 for Newsweek.
Nor, as noted above, has that strategy deterred subscribers. Its elite image continued to draw new readers. Bolstered by a 3% hike in subscriptions, overall circulation rose 2% in 2011.
The Economist has also begun transitioning readers to its digital platforms. It now has 100,000 digital–only subscribers, and more than 300,000 of its 800,000 print subscribers also read stories on the web.46 The web site also plays a key role in drawing new subscribers who had not previously read the magazine. "The average weekly volume of digital customers who took out their subscription through The Economist online rose by 50 percent on the previous year," said Nigel Ludlow, managing director of The Economist Online in UK, in an interview with Folio Magazine.47
The Atlantic
The Atlantic, a monthly magazine that has built a thriving web presence in recent years, saw print ads pages decline in 2011. After soaring 24% in 2010, they fell 3.9% during 2011. But digital has more than cushioned the fall. For the month of October 2011, The Atlantic's digital ad revenues exceeded print ad revenues, 51% to 49%, for the first time ever.  For the full year, digital was expected to make up 45% of total ad revenues.48 Jay Lauf, The Atlantic's publisher, told The New York Times that the publication expected to tally $18.6 million from print and digital advertising for 2011.49
Those numbers are the fruit of a four-year effort by Justin Smith, who became president of Atlantic Consumer Media in 2007, to focus on digital initiatives. In addition to beefing up the core Atlantic web site and staffing it with prominent bloggers, the company launched a news aggregator, The Atlantic Wire, and an offshoot devoted to urban issues, Atlantic Cities. In January, it hired Kevin Delaney, the managing editor of the WSJ.com to launch a global business site. Other offshoots, including sports and science, are under consideration.
"We decided to prioritize digital over everything else. We were no longer going to be 'The Atlantic, which happens to do digital.'" Smith told Mashable in an interview in December 2011. "We were going to be a digital media company that also published The Atlantic magazine."50
The Atlantic has also successfully leveraged its well-known brand name into a strong events business. Starting with the first year of the Obama administration it has hosted a policy conference every October in Washington D.C. It has also partnered with the Aspen Ideas Festival, an annual event that draws an A-list crowd from business, the government and the arts to the mountain resort town every June. Events now provide 14% of revenues, up from 6% in 2007, according to Ad Week.51
All this places The Atlantic as one of the winners, to this point, in the digital revolution, and a test case for others to emulate.
The New Yorker
The Condé Nast weekly turned in a year that was essentially flat. Print circulation rose marginally, but ad pages dropped 1.8% compared to 2010.
As with much of the rest of the Condé Nast stable, The New Yorker intensified its digital plans in 2011. In May 2011, it became the first Condé Nast magazine to move onto the iPad. By February 2012, it counted 200,000 iPad subscribers.52
Still, print remains deeply rooted in The New Yorker's identity and mentality. While editor David Remnick recently told the audience at an AllThingsD technology and media conference that he was pushing his writers to create additional content for the magazine's web site and app, he clearly believes print magazines have a future. "The New Yorker — you roll it up, you put it in your bag. It's quite easy," he said. "It's pretty good technology."53
The New Yorker's online presence reflects that mentality. Much of the magazine's content remains behind a pay wall. And there are fewer interactive elements on its tablet app than on those of other magazines. Instead, Remnick and his team concentrated on coming up with a clean, sophisticated design that was easy to read.  In July, deputy editor Pamela Maffei McCarthy told The New York Times: "That was really important to us: to create an app all about reading."54
The Week
At the opposite end of the scale from the long-form journalism at The New Yorker, The Week has embraced a more functional form of magazine journalism. It offers readers a quick, easily digestible summary of the week's news and debates, aggregated from hundreds of news sites worldwide. It promises to keep busy people abreast of the most significant things that happen each week in the worlds of politics, business, science and the arts.
Much like The Economist, The Week has carved out an enviably strong U.S. niche. Readership remains strong: Its total circulation grew roughly 2% in 2011, to 528,000. That is three times higher than 2003.
And in 2010, it earned a profit in the U.S. of $4 million, its first ever. According to The New York Times, it was on track to make $6.3 million in 2011.55
The magazine, however, suffered a sharp drop of 12.9% in ad pages in 2011. The decline raises questions as to whether The Week has reached a plateau. The rise of digital technologies, especially those of online news aggregators, could potentially threaten the magazine's relevance. It should be noted, though, that The Week's ad pages in 2011 are not lower than what they were in 2009. Even with a 12.9% loss in 2011, its ad pages are 1.7% above those in 2009.
In January 2012, Michael Wolfe left Men's Journal and took on the publisher's position, replacing Jessica Sibley. She had been at the magazine for 18 months, following a stint as publisher of BusinessWeek.
Continue reading Magazines: By the Numbers
Endnotes
Magazines: By the Numbers
By Katerina-Eva Matsa, freelance journalist Jane Sasseen and Amy Mitchell of PEJ

"By the Numbers" houses a comprehensive set of charts and tables telling the story of each media sector. For a narrative summary, visit the corresponding essay.

Audience
Consumers continued to cut back on print magazines in 2011, although the decline eased slightly from previous years.  Overall print magazine circulation was down 1% in the last audited period (final six months of 2011), according to PEJ's analysis of data from the Audit Bureau of Circulations.
On the other hand, there are some data emerging that the demand for magazines on tablets and smartphones may provide a boon to the industry.
For now, however, the bulk of the magazine industry is still print, and here the numbers were more than challenging. Paid subscriptions, which are controllable and make up roughly 92% of magazines sold, were flat in 2011.
Newsstand sales were down far more. Single copies, falling for the fourth consecutive year, dropped almost 9% compared to the same period last year.
The top 25 magazines did not fare much better than the industry overall. Nearly two-thirds saw circulation declines in the second half of 2011. The 12th ranked Ladies' Home Journal declined most. It fell 15.8%, a loss of more than 600,000 copies, in the second half of 2011.
The magazine on this list with the greatest gain in 2011 was the same as in 2010: Game Informer Magazine, which features articles about video games and associated consoles.  Its circulation rose more than 48% to 7.5 million copies.  Overall, though, the 25 magazines with the largest circulation were nearly the same as in 2010.
Economics
The economic picture, which had brightened somewhat in 2010, grew gloomier again in 2011. Ad pages, for the 213 magazines tracked by the Publishers Information Bureau, fell 3.1% from 169,552 in 2010 to 164,225 in 2011, according to data by the Publishers Information Bureau.  Of these 213 magazines, 136 reported declines in the number of ad pages sold. Bassmaster, a magazine devoted to bass fishing issues, had the sharpest decrease in ad pages (45%). Older readers were clearly a popular target for advertisers. Among the biggest ad-page gainers in 2011 were AARP The Magazine (29.5%) and Reader's Digest Large Edition (60.7%).
Ad pages fell in most major ad categories. The steepest decline, 17%, came in food & food products makers. Automotive ads, one of the largest single categories, fell 5.7%, after having risen 16.9% in 2010.
Three categories saw gains in 2011. The financial, insurance and real estate sector posted the strongest increase, at 12.7%. The toiletries and cosmetics category had smaller gains, as did the apparel and accessories sector.
According to Kantar Media, the top ten magazine advertisers spent $2.7 billion between January and September 2011, a decrease of 2.8%. These ten accounted for 17.1% of total magazine ad spending.
Magazine company revenue data are reported a year behind. The most recent data available, 2010, reveal improved performance at the Hearst (publisher of Harper's Bazaar and Cosmopolitan) and Advance (corporate owner of The New Yorker and Vanity Fair) publishing companies.
After four years of declines, three out of the four biggest publishing companies in particular showed signs of recovery in 2010, though revenues have not recuperated to the levels prior to 2008. In 2010, however, only Meredith, owner of Better Homes and Gardens, has experienced continued revenue losses, of 5.7%.
Ownership
In the consumer magazines sector, 32 acquisitions were announced, according to the Jordan, Edmiston Group. That compares to 26 in 2010. The total value of these acquisitions was $3.2 billion, compared with $214 million the prior year.
News Magazines
Audience
The impact of the shakeout that took place in 2010 among the newsweeklies continued to be felt. U.S. News no longer publishes a print edition. Time and Newsweek survive in the traditional news magazine category, although Time has emerged as the clear winner. Among specialty magazines, The Economist, The Week and The New Yorker all saw modest gain in circulation, while The Atlantic suffered a circulation decrease.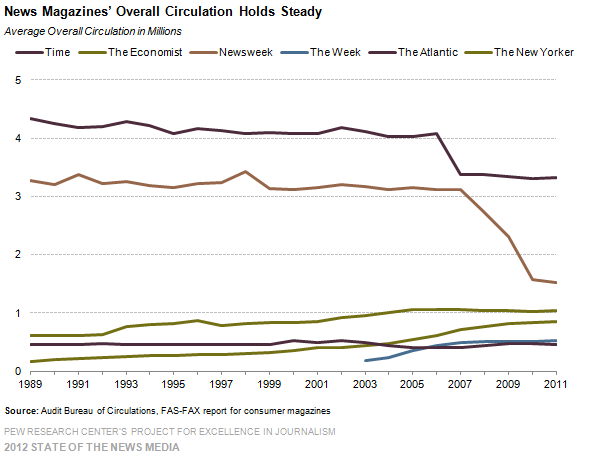 The flagship publication of the Time Inc. magazine unit posted a 0.7% increase in circulation, and has stabilized at around 3.3 million copies. Newsweek, which has now merged with The Daily Beast website, appears to have stopped the worst of its four-year slide. After suffering a 31.6% drop in 2010, circulation fell 3.4% for the year, to 1.5 million copies.
Time saw a significant increase in single copy sales. They rose 6%, following a 20.3% decline in 2010. While newsstand sales are a small percentage of most magazines' circulation, they are a profitable part of it — publishers typically charge several times more for a newsstand copy than they charge for a subscription copy. Newsstand sales are also considered an important barometer of a magazine's editorial appeal, since they are not influenced by discount programs and promotions the way subscription circulation is.
Newsweek, after undergoing major changes under the leadership of Tina Brown, saw newsstand sales increase, by 2%.
After scaling back in a fairly controlled way, Time's subscriptions remained steady for the last four years despite the economic downturn and rise of online.  And 2011 brought a slight gain of 0.6%.
Newsweek, on the other hand, continued to fall, though not as drastically as before. In 2011, subscriptions fell 3.5% compared to 2010; since 2007, it has lost more than 50% of its subscribers.
Traditional newsmagazines have faced increasing competition from nontraditional niche or elite news magazines. These publications continued to gain ground in 2011. Of the four niche or elite news magazines we track, only The Atlantic suffered a total circulation decrease, with a fall of 2.7%.
However, their single issue sales suffered declines in 2011. The Atlantic and The Economist were the hardest hit, with drops of 8% and 13% respectively.
Overall, circulation was stable for the six publications studied here (Time, Newsweek, The Week, The Atlantic, The New Yorker and The Economist). Only two saw circulation fall in 2011 and the declines were relatively small. The Week was the biggest gainer at 2.2%, or 528,000 copies. Time's circulation now is more than double of rival Newsweek, which fell to 1.5 million copies in 2011.
In the digital realm, Time continues to enjoy the most monthly unique visitors over all, according to data provided by Compete. Newsweek on the other hand in 2011, saw a steep decline in its online numbers. Newsweek used to have an online partnership with MSNBC since 2007, which generated more than 50% of its online traffic. But the partnership ended in February 2011, a few months after the merger of Newsweek and The Daily Beast. At the time of the merger, The Daily Beast's audience was 2.2 million, while Newsweek drew 3.1 million unique monthly visitors, according to Compete.com. Combined traffic for the two sites, for the five months following the August 2011 websites' merger, averaged 2.5 million.
Economics
Like much of the rest of the magazine industry, each of the news magazines studied here saw ad pages fall in 2011. Combined ad pages for the six were down 5.6% in 2011 and are now below where they were in 2009.
Among the news magazines analyzed here had major declines in ad pages sold in 2011. Newsweek and The Week were the hardest hit in the decline of ad pages sold in 2011, suffering 16.8% and 12.9% declines respectively, according to the Publishers Information Bureau.
Time's ad pages slid 2.5% in 2011, the fifth year in a row they have fallen.  Newsweek's ad pages fell 16.8%, the steepest decline among the six. While the two have followed a similar trajectory, since 2009 Newsweek's declines have been significantly sharper.
The four niche news magazines were unable to keep up the success they recorded in 2010. Following strong growth in ad pages that year, all saw declines in 2011. Most noteworthy was The Week, which suffered a 12.9% drop in ad pages after notching up gains of 16.8% in 2010.
Demographics
News magazines continue to attract an elite audience. Their readers are older and wealthier than the U.S. population on average, a factor that has remained unchanged for years.
The median annual household income of a news magazine reader in 2011 was $91,846, according to Mediamark. While slightly lower than in 2010, is still much higher than the $59,913 U.S. national average.
The median age of news magazine readers increased in 2011; at 49.0 years, it was older than for any other year since data became available in 2002. That reversed a trend seen in 2010, when the median age fell slightly, to 48. In addition, news magazine readers remain older than the rest of the adult population, which has a median age of 45.6.
The Economist has by far the youngest and wealthiest readership, with a median age of 44.2 and household income of more than $121,000.
Some magazines also saw the financial demographics of their readership rise in 2011. The median household income of readers of The Economist and The New Yorker rose in 2011 compared to the previous year.
At the same time, the median age of print readers rose at all the news magazines compared with 2010. The Atlantic has the oldest readers (52.6).
Typically, more men than women read news magazines. The highest percentage of male readership in our news magazine group is at The Economist, 64%.  The one exception, as in past years, is the New Yorker. Women make up 51% of its readership.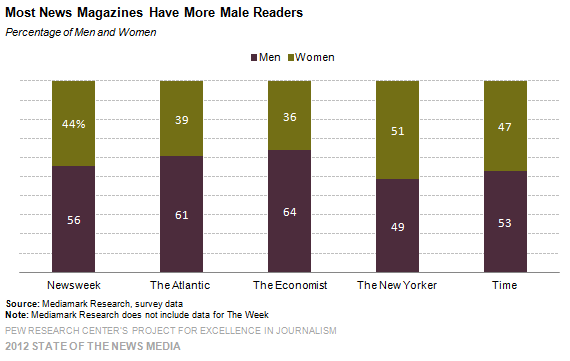 Content

An analysis by PEJ of cover stories for 2011 pinpoints the different emphasis of the newsweeklies. The Economist, a British-based magazine, mainly focused on international news and the economy, particularly in light of the European Union's economic crisis. Time and Newsweek also allocated a significant number of covers to international affairs this year, since major world events took place such as the death of Osama bin Laden, the Arab upheaval and the British Royal wedding. The New Yorker's covers are dominated by lifestyle issues.
Time's covers are traditionally more about national affairs, but changes in the news shifted that mix in 2011. For the year, 10 covers focused on domestic trends, the lowest for the past two years, while 9 covers related to the economy and 13 to international affairs, the highest jump among the categories examined.
Newsweek's mix changed less. It maintained a similar focus as in the past on national affairs (with 10 covers in 2011) and had fewer covers than in the past related to the economy (only 3), compared to 2010 and 2009.
News Investment
Newsweek's merger with The Daily Beast makes it difficult to assess the staff size at the magazine as the two elements now have unified personnel. Newsweek did not publish any staff boxes in 2011, the only public expression of newsroom size. Time's staff saw signs of growth for the first time after 2008, though the totals are still far below those from 20 years ago.
An analysis of Time and Newsweek's staff listings showed little change in the international bureaus. Time's offices remained the same for 2011 and in the case of Newsweek, Los Angeles was the only bureau added.
Just as Time's general editorial staffing has increased for the first time in 2011, its online staff grew too.  The Time.com staff has been gradually increasing in recent years, reaching 35 members in 2011.
 Click here to read the Magazine Essay
Magazines Glossary
ABC
The Audit Bureau of Circulations is headquartered in Schaumburg, Illinois, with member service offices in New York and Toronto. As of September 1, 2002, ABC has 4,322 members, including 787 consumer titles, 257 business and farm publications, 1,326 newspapers, 1,334 advertisers and ad agencies, and 492 associate members. (Also see Audit Bureau and BPA International.)
Ad pages
The total number pages of advertising published, based on an actual count of ads in a publication.
Ad dollars
Publishers Information Bureau estimates of advertising revenues, derived by combining official ad rates and published pages. It multiplies the rate magazines charge on their rate card by the number of ad pages they published. The resulting estimate is an imprecise representation of actual ad revenue because advertisers often get discounted prices from the rate card. Because of various discounts and incentives, experts say that actual revenue is often half what the reported ad dollars would suggest. For this reason we are not using these estimates.
Back Copies
Copies served to a new subscriber that are older than the current issue. Often used to help meet paid rate base or controlled demographics goals.
Bureau
An office for gathering or distributing news. Similar terms are used for specialized bureaus, often to indicate geographic location or scope of coverage: a Tokyo bureau refers to a given news operation's office in Tokyo, Japan; foreign bureau is a generic term for a news office set up in a country other than the primary operations center; a Washington bureau is an office, typically located in Washington, D.C., that covers news related to national politics in the United States.
Circulation
 A magazine's total net paid subscriptions and single copies (newsstands). Subscriptions may include digital subscriptions i.e. websites' subscriptions circulation.
Consumer magazines
They do not include farm and religious magazines, as well as publications which are not filed.
Digital magazine (replica)
Where the advertising and editorial content exactly match the printed publication.
Digital magazine (nonreplica)
Where the basic identity and content are similar to the printed edition but the articles and advertising may differ. Free, unrestricted public access to a Web site does not qualify as a paid digital edition.
Single Copy Sales
Also called newsstand sales. Single copies of magazines sold at retail. Most single-copy sales are made in supermarkets and other mass retail outlets. Many publishers also distribute through specialty stores.
Social media
Online technologies and practices that people use to share opinions, insights, experiences, and perspectives with each other.
Social Networking
Web sites that allow people to link to others to share opinions, insights experiences and perspectives, whether it's music fans on MySpace, business contacts on LinkedIn, or classmates on Facebook. Many media sites have adopted social networking features such as blogs, message boards, podcasts and wikis to help build online communities around their content.
Unique Visitors
The number of inferred individual people within a designated reporting timeframe, with activity consisting of one or more visits to a site. Each individual is counted only once in the unique visitor measure for the reporting period.
Backgrounders
Rate Base
Some declines in circulation are by design. Newsweek and Time in the United States, for example, have been actively trying to reduce the minimum circulation the publications guarantee to advertisers in recent years.
Why would a magazine seek to reduce the number of copies it distributes?
The biggest share of revenue a magazine takes in comes from advertising, with a much smaller share from subscriptions and sales of individual copies. Advertising rates are based on a promised circulation number for each issue. This number is often lower than actual circulation. Many publishers guarantee advertisers that they will maintain a certain average circulation level, or rate base, over a given six-month audit period (a few publishers guarantee rate base on each issue published).
If a magazine fails to deliver the promised circulation, a publisher has to refund advertisers a portion of the rate, based on how short circulation falls.
Publishers make certain that they meet the guaranteed circulation, or advertising rate base, mostly by attracting readers through incentives. And some offer steep discounts to subscribers to meet this goal, discounts that can cut into any profits.
With a slow erosion of ad sales at magazines since the mid-1990s—and significantly fewer ads bought in 2008—publishers have reconsidered the cost-effectiveness of trying to maintain high circulation bases.
Ad Pages vs. Ad Dollars
Divining the financial health of a magazine is challenging.
Two of the biggest owners of magazines — Hearst and Advance (the owner of Condé Nast)— are privately held companies, and as such are not required to issue public financial reports. Even the publicly traded media companies that do issue reports generally do not break out revenue figures for specific magazines.
The Publishers Information Bureau offers estimates by combining ad rates and published pages. It multiplies the ad prices magazines list on their rate cards by the number of ad pages they published. The resulting estimate is an imprecise representation of actual ad revenue because advertisers often get discounted prices from the rate card. Because of various discounts and incentives, experts say that actual revenue is often half what the reported ad dollars would suggest.
The figures for how many pages of advertising were published, on the other hand, are based on an actual count of ads in a publication.