Newspapers: By the Numbers
By Rick Edmonds of the Poynter Institute, and Emily Guskin, Amy Mitchell and Mark Jurkowitz of the Pew Research Center.
"By the Numbers" houses a comprehensive set of charts and tables telling the story of each media sector. For a narrative summary, visit the corresponding essay.
Updated May 7, 2013
Revenue and Economics
Newspaper advertising revenues continued their long slide in 2012, with print revenues dipping yet again. Online grew by 3.7% in 2012 and is now about 15% of the total.
SEE FULL DATA SET
Print advertising revenue is now just 45% of what it was in 2006. The growth in online ad revenue has been slow.
Print advertising losses continue to far exceed digital ad gains. For 2012, the ratio was about 15 print dollars lost for every digital dollar gained—even worse than the 10 to 1 ratio in 2011.
Display advertising (made up primarily of banner ads) is the bread-and-butter of newspaper sites and has seen strong growth in the last two years. Borrell Associates predicts that targeted display, defined as ads responsive to interests readers have shown in their internet use, will take off over the next five years, passing search as the main category of local digital advertising.

All categories of print advertising declined again in 2012. As in 2011, national advertising was the hardest hit, falling 10%. Since retail is a much bigger category than the other two, dollar losses were higher there.
Classified revenues continue to fall, but the rate of decline is slowing. More than three-quarters of print classified revenue has been lost since 2000.
Over time, the losses in employment classified advertising have been by far the greatest. "Other," which includes paid obituaries and legal notices, has held up relatively well.
SEE FULL DATA SET
Circulation revenue, both for weekday and Sunday editions, has remained relatively steady over the past two decades. In 2012, circulation revenue increased 4.6% for both weekday and Sunday editions.
This chart shows circulation revenue staying close to even for nearly two decades, as ad revenues plunge. Some publicly traded companies are instituting aggressive price increases, losing volume, but adding to circulation revenue (2012 figures are not available for total circulation revenue).
Share prices of publicly traded companies rebounded in 2012, with many appreciating 30% or more. The two that were down for the year – Washington Post and A.H. Belo – were down less than 5%. (These numbers are available from shareholder reports of publicly traded newspaper companies that are not available for privately held companies.)
Audience
Sunday circulation has risen thanks to more new rules for counting audience that includes more digital products and the industry's emphasis on growing sales of Sunday issues, which are the best-read and most profitable papers of the week.
Newspaper website audiences grew 3% as measured by unique visitors from November 2011 to November 2012. However, total visits decreased almost 5% in the same time period. These statistics also do not capture mobile visits at a time when traffic is shifting from desktop and laptop to tablets and smart phones.
The New York Times narrowly trails The Daily Mail of Britain as the leading newspaper site in terms of   unique visitors. Including the consolidated audience of newspaper chains—such as Hearst, Tribune and Advance —five of the top 10 are U.S.-based.
There was little change from 2011 to 2012 in the top 25 dailies by average daily circulation. Under new rules of the Alliance for Audited Media (formerly the Audit Bureau of Circulations), several new categories, notably branded editions, are counted. Branded editions include collections of papers in single geographic areas such as The San Jose Mercury news, Contra Costa Times and other MediaNews dailies in the San Francisco Bay Area. Also, free tabloid editions like the Tampa Bay Times TBT.
The New York Times was up 40% thanks to more than 600,000 digital subscriptions.
When it comes to Sundays, when The Wall Street Journal and USA Today do not publish, The New York Times is the circulation leader by a large margin.
Another way to look at newspaper audience is to measure a paper's total reach in print and online. Scarborough Research measures the number of people who read a print edition at least one day a week, plus the number accessing that newspaper's website at least one time a week (with an adjustment to avoid double counting those who do both).
In 2012, The Los Angeles Times passed The New York Daily News to take over top spot in combined weekly reach of print and online editions.
The measure examines local market area only. For this reason, The Wall Street Journal and USA Today are not measured at all, and the national/international audiences for the websites of The New York Times and The Washington Post are not included. By the local total of audience reach, several publications, among them The New York Daily News and The Boston Globe, rank higher than they would by counting paid circulation alone.1
Market penetration has been a traditional print newspaper metric. It measures the number of newspapers sold in each market as a percentage of households and includes unduplicated online audiences as well.
The Rochester Democrat and Chronicle continues to hold a lead among metro papers in market penetration, measured by percentage of households reached by print or online in the course of a week. The Democrat and Chronicle, along with several others on this list, was able to raise its penetration level in 2012.
Paid digital circulation is another indicator of audience strength. It includes several varieties of digital: Paid online subscriptions, subscriptions or single-copy sales on e-readers and e-replica editions (full online reproductions of newspapers, typically viewed on a laptop or desktop).
The New York Times, which began its paid digital subscription plan in March 2011, leads the list. The Wall Street Journal, which has been charging for online content for more than a decade, came in second. No other paper is close.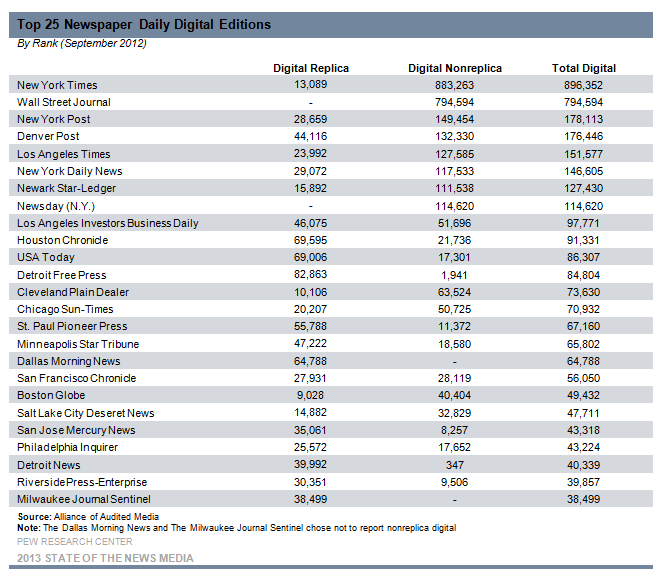 New calculations by the Newspaper Association of America put the number of daily newspapers in the U.S. at 1,382 in 2011, slightly higher than our estimate of 1,350 in last year's report. A 2012 total is not yet available.
The breakdown of morning and evening titles suggest growth in morning papers over two decades, but in fact, the higher numbers mostly represent evening-to-morning conversions or consolidations. Launches of new dailies are extremely rare.
Employment of full-time professional editorial staff, which peaked at 56,900 in 1989, had fallen by 29% by the end of 2011. When figures for 2012 are compiled, the newsroom workforce probably will be below 40,000.
Minority employment has fallen by roughly the same percentage.
SEE FULL DATA SET
As in previous Pew Research Center content studies, business, education, health care and overseas events receive more coverage in newspapers than in the media in general. Campaigns and elections (the biggest category in 2012) and crime receive less.
Demographic Data
The percentage of adults who report they read a newspaper "yesterday" declined again in 2012 for all age groups except 18-to-24-year-olds. The biggest decline was for 35-to-44-year-olds, down three percentage points. Those 65 and older again were most likely to be newspaper readers.
Frequency of newspaper readership increases with the level of education, but all levels of readership are declining.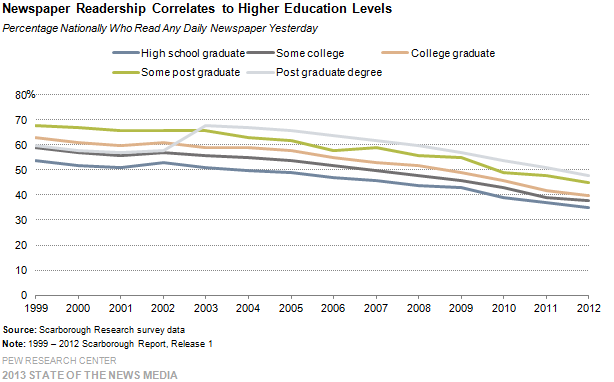 Newspaper readership also correlates with higher income levels. In 2012, the two highest categories, $100,000 to $149,000 and $150,000 or more, showed, by a slight margin, the biggest declines.
Whites have the highest level of daily newspaper readership, followed by African Americans. Whites decreased readership by 5% in 2012 and Asians dropped by 7%. African Americans and Hispanics remained at the same level of readership in 2012.
The print and online totals are measured by the Alliance for Audited Media and Scarborough, but the methodology is completely different from that used in its traditional measure of paid circulation. Hence the much higher totals. A reader is counted if he or she reads the print edition or visits online at least one day in a week. ↩