Local TV: By the Numbers
By Deborah Potter of NewsLab, Katerina-Eva Matsa and Amy Mitchell of the Pew Research Center
"By the Numbers" houses a comprehensive set of charts and tables telling the story of each media sector. For a narrative summary, visit the corresponding essay.
Local television stations experienced a year of higher revenues and lower viewership, on average, in 2012. The increased income was the predictable result of a flood of political advertising during a presidential election year. But the audience declines were disappointing, as a long-term downward trend in viewership resumed after an uptick the year before.1

Audience
At network affiliate stations, viewership in 2012 fell in all of the key local TV news time slots – morning, early evening and late night.
Early evening newscasts (5 to 7 p.m. Eastern Time or equivalent) on network affiliates suffered the steepest decline of the traditional time slots. After two years of relative stability, viewership nose-dived in 2012 by 6.7%. (The hour-long 10 p.m. newscasts on many Fox affiliates are analyzed separately below.)

What were once considered the "newscasts of record," early evening local TV news programs have been losing viewers steadily for more than a decade. Over the past five years alone, the audience has declined almost 14%.
Local morning news (5 to 7 a.m. Eastern Time or equivalent) also suffered losses in 2012 in all sweeps periods. After gaining 1.4% on average the year before, morning newscasts on network affiliates lost 4.6% of their audience.
This decline comes after five years of relative stability in morning viewership.
The numbers were even worse for late local newscasts (11 to 11:30 p.m. Eastern Time or equivalent) on network-affiliated stations. A year after showing the strongest audience growth of any traditional time slot, up 3% year-to-year, average viewership slid 7% in 2012.

Late newscasts had been losing viewers at even faster rates than the evening time slot until 2011. The increase in 2011 seems to have offered false hope as the gains were quickly lost again. Over the past five years, the average audience for these newscasts has declined more than 17%.
Our analysis of Nielsen Media Research data suggests that local TV newscasts are losing viewers, in large part, because fewer people are watching television when the news is on the air. A pattern we have been tracking for the past three years continued in 2012, with share outperforming ratings for all key time slots in most sweeps periods. Ratings measure the percentage of households with TVs that are tuned to a particular program. Share measures the percentage of people whose TVs are turned on at a particular time and who are tuned to a specific program. When share declines less than ratings, it means a program has fewer total viewers but its percentage of the available audience has not declined by quite as much. That is exactly what happened in almost every time slot and sweeps period in 2012. For example, evening news programs suffered twice as big a loss in May ratings (11.2%) as in May share (5.4%). The bottom line: fewer people had their TV sets on at news time.
Morning news at 4:30 a.m. remained the biggest growth area for local TV stations, but the rate of growth slowed considerably in 2012.  Early morning news was on the air in 113 markets compared to 104 in 2011, according to Nielsen data.  Viewership was up again but by just 13%, orders of magnitude less than the 337% increase the year before. And the total number of viewers remains small. Early morning news averages just 2.6 million viewers, compared to 24.2 million on average for late news, the most-watched time slot.
Midday newscasts lost viewers in all sweeps periods in 2012 but the average loss for the year was 2%, about the same as the year before.
News at midday has seen less ratings erosion than the traditional early evening and late time slots over the past five years. But these newscasts still have lost a little more than 7% of their average audience over that time period.
Local news at 7 p.m. Eastern Time or equivalent (after the network news or early evening local news) lost 5% of its audience, on average, in 2012. The decline followed a year in which viewership was essentially unchanged.
Over the past five years, newscasts on network affiliates in the nontraditional 7 p.m. time slot have lost 6.9% of their audience. The decline that had been halted for two years resumed and picked up speed in 2012.
Local News on Fox Stations
Many Fox affiliates air an hour-long newscast at 7 a.m. Eastern Time or equivalent because the network does not provide a morning newscast for its stations such as those that air on ABC, CBS and NBC.  After holding steady the year before, viewership for these newscasts was down 1.4% on average in 2012.
The audience for local morning news on Fox affiliates is still 4% higher than it was five years ago, but that improvement is due entirely to a substantial increase in viewership in 2008. Most of that gain was lost the following year, and the trend since then has been a slow decline.
The hour-long newscasts aired by Fox affiliates at 10 p.m. Eastern Time or equivalent lost 9% of their audience in 2012, faring even worse than the half-hour newscasts on ABC, CBS and NBC stations that air an hour later.
The losses in 2012 continued a long-term trend of declining viewership for prime-time newscasts on Fox affiliates. Over the past five years, these newscasts have shed almost 23% of their audience, the largest percentage loss of any time slot we track.
Local News on Independent Stations
Stations not affiliated with one of the "big four" television networks also saw their overall news viewership decline in 2012. After two years of outperforming network affiliates, the independents lost a larger percentage of their audience than affiliates did in most time slots. One bright spot was at 10 p.m., where the audience for news on independent stations was up more than 6% even as competing newscasts on Fox affiliates lost viewers. The independent stations account for less than 3% of the total local TV news audience, however.
Economics
A flood of political advertising in a presidential election year and a slowly improving economy boosted revenue for local television stations in 2012.  Even numbered years almost always mean higher revenue for local TV, thanks to political ads and the Olympics. BIA/Kelsey estimated total 2012 on air ad revenue for local stations at $19.7 billion, up 10% from the year before.
Political advertising alone hit a record $2.9 billion, up 38% from 2010 and almost double the $1.5 billion spent on local TV in 2008, according to a TVB analysis of data from Kantar/Campaign Media Analysis Group.  Local stations captured over 80% of total political spending on television.
Political ads were not the only source of higher revenue for television stations in 2012. Automobile manufacturers, typically the largest advertisers on local TV, spent 20.3% more. Car dealers also ramped up their commercial buys by 21.6% as car sales picked up.
While local television revenue has bounced back from its 2009 low set in the depths of the recession, its performance over the past decade has been lackluster. Since 2006, average revenue for news-producing stations has declined by more than a third (35.8%) when adjusted for inflation.
Stations in all market sizes lost revenue on average in 2011, the last year for which data are available, and the pain was shared relatively evenly.  Even so, average revenue in all market sizes more than recouped losses suffered in the recession year of 2009.
Stations in the top 25 markets lost the greatest dollar amount, but that is to be expected since they earn far more than smaller-market stations.  In terms of percentages, revenue in the top 50 markets was down about 12%, the next two market groupings lost approximately 9% and the very smallest markets saw revenues fall just 7%. The differential between market sizes was smaller than the year before.
Third-quarter revenue numbers from television ownership groups in 2012 were up substantially thanks in large part to a flood of political advertising as stations recovered from losses the year before.2
Broadcast stations continue to battle cable channels for local spot advertising. Estimates indicate that spending on both broadcast and cable grew in 2012, but cable again grew faster than broadcast, posting a double-digit increase. Projections call for growth on the cable side to outpace broadcast growth by substantial margins in coming years, but for local stations to retain a wide edge in total spot spending.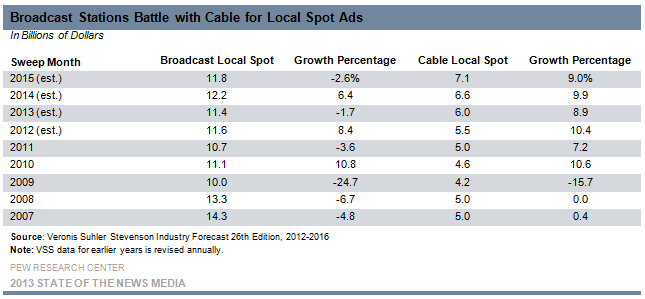 Advertising within news programming accounts for an increasing portion of local TV station revenue.  Revenue from local news hit a record 48.2% of total revenues in 2011, according to the RTDNA/Hofstra survey of news directors. The share of revenue from local TV news has been rising along with the amount news time stations air, which also set a record in 2011.
Local TV newscasts remain profitable. Almost 60% of news directors said their stations made a profit on news in 2011, the highest percentage since 1998.
Digital Revenue
The typical local TV station makes about 3% of its total revenue from online and mobile ads, according to BIA/Kelsey.  Local television has maintained about the same share of local online advertising—about 12%– for the past two years.
Most television stations do not use their websites to sell anything other than advertising. Less than a third (31%) said they offer special deals, sponsorships, classifieds or merchandise for sale online, according to the RTDNA/Hofstra survey. Less than half (44.5%) are involved in shared-revenue deals with local Groupon-type offerings.
News Budgets
In the vast majority of TV newsrooms, budgets either grew or held steady in 2011, the last year for which survey results are available. Only one in six news directors said they had to make cuts, compared to one in four the year before.
The positive budget picture was most evident at stations in small markets (101-150), where more than half of all news directors said they were able to spend more. By contrast, more than half of stations in the largest 25 markets reported their budgets stayed the same.
News Staff
Total employment in TV news was up 4.3% in 2011, as news directors continued rebuilding staffs that had been slashed during the recession years of 2008 and 2009.  A majority of news directors expected no change in staff size in 2012, but more than a third said they anticipated adding more staff, about the same as the year before. Only 2.4% said they expected to have to cut staff, fewer than the year before.
Local TV newsrooms started 2012 with a record average of 38 full time staff, and a median staff size of 32, matching a high set in 2006.  But staff increases were not spread evenly across all markets.  As was the case the year before, most of the hiring was in the largest markets, where the median full-time staff hit 70. Stations in medium-large markets (26-50) actually lost staff in 2011. And while independent stations expanded staffs after cutting back in 2010, their median staff size of 13 is still less than half what it was five years earlier. That contraction most likely reflects the new reality that many independent stations no longer produce their own newscasts but instead carry programs produced by other local stations.
While employment jumped in local TV newsrooms, salaries did not keep pace. Over all, salaries rose just 2% in 2011, less than the rate of inflation.  Senior news managers had the largest gains in pay, while lower-level managers lost ground. And anchors' salaries dropped by more than 8%. The data suggest that stations expanded their staffs mainly by hiring younger, lower-paid workers.
News Content
The average number of hours of news on local television continues to increase and probably set another record in 2012. The average station produced a record 5 hours and 30 minutes of local news on weekdays in 2011, an increase of almost 4% from the year before.  Most news directors surveyed (60.2%) said they expected the amount of news they produced would stay the same in 2012 but about a third said they would produce more news. And for the first time ever, not one news director anticipated a reduction.
For the second year in a row, local TV stations reported producing less news for some other media outlets, including mobile devices, cable TV channels and other local TV stations. Over all, the percentage of TV newsrooms providing content to one or more additional outlets dropped slightly to 75.5% (from 78.4% in 2010).  The rapid expansion of news content sharing noted in previous years appears to be over, at least for now.
Just over half the stations surveyed (52.5%) cooperate with other local TV stations, newspapers, radio stations or other outlets in news gathering or coverage. But that is a significant drop from the year before (59%).
Those stations that do share resources with other media reported increased cooperation in the use of helicopters for news coverage, but fewer shared video or had other sharing agreements.
Eight out of ten local TV stations said they routinely fed news to three platforms in 2011: television, the Web and mobile devices.  That's a substantial jump from the 70% that said they took a three-screen approach to news the previous two years. Almost all TV station websites offer video, text and still pictures. The biggest changes in content were a significant drop in the use of blogs, audio and recorded newscasts on station sites.
Click here to read the Local TV Essay
Endnotes
PEJ analyzed data from Nielsen Media Research and computed national averages for each time slot. The charts showing change over time include only three of the four major sweeps periods–May, July and November. February is not included because there was no comparable data from 2009, when ratings were collected in March due to the planned switch from analog to digital broadcasting.  Year-to-year calculations from 2010 onward include all four sweeps periods. (Read more about 2009 Sweeps) ↩
NBC and ABC stations are not included because their parent companies, NBCUniversal and Walt Disney, do not report station revenues separately from broadcast network earnings. ↩