Local TV: Audience Declines as Revenue Bounces Back
By Deborah Potter of NewsLab, Katerina-Eva Matsa and Amy Mitchell of the Pew Research Center
The long slow decline in viewership of local television news resumed in 2012 after a brief respite the previous year.  While stations devoted more of their available air time to local news, that wasn't sufficient to halt the decline in viewership.  Early-morning newscasts continued to gain viewers, but that increase was more than offset by losses in most other time slots.
Advertising revenues grew in 2012, thanks to an unprecedented flood of political advertising.  But the bounty was unevenly distributed, going to stations in presidential battleground states and those with high-profile races.  Despite the surge, total ad revenue still fell short of three previous election years.
There was some good news for local stations on the digital front. Many ramped up their news offerings and, in several notable cases, became market leaders online. The spread of pay walls on newspaper websites boosted the digital audience for some local TV sites. But digital revenues remain a fraction of stations' income.
Audience
Local television news on the air suffered a reversal of fortune in 2012, losing audience in every key time slot, including those that gained viewers the year before. In most nontraditional time slots, viewership stagnated. And the total audience for all local news programs combined was smaller than the year before. The strategy of gaining viewers by adding more and more time for news appears to have stopped paying off.
Local TV remains a top news source for Americans with almost half saying they watch regularly, but future demographics do not bode well. According to a Pew Research Center survey, the number of adults under 30 who are regular local news viewers has dropped precipitously, from 42% in 2006 to just 28% in 2012.1 "Television is not the preferred news source in an era of personalized on-demand news," said Diane Mermigas of the consulting firm Mermigas on Media.2
The broadcast audience numbers are sobering, but they are only part of the new reality for local television. "Are they watching us as much? No. But our online numbers are up dramatically," said Scott Blumenthal, executive vice president for LIN Media. "We are not a TV station anymore as much as a provider of news on multiple platforms."3
While local TV has made progress growing a digital audience, its main business for now remains over the air, and that business is losing customers.
The uptick for some newscasts on network affiliates in 2011 appears to have been a one-time blip, as these programs lost all of that gain and more in 2012.  ABC, CBS, Fox and NBC stations saw their audience in the three key time slots — morning, early evening and late — drop by more than 6% on average.4 Fox stations' newscasts in prime time, when most of them air local news, fared even worse. They lost more than 9% of their audience on average, the fourth year in a row their viewership has declined.
The bad news was spread almost evenly throughout the year. In every sweeps period we studied, local newscasts lost audience. Despite major, long-running news stories like the presidential election campaign and the slow recovery of the U.S. economy, fewer Americans tuned in to local TV news in 2012.  It didn't help that major events drawing massive audiences fell outside of the sweeps periods during which television viewership traditionally is measured. The London Olympics drew an average of 31 million viewers to NBC every night and probably boosted viewing of local newscasts on NBC affiliates, but the games opened two days after the end of the July sweeps period.5 The presidential debates also drew big broadcast audiences but all three of them took place in October 2012, before the start of November sweeps.
The biggest problem for local TV news is a drop-off in television viewing in general – not just for news. In May, for example, the only broadcast network that gained viewers in prime time was the Spanish-language Univision, driven by the growth of the U.S. Hispanic population.  All of the top four television networks saw their prime-time ratings slide, from CBS at the low end with a 5% loss to Fox at the high end with a loss of 25%.6 As a result, local stations' newscasts find themselves competing for a piece of a shrinking pie.
The evidence lies in the audience measurements most critical to local TV stations: ratings and share. In almost every sweeps period in 2012, both share and ratings were down for the key news time slots. But for the third year in a row, the audience for local news programs measured by ratings dropped more sharply than the stations'share of those people who actually have their televisions on at news time. With fewer people watching broadcast TV in general, local stations have little hope of reversing the long-term decline in audience for news in key time slots.
Morning news from 5 to 7 a.m. had been the exception to the downward trend in viewership, holding relatively steady for three years in a row. That positive performance ended in 2012 as the audience declined almost 5% on average. Two other morning news time slots did see audience growth, but not nearly enough to make up for that loss.
The number of stations airing news at 4:30 a.m. was up 14% in 2012, and viewership increased 13% on average, a healthy jump but a far cry from the triple-digit increase the year before.7 The time slot showing the biggest increase in viewership was at 4 a.m. The number of stations airing news at that hour dropped to 32 from 34 the year before, but the audience grew by 19% on average. Even so, the total number of viewers for news at 4 a.m. hovered around 200,000, a tiny fraction of the 2.6 million who watch half an hour later and the 11 million who tune in from 5 to 7 a.m.
Local news in other nontraditional time slots lost audience in 2012. Newscasts at midday and following the network news at 7 p.m. had added viewers the year before but those gains vanished. Midday newscasts were relatively stable, losing just 2% of their audience, but viewership fell 5% for 7 p.m. newscasts, even though the same number of stations aired news at that hour.
Breaking down the numbers by affiliation, the pattern is clear and consistent. Local stations are losing viewers almost across the board, with the only gains coming in time slots with the smallest audiences.
Fox affiliates also added the most audience in time slots with the smallest viewership, and their steepest loss was in the time slot where Fox stations draw their largest local news audience, at 10 p.m. Eastern Time or equivalent. Most Fox stations air an hour of news in prime time because their network offers no programming at that hour and does not provide an evening newscast. Those newscasts lost 9% of their audience on average in 2012, almost double the rate of loss they suffered in each of the previous two years.
The morning newscasts that Fox affiliates air opposite network programs on ABC, CBS and NBC still have not shown any signs of growth. Although about 10 more Fox stations added local newscasts at 7 a.m. in 2012, the average ratings for those programs declined just over 1%, continuing a virtual flat line that began four years earlier.
Independent stations, those not affiliated with one of the top four broadcast networks (ABC, CBS, Fox and NBC), also lost local news viewers in 2012, after gaining viewers in the previous two years. Their news audiences shrank in almost every time slot, although the number of markets in which they aired local news was virtually unchanged.8
The numbers suggest that efforts to increase the audience for local TV news by offering it at more convenient times for viewers have, so far, failed.  "I think we have so fractured the audience that's just not plausible anymore," said Bob Papper of Hofstra University, who conducts an annual survey of news directors.
Digital Audience
As viewership for local television news declines, stations have increasingly turned to digital platforms in an attempt to expand their reach. "Younger audiences aren't coming to the newscast," said John Cardenas, president and general manager of WTHR in Indianapolis. "We still have to connect with them."9
Through their websites, mobile apps and social media platforms, stations have been trying to capitalize on their strengths, including well-known local personalities, to draw a new audience. "The multiscreen experience is a very personal thing for our news operations," said Del Parks, engineering and operations vice president at Sinclair Broadcast Group, who says viewers know so much about local anchors it is "absolutely jaw dropping."10
One opportunity for local stations to grow their digital audience has surfaced in markets where newspapers have instituted online pay walls or reduced the free content they make available online. (See Newspaper Chapter for more) Some TV websites in those markets already have seen a boost in traffic. In Greenville, S.C., the Gannett newspaper site used to lead the market in unique visitors but after a hard pay wall was introduced, it fell behind three local TV stations, according to comScore data.11 In Greensboro, N.C., each of the three local television stations draws more users than the Landmark-owned newspaper site, which requires users to pay for access to its e-edition.12
Local TV sites also have taken the lead in Albuquerque, N.M.; Tulsa, Okla., and Des Moines, Iowa, thanks largely to newspaper pay walls. And the business model of local TV suggests that station sites will remain free. "For TV, online generates what TV considers 'extra revenue' and helps bring at least some additional audience to the TV screen," said Bob Papper.13 Elmer Baldwin, president of Internet Broadcasting, whose company provides online content management for television stations, said he "wouldn't be surprised" to see more than half the top 75 markets dominated by a TV website within five years.14
Local stations still have a lot of ground to make up to beat newspapers in online audience. According to The Media Audit's annual ranking, three of the top five local media websites in the country are TV sites: KSL in Salt Lake City, Utah; WRAL in Raleigh, N.C., and WMUR in Manchester, N.H.  But 16 of the top 25 local media sites still belong to newspapers.15
TV stations also are competing for consumers of local news on smartphones and tablets, especially younger users. "Our audience proportionally is growing faster on mobile than on Web," said Chip Mahaney, senior director of local digital operations for E. W. Scripps. "It used to be mobile was a small fraction [of our digital audience]. In some cases mobile has overtaken Web."16
Mobile is becoming a larger driver of Web traffic, particularly outside of working hours. At WRAL in Raleigh, N.C., it accounts for 15% of digital visits and could double in six months, according to the station's general manager, John Conway. "It's a good way for us to grow our audience at times when historically you'd see somewhat of a trail off of your traffic," he said.17
Stations also are connecting with a digital audience through social media. Some local reporters and anchors have developed followings that dwarf their stations' on-air audience. Nancy Loo, a reporter and fill-in anchor at Tribune's WGN in Chicago, has 683,000 subscribers to her public posts on Facebook.18 The station's main newscast draws fewer than 400,000 viewers.19
As with digital metrics in general, it is difficult to know how much the online, mobile and social media audience has actually expanded the reach of local TV stations.  Active engagement on social media is hard to measure, and even followers who are active are not counted among the audience used to set advertising rates. Stations continue to face the challenge of how to convert social media followers to viewers or Web users, and how to count their total audience on all ad-supported platforms.
"There really has not been a good research system that combines mobile, Web and on air in a way to be able to ascertain unique users," said LIN Media's Scott Blumenthal. "The concern is in terms of how you make sure that you deliver the eyeballs to your advertisers."
Economics
Over all, the broadcast revenue picture was much improved from the year before.  For local television stations, a presidential election year almost guarantees higher revenue and 2012 followed the expected pattern. Political ad spending on TV set a record, up 38% from the previous high in 2010 – though the dollars were far from evenly distributed. In addition, a recovering economy allowed the automotive sector to buy substantially more TV commercials, and stations affiliated with NBC benefited from an influx of ads during the London Summer Olympics. And retransmission fees, which stations have fought hard to protect, are making an increasingly important contribution to the bottom line. (See Retransmission Fee section and Digital Revenue section for more)
Every ownership group reported higher revenue for the third quarter compared to the same period the year before, when almost all station groups reported losses. Some of the gains were dramatic. For example:
Some groups benefited from major structural changes over the past year. In October, Media General became a pure broadcast group with the sale of its last money-losing newspaper property, The Tampa Tribune. (See Newspaper Chapter for more) And E.W. Scripps' purchase of nine TV stations from McGraw Hill at the end of 2011 boosted its third-quarter revenue by 79%, compared to 41% at stations it owned at the same time the year before. 26
The market research firm BIA/Kelsey estimated that local stations took in a total of $19.7 billion in ad revenue in 2012. That amounted to an increase of 10% over 2011, but the total still fell short of stations' advertising revenue during each of the previous two presidential election years (2008 and 2004), largely because political spending was concentrated in only a few states. (See Political Advertising section for more)
Longer-term data adjusted for inflation show that the average local television station is not the lucrative business it once was. Station ad revenue declined sharply when the recession hit and has not fully recovered. As the numbers show, the typical roller-coaster pattern of lean non-election years and more lucrative election years resumed in 2009, but at a much lower level than a decade ago.
Still, television remains the largest single outlet for advertising in the United States. "Viewing behavior is changing, but, for now, the TV industry continues to coin money," said Henry Blodget, editor-in-chief of Business Insider.27
"It is at the end of the day a business delivery system," said Bob Papper, a journalism professor at Hofstra University, "and television is still the best way by far to reach a large number of people quickly."28
Political Advertising
The down-to-the-wire presidential campaign helped drive spending on political TV ads to a record high in 2012.  "It was record-pulverizing both in terms of the number of spots aired and the amount spent," said Erika Franklin Fowler, director of the Wesleyan Media Project, which studies political advertising on television.29
Almost all of the $3.1 billion spent went to local television stations. The $2.9 billion they took in was 38% higher than the old record set in 2010, and almost double the amount spent in 2008, the previous presidential election year.30
One reason for the huge influx of campaign cash was the Supreme Court Citizens United decision in 2010 that lifted caps on spending by corporations, unions and other interest groups. These so-called super-PACs flooded the airwaves with candidate and issue ads and paid top dollar to do it. While candidates are required by federal law to be offered time at the lowest rate stations charge for commercials, there is no such protection for third parties. One survey found that PACs paid up to four times as much as candidates to run ads in key swing states.31
"Local TV remains essential in political marketing because only a 'lean-back' medium can effectively reach the low-interest, undecided voters," said Vincent Letang, executive vice president of the media agency Magna Global. "And, of course, local TV can surgically target swing states or counties."32
As a result of that targeting, the political ad rush in 2012 was concentrated in closely contested states. "There's this perception that there's this tsunami of money washing over every TV station. That's not correct," said Dennis Wharton, executive vice president of the National Association of Broadcasters. "The additional revenue is coming only to a small percentage of stations."33
For stations in swing states like Colorado, Florida, Ohio and Virginia, the demand for political ads was like nothing they had ever seen before. Some stations expanded commercial breaks, added newscasts or pre-empted network programs during the campaign's final days to sell more political ads.34
"If you were lucky enough to be in a battleground state, you raked it in," Fowler said. For example, the Roanoke-Lynchburg market in Virginia, the 68th largest in the country, ranked in the top 10 for political advertising for much of the year. Local stations there made $27 million from campaigns and interest groups, shattering the previous record of $5.6 million set four years ago.35
By contrast, the somewhat larger market of Little Rock, Ark., was mostly bypassed by political spending. "I think the biggest candidate money we've seen so far is from a North Little Rock judge race," said Mark Rose, president and general manager of the city's ABC affiliate, KATV, who estimated total political spending in the market at well under $400,000.36
Other Spot Advertising
Political ads were not the only engine driving revenue higher for local TV stations in 2012. Spending on automotive ads shifted into high gear as the auto industry bounced back from a disappointing 2011 during which the Japanese tsunami disrupted the market for imports and car parts. Due to pent-up demand, car sales hit 14.5 million in 2012, an increase of 13% from the year before.37 And as auto sales go, so goes TV advertising. In the first three quarters of the year, automotive ad spending on local TV stations was up 20% from the year before, according to Television Bureau of Advertising.38 Unlike political advertising, auto ads aired in every market, meaning more stations benefitted from the upturn.
Spending in most other ad categories was down in 2012, with the exception of government and organizations and insurance companies. TVB reports that pharmaceutical companies, department stores and banks all spent less on television advertising in the first half of 2012 than in the same period the year before.
The outlook for 2013, a non-election year, is not rosy. "The odd-year 'hangover' will be stronger than usual for television," Magna Global predicted, with the expected decline in political advertising likely to drag down spot revenue over all.39 One survey estimated that total spot TV revenue would drop by more than 7% in 2013, despite predictions for an improving economy.  Increased spending by core advertisers should keep the loss from being even worse, with spending in nonpolitical categories predicted to rise by 4%.40
Retransmission Fees
Television station owners continued to have substantial success in 2012 in growing an increasingly important source of revenue: the fees paid by cable and satellite systems to carry local channels.
While the fees account for less than 10% of total station revenue, retransmission payments have been growing rapidly. CBS-owned stations, for example, almost tripled their fees, from 45 cents a month per subscriber in 201141 to $1.22 this year.42
SNL Kagan estimates that by 2018, retransmission revenue will be more than 20% of TV stations' ad revenues, more than double what it is now.43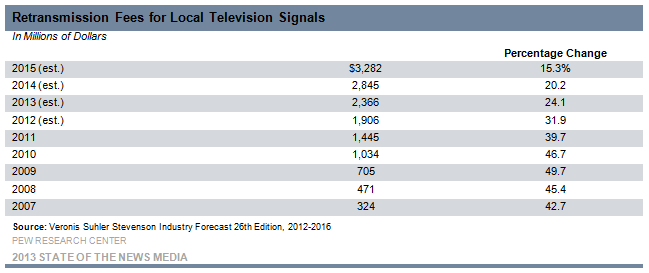 The gains in retransmission fees were not won without a fight. More stations than ever went to the mat to demand that distribution systems pay more for their signals when agreements came up for renewal. According to the American Television Alliance, which represents distribution systems, viewers faced local channel blackouts from protesting stations in 80 markets in 2012, compared to 51 the year before and just 12 in 2010.44
Some of the most acrid disputes involved Dish Network, whose new AutoHop feature allows users to skip commercials when watching programs recorded from broadcast channels. CBS, NBC and Fox have sued Dish, claiming copyright violations.  In August, Dish accused the Sinclair broadcast group of "corporate greed" for demanding higher payments. Sinclair threatened to pull all 74 of its local stations from the satellite network before the dispute was resolved.45
One reason stations have pushed so hard for higher fees is that they have to share some of that income with their networks in the form of reverse compensation, and new affiliate deals have included significant increases.  "We used to be paying them and now they're paying us," said the CBS chief executive, Les Moonves. Within the next five years, Moonves estimated that CBS alone would bring in at least $1 billion a year in retransmission fees from network-owned stations and reverse compensation from affiliates.46
The importance of retransmission revenue to the bottom line explains why broadcasters are suing to block Aereo, a new service that lets users watch live TV over the internet.  Aereo, currently available only in New York City, uses an array of antennas to distribute local stations' signals to online subscribers and pays the broadcasters nothing. "They're charging a fee for content that they do not own," said Dennis Wharton of the National Association of Broadcasters. "They're charging $12 a month for the service and not sharing any of the revenue with the content creators.""47
If Aereo wins the case, the service is expected to expand to additional markets and could eventually up-end the current retransmission payment structure, according to media analyst Vijay Jayant of the International Strategy and Investment Group.48
Digital Revenue
Local television makes only a small percentage of its revenue from digital advertising, and while the total is growing, the rate of growth has slowed considerably. BIA/Kelsey estimates that total digital revenue for local TV stations grew by 10% in 2012, less than half the rate of the year before.49 And that 10% rate is less than the estimated growth for newspapers or internet-only companies, according to Borrell Associates, a firm that studies local online ad buys.50
For the typical TV station group, online and mobile ads bring in about 3% of total revenue, according to Mark Fratrik, a vice president of BIA/Kelsey. The firm expects that percentage to inch up to around 4% by 2016. 51
Some stations already are well ahead of that mark, however. WMUR, the Hearst-owned station in Manchester, N.H., reports that it generates close to 10% of its total revenue from digital. It has the most-visited website in the state and one major advantage most stations do not: no local TV competitors. "We have big TV ratings," said its general manager, Jeff Bartlett. "We use those ratings to push our Internet offerings. It's a big promotional platform."52
The fastest-growing segment of digital advertising is video, and local TV stations hope to capitalize on their expertise in that area. By 2016, BIA/Kelsey estimates that online video will account for almost 11% of all digital revenue, more than tripling in five years. "Smart operators can expand sales opportunities in the digital world," Fratrik said.53
Mobile advertising has become a focus for some local station groups. "In some markets, we are getting more views for mobile than [online]," said Lisa Bishop, vice president of digital media at Gray Television. "Because of the screen size, it's more intimate, in your face."54
To target advertisers aiming to reach increasingly mobile consumers, LIN Media and Belo launched new mobile marketing companies late in 2012. "We've got to be able to participate in that very high-growth segment of the marketing world," said LIN's chief executive, Vincent Sadusky.55
One potential revenue source that most local stations have not exploited is e-commerce. Less than a third said they offered special deals, sponsorships, classifieds or merchandise for sale on their websites, according to the annual RTDNA/Hofstra survey. "This is mystifying to me," said the survey director, Bob Papper. "They are leaving money on the table."56
Local TV stations also have yet to go the route of more and more of their newspaper competitors:  putting up pay walls. The RTDNA survey conducted in late 2011 found that just under 2% of television stations required users to pay for access to their websites.57 The sample size so far is too small to determine what impact this may have on station revenue. Some companies that own both TV stations and newspapers are beginning to deploy pay walls on joint websites. AZCentral.com, featuring content from Gannett-owned KPNX in Phoenix and The Arizona Republic, became a paid site in September.58
One potential source of digital revenue, social media, remains mostly untapped, said Christine DiStadio, director of digital media at KHOU in Houston. Her station and others owned by Belo Corp. have had some success in partnering with advertisers on Facebook sweepstakes and giveaways.59 But stations have found it difficult to monetize their own pages and Twitter streams. "These are other people's platforms that we're meeting our audience on that we don't get a financial reward from," said Chip Mahaney, local digital operations director at E.W. Scripps. "It's not part of our revenue plan."60
The potential upside for social media advertising is substantial. "The year 2012 can be viewed as social advertising's 'coming of age,' " said Jed Williams, a senior analyst at BIA/Kelsey, which predicts total revenue from the sector will double to more than $9 billion by 2016.61 Still, ad spending on social media amounts to only about 5% of local ad spending over all.
Ownership
The most noticeable trend in TV station sales in 2012 was that some big owners got bigger. The market for television stations improved only marginally, however, as the business continued its slow recovery from the recession. Major changes could be coming in the years ahead, however, as federal regulators consider new ownership rules and plan to compensate stations that sell their spectrum for use by wireless providers.
Sinclair, which already owned the most local stations of any group, acquired six more from Newport Television for $412.5 million.62 The No. 2 ownership group, LIN Media, paid $330 million for 13 New Vision stations.63 And Nexstar jumped to third place, picking up a total of 17 stations from two different sellers.64
Large single-station sales were the exception in 2012. In the only deal of note, Landmark Media sold its station in Nashville, CBS affiliate WTVF, to Journal Communications for $215 million.65
Media broker Larry Patrick of Patrick Communications said one factor holding back sales is the unwillingness of buyers to pay top dollar for local television stations. "Owners are either going to have to take lower prices and come out under water or hold stations for another two years," he said.66
Nevertheless, several station groups were exploring sales early in 2013. Fisher Communications, Barrington Broadcasting and Communications Corp. of America, with a total of 70 stations, were reported to be on the block.67 "There are probably some groups [that] had a spectacular 2012 and think: It won't get any better, let's cash out now," said Paul Karpowicz, president of Meredith Local Media.68
More consolidation is expected in the local TV business. "It's very inefficient for groups outside of the top 10 operators," said Nexstar Broadcasting's chief executive, Perry Sook. He predicted that a few years from now no more than a dozen substantial ownership groups would be left standing.69
One factor that could drive the market is a change in federal rules, which could lead to more concentration of ownership. The FCC has been trying to loosen the rules for a decade but has been repeatedly blocked in court. The commission is expected to approve a measure to allow cross-ownership of some broadcast stations and newspapers in the 20 largest U.S. markets. The proposal also would eliminate what an FCC spokesman called "outdated prohibitions" on joint ownership of TV and radio stations in the same market.70 "There have been significant market changes, which everyone has to be recognizing at this point," said FCC Commissioner Robert McDowell.71
The FCC rule would still prevent the merger of big station groups and forbid one company from owning two of the top four network affiliates in a single market. And, for the first time, some joint sales agreements would count toward the local TV ownership cap. Station groups have used these agreements for years to get around the limits, and more such deals were struck in 2012. For example, Young Broadcasting, which owns the CBS affiliate in Lansing, Mich., arranged to manage the ABC affiliate there after its purchase by Shield Media. The same two companies have a similar arrangement in Albany, N.Y., where Young owns the ABC affiliate and manages the Fox affiliate for Shield.72
Supporters of these so-called virtual duopolies say they have preserved local newscasts and in some cases added new ones. "Depriving stations, especially smaller ones, of the ability to engage in [sharing agreements] could have a significant impact on both the production of local news and on the stations' ultimate financial viability,"" the National Association of Broadcasters said in comments filed with the FCC.73
If approved, the new rule is bound to be challenged in court. Media activists have charged that allowing more consolidation would further decrease minority ownership of broadcast stations.74 The ownership of commercial television stations has become less diverse in the past few years, according to a new FCC census. Whites owned almost 70% of TV stations in 2011, up from just over 63% two years earlier. The percentage of stations owned by women has increased, but only slightly, to just under 7% compared to 5.6% in 2009. 75
Consolidation is not the only controversial issue before federal regulators. The FCC also is working on rules for a new incentive auction that would compensate broadcast owners who give up spectrum to make room for more wireless service.76 "The value of the spectrum for alternative uses seems substantial enough to allow the FCC to offer prices that should be high enough to cause a good number of television stations to participate," said Mark Fratrik of BIA/Kelsey.77
It could take several years for the auction process to begin but the end result may be fewer local stations in some large markets, said David Oxenford, an attorney with the law firm Wilkinson Barker Knauer, who represents broadcasters before the FCC. "You won't see many big network affiliates getting in on the auction," he said, "but if you're the sixth or seventh station, there's not much of an audience. Most of those stations will go away."78 Those stations tend not to be news-producing stations but some, at least, do carry news provided by their bigger competitors, often in nontraditional time slots. If those stations go off the air, the amount of local news available in some markets could shrink, although probably not substantially.
News Staff
After years of having to do more with a lot less, local television newsrooms finally were able to do more with a little more. The median full-time TV news staff hit an all-time record of 32 employees in 2011, an increase of more than 4% from the year before.79 That sizable jump came in a non-election year, when TV is typically in a holding pattern, indicating just how much pent-up demand newsrooms had to meet.
More than a third of news directors surveyed started 2012 planning to bring on even more staff. "I would be astonished if the trend toward more hiring doesn't continue," Papper said.
The top three categories for new hires were producers, reporters and Web staff. But the average number of full-time staff working exclusively on the Web has increased only slightly over the past decade as the lines that used to exist between job categories have disappeared.  "They're looking for people who can do everything," said Micah Johnson, president of MediaStars, an agency that represents TV news employees in contract negotiations.80
The hiring was not spread evenly across market sizes. Staff size in the top 25 markets jumped the most – by 20%, on average. Small markets also saw some staff growth. But the average number of newsroom employees in mid-size markets (26-50) actually dropped.
Across all market sizes, the trend toward hiring multimedia journalists or "one-man bands" who report, shoot, write and edit shows no sign of slowing. The use of solo journalists was up a further 3% across the board, according to the annual RTDNA/Hofstra survey, but that number tells only part of the story.  In medium-large markets, the use of these one-man bands soared, with one in four stations in markets 26-50 now saying they mostly use solo journalists, more than twice as many as the year before.
Another change to be noted: More staff at all levels were put under contract in 2011, the most recent year for which data are available. Stations where many employees worked without contracts during the recession moved to lock in terms of employment and compensation, especially for off-air staff. The percentage of managing editors and news writers under contract doubled. "Apparently there's nothing like an improving economy to bring out the 'love' between station and employee," quipped Hofstra's Bob Papper.
While station staffs expanded, the same could not be said of salaries. Average pay at local TV stations increased just 2% in 2011, less than a third as much as the year before, failing to even keep up with inflation. "That's likely the result of stations adding people who are mostly entry level — or at least paid at a noticeably lower rate than existing staff," Papper said.  Salaries for managers were higher for the second year in a row, but anchor salaries took a hit. One year after registering the largest average pay increases in TV newsrooms, anchors saw their pay drop by more than 8% on average.81
"We are past [the era of downsizing] but I don't think we will see salaries recover," said Micah Johnson of MediaStars.
News Content
One trend that shows no sign of reversing is the increasing amount of news that local TV stations are putting on the air. On average, stations aired a record 5 hours and 30 minutes of local news on weekdays in 2011, the last year for which data exist. That amounts to 12 minutes more per week than the year before, according to the annual RTDNA/Hofstra University survey.82
The pace of news expansion has been rapid. In just four years, stations added almost a full hour of news per day on average. And the growth has occurred across all market sizes, says Bob Papper, who directs the RTDNA/Hofstra survey. The median station is running five hours of news a day.
There is every reason to expect that 2012 set another record. Almost a third of news directors surveyed said they expected to add more news. Not a single one expected to cut news time.
Where is all that news finding a home on the schedule? Mostly in the mornings. The fastest-growing time period for local news was 5-9 a.m., with 28% of stations that added news putting it in that time slot in 2011. In addition, 20% added news at 4:30 a.m., according to the RTDNA survey.  Those added newscasts may not offer much additional original reporting, however. Anecdotal reports suggest that many stations serve up weather, traffic and recaps of the late news on their early-morning news programs.
Another growth area in local TV news was weekend mornings. Stations in markets as large as Chicago and as small as Fayetteville, Ark., added Saturday and Sunday morning newscasts in 2012. "There's definitely an appetite for local news on the weekends," said Jennifer Graves, news director of ABC-owned WLS in Chicago. "After expanding our weekend late news to an hour, it seemed logical to grow the Sunday morning time period as well."83
Some stations air more than twice as much local news as the national average. Fox-owned WJBK in Detroit, for example, airs 10 and a half hours of news each weekday, starting with a morning news block that runs from 4:30 a.m. to noon. "You almost can't get away from us," said the station's news director, Dana Hahn. "For our viewers, it doesn't matter what time you're heading out to work or whether you're sleeping late. We are going to be there for you."84
The expansion of news time has not increased the overall audience for news, however, suggesting that the addition of more newscasts has simply fragmented the audience. (See Audience section for more) Nevertheless, producing more local news can be cheaper for stations than buying syndicated programming, so the trend may not yet have run its course.
Stations continue to provide news through other outlets as well, with more than one in three producing content for another television station. According to the RTDNA/Hofstra survey, 725 stations originate local news and 242 stations run news produced by an originating station. More than half of the originating stations also feed content to local cable channels and radio stations. Those numbers have not changed much, however. "TV news expansion into other areas appears to have stabilized," said Bob Papper. "At least for now."85
There are also some indications that partnerships between stations for newsgathering are losing steam. NBC-owned stations, for example, pulled out of joint helicopter arrangements in three markets and stopped sharing video crews in two.86 The number of stations saying they were not involved in news sharing at all in 2011 increased by more than 6%.  Papper suspects that some cooperative ventures born of a need to save costs during the recession were dissolved as the economy improved.
The practice of news sharing remains commonplace, however. More than half the stations surveyed said they have a newsgathering or coverage agreement with another media outlet. Fox has sharing ventures in 12 of the 16 markets where it owns stations that produce news. In Phoenix, all five local stations are involved in one way or another in cooperative newsgathering with one or more competitors.
"The concept has kind of been baked now into our culture," said Ed Munson, general manager at KPHO, the Meredith-owned station in Phoenix. "Because of that, and because it works well and does free up resources for covering things more in our brand wheelhouse, it has continued."87
Digital Content
After years of inching toward ubiquity, the internet has finally become a universal platform for local television. For the first time, every station that runs local news in every size market reported having a website in 2011. Stations also are providing news on mobile devices like smartphones and tablets and they are increasingly active in social media.
Most of the content stations provide online is not original. "We're still seeing a lot of material that's going to digital platforms that's derivative of what you see on television," said Chip Mahaney, senior director of local digital operations for E. W. Scripps.
A few stations have broken that mold with unique content designed to appeal to niche markets in their communities. The Belo station in San Antonio, for example, marked Veterans Day with a Web-exclusive series aimed at the 18% of the population with ties to the military.88 In Louisville, just days after the Gannett-owned Courier-Journal put up a pay wall, the local Fox affiliate, WDRB, hired two popular sports columnists from the paper and began featuring them prominently on its website. "I would imagine probably 70% of what they do is going to be on our Web," said the station's news director, Barry Fulmer.89
Almost 80% of local TV stations report having one or more apps, which by definition are designed for mobile devices.90 But mobile content is even less likely to be original than Web content, according to Chip Mahaney of Scripps, because a lot of television station apps are feed-based. "The content is delivered from the website and if that content is derivative from the newscasts then it's a hand-me-down of a hand-me-down," he said.
To differentiate their mobile content, some stations have produced specialized apps. The eight ABC-owned stations offer one that combines an alarm clock with custom wake-up messages from local anchors and a weather update.91 The Cox station in Atlanta created an app to provide users with real-time traffic information.92 And stations across the country have introduced severe-weather apps, including KJRH in Tulsa, Okla., and KSTP in Minneapolis.93
Newsrooms have had less success with apps designed to encourage second-screen activity, like chatting online with fellow viewers during a newscast. ConnecTV and Zeebox both offer that capability but the potential payoff for local news appears slim. "You look at major events and there's a lot of interest, but it just is not an easy sell to get people to adopt a new platform just to talk about a newscast," Mahaney said.
Social media is another matter. All local TV stations reported having at least one Facebook page in 2011. The percentage of stations using Twitter "constantly" jumped to 50%, with just 6% reporting their newsrooms were not active on Twitter.  "We really can't survive now without being in the social media game," said WJBK's Dana Hahn. "It's a way to reach a lot of people who aren't watching the 5 o'clock news."94
At the Scripps station in Detroit, news anchors have encouraged conversations about the news by using the hashtags #backchannel and #earlyrisers on Twitter. Stations typically provide different content on Facebook and Twitter than they do on the air or online. Many routinely solicit posts and photos from followers that expand their coverage, as a Colorado Springs station did during last summer's wildfires.95
News directors also report using Facebook to explore special topics of concern like bullying, diabetes, immigration and transportation. "In an era of lots of TV news fluff, some serious stories appeared to getting new life online," said Hofstra's Papper.
Gray Television is attempting to measure the quality of digital content at its stations by tracking what it calls "enhancements" on a monthly basis. Stations are graded on everything from the number of stories they post to the use of slideshows, video clips, maps and polls. "The more content [we provide], the more we can draw and keep eyeballs," said Lisa Bishop, Gray's vice president of digital media. "If no one's consuming our content, we're going to be dead in the water."96
One technological advance predicted for years finally became a reality in 2012 but still remains a long way from commercial success. Adapters that make it possible for consumers to receive broadcast signals on mobile devices went on sale in the fall. The service from Dyle, supported by the major broadcast networks, is available in 35 markets covering more than half the U.S. population. But the receivers are not yet built in to most mobile devices and the adapters cost $100, leading some analysts to doubt whether consumers will buy them.  "Anything that adds to the size and weight of a device is a factor affecting an accessory purchase," said Jonathan Hurd, director of the consulting firm Altman Vilandrie & Company.97
Continue reading Local TV: By the Numbers
Endnotes