Digital: As Mobile Grows Rapidly, the Pressures on News Intensify
By freelance journalist Jane Sasseen, Kenny Olmstead and Amy Mitchell of the Pew Research Center
For more than a decade, as the desktop/laptop era of computing took hold, news organizations were at a severe disadvantage competing against a raft of financially and technologically stronger tech companies. Now, the rapid advance of the mobile era threatens a whole new level of upheaval, as both the costs and technological challenges of keeping up in the swiftly evolving news ecosystem multiply.
If there is one fact that neatly sums up the predicament news organizations face, it is this:  Google, long the dominant player in search ads, has now extended its lead to the rest of the digital advertising market. In 2012, it also became the largest player in display advertising and the nascent market of mobile ads.
If that were not enough, the search giant has also become an inescapable player in mobile devices.  Tablets based on Google's Android operating system accounted for 41% of global tablets shipped in the third quarter of 2012, according to market researcher Strategy Analytics – a sharp shift from the same period two years earlier, when Android tablets made up less than one percent of the market.1,2

News organizations are increasingly dependent on Google and a handful of other powerful tech firms for the tools and platforms needed to reach their audience. They also are increasingly vulnerable to the changes the tech firms are introducing. The shift to mobile, for example, is making news an ever-more expensive arena in which to operate, but it is not yet producing the kind of new revenues to back up news organizations that will allow them to support those expenses.
For most publications, advertising on the Web has generated only a fraction of the revenue print or television advertising once earned, and mobile ads are bringing in only a fraction of what Web ads make. And while mobile apps have started to develop as a new source of subscription revenues – and, in some cases, readership – for now that revenue stream also remains small.
If there is one hopeful sign for news, it is that the U.S. audience still turns to the legacy newspapers, TV stations and cable channels they have long known. Strong brands with solid reputations still matter, according to our data.  But the twin challenges of maintaining the financial strength and technological savvy to foster those brands will only intensify.
The Audience for News
Online news consumption rose sharply the last two years, following the rapid spread of digital platforms. In fact, online was the only category of news that showed growth in Pew Research Center's 2012 News Media Consumption survey.
In 2012, about 39% of respondents got news online or from a mobile device "yesterday," (the day before they participated in the survey) up from 34% in 2010, when the survey was last conducted. And when other online and digital news sources are included, the share of people who got news from one or more digital forms on an average day rises to 50%, just below the audience for television news (which combines cable, local and network), but  ahead of print newspapers and radio (29% and 33%, respectively).3 A further breakdown shows that 19% of respondents got news from social media and 16% did so from e-mail, while 8% said they'd listened to a podcast.
Americans over 50 are still somewhat less likely to consume news digitally as those under 50: about 43% of those aged 50 to 64 get some form of digital news yesterday compared with 60% of the younger age groups. What stands out more, when it comes to age, is the degree those under 30 are moving away from traditional delivery systems altogether.
Mobile
The rapid growth of mobile is a key factor driving the move to digital news. Indeed, the proliferation of devices is giving rise to a new multiplatform news consumer, one who accesses news through a combination of different devices and traditional sources.
Some 31% of adults now own a tablet computer, almost three times the share recorded in May 2011. Web-enabled smartphones are even more widespread:  45% of adults own a smartphone today,4  up from 35% in May 2011.5
Sales of Apple's iPad alone were 65.7 million worldwide or around 62% of the total tablet market,6   and the smaller iPad Mini, introduced in November, appears to be taking off quickly.7  A host of Android-based tablet rivals, including Amazon's Kindle Fire and its successors, Google's Nexus line and Samsung Galaxy devices – many of them cheaper than Apple products – have also expanded the market considerably.
That growth appears to be a boon for news since accessing news is one of the most popular uses for the devices, enabling Americans to get news whenever they want and wherever they might be.
Fully 64% of tablet owners say they get news on their devices weekly and 37% report they do so daily, according to a survey conducted by the Pew Research Center and the Economist Group. The trend is nearly identical for smartphone owners – 62% get news on their device weekly and 36% do so daily.
For many publications, the trend is rapidly shifting the balance of readership toward mobile. "Last month, 32 percent of my traffic came from mobile," Raju Narisetti, then the head of The Wall Street Journal's Digital Network, said in a February presentation at the Digital Media Strategies conference in London. "A year ago it was 20 percent and a year from now it will be 50 percent."8  (Narisetti has since been named senior vice president and deputy head of strategy at The Journal's parent company.
In some instances, it is already there. Katie Zhu, a mobile app developer at NPR, wrote in a recent blog post that mobile brought in 50% of the traffic to an election night feature tracking electoral votes. Typically, NPR gets just 10 percent to 20 percent of its traffic from mobile. "Moral of the stats: A good mobile experience is absolutely necessary," she added.9 

For news operations, this means creating and maintaining news for consumption on more platforms than ever.
Most mobile news users are not replacing one platform with another; they are consuming more news than they had in the past.   More than half of tablet news users, some 54%, say they also get news on a smartphone; 77% also get news on a desktop or laptop computer; 50% get news in print and a quarter get news on all four, according to the joint Pew Research Center and Economist Group study. Similarly, about three quarters of smartphone owners say they also get news on laptops or desktops, while a little over a quarter of them get news on a tablet.
This same survey also found 31% of tablet news users said that they spend more time with news since getting their mobile devices. Another 43% said that the device is adding to the amount of news they consume.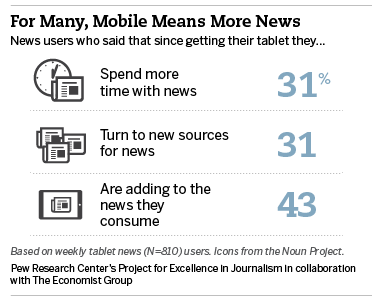 That effect seems to be stronger among older mobile news users than younger ones. Among tablet owners 65 or older, fully 61% say that the news they get on their device is adding to their news consumption. That compares with just 45% among other age groups.10 ,11 In a way, though, this is understandable. It is traditionally the case that older adults are more avid news consumers than younger adults. So the older adults who have invested in a tablet or smartphone are even more likely to be news junkies who appreciate getting news on multiple platforms.
Education plays a role, too: 49% of tablet news users with less than a college education say the device is boosting their news consumption; only 36% of those with a college degree or higher say the same.12

This adds up to a mixed blessing for news outlets: They now have more opportunities to reach new audiences, but they need more resources to deliver content across platforms.
The Top News Sites in 2012
All of those factors are driving enormous growth in the online news audience. The top 25 news sites in the U.S. totaled 624 million unique monthly visitors in 2012 – a 7.2% gain from the prior year, according to comScore.
One hopeful sign for news outlets: Even as readers increasingly go digital, the sites they most often look to for news are those of traditional news organizations. The three leading online measurement firms – comScore, Nielsen and Experian Hitwise – compute digital traffic in different ways, so their raw numbers do not match up. But all tell a similar story about which sites are the most popular. Well-known news brands – the websites of newspapers, cable and network news – account for 20 of the 25 most popular news sites listed by comScore, for example.
For the most part, the top 25 news sites stayed the same in 2012, though a few sites did move up or down in the rankings. (A change in Nielsen's methodology makes year over year comparisons inaccurate for 2012, thus Hitwise and comScore are used for this measure.)13

Yahoo News, which remained No. 1 on all three lists, saw a substantial increase in traffic, due in part to a content partnership with ABC News. The HuffingtonPost, which also saw strong audience growth, rose from fourth to second on the Hitwise list; it remained stable at third place in the comScore rankings. By contrast, The New York Times fell three spots on both lists, dropping to seventh place in the comScore ranking and 12th on Hitwise.
Both Boston.com and The New York Post fell out of comScore's top 25.  On Hitwise, neither has ever appeared in the top group.
The Second Screen Phenomenon
Mobile devices are also transforming the news environment through the rise of the so-called second screen phenomenon, in which users log onto the internet while also watching television. Although the practice goes well beyond news, it has become popular around live news events such as the U.S. presidential debates, election night or the State of the Union address.
The Pew Research Center asked whether people used two screens simultaneously to follow some election-rated events (rather than using a second device to do unrelated activities like e-mail or shopping). Of the 56% of the public who watched the second presidential debate between Mitt Romney and Barack Obama, 11% "dual-screened," reporting that they followed the debate on both a computer or mobile device and television at the same time, according to Pew Research survey data.14 

On election night last November, Pew Research found, 27% of those in the country who watched the results used both the internet and television at the same time.
Again, the election questions specifically asked about using two devices to follow the same event and do not include individuals who may have used a second screen to do other things. Other data suggest that even more people may fall into the second category.  An August survey by Google, for example, reported that three-quarters of respondents said they watch TV while interacting with another device.
It is this, dual-screening during live news events, that has the most potential for news organizations, offering an opportunity to leverage viewers' desires to communicate online and to engage more actively with the content they are seeing on the screen, especially if the event is occurring live. There is also room for supplementary programming: During the 2012 political conventions, for example, Yahoo and ABC News featured additional segments and guest interviews on their websites that complemented the network's traditional coverage of the convention floor. By creating broadcast and digital content that capitalizes on the dual-screen trend, news organizations can deepen ties with readers and viewers. While it is still early to measure results, the small survey data available so far are fairly promising – and more so for news than for entertainment viewing.
A Verizon study published before the first presidential debate found that people planned to use their second devices in a number of different ways. Nearly half the respondents, 46%, said they would use a second screen to track broadcast media. Roughly 40% said they would fact-check what they heard or follow the reactions of political reporters.15  Sharing on social networks was also important: 32% said they would monitor social media while watching the debate.
For television watching more broadly – which may or may not include news – second screens may be having the opposite effect. Pew Research found that 38% of those who use their smartphones while watching TV did so to "keep themselves occupied during advertising breaks."16
Similarly, only 22% of respondents to Google's August survey said the second screen activity was complementary to the television program. And Nielsen data suggests that much second screen activity involves e-mail, whether tied to what is being watched or not. Two-thirds of second screen users checked e-mail while watching TV, according to a Nielsen survey from December 2012.17
Social Media: A Critical Tool for News Discovery
In 2012, social media continued to expand its role in the news ecosystem, establishing itself as an indispensable tool for distributing content and attracting new readers, as well as for building deeper engagement with current ones.
In early 2012, Sree Sreenivasan, the chief digital officer for Columbia University and a professor of digital media at its Graduate School of Journalism, counted 100 news organizations around the country that had designated social media editors. That number now stands at 184.18 

Audiences now consume more news through social media than they did before. A June 2012 Pew Research Center study found that 19% of Americans saw news or news headlines on a social network "yesterday," more than double the 9% who'd done so in 2010. The acceleration is not just among the young. Roughly 34% of those aged 18 to 24 said they saw news on a social networking site yesterday, up from 12% in 2010, and so did 30% of 30-to-39-year olds, up from 19% in 2010.
A separate Pew Research study found that mobile is driving much of this growth. Some 47% of smartphone users said they got news through a social network "sometimes" or "regularly."  Some 39% of tablet news users did so as well.Determining exactly how much traffic social networks over all are now driving to news sites is difficult, though it accounts for a growing share of the audience, according to both Pew Research surveys cited above and Pew Research analysis of Nielsen data. Major news websites in the U.S. now get, on average, 9% of their traffic from Facebook, more than double the 4% seen just 15 months ago. Still, this is far smaller than the percentage coming from search queries, which average 23%, according to Experian Hitwise.
The influence of social media also depends on the individual site, its audience – and its design. Raju Narisetti, the head of The Wall Street Journal's digital network, told Pew Research that social media drive between 7 and 10 percent of the traffic to WSJ.com on any given day.  By contrast, Zach Seward, a senior editor at Quartz, the new mobile-focused business site launched by the Atlantic Group last fall, says that social media accounts for 30 to 40 percent of its traffic.19 

NewsWhip, a startup company that tracks news shared on social media, published a list in September 2012 of the 50 news sites with the strongest user engagement on Facebook. (Engagement was based on stories that tallied more than 100 Facebook interactions, such as when a reader liked a story on Facebook, shared it or commented on it.)
The Huffington Post, which was far earlier – and more aggressive – than most news organizations at making social media central to its strategy, easily came out on top.  It boasted more than 2,500 stories with at least 100 Facebook interactions, almost twice that of the Daily Mail in Britain, the next most successful. Major news brands like The New York Times and CNN also made the top 10, as did BuzzFeed, the fast-growing digital native site that was created with social media as part of its DNA. Gawker Media also did well – four of its Web properties, including Gawker.com, made the list.
Another measure of the growing importance of social media – and its ties to the second screen phenomenon – comes from Trendrr.TV, an analytics firm that measures social data around television. During the week of the election, for example, it measured network and cable television mentions in social media. CNN led among cable channels – its coverage was mentioned nearly 2 million times in social media – followed by Fox News, at almost 1.8 million. Among networks, NBC topped the list with nearly 1.7 million mentions.
Facebook, with its 167 million active users in the U.S., remains the most important of the social media sites for sharing news.20  And Twitter, while far smaller at 59 million active U.S. users, has consolidated its reputation as the place readers and journalists alike go for the latest updates on breaking news.21 The increasing reliance on up-to-the-minute reports does carry risks.  On the day of the massacre at Sandy Hook Elementary School in Newtown, Conn., CNN, Fox and others22 incorrectly reported a number of details, including the identity of the killer. The misinformation spread almost instantly on Twitter.23

Both Facebook and Twitter have taken steps over the last two years to work with journalism organizations, though some of the tools have faltered. A series of Facebook "social readers" that The Washington Post, Yahoo News and others launched starting in late 2011 to share stories automatically have faded from the site. Initial traffic gains fell quickly after many users responded poorly to stories shared by algorithms, rather than by their friends.
Considerable controversy has also surrounded the "subscribe" feature that Facebook launched in late 2011. The feature allows journalists to easily share content with their followers on the site, but many who use it have complained in recent months that their followers are no longer seeing their posts. They say readership and engagement have plummeted since Facebook launched a "promoted post" advertising feature in which the site charges users a fee to get wide distribution.24  Facebook has denied any connection between the two features, however, amid continuing debate over what has caused the drop-off.25 

Facebook has also continued to launch new features that, while not specifically designed for journalists, could nevertheless increase the site's importance for news organizations. In early March 2013, for example, it introduced a redesigned News Feed that allows users to track multiple dedicated feeds containing only posts on news, music, photos or other types of content. The new feed, which Facebook CEO Mark Zuckerberg likened to a "personalized newspaper," could eliminate the problems Bilton complained about and make it easier for users to track posts from the journalists and news organizations they most want to follow.
Earlier this year, Facebook also introduced an expanded search function called graph search. Vadim Lavrusik, the journalist program manager for Facebook, says it has considerable potential as a tool to help reporters find sources. In effect, journalists who take advantage of graph search will have access to many of the same targeting tools that Facebook offers its advertisers.  The new function allows anyone to search posts, pictures, and other public material on the site (such as company or university affiliation) using natural language queries rather than key words and then drill down to specifics, such as location, demographics or time frame.
A reporter covering the recent school bus strike in New York might have searched for "bus drivers who work around New York" and then culled names of drivers from a particular company or neighborhood to interview. An editor putting together a before-and-after photo spread on Hurricane Sandy might query "photos taken around Breezy Point, New York, in October" to see all of the related pictures Facebook users had posted publicly during the month.26

Twitter introduced a new tool for posting video content in January 2013. Vine, as it is called, allows users to easily shoot and share six-second videos. Some media watchers believe the new app has great potential for news organizations as well as for citizens by making it easier to disseminate citizen-shot videos of local events, such as fires, accidents or police misconduct, as well as short clips by reporters in the field.27 "Think of the impact Twitter has made so far on real-time reporting – making everyone, everywhere, a potential instant eyewitness who can share text or a photo with the world," wrote Jeff Sonderman, the Poynter Institute's digital media fellow, soon after Vine's launch. "Now think of how that effect is amplified when the public can easily start sharing videos of the same events."28

But concentrating on those two sites alone may no longer be enough. News organizations have found increasing use for Pinterest, the fast-expanding pinboard site launched mid-2010.  The Wall Street Journal uses it to highlight graphics, while papers like The Dallas Morning News and The Pottstown (Pa.) Mercury use it for photos of everything from local storms and fires to mug shots of people wanted by the police.29 Some are also experimenting with Instagram, the mobile photo app bought by Facebook. Time magazine used it to document Hurricane Sandy,30 while Anthony Quintano, senior community manager for NBC News, says that all of its news shows now have Instagram accounts and that journalists embedded with presidential campaigns used them to post thousands of pictures from the campaign trail.31

And while Google Plus, the network started in 2011 by the search giant, is not as widely used by the public – users spend just 1% as much time on the site in a month as they do on Facebook, according to comScore— its importance to journalism lies elsewhere.32 Social engagement within Google Plus is now one measure Google uses in its search algorithms, meaning an article that is popular on Google Plus will do better in search.
In an era of limited resources, however, the seemingly endless array of new platforms raises a challenge for news organizations: Just how much time should they devote to social media – and where should their resources be concentrated? "Not everyone will have equal success on every platform; you have to be thoughtful and strategic about where your efforts will pay off the most," says Sreenivasan. "There is a long road ahead as we all learn what social can do."
Digital Economics: An Intensifying Array of Challenges
As readers and advertisers dive headlong into the mobile era, the outlook for news companies remains difficult. For much of the past 15 years, news organizations have been forced to trade print dollars for digital dimes, as revenues from print and television evaporated far faster than digital revenues have grown. Now, things may get even worse: News may be entering the era of mobile pennies.
The diminishing outlook stems from a host of forces that have been building for years but are hitting with increased fury in the mobile age. First, the intensifying competition from automated advertising networks – which operate as middlemen, connecting marketers who want to place an ad with websites that have space to sell – together with the low quality of many mobile ads (particularly on smartphones, where the tiny ads can be hard to read and navigate) are driving digital ad rates even lower. Rates for Web ads are sinking and those for mobile were minuscule to start with. The combination is further straining news organizations' already stretched finances – one reason that publishers like The New York Times, Time Inc. and The Cleveland Plain Dealer began 2013 with new rounds of layoffs.
"A lot of the challenge is in rebalancing the company," says Marc Frons, chief information officer of The New York Times. "How do you shrink expenses on the print side enough so that you have more money to devote to digital growth?"
At the same time, news remains a tiny player in a digital market dominated by Apple, Amazon, Google, Facebook and a handful of other tech giants that are far stronger financially and, in many cases, technologically. Even as their revenue picture darkens, news organizations have little choice but to invest time, personnel and resources in the proliferating spate of digital and mobile platforms their readers are using.
"We want to be where our readers want to be as new platforms reach critical mass, but you can't do them all at once," said Pamela Maffei McCarthy,  the deputy digital editor for The New Yorker, in an interview with Pew Research.  In a pattern typical of many news organizations, the magazine focused on apps for the iPad and iPhone first, while 2013 will be a big year for Android development. An app for Google Play, the online media store run by the search giant, is next, followed by one for Windows 8.
The Digital Advertising Market
The problem for news is not the size of the digital ad market, which is growing far more rapidly than the rest of the advertising market.  Total digital advertising (including mobile) rose to $37.3 billion in 2012, a 17% increase.33 

Digital ads, which outpaced newspaper advertising for the first time in 2011, now make up 23% of overall U.S. advertising, up from 20% in 2011. They are second only to television ads in terms of overall dollars, and are growing three times faster. eMarketer projects digital's share of the U.S. ad market will grow to 29% by 2016.34

Within digital, mobile advertising is growing rapidly as well. While small today, mobile ads grew 80% in 2012. At $2.6 billion, mobile now accounts for roughly 7% of total digital ad spending. eMarketer projects it will hit 21% by 2016.35
The problem for news is the composition of the digital ad market, starting with the intensifying competition it faces from Google and other tech firms. While no separate tally breaking out the news industry's share of digital ads exists, one daunting truth is clear: News is a tiny player in a market dominated by the large technology companies like Google and Facebook.
Together, the five largest companies – Google, Yahoo, Facebook, Microsoft and AOL – pocketed 64% of all digital ad spending in the U.S. in 2012, unchanged from 2011.36   Google maintained its market lead as its ad revenues rose 20%, to $15.4 billion, according to eMarketer. Facebook and Microsoft grew 24% and 23%, respectively. All three are increasing their share of the rapidly expanding market. Yahoo, which has suffered multiyear woes and management turmoil, saw its ad revenues fall, while AOL's 4% growth left it with a declining piece of the market, too.37

eMarketer projects the five companies will retain roughly the same market share in 2013. These are not simply the reflection of a difficult economy or a weakness in advertising. The news industry is in the midst of a deep structural shift, says Joseph Turow, a professor of communication at the University of Pennsylvania and author of "The Daily You: How the New Advertising Industry Is Defining Your Identity and Your Worth." In an interview with Pew, Turow notes that the advertising revenues news organizations have depended on for more than a century –"their advertising subsidy" – are declining rapidly, as advertisers have found new and better places to put their money in the digital era.
That dominance leaves only a small share of the digital pie available for news organizations – and if anything, their ability to beat back against the tech giants' strong grip is getting weaker.
The digital giants, particularly Facebook and Google, collect and mine vast amounts of data on their users' hobbies, interests, demographic profiles, political interests and relationships. Every time a user "likes" a post on Facebook, conducts a search on Google, or watches a video on YouTube (which Google owns), the companies gain additional data they can use to identify their users' interests. As a result, both companies offer advertisers a far more sophisticated ability to target specific ads toward consumers than most media companies can muster – and they can increasingly do so in real time by tracking users as they surf the Web.
Moreover, they can also place those ads in front of a much larger national audience, which gives them the high volume needed to remain profitable even as they drive down ad rates and margins for the market as a whole.
The tech giants are quickly making the same claim in the fast-growing mobile ad sector. Given the rapid shift of news consumption to smartphones and tablets, mobile would seem to offer tremendous potential for legacy media. Yet many news organizations are falling behind the curve as the big tech companies invest heavily in the emerging technology.
Google has quickly become the dominant player, taking in 54.5% of all mobile ad spending in the U.S.  While Facebook lags behind Google – it introduced its first mobile-only ad feature in June 2012 allowing advertisers to buy ads just on mobile devices – it is growing rapidly. Mobile ads accounted for almost a quarter of Facebook's $1.33 billion in ad revenues in the fourth quarter of 2012, up from virtually nothing early in the year.38
Already, advertisers using Google and others can take advantage of the location-based data embedded in mobile devices to place ads targeted to where mobile users are and what they are doing. Given the complexities of mobile, even the weakest of the tech giants is in a far stronger financial and technological position to develop those abilities than all but the largest news organizations.
Moreover, because Apple, Amazon and others control the major mobile platforms, news organizations often must give the tech firms a significant slice of their mobile ad revenues.
There is another significant way in which the shift to mobile risks further exacerbating the news industry's financial woes: If Web ads bring in only a fraction of the revenues earned by print ads, mobile ads generally bring in only a fraction of what Web ads earn. The standard measure used to price digital ads, the cost per thousand impressions (CPM), averages about $3.50 for Web ads, according to the internet analyst and venture capitalist Mary Meeker. For mobile ads, she said in a recent presentation, the average is just 75 cents.39 

Those are averages, of course. Tablets generally do much better than smartphones, says Larry Moores, vice president of consumer mobile analytics at Opera Software, which runs a mobile ad platform used by News Corp., Bloomberg and CBS, as well as many non-news organizations.  Apple devices also typically bring in higher rates than do rivals. iPad ads running on Opera brought in an average effective CPM of $4.42 in late 2012, while iPhone ads had an average CPM of $1.48. Ads on Android phones brought in an average of just 88 cents, while RIM's BlackBerry phones, at $1.06, landed in between.40 

"The rates depend on how capable the device is of displaying interactives; what cool things it can do," says Moores. "Tablets monetize very well because the user experience is better and the call to action can be better, but PCs still have an advantage in seamlessly executing features."
As tech firms and others rapidly expand their ability to track consumers as they move around the Web or access information on mobile devices, significant new privacy concerns have also arisen. The Federal Trade Commission has urged the industry to adopt stronger do-not-track policies that would allow consumers to prohibit Web sites, data firms and advertising technology companies from collecting and mining personal data based on their online activity.41  In January 2013, the FTC also recommended that the mobile industry build similar safeguards into the software and apps used in smartphones and tablets.42 For now, however, users have only limited ability to control how their personal data are collected or used.
Digital Pay Plans
That constant, downward pressure on digital advertising rates is a key reason many news organizations are shifting strategies to reduce dependence on advertising and increase the revenues coming from digital circulation. Over the last year, many have moved to put at least some of their content behind pay walls. Following The New York Times's success at charging to read its content online, roughly 400 of the country's 1,350 papers have now instituted metered payment plans or are planning to do so this year, according to Poynter. Even those previously opposed, such as The Washington Post and The Seattle Times, are considering them.
The idea is also spreading beyond newspapers: Both The Atlantic and The Daily Beast are considering plans to charge readers for their online content. And blogger Andrew Sullivan has also begun a closely watched experiment after leaving The Daily Beast to run his own site independently, using a metered subscription model.
"A lot of people once thought you could have a model in which you subsisted principally on digital ads, but to do so, you have to operate on a mass scale," says Frons of The New York Times. "Google, Facebook, and maybe Yahoo and AOL can do it; traditional media companies cannot."
Digital Advertising by Sector
Whatever the difficulties, digital advertising will nevertheless remain a significant part of the revenue mix for news. The opportunity for news varies considerably by segment, however. Digital advertising is made up of eight core segments, the largest of which has long been the search. That is dominated by Google. Search ads continue to grow rapidly, increasing 16% in 2012, to $17.6 billion.
That supremacy is a key reason news organizations have faced such difficulties making money on digital news since ads that appear during searches represent nearly half the total digital ad market, yet very little of the money goes directly to news.
Mobile search is also exploding. Revenues nearly doubled to $1.3 billion in 2012. Search now brings roughly half of all mobile ads, up from about a fourth as recently as 2009.43

Display Advertising: The Rise of the Ad Networks
The news industry is largely dependent on display advertising. Banners are the largest segment of display ads, followed by video ads, rich media and sponsorship ads. (Rich media ads are banner ads that have an interactive element such as animation.)
The market for display advertising continued its rapid rise in 2012, thanks to the sharp expansion of video and sponsorship ads, as well as marketers' continued appetite for banner ads. Over all, display revenues rose 21.5%, to $15 billion, in 2012. Banner ads grew 15%, to nearly $9 billion.44 

The higher growth rate means display, now the second largest digital ad category, is closing the gap with search. eMarketer projects that display will tie search in 2015 and take over the market lead by 2016.
In the mobile realm, display ad revenues have been roughly equal to search from the beginning, and both are rising rapidly. Mobile display doubled to $1.1 billion in 2012. As with overall ad spending, eMarketer predicts that mobile display will overtake mobile search by 2016.45 

Theoretically, the shift toward display ads ought to be good for news organizations, since banner and other display ads provide the vast majority of their digital ad revenues.
Whether they'll be able to take advantage of that shift remains an open question, however. The five tech companies that control the overall market for online ads also have a strong hold on display ads. Google and Facebook, in particular, have brought the same sophisticated ad-targeting techniques used in search ads to the market for banner, video and other display ads, giving them an advantage over many media organizations.
The five companies took in 47% of the display ad market in 2012, down one percentage point from 2011. The fall is largely attributable to the weakness of Yahoo, AOL and Microsoft, as portals have fallen from favor in the mobile and social era.46

More ominous for news, advertisers increasingly view Google, Facebook and other social media sites as better venues for their display ads than news outlets. Both Google and Facebook have increased their investments in the display ads market, giving the two an even larger edge in the race for advertising dollars.
News organizations also have to contend with the increasingly powerful role of ad networks in the display arena. These networks match marketers that  want to place ads with websites that have open space to sell – and they often do so in real time – with highly specific ads geared to an individual consumer's interests. If a reader goes to a sports news site looking for game scores, he might receive ads for sports equipment or tickets to a local event, for example. And increasingly, the ads users see will also reflect the recent websites they have visited. A reader who has recently looked at a new pair of sunglasses on an eyewear site might see an ad for the very same sunglasses pop up later in the day when checking the headlines on a news site or looking at a social media feed.
The ad networks, now account for a significant share of display ads sold. Their growing importance is a key reason for Google's lead in display. In recent years, it has spent over $4 billion on ad technology companies such as DoubleClick47  to build up a network. Google now places targeted display ads on millions of other websites through its DoubleClick Ad Exchange.48 And after aggressively ramping up ads on its own site, Facebook is also working to create a similar network so that it, too, can sell targeted ads to websites around the country using the data it has gathered on its users.
They are not alone. Large independent ad networks like AdBrite and ValueClick have also become big players in display advertising. All of these networks are generally more cost-effective and easier for advertisers to use than individual news sites. Their massive scope and the huge amount of space they have opened up to advertising have also driven digital ad rates down, further limiting the digital revenues available to news.
"The networks have led a shift in ad dollars away from classic display ads toward targeted, real-time purchases that are driving down rates and disintermediating news publishers," says Frons of The New York Times. "Traditional ads are not going away, but they aren't growing as they once were."
Large publishers like The Times or Time magazine can still develop digital ad sales themselves, but many smaller and mid-size news organizations are struggling to compete with the scale and customer data of these larger ad networks. Instead, they sell digital ads through these networks – but in doing so, they must give the networks a share of the revenues the ads bring in.
Video Advertising: Small, but Exploding Growth
Americans are watching more online video than ever, and video advertising has exploded in response. It increased 47%, to $2.9 billion, in 2012, by far the highest growth rate of all digital ad segments. Video ads bring in higher rates than banner ads, providing news organizations the opportunity to charge more for the content on their sites.
The exploding popularity of mobile devices is also helping to spur the rise of video. Some 38% of respondents to the recent Pew Research Center study on mobile news said they used their tablets weekly to watch video; 12% said they did so daily. comScore found similar results in a study in April 2012 of video viewership.49 Tablets' larger screens are key: More than half of tablet users surveyed said they had watched video on their smartphones during the month, compared to just 20% of smartphone owners who said the same.
Video is now the second-largest ad segment within display, and it is expected to close the gap with banner ads over the next few years.
Over all, eMarketer estimates that video will reach 15% of the digital ad market by 2016, up from 8% today. So-called "pre-roll ads" – which get the highest ad rates because they run at the beginning of a video clip – account for the majority of these ads.
Even with the strong growth in mobile video viewership, when it comes to advertising dollars, mobile video is still a small piece of the pie – it brought in $152 million in 2012, just under 6% of video ads. As more powerful mobile devices become increasingly available and mobile broadband networks improve, eMarketer projects mobile advertising will reach $1.2 billion by 2016, or 10% of the total mobile advertising market.
To take advantage of that rapid growth, many news organizations have devoted considerable resources recently to building up their video programming. Reuters and The Wall Street Journal were among many news organizations to launch video programming in partnership with YouTube last year as part of the video platform's $100 million investment in creating original programming to compete more directly with TV. Yahoo and ABC News partnered in late 2011. The HuffingtonPost debuted a 24-hour online news channel in August, 2012. Time Inc., under new CEO Laura Lang, also intensified efforts to produce video for the websites of its major magazines.50  The Washington Post is the latest to join the fray: In January 2013, it announced plans for an online political channel to launch this summer.51 

Results of those efforts have been mixed. Neither The Wall Street Journal nor Reuters drew enough viewers for YouTube to continue investing in their channels.52   The Journal's videos often brought in weekly viewership between 500,000 and a million, while Reuters' ranged from 200,000 to 400,000 viewers, according to the Nieman Journalism Lab. That is a far cry from the most popular YouTube channels, which can reach 3 million to 7 million views in a week.53

AOL, the parent company of Huffington Post, does not release data on the streaming service, but election night offered one look at how it is doing. In an interview with BuzzFeed, Roy Sekof, the head of Huffington Post Live, said that it drew 1.5 million viewers who stayed an average of 12 minutes. By contrast, Yahoo and ABC News announced that their combined coverage served nearly 10 million live video streams that night.54

Sponsorship Ads: A Growing Role for Native Ads
The once-dormant sponsorship ad category has also seen sharp growth in recent years. Promoted tweets on Twitter account for some of the growth, along with the rise of native ads – the digital term for advertorials containing advertiser-produced stories, which often run alongside a site's own editorial content. Though it remains small in dollars, the category's growth rate is second only to that of video: sponsorship ads rose 38.9%, to $1.56 billion; that followed a jump of 56.1% in 2011.
Traditional publications such as The Atlantic and Forbes, as well as digital publications BuzzFeed and Gawker, have relied heavily on native ads to quickly build digital ad revenues, and their use is expected to spread. According to tech website PandoDaily, major publishers including Hearst, Time and Condé Nast, are investing in formats to run native ads, as are many local newspapers.55 They can be more labor-intensive for advertisers than standard ads, however, as they typically involve developing unique content for each site. That could limit their spread.
The development is not without risk, however. In January, The Atlantic was heavily criticized for running a highly laudatory native ad by the Church of Scientology and allowing its marketing staff to delete negative reader comments. The ad was withdrawn and The Atlantic has since revised its policies on native ads.
Local Advertising: The Rise of Targeted Ads
Local digital advertising is another critical ad segment for news. The vast majority of journalism organizations in the U.S. are local players, from daily television newscasts to all but three newspapers.
Local digital ads grew 22% in 2012, to $19.9 billion, according to Borrell Associates. It estimates that local advertising rose to 29% of digital ads, up from 27% in 2011. (Borrell uses a larger measure for the national ad market than the eMarketer figures cited above.)56

It is difficult to determine how much of that growth is going to local papers or news programming, however. In recent years, national advertisers have turned to Google, Facebook and other large networks to buy ads that once would have been considered local. A local digital ad is defined as one purchased by a company, or its regional unit, that is in the same market as the ad appears.
With the spread of geo-targeting by tech firms and ad networks, defining ads as local as opposed to national has become much more complex. If Wal-Mart uses Facebook to target shoppers in different regions across the country with a particular ad, for example, only the ads seen by users who live in roughly the same zip code as a local Wal-Mart would count as local. The same ad sent to a shopper in a somewhat more distant zip code would, in some cases, be considered a national buy.
Borrell expects local's share of digital ad spending to continue to rise.  But the reason may not bode well for news. Google, Facebook and others are moving beyond selling geo-targeted ads to national brands and they are also improving their ability to sell ad space to smaller, truly local, advertisers. To maintain a strong share of local digital ads, news organizations will need to increase their own ability to target or work with the ad networks.
The arrival of the tech giants means the makeup of local advertising market will continue to differ considerably from the national market. In the local market, display is larger segment of advertising than search.
Local search ads tallied $6.2 billion, a 10% increase, in 2012. Display, which includes both targeted ads and the "run of site," or ROS, ads that all users see, brought in a combined $9.1 billion, a 25% jump.57

Targeted display ads are growing much faster than any other local digital format. They took in $3.8 billion in 2012, or 19% of all local ads. With growth averaging 100% a year, Borrell projects targeted display will be more than double the size of any other local ad category by 2014.58

HTML5 – a New Option for News?
Given the strain on news organizations of investing in a seemingly endless array of new platforms, some news organizations have begun experimenting with apps created by using HTML5, a technology that enables sites accessed through a browser to look and feel like mobile apps. Though they function much like an Apple or an Android app, readers do not have to download them through the Apple or Kindle stores and news organizations do not have to share revenues with Google or Apple.
For news, there are other advantages as well. Because HTML5 apps work across mobile devices, news organizations do not have to develop separate apps for each platform. Nor do they have to give up a share of advertising revenues or give up control of subscriber data, as Apple and the others demand.
The Boston Globe and The Financial Times have succeeded with HTML5 Web apps created in 2011. Last year, The New York Times launched an experimental HTML5 web app. In Britain, The Guardian has also created an HTML5 apps, joining The Financial Times.59

They are the only major news media companies that have gone the HTML5 app route. Others have been far more wary of the technology, which is still relatively new and fragmented.
There also are drawbacks. Developing an HTML5 Web app can cost the same as a standard Web app, yet it is unclear if the benefits outweigh the costs. Moreover, current HTML5 apps do not offer the same functionality as mobile apps built specifically for those platforms. They do not have easy access to smartphone features like GPS that allows readers to get directions to an event listed on the site or advertisers to target ads by location, for example.
Facebook launched its initial mobile app using HTML5, a move CEO Mark Zuckerberg ultimately characterized as a mistake that cost the social media site two years of development.  After replacing its HTML5 app in 2012 with separate apps built specifically for Apple and Android devices, the company said it greatly improved its users' mobile experience.
Those experiences raise some key questions for news organizations. Developing an entirely separate app in HTML5 is expensive, so, given the performance so far, is it worth it? The lack of broad adoption of HTML5 among large news organizations suggests that it does not offer enough benefits, at least not yet. As the technology develops, however, many believe that the solution will ultimately be hybrid apps, those built with an HTML5 base to increase flexibility, but which can then be customized for the Apple and Android worlds at much lower cost.
Endnotes