Cable: By the Numbers
By Jesse Holcomb and Amy Mitchell of the Pew Research Center
"By the Numbers" houses a comprehensive set of charts and tables telling the story of each media sector. For a narrative summary, visit the corresponding essay.
Audience
Cable viewership over all, for the three main news channels (CNN, Fox News Channel and MSNBC), inched up only slightly in 2012, an election-year gain that paled in comparison to the audience growth that occurred during the previous presidential race. That raised a question about whether there may be a ceiling for the audience in this sector.
Across the entire day, median viewership increased just 1% to 1.9 million, and mean viewership, 4%, to 2 million. CNN (down 8% in median viewership) and its sibling, HLN, (down 10%) experienced declines to their lowest levels since 2007, while MSNBC (up 8%) gained the most. Fox News Channel (up 2%) experienced weaker growth.
In prime-time median viewership, the numbers were up slightly from 2011 levels (3%) at 3.4 million viewers in a typical month for Fox News Channel, CNN and MSNBC combined. (The median is the middle in a series of numbers arranged in order of size, while the mean is the average, calculated by dividing the total by the number of cases. For more on how Pew Research calculates audience size, see the backgrounder.)
Mean viewership, however, registered a spike. The three main news channels averaged 3.7 million viewers, a 10% gain over 2011. The mean calculation, though, is more easily influenced by temporary spikes or dips in ratings, and is thus is not as good a measurement as median for assessing the typical monthly audience level.  In 2012, the final months of the presidential campaign (September-November) lifted ratings high above 2011 levels for the same period. Yet for the majority of the year, viewership levels were about the same as—or lower than—the same month a year earlier.
CNN continued to struggle in prime time. Median viewership for the original 24-hour news channel was down 4% from 2011 levels to 626,000, erasing the gains made when events like the Arab Spring caused CNN's audience to grow temporarily. Compared to the last presidential election year, 2008, CNN's prime-time audience has been cut in half. Its sibling channel, HLN, fared even worse, losing 16% of its prime-time viewership.
Fox's median prime-time viewership was flat in 2012 at 1.9 million, though it continued to be the biggest attraction of the news channels. MSNBC, now consistently the No. 2 news channel, took in 818,000 viewers in a typical evening, up 6%. But these levels are far from the double-digit gains that the channels experienced during the last election cycle.
Daytime cable viewership over all showed a slightly clearer pattern of modest growth than prime time did in 2012. The combined channels grew 2% to a median of 2 million viewers. In mean viewers, the growth was 4% to an average of 2.1 million. That is about on par with typical daytime viewership levels during the last election year, 2008.
The individual channels displayed similar patterns in daytime viewership as they did in prime time. CNN was down 14% in median viewership, to 406,000 (its lowest level since 2001). HLN dropped 6% to 234,000 viewers.  MSNBC had the strongest year in daytime viewership, up 9% to 419,000 in median viewers—its highest viewership since the channel launched in 1996. Fox viewership rose 4% to 1.1 million viewers.
By yet another audience measure, cumulative viewership, or "cume," all channels lost ground in 2012. This measure counts the number of individual (or unique) viewers who watch a channel for a minimum number of minutes over the course of a length of time, such as a week or a month. This had been one area where CNN often looked its best. In 2012, though, while CNN continued to lead its competitors, it declined 11% in cume viewers (those watching at least a minute over the course of a month), while Fox was down 7% and MSNBC, 5%.
One reason analysts often reject the cume measure is that viewers who tune in for only a minute can hardly be considered an audience. But if the threshold is raised to at least 60 minutes over the course of a month, the measure becomes somewhat more valuable. At this threshold, CNN in 2012 still led Fox and MSNBC in total numbers, though the gap was much smaller. (Higher thresholds bring into focus the more loyal audiences, which tend to favor Fox and MSNBC.)1
A look at the average ratings of individual prime-time programs reveals just how much events like an election inflate political programs, and also how much the lack of other events—major disasters in the case of CNN or a blockbuster criminal trial in the case of HLN—can drag ratings down.
In prime time—the evening hours that matter most to advertisers—Fox dominated the other channels in ratings. But in the 8 p.m. hour, it was MSNBC alone that gained viewers, at 9% to a mean of 1 million viewers. Fox dropped by just under 1%, CNN 8%, and HLN, 42%. The sharp declines on HLN's Nancy Grace are a reflection of the temporary, but intense, spikes during the program's 2011 coverage of the Casey Anthony murder trial.

SEE FULL DATA SET
At 9 p.m., Fox and MSNBC experienced viewership gains, as their politically oriented talk programs capitalized on interest in the election. Hannity increased 10% to a mean of 2.3 million viewers, and Rachel Maddow's viewership increased 15.5% to 1.1 million viewers. CNN's high hopes for Piers Morgan's interview program most likely deflated somewhat amid the program's 18.5% decline to an average 584,000 viewers. And without a strong lead-in from Nancy Grace, HLN's Dr. Drew also dipped in viewership by 47%.
MSNBC's 10 p.m. program, Last Word With Lawrence O'Donnell, experienced the strongest growth of any prime-time news program on cable in 2012, growing 22% to a mean of 1 million viewers. Fox's On the Record with Greta Van Susteren gained 11% to an average of 1.8 million viewers. On CNN, a replay of Anderson Cooper's 8 p.m. program dove by 27%, averaging just 565,000 viewers in 2012. And a replay of Nancy Grace on HLN lost the channel 39.5% of its viewership from 2011 levels.

Economics
The 2012 economic projections by research firm SNL Kagan estimate that Fox News Channel was the most profitable of the news channels for the fifth year in a row. The channel was projected to have earned $986 million in 2012, up 11% from 2011 levels (though the rate of growth has slowed each year since 2008). MSNBC, a much smaller operation, was projected to have earned $203 million, a 4% increase. Of the three channels only CNN was thought to have been less profitable in 2012, earning $413 million (a 5% drop from the previous year).2 That would mark the second time in the past three years of decreased profits for CNN.
And once again, Fox was projected to have been the revenue leader, generating $1.8 billion—more than the combined revenue of CNN and MSNBC—and up 11% over 2011 revenues (though again, that growth rate has slowed each year since 2008). MSNBC was projected to have generated $443 million in 2012, up 6%. CNN was projected to have remained flat at $1.1 billion, up 1% from 2011 levels.
Even as its rate of revenue growth has slowed somewhat, Fox has still widened the gap with its competitors since the last election year.
Cable channels rely on two main revenue streams—subscriber fees (also known as license fees or carriage fees) and advertising. Other sources, such as licensing content to streaming services, are growing but still remain negligible for the news channels.
In years past, subscriber and advertising revenue each tended to account for about half of each channel's total. That has begun to change. In 2012, CNN was projected to have generated nearly two-thirds of its revenue from subscribers, and a growing portion of its revenue from other sources. Fox and MSNBC are both more reliant on advertising than CNN is.
Fox was projected to have enjoyed robust advertising revenue growth in 2012, at 9% to a total of $737 million. MSBNC was projected to have increased its ad revenue as well, by 8% to $236 million. CNN, however, was projected to have experienced a decline (4%) to $335 million.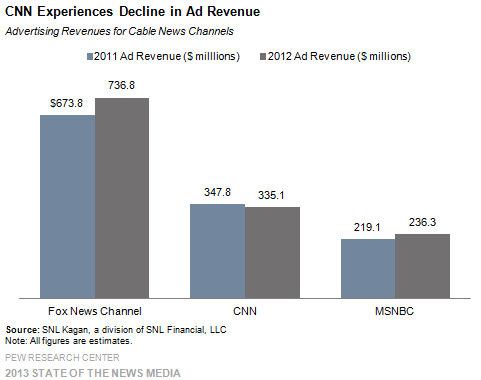 Perhaps what has kept CNN from losing more ad revenue than it already has is its high ad rate. CNN's viewers, though fewer, are more valuable to advertisers than either Fox's or MSNBC's. Its audience is younger, more diverse and more highly educated than that of Fox and MSNBC. And its relatively neutral coverage has been seen as a "safe space" for advertisers averse to controversy.
Each of the three main news channels was projected to increase its subscriber revenues in 2012. Fox was expected to lead with 12% growth to a total of $1.1 billion. MSNBC was projected to grow 4% to $202 million. And CNN was projected to grow the least of all at 3%, to $680 million.
While all rates have steadily been increasing over the years, Fox's have grown the fastest, in part due to the channel's aggressive negotiations with cable providers, which have allowed the channel to lock in rate increases for years. The channel was expected to receive 89 cents per subscriber per month in 2012, more than CNN (57 cents) and MSNBC (18 cents) combined.
But MSNBC's growth in this area may still be ahead as its trend of steady ratings growth earns the channel more negotiating power with cable providers when its multiyear carriage contracts are up for renewal.
News Investment
Each of the three main news channels was projected to have spent more on the news in 2012. Fox continued to outpace the other channels in spending, with an estimated $820 million, up 11% from 2011. CNN, though no longer the leader, has nearly kept pace with Fox. It was projected to increase expenditures by 5% to $682 million. And MSNBC, which shares newsgathering operations with the wider NBC News, was projected to have spent $240 million, an increase of 8%.
SNL Kagan separates the various expenditures made by the channels into two general categories: Program expenses, which are generally tied to specific programs, including host salaries, and SG&A (selling, general and administrative expenses), or the overhead costs related to a channel.
Historically, and again in 2012, CNN and HLN  invested  more of their budget on overheads costs tied to the vast newsgathering infrastructure represented by CNN's dozens of bureaus and large news staff around the world ($371 million versus $311 million on programs). Fox and MSNBC, on the other hand, spent the vast majority of their budgets on specific programs ($610 million at Fox and $189 million at MSNBC), and increased that portion of their respective budgets more than the overhead portion. In the case of Fox, this reflects its emphasis on its high-profile hosts; in the case of MSNBC it also reflects its share of the newsgathering costs over the whole of NBC News. Fox was projected to have spent $210 million on overhead in 2012 and MSNBC $51 million).
In terms of both staffing and bureaus, CNN has a larger overall operation than either Fox or MSNBC. Exact staffing numbers are hard to come by. CNN reports that it has approximately 4,000 employees, yet this does not account for smaller changes in staffing, such as layoffs in spring of 2012, or the staff cuts at Jakarta, Bangkok and Jerusalem bureaus in February 2012. Both Fox and MSNBC declined to provide 2012 staffing numbers to the Pew Research Center, each stating that it is too difficult to provide an accurate number given the fluid nature of staffing and resources across the various properties held by each organization. The numbers that have been provided in the past are somewhat outdated, but still give a sense of scale. Fox told Pew Research in February of 2011 that it had 1,272 employees, and MSNBC told Pew Research in 2007 that it had 600 staff members at the time.
CNN continued to operate many more bureaus than at either Fox or MSNBC (MSNBC utilizes the bureaus of NBC News). The total number of bureaus utilized by the three outlets did not change in 2012. However, CNN did remove its Seattle and New Orleans bureaus from its list as of early 2013, and added a bureau presence in Singapore. And NBC News added a bureau presence in Johannesburg. Fox reported no changes to its list of bureaus.
For more data on how cable news reporting and news gathering has changed over the years, see Pew Research Center's special report.
Digital Trends
The leading online measurement firms compute digital traffic in different ways, so their raw numbers do not match up. But they each reveal in their data that cable news brands are among the top news destinations.
And web traffic to those brands has risen over the years. (For more on digital trends in the news industry, see the digital chapter.)
Financial News Channels
Among the financial news channels, CNBC remained by far the leader in overall revenues and profits in 2012. Still, The Fox Business Network and Bloomberg TV grew financially at higher rates. Fox Business's revenue grew by 15% and for the first time was expected to turn a profit. Bloomberg TV increased its revenues by 10% and its profits by 14%. CNBC increased revenues by 6% to $751 million, nearly double that of its sibling MSNBC.
Fox Business Network executives have long maintained that the channel would reach profitability by 2012; projections by SNL Kagan indicate that the channel met its goal. The steady growth has been aided by the expansion of FBN's availability in households. Since 2007 when the channel launched, it has expanded its subscriber base by 78% from 35 million households to 63 million in 2012.
Prior, Markus (2013). Media and Political Polarization. Annual Review of Political Science, 16. ↩
This was the first edition of Economics of Basic Cable Networks in which SNL Kagan reported CNN's financial estimates as separate from those of its sibling channel, HLN. Previous editions of State of the News Media have reported combined figures for the two channels. ↩