Cable: A Growing Medium Reaching its Ceiling
By Jesse Holcomb and Amy Mitchell of the Pew Research Center
Cable news continues to operate with more stability than most other news sectors today. But financial growth tapered off in 2012, and audience figures started to show signs of languishing—at least raising the question of whether there is a ceiling for this niche news genre.
The three main news channels—CNN, Fox News Channel and MSNBC—saw a less positive revenue picture than in years past. Fox and MSNBC continued to grow both total revenues and profits in 2012, but at slower rates. Total revenues at CNN, meanwhile, were flat and for the second time in three years the channel's cash flow decreased.
The total day and prime-time viewership inched only slightly upward in 2012, an election- year gain that paled in comparison to the audience growth that occurred during the previous presidential race. Individually, MSNBC saw the greatest audience gains and for the first time, surpassed CNN in two key ratings metrics, daytime and total day viewership.
There were more signs in 2012 that CNN's continued ratings woes were impacting the channel financially. In addition to declines in ad revenue, subscriber revenue—which has accounted for a  bigger slice of CNN's revenue pie in recent years —also grew at a weaker rate. While CNN has been a leader online, with a strong audience and a slate of digital products and experiments under its belt, that has yet to translate into a cash cow. Digital sales and advertising account for about 10% of CNN Worldwide's total revenue, which includes its sibling cable channel, HLN.1 And though the hiring of former NBCUniversal chief Jeff Zucker to head CNN Worldwide signals an opportunity for CNN to reset its trajectory, it will still be a big challenge to turn CNN's brand of straight news and global reporting back into a cable success story.
Conversely, MSNBC's ratings growth over the last two years (it was the only channel to experience gains across the board) has yet to yield comparable gains in revenue. That may well change, though, as long-term contracts come up for renewal and advertisers come to recognize the growing influence of the channel.
And Fox News Channel, though still by far the ratings leader, saw viewership figures that, by at least one critical measure, were flat—even in an election year. That could curb its robust economic growth in the years to come. For now, though, Fox is holding strong, and there were no major signs during the year that the channel was altering its lineup or programming strategy.
For all three channels, the potential impact of digital disruption hovers overhead. So far, the kind of audience migration experienced by the newspaper industry is less clear for television-based news. Indeed, data on "cord-cutting"—consumer cancellation of a pay-TV service (such as basic cable) without signing up for another (such as satellite service)—remain mixed and inconclusive. But, cable subscriptions, new data suggest, may have peaked in 2011 at around 101 million households.2 And industry leaders, including Time Warner CEO Jeff Bewkes in November 2012, worried publicly about the impact of "cord nevers"—those consumers, often younger, whose media culture simply does not and may never include a monthly subscription to a traditional cable package.3
And as the demand for video news is met by an increasing number of players in the digital platforms, from The Huffington Post and The Wall Street Journal to YouTube, it naturally brings more competition for the legacy cable news brands.
Signs of a Saturation Point for Cable News
The election year brought slight ratings growth to cable news channels over all. But the bump fell short of 2009 viewership, which is to date the high-water mark for cable news.
Median viewership at CNN, Fox News and MSNBC combined was up 3% in prime time, 2% during the day, and 1% across a full 24 hours, according to ratings data from Nielsen Media Research (by contrast, prime-time viewership shot up 35% for the news channels during the last election year, 2008).4 These aggregated viewership numbers have hovered around roughly 3.3 million from 2010 onward through 2012 in prime time, and around 1.9 million during the day.
Viewership measured using the mean calculation, however, registered a 10% gain year over year. (The median is the middle in a series of numbers arranged in order of size, while the mean is the average, calculated by dividing the total by the number of cases. Mean is more easily influenced by temporary spikes or dips in ratings—in this case, the presidential election—and is thus is not as good a measurement as median for assessing the typical monthly audience level.  (For more on this, see the cable news data section.)

Pew Research Center survey data from 2012 reinforce the sense of audience plateau.5 Between 2010 and 2012, the number of U.S. adults who said they watched cable news regularly fell 5 percentage points, from 39% to 34%. Meanwhile, the percentage of people who said they got news regularly from social networks rose 13 points to 20%, and those who got news regularly from a mobile device rose 6 points to 15%.
Both Fox News and CNN dropped 2 percentage points to 21% and 16%, respectively, though CNN was down 8 points since 2008. Those who watched MSNBC regularly remained flat at 11%.
What's more, cumulative viewership, which measures how many individuals tuned in for at least one minute during the course of a month, was down for all of the cable news channels in 2012, according to the Nielsen data. It was the third time in four years that viewership, by this measurement, dropped across the board.
For CNN, a problem that had for years been noted in the prime-time hours seemed to spread to the rest of the day in 2012, as many viewers who had been captivated by CNN's coverage of the global events of 2011 turned elsewhere when those stories went away, including those watching on digital news sources. The channel lost 4% of its viewers during the evening hours, but lost more during the day (14%) and across 24 hours (8%). CNN's sibling channel HLN also lost viewers across the board, as the high-drama courtroom cases of 2011 fell out of view.
Indeed, for the first time, MSNBC surpassed CNN in two key ratings metrics—daytime and full-day viewership. Across 24 hours, MSNBC rose 8%, and during the business day (6 a.m.-6 p.m.), was up 9%.  MSNBC also added viewers in prime time—up 6% over 2011 levels—its strongest prime-time performance yet (2012 marks the third straight year that MSNBC beat CNN in prime-time ratings).
Fox News Channel, which still has higher ratings than CNN and MSNBC combined, experienced weaker ratings gains than MSNBC. That comparatively small growth was striking given that 2012 was an election year, playing to Fox's near singular focus on political news. During daytime hours, Fox was up 4%. Across the total 24-hour day, Fox was up just 2%. And in prime time, Fox was basically flat (with a  loss just under 1% compared to its 2011 median viewership).
This follows two years of small but real prime-time declines for the top cable news channel and may suggest that the challenge of growing an audience on cable can extend beyond CNN and HLN. Robert Thompson, a television expert at Syracuse University, argues that cable news has reached a saturation point. "Fox figured out how to get a core set of viewers to watch their programs on a nightly basis, as opposed to tuning in to cable when there was breaking news," Thompson told the Pew Research Center. "But it may be that those numbers are settling in to what will be the general size of the audience. They can't expect constant growth."6
It would be one thing if cable news simply maintained itself as a niche medium with capped but stable ratings. But demographic factors could further weaken viewership in the years to come. Regular viewers of the evening talk shows, which tend to draw the highest ratings across cable news, are older, according to Pew Research data.  The 50 and older audience makes up 66% of Fox's Hannity, 64% of Fox's O'Reilly Factor, 59% of MSNBC's Hardball (close to 30% are 65 or over), and 57% of its Rachel Maddow Show. These figures have inched up in recent years, while those for younger audiences have declined. Instead, the young 18-to-24-year-olds are turning to digital options: As many as 28%, according to Pew Research Center data, say digital news platforms are their sole source for news.7
No Single Economic Story
The economics of the cable news sector remained relatively strong in 2012, with revenues projected to increase modestly across the channels, though Fox, CNN and MSNBC were each positioned differently.
CNN's Ratings Begin to Impact Revenues
CNN executives have for some time argued that the hand-wringing about the channel's prime-time ratings trouble is misplaced. As recently as May 2012, Jim Walton, then  CNN Worldwide president, argued that, since prime-time ad revenues represent only 10% of the CNN Worldwide revenue pie, it is misleading to suggest that the network stands or falls on that particular part of the day.8
Yet 2012, even more than recent years, brought evidence that the financial impact of weak ratings was catching up with the channel. Cash flow—a measure of profitability—was estimated to have dropped 5% for the channel, according to industry research firm SNL Kagan, even as it was expected to grow  11% for Fox and 4% for MSNBC. Total revenues were projected to inch upward 1% for CNN, compared with more robust growth for Fox (11%) and MSNBC (6%).
CNN's weak revenue growth stemmed from flagging advertising on the network's programs, which was down 4%. (Ad revenue was projected to have increased for the channel's two competitors.)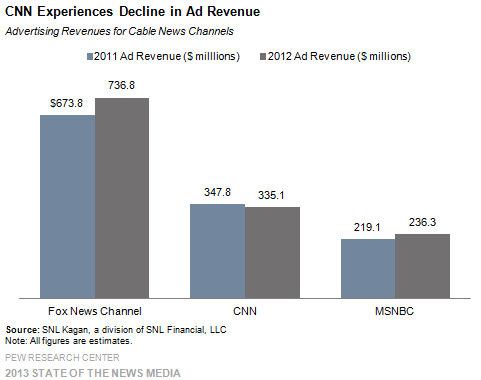 One buyer of TV advertising time said of CNN, "We would all like to see them be more competitive in prime time." 9 And The New York Times quoted a cable executive as saying the channel is "leaving ad dollars on the table" as a result of its weak prime-time showing.10 (CNN's ad rates for the time being remain relatively high—through a combination of factors, including the channel's appeal to advertisers who prefer to avoid highly political programming, the relatively young, educated and racially diverse audience makeup, and the fact that CNN is more competitive in the early morning hours.)11
Even CNN's subscriber revenues, which were once a consistently strong source of revenue for the channel, are at stake. SNL Kagan projected that subscriber revenue (also known as license fees or carriage fees) would increase for CNN by 3%, far weaker than the growth projected for Fox (12%) and also weaker than MSNBC (4%). Perhaps more troubling, it was CNN's fourth straight year of weakening subscriber revenue growth. (In 2009, the channel grew this source of revenue by 8%.)
As one cable company executive put it, "If you've got weak ratings, it's leverage for us."12 The weaker the ratings, the easier it is for cable providers to argue that the channel is non-essential, an argument that can flatten, if not reduce, the fee charged for each subscriber per month.
 And because subscriber rates are the result of multiyear contracts between a channel and a cable company, the negative impact of recent ratings for CNN could linger for several years.
The Fruits of MSNBC's Popularity May Be Still to Come
"We're closer to Fox than we've ever been," MSNBC president Phil Griffin said to The New York Times in November. "All of this is great for 2013, 2014 to keep building."13
Even a few years ago, it would have been harder to imagine MSNBC's top brass positioning themselves in direct competition with Fox, the cable news leader. But 2012 marked the third year in a row that MSNBC has beaten CNN in prime-time viewership, and the first year in which the channel has beaten CNN during the day. It also stands out as MSNBC's largest viewership ever in both prime time and daytime. The channel has found its footing as a source of liberal news and viewpoints built around Rachel Maddow, Ed Schultz and Lawrence O'Donnell. Outside of the evening hours, MSNBC has cultivated buzz around its morning shows geared toward the Beltway crowd in Washington with Morning Joe and The Daily Rundown, and on weekends, it is showcasing young talent such as Chris Hayes.
Given MSNBC's momentum, why is it that the channel still commands a smaller ad rate than its rivals, and a subscriber rate that is a fraction of CNN's or Fox's?
When it comes to advertising, MSNBC and Fox both continue to suffer from a 'discount' mentality that rewards CNN, even though CNN delivers fewer eyeballs. According to estimates by SNL Kagan, CNN's CPM, or advertising rate per one thousand viewers for a 30-second ad, was $5.59 in 2011, the last year data were available. Though that number has fluctuated over the years, it has always been higher than Fox's rate ($4.70, in 2011) and MSNBC's rate ($4.19).
Despite audience growth at Fox and MSNBC, many advertisers continue to be squeamish about buying time on networks that generate controversy with the political opinions of their hosts and guests. In an interview with the Pew Research Center, media economics expert Gabriel Kahn, a professor at the University of Southern California's Annenberg School, suggested that while these programs draw high ratings, the numbers sometimes amount to "empty calories" in the eyes of Madison Avenue.
MSNBC has also covered less ground than the other two channels in what they charge cable providers per subscribers. As of 2012, the channel averaged only 18 cents per subscriber per month, a small sum compared to Fox's 89 cents and CNN's 57 cents. But that gap may narrow once MSNBC's ratings success translates into negotiating power on future carriage deals.
MSNBC's subscriber rates continue to be low because, according to Derek Baine of SNL Kagan, some of the channel's biggest carriage deals are not up for renewal for several years. Carriage negotiations are the venue in which television networks make the case to cable providers such as Time Warner Cable or Comcast that not only should they be carried in those companies' offerings to consumers, but also that those companies should pay the networks a certain amount per subscriber per month. Those fees are then passed on to the customer as part of their monthly cable bill. If a channel is popular enough, it has the leverage to argue that it is a "must-carry," and the channel's per-subscriber fee will increase. (It also helps to belong to a large media company in possession of a number of other cable networks that can be packaged together as further leverage in carriage negotiations.)
Just as occurred at Fox, as carriage deals come up for renewal, MSNBC will certainly try to capitalize on its audience growth.14
Fox's Financials Still Strong, but Slowing
The sharp growth in recent years of revenues and profits for Fox News Channel is showing some signs of slowing. That may be a function in part of the flattening viewership, but it could also just as well be that rapid growth will not compound on itself at the same rapid pace indefinitely.
In 2012, Fox's revenues and profits were both projected to have increased by a healthy 11%. Still, that is smaller growth than Fox had grown accustomed to in recent years.  Percentage growth in revenues has shrunk every year since 2008, when they increased by more than a third. And the channels profits that year increased by a massive 65%.
Some of that spike in 2008 was tied to renewed carriage deals, and therefore cannot be expected to continue year after year. But the channel's ad rates grew more modestly in recent years.
And a major structural change on the corporate level in 2012 gave indication that Fox remains a key property in Rupert Murdoch's media empire. Following pressures by shareholders and the British phone hacking scandal, Murdoch announced in December that News Corp. would be split into two companies, with publishing falling under the name of News Corp. and its television and entertainment divisions moved into a larger company, Fox Group. While it is yet unclear how this reshuffling will impact Fox News Channel and Fox Business Network (Chase Carey remains at the helm), the reorganization pleased investors, effectively quarantining the company's newspapers.
Questions of Brand Identity Exist—to Varying Degrees—at Each Channel
The degree to which the cable news channels tinkered with their brand identities in 2012 tended to reflect their overall economic standing. The stronger the performance, the fewer the adjustments.
The ideological identities of both Fox News Channel and MSNBC have now been established for years. The Pew Research Center's examination of the cable channels' 2012 election coverage suggests that the politically polarizing coverage at these outlets, in many ways, got stronger and more extreme.
During a 10-week period in the spring and summer of 2012, only 14% of Barack Obama's narrative on Fox programs was positive in nature, while 86% was negative.15 On the other hand, fully 44% of Mitt Romney's coverage was positive, while 56% was negative. Another Pew Research study of the last stage of the campaign found that Fox's coverage of Obama was more negative than the channel's coverage four years earlier.16
There was evidence, too, that the tone of MSNBC's political coverage had grown even more partisan over the years. Pew Research found that during the final stretch of the 2012 campaign, MSNBC's coverage of Romney more negative than the rest of the media in general. But additionally, the channel devoted less positive coverage to the Republican than it had four years earlier to John McCain.17 In the 2012 period, just 3% of MSNBC's coverage of Romney was positive, while 71% was negative. In 2008, 10% of MSNBC's coverage of McCain was positive while 73% was negative.
CNN's coverage fell in between that of Fox and MSNBC.  During the latter part of the 2012 campaign, 18% of the stories about Obama were positive compared to 21% negative, a mixed narrative. In Romney's case, negative stories (36%) outnumbered positive (11%) by more than 3-to-1.
CNN
In the words of David Bohrman, former CNN Washington bureau chief, CNN is still "trying to figure out who they are when there is no crisis," a puzzle that the network has been trying to solve for many years.18 CNN executives had suggested in 2011 that the channel had found its ratings groove when Mideast uprisings and natural disasters boosted viewership. But those viewership gains were short-lived, and in 2012, CNN experienced some of its worst ratings ever.
The dismal ratings, especially in prime time, came during a year when CNN took steps to tack away from politics—a subject dominated by Fox and MSNBC—and toward international coverage, leveraged by CNN's strong global presence. The channel brought on celebrity chef Anthony Bourdain to create a travel show that would air on weekends.19 In June, CNN canceled John King, USA, its 6 p.m. political news program, due to poor ratings.20 In the same month, CNN transformed its noon hour to focus on international news.21 CNN's Washington bureau chief Sam Feist told Politico that CNN's "editorial direction is clear: we are the only U.S. cable news organization committed to worldwide newsgathering and reporting a broad range of stories without picking sides."22 As the year came to a close, though, none of those changes had translated into a turnaround.
But the network gave itself another chance to sort out its identity issues and press the reset button:   Key to this was the hiring of Jeffrey Zucker in December2012, to succeed CNN Worldwide president Jim Walton. Zucker, known for his ability to attract top talent and for his devotion to and facility with television news, helped start the Today Show's 16-year stretch of ratings dominance. Zucker was replaced as head of NBCUniversal when Comcast became majority owner of that company.
Once on board, Zucker wasted little time. In December, CNN announced that ABC correspondent Jake Tapper would be joining the network as chief Washington correspondent. Zucker was said to have had a hand in closing the deal. And in January of 2013, CNN hired Chris Cuomo, former anchor of ABC's 20/20, to co-host a revamped morning program with Erin Burnett. Zucker also brought on Rachel Nichols from ESPN to host a weekend sports program. Amid the rush of changes, CNN's managing editor Mark Whitaker resigned from the network, citing the need to allow a "new leader with his own forceful ideas" implement his vision with a new team.23
Zucker has said that he wants to "broaden the definition of what news is" and focus on CNN's core strengths, which include its broad international newsgathering resources.
Zucker's challenges will be multiple. The most obvious perhaps is convincing audience, through compelling personalities and formats, to choose CNN's prime-time programming over Fox's and MSNBC's.24
Another challenge is figuring out how to manage CNN's vast newsgathering operation, which is made up of 45 bureaus and 4,000 staff members around the world in a way that complements and infuses CNN U.S.'s programming and in a way that ultimately grows revenues. About one-fifth of CNN Worldwide's total revenue is generated from international subscriptions and advertising.25 But in the U.S., CNN International is available in just 16 million households and was projected in 2012 to bring in just $36 million in total revenue. The lack of availability in U.S. households may have something to do with a lack of demand, but according to Pew Research data, in 2012, Americans were far more interested in domestic news stories than foreign ones. Among the top 15 most followed stories, only two were focused internationally.26 And those were stories that had a distinct American angle—the summer Olympics and the attack on the U.S. consulate in Libya. If this more global approach to programming proves unsuccessful, it is questionable how many more hats the network can try on.
Finally, beyond the stylistic matters that Zucker will have to contend with lie the technological and demographic shifts that are changing news consumption. As CEO not just of CNN U.S., but of the global brand as well, Zucker  faces with the challenge of making CNN relevant to the next generation of news consumers. That may translate to integrating new platforms and devices, as well as finding new ways to include audiences in the participatory news space. Frank Sesno, a former Washington bureau chief for CNN, told Pew Research, "Once upon a time, CNN changed the way news is gathered and consumed.  It invented  24/7 global TV news.  Zucker's challenge is nothing less than figuring out how CNN can lead the next revolution in news."27
Fox News Channel
Though there was strikingly little change in program hosts across cable news over all in 2012, that was especially true at Fox. The conservative news channel's prime-time lineup remained the same as it has for years, and there were also no notable changes during the daytime hours. Fox renewed the contract of its political news anchor Brett Baier through the 2016 election, as well as the contracts of Bill O'Reilly and Sean Hannity.28
Fox arguably has little incentive to tinker with a lineup that consistently delivered more viewers, revenue and cash flow than CNN or MSNBC combined.
One thing to watch in the coming years, though, is whether the channel softens the tone of its political coverage.
After Republican Mitt Romney's loss in the 2012 election, the GOP vulnerabilities with groups such as Hispanics and women prompted some soul-searching among important elements of the party. "The conservative movement should have particular appeal to people in minority and immigrant communities who are trying to make it," said Florida Republican Senator Marco Rubio following the election.29 The American Conservative Union's Al Cardenas said, "Our party needs to realize that it's too old and too white and too male and it needs to figure out how to catch up with the demographics of the country before it's too late."
Conservatives also directed criticism at messages and rhetoric produced from within. David Frum, a former speech writer for President George W. Bush, said in an appearance on MSNBC in November that "the conservative followership has been fleeced, exploited and lied to by the conservative entertainment complex."30 Frum's words were widely interpreted as referring to the Fox analysts and pundits who consistently stoked the notion that Romney was headed to a victory. And in January 2013, Erick Erickson, a conservative blogger for the political website Red State, criticized the "purveyors of outrage" who reflexively attack the Obama administration.31
If Republicans are talking about  becoming a 'bigger tent' party that softens its harder edges, will Fox News—the network that White House communications director Anita Dunn early in the Obama administration once called "either the research arm or the communications arm of the Republican Party"—do the same? There is some evidence that Fox's chief executive, Roger Ailes, has tacked in this direction before (see the Pew Research Center's 2012 report), but no widescale overhaul of programming strategy seems to be imminent. The channel ended its contract with the 2008  Republican vice-presidential nominee, Sarah Palin, in early 2013, but that may have been more because of ratings than her brand of conservative rhetoric.
It was not just with programming strategy, or its lineup, that Fox did little by way of experimentation.
While other channels made forays into mobile technology investment (CNN with Zite) and social technology (NBCUniversal with Zeebox), Fox did little to move beyond the main screen that consistently delivers valuable appointment viewers to advertisers.
Nevertheless, Fox has been able to command a strong digital audience. It ranks No. 7 among the top 10 news websites in overall market share, according to Hitwise, and averages 22.5 million unique visitors per month, according to Nielsen Media Research, ranking it high among news properties, though consistently lower than CNN or MSNBC.  And in social media, Fox's high-profile hosts and anchors have among the biggest followings, and the network itself enjoys many "likes" on Facebook.32 Here, too, CNN outpaces Fox, and, at least in regard to Twitter followers, MSNBC does as well.
Fox did partner with Twitter on Election night to provide information for viewers about trending topics and other election-related Twitter activity. But they were not alone in expanding some digital offerings during the campaign. For instance, the major broadcast networks and cable channels offered the presidential debates as a free streaming service on their websites.  CNN.com also provided a clip-and-share technology, allowing users to create their own custom clips of moments in the debate and share them on social networks. And the network teamed up with Facebook to offer a voting app for users of the social networking service.33
Fox's lighter footprint in the digital space in some ways illustrates the larger problems faced by the cable industry in 2013. Financial growth continues to be in the forecast, though there is at least a vague sense among analysts that it is only a matter of time before digital disruption cuts into the business model. And there are no major signs yet that Fox executives are planning to remodel their business to accommodate the sharp changes in news consumption and technology, or even the political fault lines in America.
MSNBC
MSNBC, meanwhile, was still smoothing out the implications of its embrace of a liberal point of view to complement its traditional newsgathering and reporting, leveraged by the resources of NBC News. In September, MSNBC.com was renamed NBCNews.com to clarify some branding issues. The MSNBC.com name was a holdover from the days of the website's joint ownership with Microsoft, though the content on the site represented all of NBC News, not just the cable channel. As the MSNBC news channel became associated more and more with a liberal point of view, there were concerns among NBC News executives that their web presence would be viewed as deriving only from the more ideological cable network. The rebranding was an effort to promote the more established newsgathering institution as distinct from the progressive cable news channel.34
But judging from the programming decisions at MSNBC in 2012, the discomfort of mixing openly opinionated hosts with traditional newsgathering roles had eased. During the 2008 campaign, opinion hosts were barred from anchoring convention coverage, and at the time, some NBC News personnel expressed concern that the ideological flavor of MSNBC was tainting NBC News over all. By 2012, those concerns seemed to lessen, with openly liberal hosts Rachel Maddow and Chris Matthews anchoring convention coverage without any visible handwringing at the network. And MSNBC's daytime programming, once the domain of more traditional news reporting, gave way to more panel-style opinion shows such as The Cycle.
Competition for Audience Beyond the Major News Channels
Amid some signs of an audience plateau among the major news channels, other cable news networks demonstrated a mixture of success, setback and consolidation in 2012.
That included new entrants into the field. At the time of this report publication, a new 24-hour news channel called Fusion, targeting Hispanics, was expected to launch in mid-2013, as a partnership between ABC News and Univision Communications. The channel, based in Miami, will have a staff of 400.35 Unlike Telemundo and MundoFox, Fusion is seeking to carve out a niche by appealing to Hispanic audiences but in the English language. (For more about Hispanic news media, see the Pew Research Center's 2011 report.)
Another new entrant came as an online-only channel.  HuffPost Live—a Huffington Post digital experiment featuring 12 hours of live video news per day—has done well on the engagement indicators at least, with the average visit lasting 13 minutes.36 (For more about this, see the chapter on digital news.)
Some of the existing niche channels, though, struggled in 2012.
Bloomberg TV, the financial news channel that never seemed to gain the kind of traction that its competitors CNBC and Fox Business Network have, conducted a series of major layoffs throughout the year. In November, the channel laid off nearly 100 people in its London bureau.37 That was on the heels of a March layoff of up to 30 reporters, producers, associate producers, editors and others in a move to focus more on digital newsgathering. In 2009, the channel laid off 100 from its radio and TV divisions.38
And in early 2013, Al Gore's Current TV was sold to Al Jazeera, the deep-pocketed global news organization based in Qatar. The sale followed years of weak ratings for Current TV that continued despite multiple attempts to rebrand.  Al Jazeera, though, has had its own troubles finding a subscriber base in the U.S. (for more on this, see the Pew Research Center's 2012 report). And the sale did not provide an immediate sense of security for Al Jazeera. Just after the transaction was announced, Time Warner Cable dropped the channel from its offerings, which represents about 15% of the newly named Al Jazeera America's subscriber base. While critics viewed this as a sign that Time Warner Cable had no appetite for Al Jazeera's point of view, the cable provider argued that the reasons were simply business-related. Current TV had a history of low ratings, and when the channel changed hands, Time Warner Cable took advantage of a clause in the contract allowing it to drop the channel.39
Al Jazeera English (a different entity than Al Jazeera America), the network's English-language news channel aimed at a global audience, has faced difficulty aside from gaining a foothold in American cable tiers. In September, Al Jazeera made deep cuts at the English-language channel and turned it into a sports network, focusing on European soccer.40 At least 200 staffers have been relocated or laid off. (To learn more about AJE, read this Pew Research report about Arab-American news.)
These stories of varying degrees of success in cable news underscore the idea that the medium continues to be a strong news platform in many ways, even if the broader news audience is fragmented and somewhat small. It continues to hold strong revenue potential, even as there are no guarantees that a channel will catch on with a core viewership. Yet, there is evidence among even the most established channels, including Fox News, that growth and potential are not unlimited.
Will Broader Industry Changes Impact the News?
The stability of cable news ultimately depends on the stability of the pay-TV model over all—a model that would weaken if cord-cutting were to become a significant trend.
There are many ways to slice the data about pay TV subscription trends. Some firms and analysts look at quarterly subscription tallies, while others look at year-over-year. Some look at just the number of total subscriptions, while others factor in growth in number of households over all. Some focus on traditional cable TV, while others evaluate the trends in all pay-TV services, such as satellite television.
The general consensus among those tracking the industry, though, seems to be that there has been already been a leveling off in the pay-TV business, at least in terms of total subscribers. And  one report projects  a 6% decline in total subscriptions between 2011 and 2017.41 Some analysts, including Derek Baine of SNL Kagan and Jose Alvear of Multimedia Research Group, argue that the decline is slow and relatively insignificant in the short term.42 Baine argues that the threat will be mitigated by TV Everywhere, which makes cable programming available on all devices yet keeps the content gated.43
Time Warner CEO Jeff Bewkes took a somewhat gloomier view when, in November 2012, he worried publicly about the impact of "cord nevers"—those consumers, often younger, whose media consumption habits simply do not and may never include a monthly subscription to a traditional cable package.44 Though the number of new U.S. households continues to grow, only a small percentage of those households are adding a pay-TV subscription.45
Faced with growing demand for digital content and more flexible subscription alternatives, the industry is taking some steps to meet consumers where they are spending more and more of their time.
In September, Bloomberg reported that Dish Network was in talks with Viacom over a deal to offer a small bundle of cable channels, streamed digitally, to consumers who did not necessarily subscribe to a cable TV package.46 Major providers, including Comcast and Time Warner Cable, have pushed ahead with a digital authentication service that allows paying subscribers to access content on a variety of devices, not just the television set. And a start-up company called Tivli is accustoming college-age students to cable programming access on digital devices by offering a streaming service on some college campuses.47 All of these efforts are still in the very early stages.
The problem of a ceiling for cable subscription growth still has not translated into a serious economic problem for the industry, and it may not for a number of years to come. But when it does, it will certainly impact news channels' revenues, both from subscriber fees and from advertising. Fewer total subscribers translate into fewer fees, as well as fewer viewers, which cuts into advertising dollars.
In the meantime, the news channels are working to get more out of subscribers through increased fees, which they negotiate with cable providers. Fox has been more aggressive than the others in this regard, and its rate per subscriber was projected to rise by a greater percentage than either CNN's or MSNBC's. Ad rates have gone up for each channel, too, but by a steeper margin at Fox. Thus, even if in the coming years the potential and real audience declines due to cord cutting, the news networks will have squeezed more value out of the audience they have.
Continue reading Cable TV: By the Numbers
Endnotes