Audio: By the Numbers
By Laura Santhanam, Amy Mitchell and Kenny Olmstead of the Pew Research Center
"By the Numbers" houses a comprehensive set of charts and tables telling the story of each media sector. For a narrative summary, visit the corresponding essay.
Audience
The percentage of people who listen to the AM/FM radio each week remained essentially unchanged in 2012, compared with figures from a decade earlier. 1 In 2012, 92% of Americans age 12 or older listened to the radio at least weekly, essentially the same as it was a decade earlier (94%).
Gauging the percentage of Americans who get some form of audio-based news is more challenging, especially when considering new forms of audio like satellite and online streaming. Survey data can help. The Pew Research Center finds one-third of adults report having listened to "news radio yesterday." That is down considerably from 43% in 2000 and 52% in 1990, but higher than the percentage of respondents who reported having read a newspaper "yesterday."
Radio news listenership is distributed more evenly across age groups than reading a newspaper. For example, radio news has held on to 20% of 18-24 year olds – compared with just 10% of that age group who read a newspaper yesterday.
There are three main forms of commercial AM/FM radio news: All-news stations, news/talk stations and headline news that air across all different station formats. The number of stations that categorize themselves as all news is small. Nationwide, total all-news listenership amounts to just 1.5% of Americans 12 and older.
The second news-related category, comprising news/talk/information and talk/personality, has far more stations: 4,012 in all, according to December 2011 Arbitron data. With 12% of Americans 12 and older listening weekly, it ranks as the second most popular format behind only country music.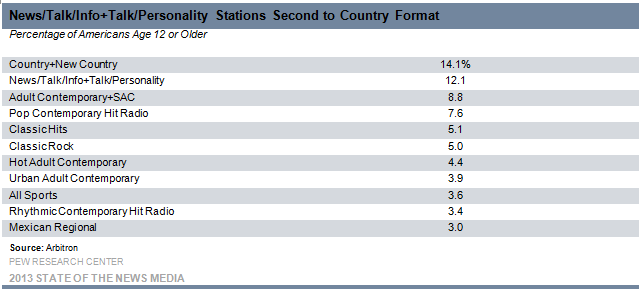 The two main providers of national radio headline news are CBS and ABC. Both companies provide 2 to 5 minute of headline news to stations across the country that broadcast the service between regular programming like music or sports. There is no solid number of the total number of stations that carry these headlines, though between the two of them, there are more than 2,000 member stations.
One of the biggest threats to AM/FM news is web-based listening, and that is where most of the growth is. Roughly 4 out of 10 people (39%) listen to online audio monthly, according to Arbitron, and 3 out of 10 people (29%) listen at least once a week.2 Listeners there are not necessarily bound to hearing regular news as they would be on terrestrial radio.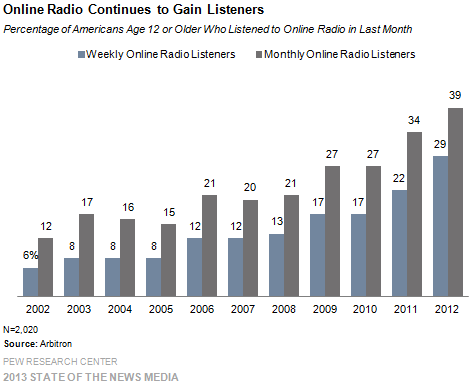 Fully 17% of cellphone owners have streamed online radio from their devices through their car stereos, according to January-February 2012 data from Arbitron.  This is up by more than a third since 2011 when 11% of cellphone owners had done so and nearly triples the 6% who had streamed audio this way in 2010.3
Satellite Radio
SiriusXM, the only satellite radio provider in the U.S., sat on the brink of major change as 2012 came to a close. Its chief executive, Mel Karmazin, resigned while media conglomerate Liberty Media sought a greater controlling stake in the company in a series of moves that many analysts see as building up toward running SiriusXM.
While new digital options grew audience, AM/FM's beleaguered attempt to draw people back to radio – through HD – did worse than ever. For the first time since 2004, when HD radio receivers became available for retail sale, more radio stations dropped their HD signal than adopted the technology.
Podcast listening has grown considerably in the last two years, though it still only hits a minority of Americans.  According to Pew Research survey data from summer 2012, 18% of U.S. adults listened to a news podcast downloaded to their computer, tablet, cellphone or mp3 player at least sometimes, twice that of 2010.4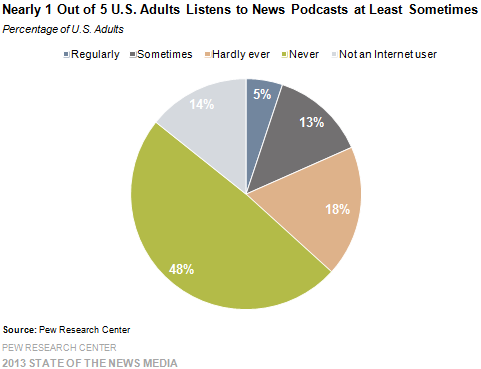 Awareness, though, seems to have mostly leveled off. In 2012, some 46% of the U.S. population age 12 or older had heard of podcasting.5 That is up one percentage point from 2011.
Much like podcast awareness, the number of podcasts produced has seen virtually no growth in recent years, and 2012 was no exception, according to PodcastAlley.com. There were 91,700 podcasts in December 2012, a gain of less than one percentage point from 91,600 the previous year.
While awareness appears to have hit a plateau, news podcasts continue to reach a significant and growing share of listeners.
Economics
Election year advertising dollars kept the AM/FM industry above water in 2012. But this heavy reliance on election spending does not bode well for its overall financial health because major elections do not occur every year. News station revenues are not broken out separately, but the total figure speaks to the health of the industry. In 2012, radio revenue in spot, digital and off-air advertising together amounted to $16.5 billion, or an increase of only 1% over 2011.6
Longer-term forecasting recognizes the greater reliance broadcast radio may have on election spending. The investment and market research firm Veronis Suhler Stevenson's projections for broadcast radio form a series of peaks on election years and troughs during non-election years, resembling the revenue pattern that has emerged in local television news.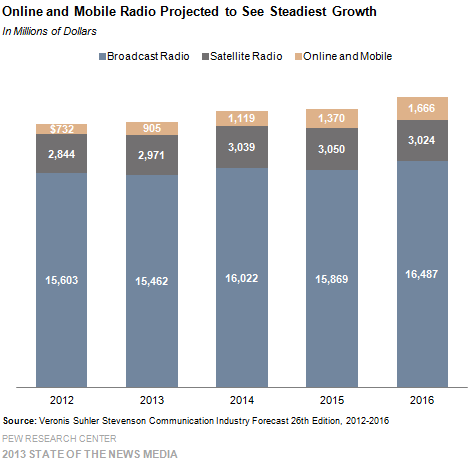 The improved financial picture for Pandora, one of the largest digital-only audio providers, speaks to the future potential here.  After being on the brink of shutting its doors in 2008, Pandora hit 150 million registered users in 2012, a full 50% increase over 100 million in 2011. A smaller number, 59.9 million, are active (meaning they listen at least monthly), up from 30 million active users in January 2011 when Pandora prepared to submit its initial public offering later that year.
Public Radio
NPR continued to lose terrestrial audience in 2012. The number of average weekly listeners to NPR programming and newscasts fell for the second year in a row to 26 million people. That was down 3% from 26.8 million in 2011.
The organization also lost website traffic. The number of unique visitors going to NPR.org each month dropped to an average of 16.1 million, a loss of about 1.6 million visitors, or 9%, since 2011.7
Some of that loss, though, may be due to development and promotion of NPR news apps. In addition to website visits, NPR news apps averaged 3.4 million visits per month in 2012. That puts the total digital audience at 19.2 million. What's more, a good deal of the mobile app audience was new in 2012.
Public Radio International underwent a challenging year in 2012. In July, PRI lost its 26-year distribution relationship with BBC World Service when the British broadcaster took its programming to American Public Media.8 Later that same month, Boston-based public media outlet WGBH acquired PRI in a deal that allowed PRI to operate independently but as a WGBH affiliate.9 Prior to losing BBC World Service and its deal with WGBH, PRI reported a drop in audience. It has not made public how the loss of BBC World Service affected its audience reach.
Talk Radio
Conservative talk radio host Rush Limbaugh remained at the top of talk radio, despite seeing his first significant dip in ratings in three years. His audience numbers dipped to 14.75 million weekly listeners in 2012, down from 15 million in 2011 and 2010.10
Fellow conservative radio host and Fox News personality Sean Hannity held onto his 14 million weekly listeners, the same as he had in 2010 and 2011. Michael Savage rounded out the top three conservative talk radio voices on the U.S. airwaves at 8.75 million. In fact, 2012 held promise for Savage to get even more listeners in the coming years after he left Talk Radio Network and signed on with Cumulus in October.