Audio: Digital Drives Listener Experience
By Laura Santhanam, Amy Mitchell and Kenny Olmstead of the Pew Research Center
Overview
As far back as 2004, the first year of our State of the News Media Report, Pew Research Center wrote that local news on the radio "appears to have seriously eroded in recent years" with a growing number of stations that  "are not local at all." Then in 2006 we wrote, "Technology is turning what we once thought of as radio into something broader – listening," and raised the question of what that would mean for radio news. Now, heading into 2013, those two shifts have come together to create a very different audio landscape—one in which news is relegated to a smaller corner of the listening landscape.
In general, listening to content seems to be as popular as ever and accessible in more formats than ever. But, aside from a scattering of stations around the country devoted to all-news programming, commercial radio news is mostly relegated to top-of-the-hour news headlines produced by an outside network. News/talk/information (and the recent addition of talk personality) is still a popular category for radio, behind only country music, but our research has found that this genre is filled with more talk than news, much of it nationally syndicated. In the newer forms of listening—satellite and online-only—news is a rare component. Only 26 of the more than 1,000 satellite radio channels are categorized as news.
Financially, the picture does not bode well for traditional radio. AM/FM on-air election advertising brought in $124 million in 2012, but most other areas saw steep declines, resulting in a flat year over all.  Online-only and satellite radio, on the other hand, had better years than in the past, with more positive long-term forecasts.  And new legislation under consideration by Congress could be an added windfall to many online-only stations. Pandora alone could as much as double in value.
National Public Radio may have positioned itself for the digital age better than other news radio, at least in terms of finding its audience. While its radio listenership declined somewhat in 2012, new audience to the network's mobile apps seems to be more than making up for that loss. Another public radio entity, American Public Media, gained momentum by securing a deal to distribute BBC World Service in the United States, ending a two-decade-old relationship between BBC and Public Radio International. PRI, on the other hand, was sold to Boston-based public radio station WGBH.
Audience
Over all, audio has gained traction in the U.S. as more and more ways of listening emerge and as a listening is perhaps the platform most conducive to today's propensity towards multi-tasking.  Among the choices, digital streaming seems to carry the most momentum, though traditional AM/FM still reaches far more Americans.
Gauging news listening, though, has gotten more and more complicated over the years as digital and web-based options have expanded. The AM/FM audience has been measured for more than 50 years on what is termed "cume." It is an estimate, based on a diary system that either electronically or manually records stations listened to at any given moment. No such systems exist for online or satellite radio – and even in cume tracking the degree to which people are getting news is far from exact.  And the cume data do not include people who listen to a station's digital feed. Public radio stations release their own internally computed data on listenership.
For satellite radio, the one U.S. satellite provider, SiriusXM, publicly releases subscription figures but nothing akin to actual listenership, let alone listenership for news channels. The same is true on the web. Online-only audio providers like Pandora publish figures on users or members. Again, they do not separate out news, though there is little, if any, news in their mix.
Survey data can help establish some sense of overall audio news listening.  The Pew Research Center 2012 media consumption survey suggests that even with more options out there, news listening has seen some erosion over the years. According to the survey, 33% of adults said they listened to "news radio yesterday." That is down considerably from 43% in 2000 and 52% in 1990, but higher than the percentage of respondents who reported reading a newspaper "yesterday" (29%).
Compared with other sectors, the listenership is more evenly spread out across the various age groups, according to the survey. The bulk of news listeners, 78%, fall between the ages of 30 and 49, but radio also reaches 20% of 18-to-24-year-olds, compared with just 10% of that age group who read a newspaper yesterday, and down only slightly from 22% in 2010.
The vast majority of these listeners, 87%, got their radio news through AM/FM broadcasts while just 6% listened through satellite news radio, 4% through a computer and 4% through a handheld device like a cell phone or MP3 player.
There are three main types of AM/FM news: All-news stations, news/talk stations and headline news broadcasts that air across all different station formats.  (Programming from public radio affiliates and networks air on other AM/FM stations and is discussed separately below.)
The number of stations that categorize themselves as all news is small especially compared with other categories. 1 As of December 2011, the latest data available, 37 stations called themselves all news, according to the radio ratings company Arbitron. (Categorization is up to the stations themselves.) That is up from 30 in 2009 and 27 in 2008, but only 25 of the 37 have a large enough audience to be measured by Arbitron. And, even this number inflates the percentage of Americans who could turn to them for news throughout the day. Those 25 stations can be heard in just 19 U.S. markets. Total listenership amounts to just 1.5% of Americans 12 and older.
The second news-related category, comprising news/talk/information and talk/personality, has far more stations: 4,012, according to December 2011 Arbitron data. With 12% of Americans 12 and older listening weekly, it ranks as the second most popular format behind only country music. And, people tend to listen for longer periods of time. According to Arbitron, news/talk/information and talk/personality have the longest average listening time of any radio formats they track, with the average listener tuning in for 6 hours and 45 minutes per week. That is more than double the 3 hours and 15 minute average for all-news stations.2 The question is how much of that listening is to actual news reporting as opposed to talk. Past Pew Research has shown that these news talk stations are primarily talk rather than news and also now carry more and more national syndicated talk programs, removing the local component from the conversation. (For more on talk radio, see below.)
Even on these news/talk stations, then, a good deal of the news can be coming through the top-of-the-hour headlines, the third and most prevalent form of news on AM/FM, aside from public radio stations.
The two main providers of national radio headline news are CBS Radio and ABC Radio. Both companies provide two to five minutes of headlines to stations across the country that air them between regular programming like music or sports.
ABC Radio news is a division of ABC News (part of the Walt Disney Company). The reporting function of ABC News Radio is part of the larger ABC News operation. According to the Leadership Directory, ABC News Radio lists 13 full-time employees, including three correspondents and one anchor, although it has more than person reading hourly headlines. The hourly headlines run on ABC's 1,800 member-stations around the country as well as other stations that purchase the package.
CBS Radio News is a part of the CBS Corporation and has its own reporting power separate from the rest of CBS News. According to the Leadership Directories, CBS News Radio has 23 employees spread across several operations from Weekend Roundup to the hourly radio headlines. According to the same list, there are two employees dedicated to the hourly news headlines, an executive producer and a general manager. Like ABC, CBS News runs its headlines on all of the 563 CBS-owned radio stations, plus non-CBS stations that purchase the headlines (CBS did not have a composite number for these stations). Thus, whether you choose a sports, music or other type of radio station, there is a very good chance you are exposed to top-of-the-hour headline newscasts.
But survey data suggest there may be fewer of even these casual listeners than in the past. When people are asked about the amount of time spent listening to radio news yesterday, the greatest erosion over the last two decades has been among those who spent less than 15 minutes listening: Just 6% in 2012, down from 14% in 2000 and 22% in 1990. Other time spans that would speak more to full half hour or hour news programs have remained much more consistent through the years.
What this may reflect is fewer people getting top-of-the-hour news from music or other non-news radio stations as they turn to new digital listening options. New survey data reveal that young people who still discover songs on AM/FM radio often then abandon it for future listening.
After discovering a song on the radio (still the most popular way to find new music), nearly two-thirds of teens, 64%, head to YouTube for future listening. Just over half, 56%, continue to tune in to the radio, according to the Nielsen survey.
One of the biggest threats to AM/FM news is web-based listening, and that is where most of the growth is. Roughly 4 out of 10 people (39%) listen to online audio monthly, according to Arbitron, and 3 out of 10 people (29%) listen at least once a week.3
While many AM/FM stations now stream their programming over the web, online-only options are drawing in a greater portion of the audience. In 2006, listenership to AM/FM streaming and online-only was about equal, according to Arbitron (46% and 48%, respectively, listened monthly). But, by 2011, AM/FM streaming had declined to 40% while online-only listening had risen to 57%.
Another listening option, satellite radio, continues to grow audience as well.  SiriusXM, the sole satellite radio company in the U.S., attracted 2 million net new subscribers in 2012 to reach 23.9 million, an increase of 9%, its biggest yearly growth ever, according to the company.4 This increase includes nearly 1.7 million self-pay net new subscribers for the year (a certain percentage of the others may come through cars or devices that come equipped with the service for a specified period of time). Those figures calculate out to roughly 7% of the U.S. population, very close to the survey data results. News programming is clearly less present on SiriusXM than on AM/FM. Of the 1,000 total channels offered on SiriusXM, 26 fall in the category of "news and issues." These include CNBC, BBC World Service, Bloomberg Radio, as well as eight regional news channels.5
In addition to the specific news channels on satellite, ABC, CBS and CNN Radio produce news headlines that they air on their channels as well as other channels that pay for the service.  (CNN's headline service is primarily for its own satellite channels.)  The challenge here for news is that satellite channels function more like cable television channels—built around a certain niche audience or subject area.  Because satellite does not operate on public airways, there are no federal regulations requiring a certain amount of community-based programming. That means less incentive for non-news based satellite stations to pay for top-of-the-hour news headlines. Station owners may also feel that headline programming would not be serving their paying audiences what they want most from that station.
At the end of 2012, SiriusXM went beyond just satellite, launching in December a personalized online radio service.6 It is too early to assess results, but the move came despite the warning from its former chief executive, Mel Karmazin, who called ad-supported internet radio "a race to the bottom in terms of business model" for the industry.
HD Radio
While new digital options grew audience, AM/FM's beleaguered attempt to draw people back to radio through HD did worse than ever. For the first time since 2004, when HD radio receivers became available for retail sale, more radio stations dropped their HD signal than adopted the technology. By December 2012, 2,048 radio stations were broadcasting an HD signal, down from 2,103 during the same period in 2011, according to BIA Financial Network data and analysis from the Project for Excellence in Journalism.7 HD failed to both entice AM/FM listeners to pay up rather than continue listening for free and to draw those willing to pay away from satellite.
Signs on the consumer side do not look promising either.  Since 2008, the price of an HD signal receiver dropped from nearly $100 to about $50.8 In response, developer iBiquity began pushing car manufacturers to include factory-installed HD receivers in their newer models. So far, nearly 30 car models carry this feature.9 But this still trails car models that come equipped with factory-installed, in-car apps, such as Pandora. Heading into 2013, nearly 20 car manufacturers come with the installed app.10
Podcasting
Podcast listening has grown considerably in the last two years, although it still reaches only a minority of Americans.  According to Pew Research survey data from summer 2012, some 18% of U.S. adults listen to a news podcast downloaded to their computer, tablet, cellphone or MP3 player at least sometimes.11 That is twice the number of people who said they listened to news podcasts at least sometimes in 2010.
Awareness, though, seems to have mostly leveled off. In 2012, about 46% of the U.S. population age 12 or older had heard of podcasting.12 That is up one percentage point from 2011.
Much like podcast awareness, the number of podcasts produced has seen virtually no growth in recent years, and 2012 was no exception, according to PodcastAlley.com. There were 91,700 podcasts in December 2012, a gain of less than one percentage point from 91,600 over the month in the previous year. However, that still amounts to 31% more podcasts than were produced in 2009.
Changes in the Measurement System
Even as getting a sense of total audio listening gets harder, changes are occurring within the central measurement firm. For decades, the radio ratings firm Arbitron was pretty much the sole provider of audio metrics. But, in mid-December, Nielsen, the television ratings company, announced that it would buy the company for $1.3 billion.13 This announcement came less than one week after Arbitron said that Sean R. Creamer would replace William T. Kerr as Arbitron's CEO, effective Jan. 1, 2013.14
For Nielsen, the acquisition added another medium – radio – about which it then can collect and sell ratings data. Nielsen expressed interest in Arbitron's ability to measure and to study the use of streaming audio, out-of-home listening and multicultural audiences. A timetable for the deal's closure remains unclear because the merger must undergo regulatory review by the Department of Justice.
Nielsen is taking over amid challenge and change for the metrics company as the need to provide cross-platform measures becomes more critical. Arbitron, under pressure from the industry, had already begun to address these challenges.   In September, Arbitron and comScore, an online metrics company that competes with Nielsen, launched an initiative with ESPN XP to try to capture cross-platform audiences, such as those that go to a particular outlet on more than one device, such as television and smartphone.
ESPN XP's appeal is its distribution across a wide swatch of platforms:  television, AM/FM radio, digital audio, browser-based content and mobile apps. The audience is to be tracked across platform through an enhanced portable people meter device (devices that electronically track listener behavior). ComScore will track browser-based and apps-based activity.  If successful, the companies plan to broaden the system to other providers.
If history is an example, the industry will be closely watching Nielsen's approach to this experiment. The portable people meter, launched by Arbitron in 2007 to more accurately track audience behavior, met early resistance.
Indeed, the portable people meter is not yet fully accepted by the industry. California and the cities of Los Angeles and San Francisco filed lawsuits against Arbitron, alleging that the ratings company did not fairly distribute its portable people meters, thereby undercounting minority groups, which in turn understated Latino and black stations' ratings.15
The company had relied on landline phone numbers to recruit people meter households despite the growing number of people owning cellphones only. It was not until March 2012 that the two sides reached a settlement in which Arbitron pledged to find a more equitable way to select individuals to be monitored with people meters.
Revenue
Presidential election-year advertising dollars kept the AM/FM industry above water in 2012. But this heavy reliance on election spending does not bode well for its overall financial health. News station revenues are not broken out separately, but the total figure speaks to the health of the industry.
In 2012, total radio revenue in spot, digital and off-air advertising together amounted to $16.5 billion, an increase of 1% over 2011.16
But, even that small gain is deceiving. Spot advertising, which makes up most of overall audio advertising and includes campaign ad buys, held steady at $14.2 billion in 2012, compared with the previous year, according to the Radio Advertising Bureau. This is despite a six-fold jump in political election ad spending over 2011. What that means is that advertising spending from regular radio sectors like communications, financial services, insurance and restaurant industries fell by 6% to 13% by late 2012, compared with the same time period in 2011.
Digital revenues remain the smallest category, but, as in 2011, grew the most, increasing by 8% over the previous year.
Longer-term forecasting recognizes the greater reliance broadcast radio may have on election spending. The investment firm Veronis Suhler Stevenson's projections for broadcast radio form a series of peaks on election years and troughs during non-election years, resembling the revenue pattern that has emerged within local television news. The forecast for satellite and online-only revenues is more steady growth, resulting in small gains for the industry year over year.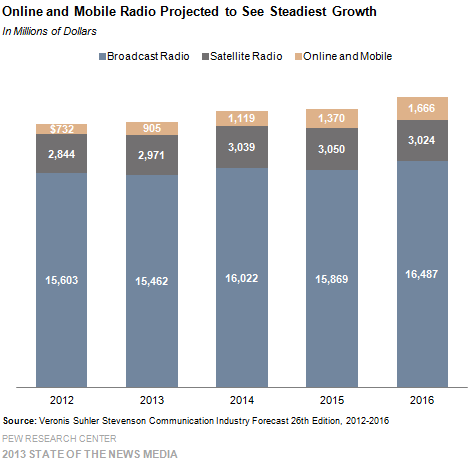 The improved financial picture for Pandora, one of the largest digital-only audio providers, speaks to the future potential here.  After being on the brink of shutting its doors in 2008, Pandora has a brighter future and the company is investing in new technologies for mobile and in-car use.
Pandora hit 150 million registered users in 2012, a full 50% increase over its 100 million in 2011. A smaller number, 59.9 million, are active (meaning they listen at least monthly), up from 30 million active users in January 2011 when Pandora prepared to submit its initial public offering later that year. Much of this comes from a rise in mobile use. Fully 70% of all listening hours are on mobile devices among Pandora's users, according to Pandora's metrics.17
To enhance mobility for the user experience, Pandora also made a major push to have its app come pre-installed in more than 50 car models by the end of 2012, riding on the idea, according to Tom Conrad, chief technology officer for Pandora, that people would be more prone to listening to Pandora if it goes with them where they go. According to Conrad, Pandora's goal is to "try to reinvent the radio itself."18
The digital music company has also made a push at the local level. In June, it established local advertising sales staffs in cities to compete directly with local AM/FM stations – a $14 billion market.19 Another major online audio provider, the European-based Spotify, also had a strong 2012.  After making its U.S. debut in July 2011, the company doubled its number of active users, as of December. However, Spotify remains with one-third of the number of Pandora's active users. In December, Spotify reported 20 million active users,20 while Pandora said it had 59.9 million active users.21
The single satellite radio company, SiriusXM, ended the year on a strong note but carries a certain amount of uncertainty heading into 2013 with the departure of it longtime chief executive, Mel Karmazin. Karmazin had led Sirius since 2004, guiding it through its 2008 merger with XM Radio.  SiriusXM's president of sales and operations, James E. Meyer, was named the company's interim chief executive.22
Karmazin reportedly clashed with John Malone, chairman of the giant Liberty Media,23
which holds a 48% stake in SiriusXM. In 2009, Liberty saved SiriusXM from bankruptcy by offering a $530 million loan. Since then, it has continued to buy larger shares of SiriusXM stock and in August it asked that the Federal Communications Commission permit Liberty to purchase a greater, controlling stake. If granted, Malone said, he intends to spin off SiriusXM into a publicly held company.
In broadcast radio, the largest company by far, Clear Channel Communications, which owns 850 stations in 150 cities, reported a mixed year for 2012. Through September 2012, the company reported revenues of nearly $1.6 billion, showing little growth over the same time period in 2011 when it reported $1.58 billion.24
The company saw some success in the heavy promotion its digital audio app, iHeartRadio. That audience is steadily growing, though it still accounts for just 5% of its total listening.25
Earning money from it, however, has proved more challenging. While iHeartRadio managed to catch advertiser interest, the cost of online audio content offsets these gains. Most of these costs are in the form of royalty fees that online providers have lobbied heavily against through a proposed measure called the Internet Radio Fairness Act.
Elsewhere in the company, a round of nationwide layoffs at all levels of Clear Channel's station operations began in early December. The company did not make public how many people lost their jobs, but speculation is that Clear Channel is taking steps to try to refinance $10 billion in debt that is due in to be paid off in 2016.26 The second largest radio station operator in the U.S., Cumulus Media, is still saddled with debt following   a large merger and the subsequent sell-off of stations. In September 2011, the Department of Justice and Federal Communications Commission approved Cumulus's merger with Citadel Broadcasting.  As a part of the deal, Cumulus paid Citadel $2.5 billion, and the purchase left Cumulus heavily in debt. In an attempt to shed some of that debt, Cumulus sold off 55 stations to Townsquare Media for $116 million in April 2012, leaving it with 525 stations in 110 cities.27 28
This did not seem to solve its problems though as the investment advisory firm Moody's gave it a negative rating in November.
Internet Radio Fairness Act of 2012
The Internet Radio Fairness Act, introduced in 2012, is one more volley in the fight putting online audio service providers like Pandora, Spotify and Last.fm against the recording industry about how much the providers pay for the music they play. The measure did not make it to the floor of Congress in 2012, but is expected to be reintroduced sometime in the Congress that convened in 2013.
There are two issues at hand. One is the battle among the various audio providers like AM/FM, digital-only and satellite. The second is between providers (especially digital) and artists. Since the 1940s, terrestrial radio companies have not paid any royalties from revenue to artists (or record companies) for songs played on AM/FM radio. This has carried through to the stations' online streaming. Digital-only audio services, however, spend as much as 60% of their revenue on sound recording royalties while satellite radio providers pay out 8% of their gross revenue.
The act is designed to set equal royalty rates for music, regardless of the delivery method or the provider. Online audio providers have been rallying around this act, while both the recording industry and AM/FM providers have opposed it.29 If it were to pass, Pandora's stock value alone could double because investors would see it as more stable business model.30
NPR 
In last year's State of the News Media report, Pew Research Center concluded NPR's section with: "If NPR can attract new audiences to its projects across nontraditional platforms and continue to get funding to cover associated start-up costs, it could make up for the loss of terrestrial listeners."
Evidence suggests that in 2012, with a new leader at the helm, the news network took several steps in the right direction.
On the terrestrial radio side, NPR continued to lose audience in 2012. The number of average weekly listeners to NPR programming and newscasts fell for the second year in a row to 26 million people. That is down 3% from 26.8 million in 2011. Audience to its website also declined, for the first time ever. The number of unique visitors going to NPR.org each month dropped to an average of 16.1 million, a loss of about 1.6 million visitors, or 9%, since 2011.31
At least some of that loss, though, may well be due to development and promotion of NPR news apps. In addition to website visits, NPR news apps averaged 3.4 million visits per month in 2012. That puts the total digital audience at 19.2 million. What's more, a good deal of the mobile app audience was new in 2012. The NPR iPhone app saw nearly 859,000 new downloads in 2012, according to NPR's internal data, and 9.9 million upgrades.  In addition, the newer iPad app received 643,000 new downloads as well as more than 265,000 upgrades. The Android app, more recently available, had the greatest number of new installs in 2012: over 1.7 million. That comes to more than 13 million downloaded apps across the three kinds of mobile devices.
NPR's internal tests suggest strong opportunity in the mobile app realm. In a test group of 20 member stations, audiences that were offered live streaming through mobile apps grew at three times the rate of those offered only desktop/laptop listening options while on their mobile devices (8% growth versus 2% growth).  This experiment indicated that interface makes a difference for listener engagement.32
And, despite a plateau in overall podcast listening in the industry, NPR continued to grow its podcast audience to an average of 29.3 million monthly downloads in 2012, compared with 28 million in 2011 and 23.3 million in 2010.
The audience data suggest that NPR's investment in moving beyond radio broadcast is paying off.  Among the new investments in 2012 was the creation of a special news app team aimed at generating more interactive and data-oriented components to NPR reports. The network also created a separate app for its featured Planet Money program that allows users to not only listen or read individual episodes but also to easily share the episodes on their social media channels.
Early in 2012, the network moved into a new area of development: enhanced car listening. In January 2012 NPR debuted its Connected Cars platform for cars that come equipped with internet access.33
The platform is aimed at keeping this core drive-time audience amid newer competition from internet-based audio.
The network also dedicated more resources, partly funded by the Knight Foundation, to helping member organizations strengthen their digital offerings and generate revenue streams.   The total number of member stations increased slightly in 2012, up to 270 from 268 in 2011. The number of stations that those organizations manage also grew, to 822, more than the 789 in the previous year. Over all, 975 stations aired NPR programming and newscasts. (Not all of these stations are run by member organizations.)34
A downturn in corporate sponsorship in 2012 forced NPR's budget to take a hit for the year, marking the fifth straight year that the organization ran a budget deficit.35
Revenues were up slightly year over year but fell $9.6 million short of the budgetary goal, according to NPR's internal accounting.  Spending cuts of $4.5 million helped offset the shortfall, but still left an operational deficit of $5.2 million.
While NPR had no plans to cut staff or programs, its chief executive, Gary Knell, said the organization planned to "try very hard to grow that revenue pie." To help lead fundraising efforts, NPR in August 2012 hired Monique Hanson, who had worked at the YMCA of the USA, as the organization's chief development officer.
On the cost-cutting side, in what Knell described as "an economic decision by both parties,"36
NPR cut its SiriusXM satellite radio programming in half, instead encouraging listeners to listen through NPR apps.
On the programming side, NPR began co-producing the TED Radio Hour with TED in late April. The series explores a different topic each week, including how to build a better classroom, the future of city planning and where ideas come from. One loss the network will need to contend with is the end of Car Talk, the popular 25-year-old program hosted by brothers Tom and Ray Magliozzi who took calls and offered quirky car repair advice and helpful, and often humorous, insights every week.37
Public Radio International
Elsewhere in the realm of non–commercial radio, the Minneapolis-based Public Radio International had a challenging year.
In July, PRI lost its 26-year distribution relationship with BBC World Service when the British broadcaster took its programming to American Public Media.38 Later that same month, Boston-based public radio outlet WGBH acquired PRI in a deal that allowed PRI to operate independently but as a WGBH affiliate.39 The deal allows WGBH, the largest content producer for PBS television, to co-produce and cross-promote content with the public radio entity, according to Julia Yager, vice president for brand management and marketing strategy at PRI.40
PRI's distribution structure is very different from NPR's. Rather than having a regular  network of member stations and affiliates as NPR has, PRI distributes content created by station-based producers and independent producers. PRI has no member stations. Stations that want the content pay an affiliation fee to receive that content.  In 2012, those fees increased for PRI's 883 affiliated stations over what they paid in 2011, according to Yager.41
Other revenue sources include sponsorships, philanthropic giving and a handful of grants from the National Endowments for the Arts and the Corporation for Public Broadcasting that are attached to specific projects.
Prior to losing BBC World Service and reaching its deal with WGBH, PRI reported a drop in audience when it stopped distributing The Changing World, as well as when an unnamed partner changed frequencies that content was used, Yager said. It has not yet been made public how the loss of BBC World Service, which was broadcast by more than 500 local public radio stations,42 has affected PRI's audience size.
Furthermore, PRI felt the squeeze of a struggling economy. The organization ran at a deficit in fiscal year 2011 (PRI's fiscal calendar runs from July 1 to June 30), partly tied to a slump in foundation funding, according to Yager. The financials stabilized somewhat in FY 2012.
Despite the fact that PRI was relatively stable, according to Yager, it still ran at a deficit in FY 2012. Revenue amounted to $19.8 million while expenses added up to $21.7 million.43
Looking to the future, PRI hopes that its affiliation with WGBH will give both stations and audiences what they want.  "When we thought about coming together with WGBH, the purpose was 'how do we create more content in a more cost-effective way,' " Yager said.
American Public Media
American Public Media saw average weekly listeners taper off slightly in 2012, but a new distribution deal with BBC World Service promises to boost those numbers by millions this year.  Meanwhile, the organization also plans to expand its mobile offerings.
The number of people who weekly listen to APM programming and newscasts dipped slightly to 15.2 million in fiscal 2012 (APM's fiscal calendar runs July 1 to June 30), down 2 percentage points from 2011. As of August 2012, though, the organization could draw an estimated 1.3 million to 1.8 million new average weekly listeners, thanks to a deal announced in July. American Public Media secured a deal to distribute BBC World Service in the United States, ending a long relationship between the BBC and Public Radio International.
The organization airs programs that it produces or distributes from 250 affiliated stations or station networks, and last year 807 stations aired APM content, including those not managed by APM.
APM also took strategic steps to enhance its digital footprint through developing mobile apps and social media. The work is paying off, according to Jen Keavy, communications manager at APM and Minnesota Public Radio. In 2012, mobile traffic doubled over the previous year to nearly 271,000 average monthly visits,44
and a growing percentage of APM's audience is streaming audio and using mobile devices to listen to the organization's content. One station among APM's affiliates, Southern California Public Radio, saw a jump in mobile device traffic to nearly 25% in 2012 from 10% in the previous year after investing in improvements to its website for mobile access.
Talk Radio
Conservative talk radio host Rush Limbaugh remained at the top of talk radio, despite seeing his first dip in ratings in three years. Limbaugh's audience numbers dipped slightly to 14.75 million in 2012, down from 15 million weekly listeners in 2011 and 2010.45
Fellow conservative radio host and Fox News personality Sean Hannity held onto his 14 million weekly listeners, the same as he had in 2010 and 2011. Michael Savage rounded out the top three talk radio voices on the U.S. airwaves with 8.75 million. In fact, 2012 held promise for Savage to get even more listeners in the coming years after he left Talk Radio Network and signed on with Cumulus in October.
Even beyond these top three, conservative talkers dominate the top audience draws. Indeed, the first liberal host does not appear until the eighth spot with Alan Colmes and his 3.25 million listeners, where he is tied with other conservative voices.
It is unclear if Limbaugh's dip in weekly listeners was tied to his crude March 2012 comments about Susan Fluke, a Georgetown University Law Center student who testified before a congressional committee in support of covering contraception as part of President Obama's healthcare insurance plan.46 Some advertisers boycotted Limbaugh's syndicated show, but the story soon faded from the news agenda and for much of 2012 the boycott was judged to be unsuccessful in financially damaging Limbaugh's show or Clear Channel.47
Roughly one out of six people tune in to hear Limbaugh at least sometimes (16%), roughly half as many people who listen to NPR as often. This is down slightly from 18% reported in 2010, according to the Pew Research Center.
In broad terms, more people are turning to talk radio. Major radio companies are able to buy more stations in a single market due to deregulation. At the same time, more stations are switching from music to talk, a relatively cheaper format.48
Continue reading: "Audio: By the Numbers."
Endnotes
Stations decide for themselves the category of their programming. There are no official rules or requirements that need to be met. ↩
Arbitron. "Radio Today 2012: How America Listens to Radio." Dec. 6, 2012. ↩
Arbitron. "Infinite Dial 2012: Navigating Digital Platforms." April 10, 2012. ↩
SiriusXM. "SiriusXM Adds 2 Million Net Subscribers in 2012; Issues 2013 Guidance." Press Release. Jan. 9, 2013. ↩
SiriusXM's news and issues channels include CNBC, Bloomberg Radio, Fox News Channel, CNN, HLN, MSNBC, BBC World Service, C-SPAN Radio, World Radio Network, NPR Now, Sirius 123, PRX Radio One, SiriusXM Public Radio, POTUS Politics, SiriusXM Patriot, Fox News Talk, SiriusXM Left, The Power, SiriusXM Patriot Plus, SiriusXM Left Plus, The Catholic Channel, EWTN Global Catholic Network and Family Talk. There are also local traffic and weather channels for Boston/Philadelphia/Pittsburgh, New York, Washington, D.C./Baltimore/Atlanta, Chicago/Detroit, Miami/Orlando/Tampa/St. Petersburg, Dallas-Ft. Worth/Houston/Phoenix, St. Louis/Minneapolis/Las Vegas, San Francisco/Seattle/San Diego, Los Angeles and TWN/AMI. ↩
Glenn Peoples. "SiriusXM CEO Karmazin Calls Internet Radio 'Race to the Bottom' on Earnings Call." Billboard.com. Nov. 1, 2012. ↩
BIA/Kelsey database and Pew Research analysis. Dec. 7, 2012. ↩
Mook, Ben. "

Slow Growth for HD Radio

." Current.org. Nov. 5, 2012. ↩
Mook, Ben. "

Slow Growth for HD Radio

." Current.org. Nov. 5, 2012. ↩
Pandora. "

Company Overview

." Accessed Feb. 1, 2013. ↩
Pew Research Center. "In Changing News Landscape, Even Television Is Vulnerable." Sept. 27, 2012. ↩
Arbitron. "Infinite Dial 2012: Navigating Digital Platforms." April 10, 2012. ↩
Nielsen press release. "Nielsen to Acquire Arbitron." Dec. 18, 2012. ↩
Arbitron press release. "Sean R. Creamer to Be Appointed CEO of Arbitron Inc. Effective January 1, 2013." Dec. 13, 2012. ↩
Sisario, Ben. "Arbitron Agrees to Improve How It Counts Minority Radio Listeners." New York Times. March 27, 2012. ↩
Radio Advertising Bureau. "Radio Records 3rd Straight Year of Upward Momentum." Feb. 15, 2013. ↩
In the absence of Arbitron's development of standard metric that could measure both digital and AM/FM audiences, Pandora partnered with Triton Digital in May 2012. ↩
Rose, Kevin. "

Foundation Video: Tom Conrad, CTO of Pandora on Reinventing Radio

." TechCrunch. Nov. 5, 2012. ↩
Del Rey, Jason. "Pandora's New Data Not Turning Heads." May 30, 2012. ↩
Weber, Harrison. "Spotify Announces 5M+ Paid Subscribers Globally, 1M Paid in US, 20M Total Active Users, 1B Playlists." thenextweb.org. Dec. 6, 2012. ↩
Dillet, Romain. "Pandora Beats, Q3 2013 Revenue Up 60% to $120M, Net Income of $2.1M; Q4 Forecast Much Lower than Expected." TechCrunch. Dec. 4, 2012. ↩
"Sirius XM Radio Promotes Meyer to Interim CEO." BusinessWeek from Associated Press. Dec. 19, 2012. ↩
Sherman, Alex. "Sirius XM's Karmazin Exits as Malone's Liberty Takes Over." Bloomberg. Oct. 24, 2012. ↩
Clear Channel Media Inc. press release. "CC Media Holdings, Inc., Reports Results for Third Quarter 2012." Nov. 2, 2012. ↩
Sisario, Ben. "So Far, Clear Channel's Digital Strategy Is Breaking Even." New York Times. Nov. 2, 2012. ↩
Stern, Mike. "Layoffs Hit Major-Market Clear Channel Stations." Billboard.biz. Dec. 7, 2012. ↩
Cumulus Media webpage. Local Radio. Accessed Dec. 10, 2012. ↩
Sisario, Ben. "Cumulus, a Growing Radio Power, Sells 55 Scattered Stations." New York Times. April 30, 2012. ↩
Lewis, Randy. "Internet Radio Fairness Act Debate Opens in Washington." Los Angeles Times. Nov. 30, 2012 ↩
"Pandora's Value Could Double If the Internet Radio Fairness Act Passes." Trefis. Oct. 9, 2012. ↩
NPR provides Pew Research Center with internal data on audience, staffing and financial information. Audience averaged from October to December 2012. ↩
Maloney, Paul. "

NPR Digital Services, eMarketer Report Big Gains for Mobile-Optimized Websites

." Radio and Internet Newsletter. Oct. 16, 2012. ↩
NPR. "Ford Enables Voice Control of NPR App Delivering In-car On-demand Access to News, Programs and Stations." Press release. Jan. 9, 2012. ↩
NPR provides Pew Research Center with internal data on audience, staffing and financial information. ↩
The Diane Rehm Show.

Interview with Gary Knell

. NPR. June 7, 2012. ↩
The Diane Rehm Show. Interview with Gary Knell. NPR. June 7, 2012. ↩
NPR press release. "NPR's Car Talk to Move Into Syndication." June 8, 2012. ↩
American Public Media press release. "BBC World Service Appoints American Public Media as New Distributor in the United States." July 12, 2012. ↩
 Public Radio International press release. "Public Radio International Acquired by Boston Public Broadcaster WGBH." July 26, 2012. ↩
Yager, Julia. Interview with Pew Research Center. Nov. 29, 2012. ↩
Yager, Julia. Interview with Pew Research Center. Nov. 29, 2012. ↩
American Public Media press release. "BBC World Service Appoints American Public Media as New Distributor in the United States." July 12, 2012. ↩
Public Radio International provided Pew Research Center with internal data. ↩
American Public Media provides Pew Research Center with internal audience and financial figures. ↩
Talkers. "The Top Talk Radio Audiences."Accessed on Oct. 2, 2012. ↩
Farhi, Paul. "Limbaugh sees heat over comments turn down to a simmer." Washington Post. March 28, 2012. ↩
Farhi, Paul. "Limbaugh sees heat over comments turn down to a simmer." Washington Post. March 28, 2012. ↩
Schudson, Michael and Fink, Katherine. "Sounds about right: Talking up talk radio." Columbia Journalism Review. Aug. 7, 2012. ↩