Newspapers: By the Numbers
By Rick Edmonds of the Poynter Institute, Emily Guskin, Tom Rosenstiel and Amy Mitchell of PEJ

"By the Numbers" houses a comprehensive set of charts and tables telling the story of each media sector. For a narrative summary, visit the corresponding essay.
Revenue
Rapidly declining advertising revenues continue to be the industry's core problem. The losses in 2011 were slightly worse than those of 2010 – 7.3% compared to 6.3%. Ad revenues are now less than half what they were in 2006.
Online revenues have started growing again and now exceed their previous peak in 2007.
Print losses far exceed online gains. For 2011, the ratio was more than roughly 10 to 1. In 2006, online revenues were still growing quickly and covered about 80% of print losses. Then in the 2008-2009 recession online flattened and fell slightly. For the last two years, revenue lost in print is nowhere close to being replaced by digital gains.
This chart shows newspaper organizations battling with pure-play internet companies like Google or Monster for share of local online revenues. Other platforms have much lower market share. Newspapers held the leading position early in the 2000s.  Then, beginning in 2006 when online growth stalled (see previous chart), pure plays quickly took the leading share.  Forecaster Gordon Borrell sees the relative shares steadying the last couple of years and the possibility that newspapers will grow more quickly in 2012 and beyond.
National newspaper advertising revenue was down 10.5% in 2011, classified down 11% and retail 8%. Retail, buoyed by the relative strength of pre-printed inserts, is now greater than the other two categories combined, although it has still fallen.
A longer view of ad revenues shows that they reached $48.7 billion in 2000. Classified and retail were nearly equal then. They rose to $49.4 billion in 2005, but classified by then had started its decline.
This chart shows how over time, ad revenue has dropped sharply while circulation never has remained flat. This is further proof that the crisis for newspapers is an advertising problem, not an audience problem.
Classified revenue has experienced the sharpest drop since the 2000 peak, losing nearly three-quarters of its value.
Recruitment advertising revenue stabilized in 2011. Real estate, on the other hand, was down 19.8%. The "other" category, which includes such things as paid obituaries and legal notices, now is by far the largest subcategory but declined 10% in 2011. Auto advertising was down 10.7%.
Recruitment has had the steepest fall among classified categories.
Circulation revenues have declined much more slowly than in advertising, only about 10% since 2003. As a result, circulation's share of total revenues has risen from less than 20% early in the decade to almost 30% in 2009. Statistics for 2010 and 2011 are not available, but several public companies have reported small declines. So the total has probably dipped below $10 billion.
Operating margins earnings are only about half what they were in 2000. (The decline in actual profits is much larger since revenues have fallen so sharply). When interest, taxes, depreciation and amortization and special charges are factored in, companies are posting net earning margins averaging around 5%. Some recorded a net loss in 2011.
After a two-year rally, newspaper stock prices were down in 2011. Investors were disappointed in continued ad revenue declines, and in some cases worried about excessive debt. Companies are now trading at one-half to less than one-tenth of their mid-decade peak price.
Audience
Newspapers continued a string of declining circulation for 17 consecutive six-month periods as measured by the Audit Bureau of Circulations. But, possibly influenced by new audit rules, 2011 was a second straight year of more moderate losses. Sunday edition circulation, moved close to staying even, and some papers showed gains.
This 20-year view shows a steady slide in paid circulation. Daily circulation, which stood at 62.3 million in 1990, fell to 43.4 million in 2010, a decline of 30%. Sunday circulation fell by about the same percentage, though Sunday editions have performed better than daily the last two years.
Figures for 2011 are not available.
In 1990, evening papers, which began to decline in the 1970s, made up about a third of daily circulation. In 2009, it was just over a tenth.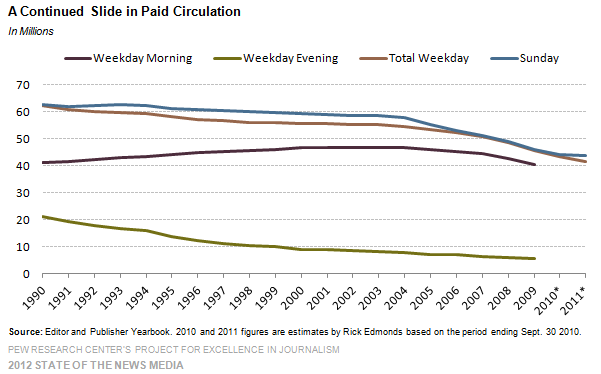 Newspaper website audiences grew by 7.4% as measured by unique visitors from December 2010 compared with December 2011. However pages viewed and average minutes per visit were both down slightly – perhaps influenced by the introduction of online pay walls at some newspaper organizations.
New auditing rules make year-to-year comparisons unreliable, but the rank order of the top 25 papers by circulation has changed little. The Wall Street Journal retains the top spot, followed by USA Today and The New York Times. The Journal benefits from having more than 400,000 digital subscribers counted in its paid total, more than any other American paper, although The New York Times is getting close after installing its metered pay wall in late March and gaining more than 390,000 digital subscriptions.
One rule change allows papers (starred in the chart) to count "branded editions" in the total. So, for instance, the Contra Costa Times is counted as a branded edition of The San Jose Mercury News, although they were once separate newspapers.
On Sundays, since the Wall Street Journal and USA Today do not publish, The New York Times is the leader by a wide margin.
Another, some would say more modern, way to look at newspaper audience is to measure a paper's total reach in print and online. Scarborough Research has done that here, counting the number of people who read a print edition at least one day a week, plus the number accessing the website at least one time in a week (with an adjustment to avoid double counting those who do both).
The measure is for local market area only. For this reason, The Wall Street Journal and USA Today are not measured at all, and the national/international audiences for the websites of The New York Times and The Washington Post are not included. By the local total audience measure, several publications – among them the Daily News in New York City and The Boston Globe – rank higher than they would by counting paid circulation alone.1
Market penetration has been a traditional print newspaper metric – the number of papers sold in each market as a percentage of households. This calculation includes unduplicated online audience as well. The top papers' percentages are typically down some from 2009.
Paid digital circulation is another indicator of audience strength. It has been renamed to include more varieties of digital. Included are paid online subscriptions (which The New York Times and other publications launched in 2007), subscriptions on e-readers (Kindles, iPads, Nooks or others) and e-replica editions (full online reproductions of newspapers, typically viewed on a computer).
The Wall Street Journal, which has been charging for its online site for more than a decade, leads with 449,000 paid digital readers.
For the many metro papers on the list whose websites remain free, the totals come mostly from e-replica editions, those that display the full print paper in its original layout, but electronically. Without a lot of attention, the format has gained a foothold with readers (in part because it costs far less than home delivery of print).
The presence of the two Detroit papers high on the list reflects their decision in late 2008 to offer home delivery on only three days a week. Some subscription packages include access to the e-edition other days of the week.
These numbers will continue to grow in coming years with sales to iPads and other tablets and experiments with paid online.
Over the last 20 years, the number of daily American newspapers has decreased slowly but steadily.  From 1,611 in 1990, the number fell to 1,387 in 2009, the most recent year for which figures are available.  That is a decline of 14%. Since yearly declines for the last five years measured were consistently between 14 and 21 papers, it is a reasonable estimate that 1,350 dailies are still being published.
This breakdown of morning and evening titles suggest growth in morning papers, but in fact the higher numbers mostly represent evening-to-morning conversions or consolidations. Launches of new dailies are extremely rare.
Employment of full-time professional editorial staff peaked at 56,900 in 1989. It then fell 27% through 2010.
The newsroom census totals for 2011 will be released in early April. Our estimate is that 500 to 1,000 more jobs will have been lost, but this year's census will include some changes in methodology and more inclusion of non-newspaper online publications.
The census, by the American Society of News Editors, also includes a breakout of minority employment. It grew immensely from 1,900 in 1978 to 7,400 in 2006, but has since fallen during the layoff years to 5,300 at the end of 2010.
An ongoing PEJ analysis of the national news coverage indicates some differences between newspapers and the news media over all.  Business, education and health receive a higher level of coverage in newspapers than from other news organizations. Elections U.S foreign affairs and crime receive somewhat less.  The level of attention to the economy is about the same.
Demographic Data
The percentage of adults in all age groups who report that they read a newspaper yesterday has fallen steadily since 1999. Adults over the age of 65 are still most likely to be newspaper readers, but their readership declined three percentage points in 2011 alone.
Frequency of daily newspaper readership rises steadily with level of education, although all categories are down from 1999. Each of the five groups measured has seen readership drop, but readership among those with post graduate degrees fell less.
Higher levels of newspaper readership also correlate closely to higher income levels.  Even at the highest income levels, percentages of readership are declining.
Whites have the highest levels of daily newspaper readership, followed by African Americans.  Hispanics are least likely to read a newspaper, suggesting that English language fluency is a factor.
A little good news for the industry: Although the youngest age group is least likely to read the Sunday paper, their percentage held steady from 2010 to 2011.
There is little variation among education levels in Sunday readership declines.
Asian and Hispanic groups show the biggest readership declines, perhaps indicating a continuing infusion of immigrants for whom language is a barrier.
Click here to read the Newspaper Essay
Endnotes
The print and online totals are measured by the Audit Bureau of Circulations and Scarborough, but the methodology is completely different from that used in its traditional measure of paid circulation. Hence the much higher totals. A reader is counted if he or she reads the print edition or visits online at least one day in a week. ↩