Network: By the Numbers
By Emily Guskin and Tom Rosenstiel of PEJ

"By the Numbers" houses a comprehensive set of charts and tables telling the story of each media sector. For a narrative summary, visit the corresponding essay.
Audiences
Network news audiences grew in 2011 for the first time since the 2001-02 season, the year of the 9/11 attacks and the beginning of the war in Afghanistan.
In the evening, an average of 22.5 million people watched one of the three commercial broadcast evening news programs on ABC, CBS or NBC. That was an increase of 4.5% or 972,700 viewers, from 21.6 million in 2010. And all three networks saw viewership increase, according to Nielsen Media Research.
The average number of viewers per night grew in November 2011 – by 2.1% to 23.7 million, compared to 23.2 million the same month in 2010. The number is higher than it was that month in 2009 (23.6 million), but still lower than 2008.
Despite the gains, the long-term trend for network news audiences is downward. Since 1980, using the November sweeps month as the measure, viewership is down by 54.5%. But there have been upticks and periods of steadiness during that time, depending on events in the news. After falling in the early 1980s, viewership trended upward in the middle of the decade, then dropped again. It ticked upward during the end of the Cold War and the first Gulf War, and again after the attacks of 9/11.
Ratings, the percentage of households with TVs turned to a given program, rose to 15.8 for the three network evening news programs combined in November 2011, up from 15.4 the previous year.
ABC World News grew to a rating of 5.4 in November 2011 from 5.2 in November 2010, CBS Evening News grew to 4.3 from 4.1, and NBC Nightly News, which has led this measure for several years, remained stable at 6.1.
A third measure, share, articulates the newscast audience as a percentage of all households watching television during that timeslot. Share was flatter than other measures: 29.6 on average in 2011, compared to 29.5 in 2010.1  But looking more closely, one of the networks, NBC, declined.
Individual Networks: Evening News
Even with the increases, all three networks have a smaller audience than they did two years ago.
ABC World News' viewership in 2011 grew 5.3% or 397,200 viewers to 7.82 million. Ratings grew 4% to 5.2. Share remained unchanged at 10.3.
CBS Evening News, which has the smallest audience of the three evening news programs, increased in audience by all measures. Average viewership grew 5.8% or by 325,000 viewers to 5.97 million. Ratings grew 5.3% to 4. Share grew 1.3% to 7.9.
NBC Nightly News' viewership increased 2.9% or 250,500 viewers to 8.75 million viewers. Ratings grew 1.8% to 5.7. Share declined by 1.7% to 11.3.
Individual Networks: Morning News
Morning news shows also grew in audience in 2011. An average of 13.1 million people watched the three network morning news programs, up 5.4% from 12.4 million in 2010. That is an increase of 666,400 viewers for the year on average. It takes the average viewership for all networks back to 2008 levels.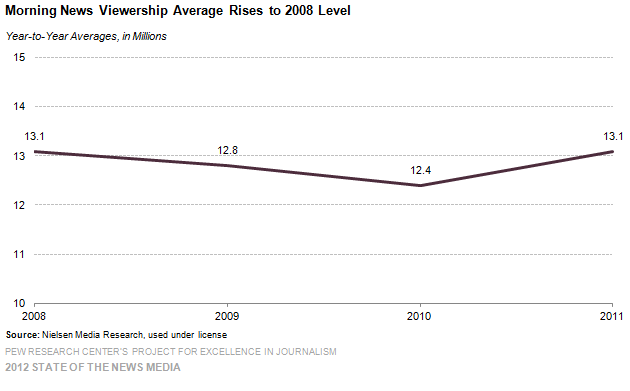 ABC's Good Morning America increased across the board. Viewership grew 11.4%, or by 488,800 viewers, to 4.8 million viewers, narrowing the gap with NBC's Today Show. Ratings grew 12.5% to 3.6. Share grew 6.5% to 13.2.
CBS' Early Show, which was relaunched in January 2012 as a new show called CBS This Morning, was essentially flat in 2011. Viewership grew 0.3%, or by 8,300 viewers, to 2.9 million viewers. Ratings declined 1.9% to 2.1. Share dropped 2.4% to 8.3.
The most popular of the three network morning news programs, NBC's Today Show, had a mixed year.  Viewership grew 3.2%, or by 169,300 viewers, to 5.4 million. Ratings stayed at 4.0. Share dropped 1.3% to 15.
TV News Magazines
Television news magazines audiences declined in 2011, unlike their morning and evening news counterparts.
ABC's Nightline was the exception. For the second year in a row, its viewership grew, by 221,600 viewers (5.8%) to 3.9 million on average. Ratings increased by 3.8% to 2.7; share remained steady at 6.3.
The network's other news magazine, 20/20, had the largest drop of the network news magazines, however. Its viewership fell by 622,500 viewers (11.3%) to 4.9 million. It also had the biggest decline in ratings and share: its ratings fell 10.8% to 3.3 and share was down 13.2% to 5.9.
60 Minutes, which traditionally has the largest audience, saw only a slight decrease in viewership in 2011, down 0.78% or 90,800 viewers, to 11.6 million. Ratings fell 1.4% to 7.3; share dropped 2.3% to 12.6.
CBS' other news magazine, 48 Hours Mystery, had a decline of 381,300 viewers on average, or 6.6% of its viewership, to 5.4 million. Ratings dropped 7.7% to 3.6; share fell 9.3% to 6.8.
NBC's Dateline on Friday also saw declines across all three audience metrics. Viewership declined by 315,100 on average, or 5.2%, to 5.7 million. Ratings dropped 4.9% to 3.9; share dropped 5.4% to 7.
NBC's Sunday Dateline edition did better than its Friday counterpart. For the year, the Sunday program averaged 4.7 million, up 237,400 from the year before. (The show only aired from January through August, with football broadcast in its timeslot from September on.) Its ratings dropped 3.1% to 3.1 and its share grew 1.9% to 5.5.
Demographics
The Pew Research Center's biennial consumption survey is conducted in even years. In 2010, the average age of a regular evening news consumer was 53, seven years older than the average American. Morning news audiences that year averaged 51 years of age. More than two-thirds of the morning news audience, 68%, in 2010 was female.2
Economics
Determining the economic status of a network news division is difficult. Networks do not publicly break out financial data for their news divisions.
A few market research firms make estimates about network television over all, but not specifically for news.
Looking at some of these, Kantar Media estimated that from January through September 2011, advertising revenue for all network broadcast programming fell by 5.7%. While Kantar did not release absolute numbers, extrapolating from last year's figures would bring network television ad revenue to $18.04 billion for the first nine months of 2011, down from $18.15 billion the same period in 2010. (The figure includes ABC, CBS, NBC, Fox, the CW, Telemundo and Univision.)
The decrease, according to Kantar, was primarily from the loss of college football and basketball programming that moved to cable networks in the first quarter of the year.3
The firm also estimated that revenue grew in the third quarter marginally, by 0.2% after falling in the first two quarters.4
Another analyst, Veronis Suhler Stevenson, forecast an overall network ad revenue decrease of 3.7% for all of 2011 to $17.6 billion, down from $18.2 billion in 2010.5
VSS attributed the estimated decrease to a "tough comparison with the 2010 recovery," including the absence of most political ads, a decline in automotive ad revenue from Japanese manufacturers and no Olympics-based ad revenue.6
While advertising makes up about 87% of combined network revenue, according to VSS, the networks saw growth in the remaining slice of revenue. VSS estimated that revenue from the networks' online and mobile platforms grew by 21% in 2011. And revenue from retransmission fees grew by 39%. Including that growth into the total network revenue results in an overall decrease of just 0.6%.7
And there are some signs the news divisions might have fared even better. One is the increase in news audiences. Others are the statements in SEC filings from ABC and CBS that their total broadcast ad revenues were up. A third is that NBC News benefits from cable news revenues, which were up.
ABC
According to SEC filings, Disney, ABC's parent company, had revenues of $40.9 billion in fiscal 2011, up 7.4% from $38.1 billion in 2010. (ABC uses a different fiscal year than the other networks. The data in the ABC section are for the year ending Oct. 1.)
Broadcast television is a small part of Disney's operations. Looking just at ABC's broadcast revenue, it increased by 2.5% or $99 million to $4.1 billion for the year ending October 1, 2011. (In the quarter ending December 31, 2011, broadcast revenue fell 4% compared with the same quarter in 2010, attributed to a decrease in local advertising revenue. The company reported flat advertising revenues for the ABC network. Higher advertising rates were offset by decreased ratings.)
Several pieces of evidence suggest that ABC overall had a better year financially in 2011 than 2010, but getting there was complicated. First, the network cut programming and production costs by $69 million, according to filings with the SEC. Cost cuts came from news and daytime programming as well as airing less expensive prime time programming.
ABC also raised its advertising rates and enjoyed higher ratings in news. But the lower costs and improvements in some ratings were offset by lower ratings for prime time and daytime programming, according to the SEC filings.8
Part of that good news came from ratings gains in morning news. According to estimates from Kantar, even before 2011, ABC's Good Morning America was on a financial upswing. The show took in $314 million from ads in 2010, up 6.3% from a year earlier, and that was before it more closely narrowed the gap with NBC's Today Show in 2011.9
CBS
At CBS Corp., which includes all of CBS television, plus cable channels such as Showtime, its local TV and radio operations, book publishing and outdoor advertising, revenue grew 1% in 2011 from $14.1 billion to $14.2 billion, according to SEC filings. The company had a 6% rise in content licensing and distribution revenues, driven by agreements with companies to stream CBS content, and by growth in affiliate and subscription fee revenues and in advertising revenue. The division that includes network news (as well all network programming, film and TV studios, international distribution and interactive) also saw a 1% increase in revenue to $7.46 billion for the year 2011.10
In 2011, CBS — which has the largest audience of the three networks in prime time — had the highest volume of advertising revenue leading up to the 2011-12 season compared to the other networks, according to The New York Times. CBS brought in somewhere between $2.50 billion and $2.55 billion worth of ad revenue, up from $2.40 billion before the 2010-11 season.11
But CBS took a $46 million restructuring charge to reorganize the company's operations when it revamped its morning show, according to SEC filings and The New York Times. CBS chief financial officer, Joseph Ianniello, told The Times that the company would recoup the costs in 12 to 18 months.12
In last year's report, PEJ estimated that the news division at CBS, including 60 Minutes, Sunday Morning and Face the Nation, brought in revenue of about $424 million in 2010. Given the growth in audience for CBS Evening News, if CBS News grew at a similar rate to the rest of the network (by 1%), that would put 2011 revenue at about $430 million, against which any restructuring charges would be put.
NBC
NBC News' revenue model is different than its rivals.
Rather than being largely based on broadcast, NBC News includes the proceeds from its cable siblings, MSNBC, CNBC and CNBC World, an international business news channel.  The network's website, MSNBC.com, is a partnership with Microsoft.
Most of NBC News' revenue is now generated by its cable news operations. The largest contributor is its cable business channel, CNBC. In 2011, the research firm SNL Kagan estimated that the cable business news channel's revenue grew 6.4% to $725 million, up from $681.2 million in 2010. The general news channel, MSNBC, took in revenue of $409.3 million. CNBC World (an international business channel) had $23.3 million in revenue.
That revenue growth was accompanied by rising profits, Kagan estimated. Those figures are as follows: CNBC had an estimated operating profit or pre-tax profit of $435.8 million, up 6.9% from $407.7 million in 2010. MSNBC's operating profit in 2011 was projected at $186.6 million, up 10.5% from $168.8 million in 2010. CNBC World's operating profit was estimated to increase 37% to $13.7 million in 2011 from $10 million in 2010.13
The broadcast arm of NBC over all had a 7.1% decrease in revenue in 2011 to $6.4 billion, compared with $6.9 billion in 2010. That comparison, however, includes $782 million of revenue generated by the 2010 Vancouver Olympics. Taking the Olympics revenue out of the equation puts NBC broadcast revenue at a 4.8% increase from 2010 and ad revenue at a 1% increase, reflecting NBC's low prime-time ratings and decreased political advertising at local affiliates in a non-election year, according to SEC filings.14
Although NBC's prime-time ratings slumped in 2011, its Nightly News and Today Show beat the network competition and saw growth. Therefore, it is difficult to generalize from the NBC broadcast arm to NBC News.
The broadcast operations of NBC News, PEJ estimated last year, brought in roughly $850 million in 2010, bringing NBC News' total revenues to just under $2 billion.
If the broadcast revenue at NBC News grew at a rate under those of cable, but better than broadcast over all, roughly 1%, that would put revenues in 2011 at just under $860 million and NBC News' overall revenues at just over $2 billion.
News Investment
In 2011, all three news divisions went through substantial changes.
NBC had new ownership, but appeared to make the fewest visible changes. CBS went through new management and manifested a distinctly new news agenda that it is also trying to promote and which could be measured by its story choices. And ABC worked through the effects of substantial cuts in 2010, and the difference also could be seen in its news agenda.
Staffing
All three networks saw anchor changes in 2011. On the CBS Evening News, Scott Pelley replaced Katie Couric.  And CBS completely overhauled its morning show with an entirely new staff and name to start 2012. Meredith Vieira left the Today Show on NBC. And ABC announced that its choice for This Week anchor, Christiane Amanpour, had not worked and that it was returning to her predecessor, George Stephanopoulos. Amanpour stayed on as a reporter for ABC in addition to anchoring a weekday program for CNN International.
And on NBC, a new news magazine, Rock Center With Brian Williams debuted in October 2011. In addition to the Nightly News host, the news magazine's correspondents include Harry Smith and Kate Snow, as well as several who already work at NBC News: Ann Curry, Nancy Snydermann, Natalie Morales, Bob Costas, Richard Engel and Matt Lauer.15
The show has struggled to bring in a regular audience. It brings in between two million and five million viewers, relatively low for a network news magazine.16 In February, the show was moved from Monday night to Wednesday night.
And on CBS, in addition to a revamped morning show, the network relaunched a program from years ago, Person to Person. In February 2012, the interview program was reintroduced to the public with interviewers Charlie Rose and Lara Logan. Its first week on air, the show brought in about six million viewers, and came in at third place in its time slot.17
What viewers saw were also the result of changes behind the scenes.
At CBS, Jeff Fager, the executive producer of 60 Minutes became the chairman of CBS News with David Rhodes as president. At ABC, Ben Sherwood took over as news president from David Westin in early 2011.
And new executive producers sat at the helm for all three evening news programs on the networks.
At ABC World News, Michael Corn, a longtime producer for Good Morning America, took over in September. At CBS Evening News, Patricia Shevlin was named the executive producer in June, at the same time that Pelley took over from Couric. And at NBC Nightly News, Patrick Burkey was named the executive producer in July.
While there was a lot of shuffling around of on-air talent along with new people, the overall number of hires and layoffs at the three networks was not reported. In 2009, both ABC and CBS reduced staff through buyouts, layoffs and eliminating positions. NBC seems to have been the first network to start a new period of staffing stability for the networks.
Click here for a more detailed list of staff changes at the networks.
Domestic Bureaus
International Bureaus
NBC closed bureaus in Beirut and Hong Kong in 2011, although it still has a presence in Beirut (as well as Jordan, Rome, South Korea, Saudi Arabia, Syria and Turkey).
Neither ABC nor CBS reported an updated news bureau list in 2011.
News Content
The differences in management and anchors were matched by a growing distinction of what stories the networks put on the air.
CBS News put a measurable emphasis on what analysts typically describe as "hard news," that is, more civic oriented news as opposed to lifestyle topics.  For example in 2011, the CBS Evening News devoted more time to the two top stories than either of its main competitors: the economy (18%) and unrest in the Middle East (12%). ABC News devoted 8% to the Middle East and 16% to the economy. NBC devoted less time to the economy, only 11%, and 12% to the Middle East, on par with CBS.
The CBS Evening News also spent a little less time on lifestyle, celebrity and sports (7%) and disasters (7%) than did ABC's World News (11% and 9%) or NBC Nightly News (9% and 11%).
The same pattern was more pronounced in the three networks' morning news programs. PEJ examines the first 30 minutes of these programs, where they are most likely to provide hard news segments. Again, CBS spent more time on the economy and the Middle East combined (26%) than either NBC (18%) or ABC (16%).
The CBS Morning Show also spent less time on lifestyle, celebrity and sports (6%) compared with ABC (10%). NBC's Today Show was similar to CBS (6%).
Morning and evening news network news programs traditionally have different news agendas. The troubled U.S. economy was a significantly bigger story on the evening newscasts (15%) than on the morning shows (11%). There was also more attention given to the strife in the Middle East in the evening (11%) than the morning (9%). The presidential campaign, though, was a much bigger story in the morning (10%) than it was on the evening broadcasts (5%). This may be because major campaign events, like debates, happen in the evening after that night's news has already aired.
The amount of coverage with foreign datelines increased in 2011, compared to the year before. Of the four major evening news programs on ABC, CBS, NBC and PBS, the number of stories that were filed from a foreign dateline in 2011 numbered 698, up 9% from 640 in 2010.
Over all, about 10% of news stories were filed from abroad.
When looking at the networks individually, the number of foreign datelines increased for all but ABC News. CBS Evening News saw the most significant increase in filings from abroad, up 42.3%, compared to 2010. The other increases were not as noticeable. The PBS NewsHour had a 4.2% increase in foreign datelines while NBC Nightly News had a 2.6% increase. ABC's World News had a 7.2% decline in foreign filings.
Coverage of the wars in Afghanistan and Iraq continued to decline in 2011. Stories about the war in Iraq fell to 0.94% of the news hole for all network news programs in 2011 from 1.19% in 2010, as U.S. troops left the country. Stories of the war in Afghanistan fell to 2.09% of the newshole from 3.47% in 2010.
Digital
Audience
There is no easy way to comprehensively measure the total digital audience for network news. And with the growth in mobile the matter is becoming more challenging. That difficulty is also an important factor for the networks. If they cannot comprehensively tell potential advertisers who their audience is across platforms, it makes sales more complex.
There are some metrics, however. The total unique visitors who go to a site every month offer an idea of rank and overall growth for the main websites.
According to at least one measurement, Nielsen's list of total unique visitors for the year 2011, the relative ranking of the three network news sites remained stable. Visits increased at ABC and CBS, but decreased at MSNBC, which still claimed far more unique visitors than ABC and CBS.
Another organization that measures website traffic is comScore. Its figures for average monthly unique visitors are different from Nielsen's, but the networks rank in the same order as they do with Nielsen's measurements. comScore reports MSNBC's average audience for the year at 52.7 million, ABC's at 22.8 million and CBS' at 19.9 million.
Twitter and Facebook
The popular social media tools Twitter and Facebook provide another way to measure the networks' popularity online.
Most news programs, and a large portion of news personalities, had Twitter feeds in early 2012. Twitter provides a way for networks to both disseminate news and for consumers to communicate with news networks and personalities.
One way to gauge Twitter audience penetration is by a simple count of followers, though this is imperfect, given the abundance of ghost accounts, which can arbitrarily favor one account over another. While all three networks showed growth in Twitter followers from 2011, they are still in the same order of popularity.
As of January 2012, CBS News (1.94 million) and ABC News (1.58 million) both had well over a million Twitter followers. NBC News' main news Twitter feed, on the other hand, was far behind with only 192,000 followers. Still, this is an increase from about half as many in 2010. NBC's online sibling, MSNBC has around 172,000 followers. CNBC had more (659,000), but combined the NBC constituents do not match the other broadcast networks.
But in terms of nightly news programs, the order of popularity on Twitter more closely reflects viewership. NBC Nightly News — the most-watched evening news program — has the most followers on Twitter of the three network shows with almost 100,000 followers. ABC World News has 74,000 and CBS Evening News has 15,000.
As for morning television, the tables are flipped: ABC's Good Morning America has 1.77 million followers, but NBC's Today Show, which is more popular among viewers, has 1.05 million.
All three network news divisions are also on Facebook. As on Twitter, NBC News lags with 26,000 fans (a significant increase from fewer than 1,000 in 2011). One of its sibling on cable, MSNBC, has 437,000 fans and another, CNBC, has 181,000. CBS News has 278,000 fans and ABC News has 404,000.
The networks had a handful of other innovations over the year.
ABC
A partnership with Yahoo was announced in October 2011. Coupled with that was the launch of GoodMorningAmerica.com as well as a web series from ABC News anchors and correspondents.
The launch of "OTUS," a political website, in December 2011. The site features a "political stock market" that shows an analysis of sentiment about candidates along with other interactive features.
A free Good Morning America app for iPhone and Android launched in May 2011.
Collaboration with Bluefin Labs to analyze social media trends during coverage of the 2012 presidential campaign.
CBS
The 60 Minutes app became the No. 4 paid news app in the Apple app store in August
NBC
NBC News hired Vivian Schiller as chief digital officer to focus on growing the network's digital operations.
In January 2012, NBC News launched NBC Publishing to publish e-books with plans to publish 30 digital books a year.
NBCpolitics.com was launched in December 2011. The site has a partnership with Foursquare for journalists and campaign staffs to "check-in" to the site as they cover presidential campaigns.
NBC News is partnering with Newsweek-The Daily Beast on 2012 campaign coverage. It previously had a relationship with Newsweek when it was owned by the Washington Post.
Click here to read the Network News Essay
Endnotes
By using the numbers Nielsen prefers — one month rather than annual averages — share for network evening news was more stable. For four months of the year, share was unchanged, and for seven it fell just slightly, by one point. Share was at 29 for the last seven months in 2011. ↩
Pew Research Center for the People & the Press. "Americans Spending More Time Following the News." Sept. 12, 2010. ↩
Kantar Media. "Kantar Media Reports U.S. Advertising Expenditures Increased 1.5% in the First Nine Months of 2011." Dec. 19, 2011. ↩
Kantar Media. "Kantar Media Reports U.S. Advertising Expenditures Increased 1.5% in the First Nine Months of 2011." Dec. 19, 2011. ↩
Veronis Suhler Stevenson. "Broadcast Television." Communications Industry Forecast 2011-2015. ↩
Veronis Suhler Stevenson. "Broadcast Television." Communications Industry Forecast 2011-2015. ↩
Veronis Suhler Stevenson. "Broadcast Television." Communications Industry Forecast: 2011-2015. ↩
Kantar Media Data reported by Schuker, Lauren A. E. and Vascellaro, Jessica E. "NBC's 'Today' Shows Rare Weakness." The Wall Street Journal. Oct. 6, 2011. ↩
CBS SEC Filing. CBS Corporation Reports Strong Fourth Quarter. ↩
Elliott, Stuart. "CBS on Top, Again, as Upfront Market Ends." The New York Times. June 9, 2011. ↩
Stelter, Brian. "CBS Corp. Profits Increase, but Revenue Comes Up Short." The New York Times. Feb. 15, 2012. ↩
SNL Kagan. "Economics of Basic Cable Networks: 2011 Edition." ↩
Comcast press release. "Comcast Reports 4th Quarter and Year End 2011 Results." Feb. 15, 2012. ↩
Carter, Bill. "NBC Replaces 'Playboy Club' with 'Rock Center.'" The New York Times. Oct. 4, 2011. ↩
Shaw, Lucas. "Brian Williams' 'Rock Center' Hits a New Low – Why NBC Won't Budge." The Wrap. Feb. 24, 2012. ↩
Ariens, Chris. "The Common Thread of 'Person to Person' and 'Rock Center.'" TV Newser. Feb. 9, 2012. ↩