Local TV: By the Numbers
By Deborah Potter of NewsLab, Katerina-Eva Matsa and Amy Mitchell of PEJ

"By the Numbers" houses a comprehensive set of charts and tables telling the story of each media sector. For a narrative summary, visit the corresponding essay.

For local television stations, 2011 was a year of lower revenue and slightly higher viewership, on average. The revenue decline came as no surprise in a non-election year when political advertising was scarce. And the increase in viewership in some key time slots came as welcome news after four years of decline.
Audience
The traditional audience for local television news showed new signs of life in 2011. Viewership was up in two key time slots, morning and late night, while the audience shrank only slightly for early evening news. PEJ analyzes Nielsen Media Research data about stations for all four major sweeps periods — February, May, July and November — and computes national averages for each time slot. We then compare those averages year –to year. When calculating annual averages for the past five years, however, we have left out all February data because there were no comparable data from 2009. Ratings were collected in March that year because of the planned switch from analog to digital broadcasting.
Late local newscasts (11 to 11:30 p.m. Eastern Time or equivalent) on network-affiliated stations showed the strongest growth year to year. Modest declines in July and November were far outweighed by a sharp increase in February, a month dominated by the upheaval in Egypt and Libya.  Over all, the audience grew by 3% compared to an average 1.9% loss the year before.1 These data do not include the hour-long 10 p.m. newscasts on many Fox affiliates, which are analyzed separately.
Late newscasts following prime time had lost viewers at a faster rate than any other traditional time slot over the previous four years. In 2011, they bucked that trend, but their audience was still 10.1% smaller than in 2007.
Morning news (5 to 7 a.m. Eastern Time or equivalent) also showed some growth in 2011. Slight declines in February and November were more than offset by gains of about 3% in May and July. Over all, the average gain was 1.4%, compared to a loss of 1.3% the year before.2
Over the past four years, morning news has been the most consistent performer of all local news programs, but the average audience has still declined by 3.3% since 2007.
Early evening local news programs (5 to 7 p.m. Eastern Time or equivalent) on network affiliates had another roller-coaster year: Down in February, up in May and July and down again in November for an overall average decline of 1.3%. Unlike late newscasts, which include international news and gained viewers in February thanks in part to high interest in the upheaval in the Middle East, early evening newscasts tend to be focused on local news and lost viewers in February. The end result was a loss almost equal to the year before, when early evening news programs shed 1.1% of their viewers, on average.
Early evening newscasts on local network affiliates have been struggling and failing to retain viewers for years. Over the past four years, these programs have lost 8% of their audience.
A troubling pattern noticed over the past two years continued in 2011. Our analysis found that share outperformed ratings for all key time slots in most sweeps periods. Ratings measure the percentage of households with TVs that are tuned to a particular program. Share measures the percentage of people whose TVs are turned on at a particular time and who are tuned to a specific program. When share goes up more than ratings or stays steady while ratings decline, it means a program has fewer total viewers but a larger percentage of the available audience. So local TV newscasts in the traditional time slots are losing viewers, in part, because people are not watching television at all when the news is on.
Midday newscasts on local stations drew more viewers in 2011 than the year before in three of the four sweeps periods. But due to a sharp drop in February, the average audience fell by 1.7%.
News at midday has fared somewhat better than the traditional early evening and late time slots over the past four years. But the average audience still has dropped by a little over 5%.
Morning news at 4:30 a.m. showed the greatest growth of any time slot by far in 2011, as more stations launched newscasts at that very early hour. Early morning news was on the air in 104 markets in 2011, compared to 69 the year before, according to Nielsen data. By PEJ's count, the number of stations airing news at that hour doubled for the second year in a row, from 109 in 2010 to 215 in 2011, and viewership soared more than 330%, although the total number of viewers is still relatively small. (See essay for more)
Local news at 7 p.m. Eastern Time or equivalent (after the network news or early evening local news) finished the year flat. In 2010, viewership for this nontraditional time slot was up a little over 2%.
Over the past four years, newscasts on network affiliates in this nontraditional time slot have lost 2.6% of their audience, a far better result than the 8% loss suffered by evening newscasts that air two hours earlier.
Local News on Fox Stations
Many Fox affiliates air an hour-long newscast at 7 a.m. Eastern Time or equivalent because, unlike the other three commercial networks, Fox does not provide a morning newscast for its stations. For the first time since 2008, these local newscasts did not lose viewers.
After losing almost 5% of their audience in 2009, morning newscasts on Fox affiliates have seen no additional erosion over the past two years.
There was no good news, however, for the hour-long prime-time newscasts on Fox stations (10 p.m. Eastern Time or equivalent). While the audience losses in this time slot were not as steep as in 2010, when viewership was down almost 5% over all, the Fox local newscasts still lost viewers while the audience increased for the half-hour newscasts on ABC, CBS and NBC stations that air an hour later.
The long-term trend for prime-time newscasts on Fox affiliates has been one of the most negative of any news time slot. Over the past four years, these programs have lost 15% of their viewers, almost twice the percentage loss suffered by the worst-performing traditional time slot (the 10.1% loss recorded by 11 p.m. newscasts).
Local News on Independent Stations
Once again, independent stations outperformed network affiliates on average year to year, gaining audience in every time slot except at midday. Independent stations account for less than 3% of the total local TV news audience, however.
Economics
The sluggish economy combined with the lack of political advertising in a non-election year meant a drop in revenue for local TV stations in 2011. BIA/Kelsey estimated total 2011 ad revenue for local stations at $18.1 billion, down about 6.7% from 2010.
While the decline in political ad revenue was predictable, it was more precipitous than might have been expected. Total political spending on local TV in 2011 plunged to a lower level than in the previous non-election year, even though a Supreme Court ruling in 2010 eliminated spending caps on corporations, unions and other interest groups.
The loss was not attributable just to the lack of political ads. Local broadcasters also faced a noticeable drop-off in car ads (down 5%), their largest single spot advertiser, and restaurants (down 5.9%). Other sectors showed healthy increases year-to-date, including financial (up 21%) and auto dealers (up 15.4%).
Longer-term data show that local television is not the lucrative business it once was. Even with the improvement in 2010, average revenue for news-producing stations has dropped by 27% in the past five years when adjusted for inflation.
Third-quarter numbers from television ownership groups were down from the year before but not nearly as sharply as in 2009, in the depths of the recession.
Broadcast stations continue to face a threat from cable channels in the battle for local spot advertising.
In 2011, estimates indicate that spending on broadcast declined while spot advertising on cable grew by more than 9%. Projections call for growth on the cable side to continue outpacing broadcast in coming years.
Stations in all market sizes gained revenue on average in 2010, the last year for which data are available.  But the gains were not spread evenly. Stations in the top 25 markets lagged behind stations in all other market sizes, which mostly made up their losses from 2008. What's more, the top 25 trailed the midsize markets (26-50) in the dollar amount gained, even though they take in far more money so their total dollar gain would have been expected to be greater.
The gap is even starker when seen in terms of percentage gains instead of dollars. While the pain in 2009 was spread almost evenly across market sizes, the gain in 2010 was not. Then largest markets gained less than 3%, less than a third as much as the smallest markets (151+) and less than a fifth of the markets in between, which gained 16.1% on average.
Advertising on news programs has long been the most important single contributor to local stations' bottom lines and in 2010 it set a record, providing 46.8% of the average station's revenue, according to a survey of news directors. That is probably due to the continued expansion of news time on local television, which also set a record in 2010.
After taking a nosedive in 2009, the profitability of local TV newscasts has bounced back. Almost 60% of news directors said their stations made a profit on news in 2010, compared to less than half the year before.
Digital Revenue
Online advertising revenue continued to add to the bottom line at local TV stations in 2011, an estimated total of more than $1.85 billion, according to Borrell Associates. Television stations also captured a larger share of all local online advertising – 11.8% compared to a revised estimate of 10.5% in 2010, according to the Borrell data. Online's importance to the bottom line is increasing as well, making up 6.9% of the total revenue reported by broadcast television companies in 2010 compared to about 3.7% three years before.
News Budgets
The economic recovery and a flood of political ad dollars allowed for greater stability in newsroom budgets in 2010. Only about a quarter of news directors surveyed said they had to make cuts compared to two thirds the year before. And more than twice as many either increased their budgets or saw spending levels stay the same compared to the year before.
The improved budget picture was not spread evenly across market sizes. The percentage of news directors saying they spent more was highest in midsize markets (51-100), with almost 40% having increased their budgets compared to just 20-25% in all other market sizes. The data reflect the fact that midsize markets had more making up to do from the year before when three-quarters of stations in midsize markets took a hit compared to less than two-thirds in other market sizes.
Newsroom budgets don't tell the whole story when it comes to stations' overall prosperity. News budgets may increase slightly when adding more news time, but the cost of adding a newscast is considerably less than the expense of buying the syndicated programming it replaces, so stations may actually save money over all by adding news.
News Staff
Newsrooms continued to hire in 2011 and on top of the staff added the year before they may finally have made up for all of the 1,600 jobs lost in the two recession years of 2008 and 2009. At the end of 2010, a third of all news directors surveyed said they expected to add staff in 2011, up from less than a quarter the year before. And only 3.5% said they expected to cut, half as many as the year before.
The median staff size at all local TV newsrooms crept back up to 30 from 29 in 2009, the lowest level in six years. But staff increases were not spread evenly. Survey data indicate that network affiliate stations added two more employees on average, while independents and small markets (101 and below) actually lost staff.  Most of the hiring was in the top 25 markets, where the median full-time staff hit 68, even though those markets were among the least likely to increase their news budgets. The implication is that these stations have replaced some highly paid employees with less expensive multitasking staff.
One clear indicator of local stations' return to economic health is staff salaries, which rose 7% in 2010, more than double the increase in 2009. In contrast with the year before, top news managers gained ground. And on-air talent showed the largest gains: news anchors and weathercasters saw their salaries rise by 17% on average. A one-year jump might not indicate a trend, but looking at longer-term data it appears that stations value anchors as much as ever, if not more. Five years ago, anchors were the fourth highest-paid staffers in the newsroom; now, they are in second place, just behind news directors.
News Content
The average number of hours of news on local television probably set another record in 2011. It has been going up steadily for the past five years. In 2010, the average station produced 5 hours and 18 minutes of news each weekday, a 6% increase from the year before.  And 9 of 10 news directors surveyed said the amount of news they produced would stay the same (52.9%) or increase (36.9%) in 2011; only 1% expected a reduction.
More than three-quarters of TV news departments say they provide content to one or more other media outlets, including local radio stations and cable TV channels. The most recent survey shows a decline in almost every category, but that may be a fluke. Another anomaly: a third of news directors said they produce news on "another local or nearby station," compared to a quarter who said they produce news on "another local station."  Researcher Robert Papper said that "it's possible that the difference involves other digital channels" that are not picked up by the survey.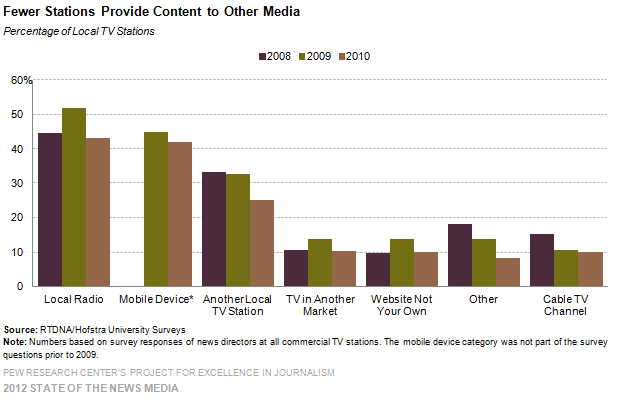 More than two-thirds (69.9%) of local stations say they routinely share news on three platforms: TV, online and mobile devices. The numbers were virtually the same as the year before. As for the content on local TV websites, news video, text and still pictures remain near-universal features.
The only noticeable changes online in 2010 were an increase in podcasts, which had declined the year before, and in recorded newscasts for the second year in a row.
Live cameras and blogs, which increased noticeably in 2009, were used less. The fluctuation suggests that stations are still experimenting online, trying to figure out what kind of content will attract more users and keep them on the site longer.
Almost all news-producing stations now have a social media presence. The percentage of stations saying they were not active on Facebook fell from 13.9% in 2009 to 5.7% in 2010, but there was little change in the use of Twitter.
Stations also reported doing more with social networking in general. More stations said they covered the topic in newscasts, incorporated social media into storytelling and integrated it on the station's websites compared to the year before. Fewer said they did nothing with social networking.
Click here to read the Local TV Essay
The percent change from 2010 to 2011 includes all four sweeps periods. Percentage changes from 2009 to 2010 exclude February sweeps because the ratings in 2009 were collected in March and so are not comparable. ↩
The percent change from 2010 to 2011 includes all four sweeps periods. Percentage changes from 2009 to 2010 exclude February sweeps because the ratings in 2009 were collected in March and so are not comparable. ↩