Digital: By the Numbers
By Kenny Olmstead, freelance journalist Jane Sasseen, Amy Mitchell, and Tom Rosenstiel of PEJ

"By the Numbers" houses a comprehensive set of charts and tables telling the story of each media sector. For a narrative summary, visit the corresponding essay.
Audience
The audience for news continues to grow. Traffic to the top 25 news sites was up 17%, with a total of 342 million average monthly unique visitors in 2011.1
Even as news users turn increasingly to the web, the top news sites remain stable. Most are sites tied to legacy media. Below are the top news web properties tallied by Nielsen, comScore and Hitwise, the three major services that measure online readership.  Each uses a proprietary method of counting traffic, so their numbers vary considerably. But all arrive at a similar lineup.
Both comScore and Nielsen acquire their data by monitoring "panels" of users who install software on their computers, but in 2011 comScore added data from internet service providers. The main reason for the difference in traffic recorded by the two companies appears to be work-related traffic. The comScore figures include a higher percentage of traffic that comes from users' work computers rather than home computers. Hitwise numbers are calculated in an entirely different way. It measures each site's share of total internet traffic.
The lack of standardization in the realm of online audience measurement continues to complicate selling advertising online. Click here for a more detailed explanation of online measurement and the differences between the top analytics firms. (See the Glossary for more on online analytics.)
Mobile News
News consumers increasingly own multiple devices. As of January 2012, some 44% of adults in the U.S. owned smartphones. About 18% owned tablets – almost double the market in about a month, according to a new survey from PEJ. On top of that, 31% of smartphone users also owned a tablet.
Consumers are becoming digital omnivores, accessing news on all of their devices.
comScore's figures show similar patterns among tablet owners.
Tablet ownership exploded during the 2011 holiday season and is expected to continue to grow as more devices hit the market and prices drop.
News is a substantial part of what users access on their tablets, according to the survey
The comScore data from October 2011 are somewhat lower but demonstrate the same general trend.
Traffic for news seems to follow the pattern of the workday, peaking just before noon and then again in the evening as people return home. With the increase in mobile devices, consumers are using different devices for news at different times of the day. Tablets, smartphones and computers all see a spike in the morning. During the day, traffic is higher on laptops and desktops. But at night, tablet usage spikes.2
On the weekend all digital news consumption spikes between 10am and 11am and then levels off as the day continues, with tablets as the most common form of news consumption at peak hours.
Relative to desktop/laptop traffic to top news sites mobile remains small. But evidence suggests is adding to news consumption.  In an analysis of news websites, comScore found that mobile devices added between 7% and 11% to the conventional computer based traffic of five news sites.3
Social Media
Social media continues to be an important part of the news ecosystem and as companies like Facebook continue to grow they will increasingly become not only a platform for news, but in many cases also a competitor.
While Facebook is the 800-pound gorilla in the social media space, Twitter plays an important role new disseminating news. eMarketer estimates that Twitter has around 24 million active users in the U.S.
According to the Pew Internet & American Life project, the share of people using Twitter in the United States was up five percentage points since 2010.
Americans spent a lot of time with social media sites, Facebook is by far the leader in engagement.  In a PEJ study of the top 25 news sites, by contrast, CNN had the highest average time per user, but it was just 30 minutes per month.
Economics
Online advertising totaled $32 billion in 2011. That was a 23% increase over 2010. But the news industry's piece of that pie got smaller. Five companies now take in 68% of all online advertising revenue.4
Search continues to dominate online advertising. In 2011 it represented 48% of the total spent. One good sign for news: display advertising, which encompasses banner, rich media and video ads, continues to see strong growth. Banner advertising, the largest category within display, is the format that news websites rely on most heavily. Banner ad sales increased 23.9% to $7.7 billion.5
Video remains a small part of total online advertising. But over the next four years, it is expected to be the fastest-growing segment by a large margin.
One striking feature of the online advertising market is consolidation.  In 2011 five companies brought in 68% of all online advertising revenue. This is up from 63% in 2009.
Facebook and Google are capturing the majority of that growth, however. Both are expected to post strong gains through 2014.  The market shares of Yahoo, Microsoft and AOL are all declining.
Search ads are still the dominant form of advertising on the web.
In display advertising, the same five tech companies took in 47.4% of display ad dollars in 2011, up from 38% in 2009.
It is always a challenge to quantify the share of online advertising that news receives. News sites and organizations fall into many different categories in the table below. Those most related to news are TV Stations, News & Current Events, and Newspapers. Together, these three categories took in around $1.4 billion in display ad revenue. But "news" also falls into other categories on the list increasing the total somewhat.
Local Ad Spending
The market for local online advertising looks very different from the national market. Search commands a much larger share of the national market than display ads. In the local market, display ads (targeted and "Run of Site" or "dumb" display ads) account for more than search\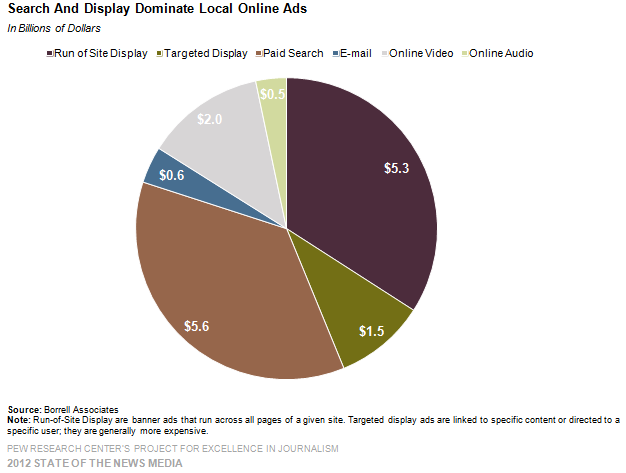 Today targeted display ads account for just 10% of local online ads, or $1.5 billion. But by 2016, they are expected to grow to $14.6 billion and make up more than half the market, according to Borrell Associates. As of early 2012, news organizations are doing only minimal ad targeting, our research finds.  See PEJ's study on advertising and news for a more detailed discussion.
Video Advertising
Video advertising is another hopeful area for news. While still small, at $2.02 billion, it is growing faster than all other online ad categories. News sites such as The New York Times, Yahoo and The Huffington Post are also increasing the amount of video they produce or run online in hopes of attracting more of the higher-priced ads that run with video content.
Mobile Advertising
In 2011, mobile ad spending rose 89% to $1.45 billion, far exceeding initial projections for the year. The enormous growth was largely due to the rapid adoption of tablets and smartphones.  Google, which made an aggressive push to expand search ads on mobile devices, accounted for much of the unexpected gain. Mobile ad spending is projected to rise 80% more, to $2.61 billion, in 2012.
The mobile advertising market underwent a major shift in 2011. Text messaging ads, the largest form of mobile advertising in past years, fell 13% as the segment was overtaken by both search and display ads. Mobile display ads doubled during the year and, mobile search ads more than tripled. Now search and display are the two largest forms of mobile advertising, with messaging in third and video in fourth.
Click here to read the Digital Essay