Digital: News Gains Audience but Loses Ground in Chase for Revenue
By Kenny Olmstead, freelance journalist Jane Sasseen, Amy Mitchell, and Tom Rosenstiel of PEJ

Two numbers symbolize the intensifying challenge and opportunity the digital world poses for the news industry:  In 2011, social media giant Facebook grew to 133 million active users from 117 million in the U.S.1 And in the final months of the year, tablet ownership in the U.S. nearly doubled, to 18% of Americans.
Each is a threat and a promise. Facebook and other social media are additional distributors of content, but they are also are rivals for advertising revenues. The new tablets, smartphones and other mobile technologies represent new ways to reach audiences, but they are also a new wave of new technology that news companies need to react to. Even as traditional media institutions continue to struggle to find a sustainable model after more than a decade of declining advertising revenues and digital upheaval, the new wave threatens to shift the media landscape out from under them once more.
There is some time to adapt. News sites now get 9% of their traffic from social media, up about 57% in two years. That is almost half of what comes from search engines. But as more news organizations put in place an actively managed social media strategy, those numbers will likely grow. Already, some that have moved aggressively with social media, such as The Huffington Post, generate as much traffic from social media as they do from search. Sites such as Twitter and Facebook are also working closely with news organizations to teach them to use social media tools more effectively.
While that has helped many reach a broader audience, the risk for news organizations is that they become too dependent on social media for their audience. Yet once again for news providers, there is no choice but to get to know the "frenemy." Social media – particularly Facebook, with its huge audience and domineering lead – have become a partner no news organization can afford to ignore.
At the same time, Facebook, along with other tech giants such as Google, Apple and Amazon, have also become major rivals for advertising and other revenues. Even as digital ad revenues are expanding rapidly, news organizations are struggling to grab their share. Five large tech giants now take in more than two-thirds of all digital ad dollars—and the number is rising fast. With Google, Facebook and Yahoo in the lead, they are using personal data collected over the internet to direct ads to specific consumers to a far greater degree than ever before – and to a far greater degree than most news organizations are capable of. Over the last two years, those two alone have used those abilities to take an ever-bigger chunk of the display market, where news organizations have traditionally earned most of their online advertising dollars. Now they are gunning for local markets, as well as the fast-growing video and mobile sectors.
Amid all the change, perhaps the most optimistic sign for the news industry is this: brands still matter. Most digital traffic comes to news sites through their home pages, not through search engines or social media. Reputation remains paramount: of the 25 most popular U.S. news sites, two-thirds are run by traditional news organizations.
But one more inescapable problem only became larger in the last year. From what can be gleaned from the numbers, many news companies lost ground in the race to develop a business model to leverage those well-known brands financially in the digital space — at least in relation to their digital-rivals-turned-partners. The competition for the attention of news consumers – and the advertising dollars that will follow them – will only continue to grow.
The Audience for News
 The online news audience is enormous. The top 25 news sites in the U.S. recorded 342 million average unique monthly visitors in 2011 – up 17% over the prior year, according to Nielson Online.
As readers migrate to the web, however, one thing has remained remarkably stable: the news organizations Americans turn to. The traditional players remain the most popular sources for digital news.
Nielsen Online, comScore, and Experian Hitwise, the three major services that measure online readership, each use a proprietary method of counting traffic, so their numbers vary considerably. But all arrive at essentially the same lineup of the biggest sites. Long-standing news brands – newspapers, network news and cable news channels – account for 17 of the top 25, along with 8 online-only operations.
The lists, year to year, remain remarkably stable. The few shifts noted in the top 10 this year, according to Nielsen: Bing News, an aggregator run by Microsoft, jumped four notches; Google News dropped out of the top 10 and was replaced by the BBC which – thanks in part to the royal wedding – more than doubled its U.S. traffic. And AOL News, which no longer exists, was replaced with its newly acquired news provider, The Huffington Post.
In late 2010, the internet surpassed print newspapers as a source for international and national news, and that gap is growing. Four in ten Americans reported getting "most of their national and international news" from the Internet, according to a December 2011 survey by the Pew Research Center for the People & the Press. Less than two in ten respondents said the same for newspapers.
Only television remains more popular; six in ten Americans reported getting most national and international news from television.
The mix for local news is somewhat different. In a study conducted in the spring of 2011, PEJ and the Pew Internet & American Life Project found that among all adults, newspapers (in print and online) are the most turned-to medium for more topics than any source. Television remains the most popular source for a few widely followed topics, particularly weather and traffic. But among those online and especially younger adults, web-only sources, such as search engines and non-legacy sites, are growing. Of those online, 79% said the "the internet is the first or second most important source for 15 of the 16 local topics examined." If the websites of legacy sources such as newspapers and television stations were added in, the numbers would be even higher. (For more, see "How People Learn About Their Local Communities.")
Mobile Comes on Strong
All this will only increase with the growth in mobile. Apple alone reported that it sold almost 25 million iPads worldwide in 2011. 2 Adoption of smartphones has nearly doubled since 2009, according to Nielsen.3
Many news consumers now own multiple devices, according to a PEJ study released as part of this report. More than three-quarters of U.S. adults own a laptop or desktop computer, the study found. On top of that, 44% now own a smartphone, and tablet ownership nearly doubled at the end of the year, to 18%.  And 13% own all three. (For more, see Mobile Special Report). That rapid growth is expected to continue.
For news, a critical issue is how these mobile devices will impact digital news consumption; to what extent are Americans now getting their news on -the-go?
The new survey released with this year's report finds that news is a substantial part of the mobile experience. Some 51% of smartphone owners use that device to get news, as do 56% of tablet owners.
Those tablet figures are reinforced by other survey data. In a PEJ survey from the summer of 2011, some 53% of tablet owners reported getting news daily on their tablets; three-quarters said they did so "ever."4 
Consumers appear to be using different devices for news at different times of the day. During the early morning on weekdays, comScore data show that news sites receive similar spikes in traffic from smartphones, tablets and computers, as consumers turn to all three to check on the headlines. Later in the day, traffic is higher on computers, as people log in from the office. Between 9 p.m. and midnight, tablets see a more significant spike, "which suggests that people probably favor tablet usage as they retire to the couch or bed at the end of the day."5
Perhaps more important, all of the data reinforce another idea:  mobile is adding to news consumption. Those who are getting news on mobile devices also are getting it in other ways. Now they are just doing more of it.
None of this means viewing news through a desktop or laptop is going away. Traditional computing still accounts for 93% of internet traffic, according to comScore.  Instead, there is a potential boon here for news: consumers are turning to their devices to supplement the rest of their digital diet, rather than replace it. comScore found that mobile devices added between 7% and 11% to the conventional computer based traffic of five news sites (see chart above).
Social Media: A Growing Role in News Discovery and Distribution
Then add the growth of social media to the mix.
The extent to which news consumers rely on social media is rapidly evolving. According to Hitwise, 8.6% of traffic to news sites now comes from Facebook, Twitter and smaller social media sites such as Pinterest – a 57% percent increase since 2009. The percentage coming from search engines, meanwhile, is declining. It now accounts for roughly 21% of news site traffic, a drop of 9% since 2009. Social media, in other words, now bring in almost half as much traffic to news sites as search does.
Brands still play a critical role, however. In a new survey on digital behavior, PEJ found that the most common method consumers used to find news content was to visit an organization's website directly, followed closely by search. Social media referrals were less than a third as popular. (For more see PEJ's special report on Social Media.)
Social media, nevertheless, have become a part of the digital fabric and many news leaders recognize it as an increasingly critical tool in gaining new digital readers and building a loyal, highly engaged audience.
Digital First Media chief executive John Paton put it bluntly in a February speech to the Canadian Journalism Foundation. "No social media connection. No news organization," he said, according to speaking notes. "Shared content equals influence. And influence in the news ecosystem equals engagement. And engagement equals value to those advertisers and others trying to reach that engaged audience."
Sree Sreenivasan, the dean of students and professor of digital media at the Columbia University Graduate School of Journalism and an expert on social media, told us he now had a list of 100 major news organizations that had named social media editors. In many cases, he adds, those jobs are now held by more senior staff than in the past. "World events last year woke up a lot more publishers and skeptics to the idea that there's something going on," says Sreenivasan. "They saw what happened [on Twitter and Facebook] and had to react to it."
In that landscape, Facebook is the 800-pound gorilla. It claims nearly 845 million active users globally and 133 million in the U.S. – some 54% of the online population, according to the most recent figures from eMarketer.
Users also spent a good deal of time there: on average, Facebook users spent 423 minutes (or 7 hours) on the site in December. In a PEJ study of the top 25 news sites, by contrast, CNN had the highest average time per user, but it was just 30 minutes per month.
Over the last several years, Facebook has worked closely with news organizations to develop features that bring them inside its walls. In 2007, it created Facebook Connect, which allows Facebook users to log in to other websites through their social media accounts. For news organizations, the advantage is that Facebook Connect facilitates sharing, and they also get access to Facebook data on their readers.
In the fall of 2011, Facebook went farther, launching the Open Graph technology, which allowed several news sites, including The Washington Post, The Guardian, The Huffington Post and Yahoo News to create "social readers." These apps enable "frictionless sharing" of stories within the social networking site,6 as Facebook automatically sends to users' friends the links to articles that they have read.
Initial data suggest the readers are working. In a February blog post, Justin Osofsky, Facebook's director of media partnerships, said that Yahoo News had signed up 25 million users for its social reader in three months, of whom 2 million use it every day. The Guardian had been installed five million times; half the users are under 25. A dozen more media entities announced the launch of social readers in February.
While the social readers expose news organizations to a wider audience, there are some drawbacks as well.  One is that news organizations are increasingly reliant on Facebook for distribution.  Another is that consumers read suggested stories within Facebook rather than on the news organization's website; that in turn gives Facebook power over much of the ad space of the revenue derived there.7
In the fall, Facebook also introduced the "subscribe" button. Much like Twitter, it allows users to "subscribe" to a feed of stories from any website or Facebook page.8
The feature is off to a quick start with journalists. In January, Facebook announced that thousands had signed up, with the average journalist seeing a 320% increase in subscribers since November. The New York Times' Nicolas Kristof had 385,000 subscribers as of January, for example, while Ann Curry of NBC News boasted 380,000 and recorded 396,000 by March. But media blogger Jim Romenesko argues that those numbers are inflated by spam.
In March 2012 Facebook also launched a new feature that allows users to create "Interest Lists." The feature allows users to combine multiple feeds into one feed based on an area of interest.9
Twitter is also growing rapidly. The company releases only limited user data, and the most recent estimates of U.S. Twitter users from eMarketer has Twitter at 24 million active usera10 in the U.S., a 32% increase over 2010.
Though far smaller than Facebook, the predominance of journalists and news organizations among its adherents has given Twitter outsized influence in the media world. It has also taken on a critical role in disseminating breaking news – as witnessed in everything from the Arab Spring to the death of Whitney Houston (announced via a Tweet sent out 55 minutes before AP posted confirmation of the news).11
"Twitter is the new newswire," said Chloe Sladden, the director of content and programming for the site, at a recent conference on the future of media at Stanford University.
One early adopter of social media strategies to considerable success is The Huffington Post. It was among the first to aggressively adopt Facebook Connect, which it credited with big traffic gains starting in 2009. The following year, HuffPo added Foursquare-style "badges" to its site, rewarding readers when they shared or commented on stories.
By making it something of a game – and a competition – HuffPo created one of the most active and engaged communities online. And in early 2011, it added even more tools to simplify sharing: with just one click, readers can receive updates within Facebook and Twitter on a specific story, a broader topic or a particular reporter.12
By the fall, HuffPo was getting as many traffic referrals from Facebook as from Google, according to Hitwise.  Moreover, 7 of the top 20 political stories shared on Facebook in 2011 came from the HuffPo.13
The growing role of social media raises difficult questions for news sites. First, does the traffic from social media lead to any broader traffic growth? In other words, do readers coming in from Facebook or Twitter develop loyalty to the news brand?  Or is the increased dependence on social media another way that ties are loosening between the organizations who produce the news (and shoulder the costs of doing so) and the readers who ultimately consume it, thus making it difficult for news producers to monetize their content and develop loyalty to their brands?
There are few clear answers yet.  But many media companies have become cognizant over the last year of the need to have a comprehensive, newsroom-wide social media strategy. And with Google's January decision to integrate information from Google+, its own recently launched social media site, into search results, the significance of developing one will probably only grow.
Digital Economics: The Landscape Becomes More Challenging for News
If the first 15 years of the web proved difficult, the next 5 look only more so. The basic axiom of legacy media is that they are trading legacy dollars for digital dimes — that they cannot monetize their enormous audience online to nearly the degree that they could generate revenue per person on television or in print. The rapid growth of mobile computing and social media will only make that transition more complex.
News organizations now find themselves both partnering with and competing against large technology-based organizations that are far better financed and boast greater engineering knowledge. Facebook and Google, indeed, are driving many of the changes that have caused the advertising market for traditional media players to implode.
Meanwhile, the same pair, along with Apple, Amazon and others, increasingly control the platforms (both hardware and software) that news organizations must use to reach their audience.
"In this environment, an enormous transformation is taking place regarding the ways marketers and their agencies approach paid media," wrote Professor Joseph Turow, the Robert Lewis Shayon professor of communication at the University of Pennsylvania's Annenberg School for Communication, in a recent study for PEJ on digital advertising. "For those entities – including journalism firms – trying to sell paid ads in the digital realm, understanding the new dynamics is essential."  (For more, see "Buying Digital Advertising: A Brief Overview.")
Digital Advertising: Growth Accelerates but Tech Firms Tighten Their Grip
Online ad spending – on both news and non-news sites – continues to grow at a much faster pace than the general advertising market. Total online ad spending hit $32 billion in 2011, a 23% increase.
Digital ads now make up 20% of total U.S. advertising. Fueled by strong growth in search, banner and video ads, that share is predicted by eMarketer to rise to 28% by 2015.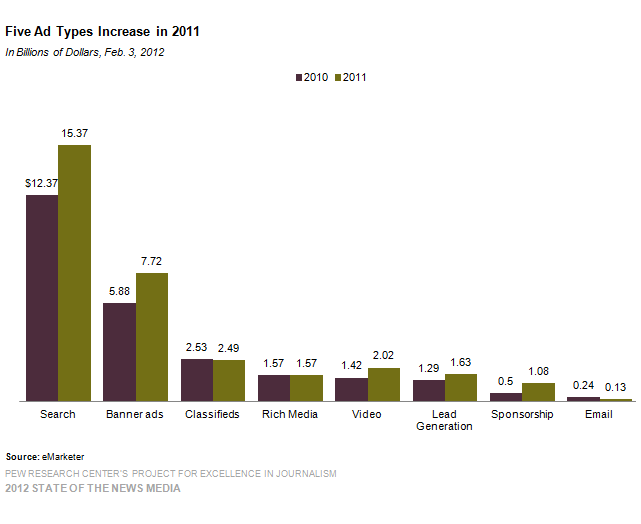 Those numbers contain a troubling sign for the news industry: The five large tech companies continue to tighten their hold on the digital ad market. Together they garnered 68% of online ad revenue in 2011, up from 63% in 2009, with the lion's share going to Google and Facebook. The reason is clear: with the vast information these digital companies each can mine about their users' demographics, buying habits, political interests, relationship status and a host of other likes and dislikes, they can target specific ads (or products) to potential customers to a much more sophisticated degree than their rivals, never mind than most media organizations. And they can offer advertisers a far larger audience than all but a few.
Search Ads: Still the Biggest Share
One part of that challenge for news is that the kind of advertising that news sites rely on represents a relatively small portion of digital ad revenues. Instead, as we have noted here in past reports, search advertising generates the largest share of digital revenue, roughly 50% of the market. None of that revenue goes to news organizations directly. (However, news organizations successful in boosting their own traffic through search engines queries can often then charge more for their own ads, thereby seeing some benefit from the search engine food chain).
Display Ads: The Tech Leaders Move In
Display ads will also continue to see strong growth, thanks to the healthy appetite for banner ads, the largest segment within display. Banner ads increased 23.9%, to $7.7 billion in 2011.14
Whether news sites will be able to take full advantage of that growth, however, is becoming less certain. The same five companies that dominate online advertising over all are also a strong and growing presence in display, as the sophisticated ad-targeting techniques that Google pioneered in search have spread.
The total market for display ads hit $12.4 billion in 2011, a 25% increase since 2009. The five biggest players took in 47.7% of those dollars. Two years ago, the same five controlled just 38% of the market.15
A closer look at the dynamics within the display category (which here includes conventional as well as targeted display ads) reveals an even more daunting picture. Few numbers better demonstrate the rise of social media, and the challenge it poses for news, than this: from virtually nowhere five years ago, Facebook shot to the top of market, selling $1.7 billion in U.S. display ads in 2011, according to an estimate by eMarketer. It projects that in 2012, Facebook will account for almost one in five display ad dollars
Google, which has also aggressively moved into display, is not far behind. Two years ago, it was the fifth-biggest name in display. Now it is No. 2.
While Facebook and Google have taken the lead, it is a tactic available to news organizations.  Most have the ability, and at least some data, that would enable them to engage in targeting. A PEJ study of digital advertising at 22 top news sites found that in practice, however, few of them do.
Of the 22 sites, most did not contain any ads targeted to consumers based on their online behavior, according to the January study. Only three – CNN, The New York Times and Yahoo! News – employed high levels of targeting based on a user's recent online activity. A handful of others employed limited targeting.  (For more, see "Who Advertises on News Sites and How Much Those Ads Are Targeted.")
Many news organizations are working to put greater targeting abilities in place, a shift that requires not only technical know-how but also a change in mindset. Newspapers have traditionally gathered extensive information about their readers. But Pat Scanlon, the director of digital strategy and business development for The Pittsburgh Post-Gazette, told PEJ that the information was usually scattered. Only in last couple of years have many papers created the consolidated databases and mining abilities that allow the information to be better used. That takes time, money – and manpower. "It's more a human resource issue than the cost; having a person with the right skills dedicated to it," Scanlon said. Google and Facebook "have had the luxury of concentrating on just that – all their resources have gone into it," he added.
Some newspapers are working with a company called Civic Science, which now runs the online voluntary "polls" seen on many news sites. (These are different from traditional public opinion research surveys based on representative samples of the population. In these online polls, the samples depend on who fills them out.) The company aggregates anonymous data from tens of thousands of these online polls run nationwide. Civic Science bundles together extensive audience profiles to sell to national advertisers. For the news organizations that have turned their polls over to Civic Science, the benefit is twofold: they can use the data to better target their own ads, and they get a cut of whatever Civic Science makes when it sells the data.16
The effort represents one way that papers can try to compete, but the dependence on a third- party technology company also reveals some of the limitations these papers have in doing so.
Local Advertising: Targeted Ads Set to Take Off
For news, local digital advertising may actually be the most critical arena. Most journalism in the United States is local, including the television newscasts we watch and all but 3 of the 1,350 daily newspapers that survive. All told, local digital advertising grew 12% in 2011, to $15.5 billion. That's less than half the growth rate of search and display ads, however, and local's share of online ads fell to 27.5%, down from 30% in 2010.
In part, the slower growth rate may reflect the impact of the large tech companies.  The digital market for local advertising is defined as ads purchased by a company (or the regional unit of a national chain) based in the same market as the ad appears. As national advertisers have begun using Google and Facebook to target ads to specific regions, it is possible that some ads that would have been considered "local" now count as national.
The segment looks somewhat different than other online sectors.
Unlike in the national market, display advertising brings in more ad dollars than search. Local search ads brought in $5.6 billion in 2011; display ads, which include both targeted and "dumb" or "Run of Site" display, accounted for a combined $6.8 billion.17
That's potentially good news for news organizations. However, the same shift toward sophisticated ad targeting that is taking place nationally is occurring in local; Facebook is already working closely with retailers like Wal-Mart and Baskin Robbins in local markets and is expected to significantly increase efforts following its IPO.18
Targeted display ads, at $1.5 billion now represent just 9.6% of local, but they are projected to overtake all other local online advertising. Within five years, Borrell Associates estimates, the segment will account for more than triple the next largest format.
To take advantage of that shift, local news organizations will have to become much more adept at targeting ads to specific customers than they have been so far. And, as a PEJ study of newspapers found in March 2012, there are significant obstacles in many legacy media companies to that happening.
 Video Ads: Still Small, but Growing Fast
One other area of online advertising, video, is small but shows significant promise. Video ads rose 42.1%, to $2.02 billion in 2011. Now just 6% of online ads, they are projected by eMarketer to rise to 15% of the market by 2015.19 Most of the growth comes from so-called "pre-roll" ads, which run at the beginning of a video program, rather than stand-alone video ads.
There is some evidence that consumers like, or at least don't resist, these ads. According to comScore's 2012 US Digital Future In Focus report, Americans streamed 43.5 billion videos in December 2011, a 44% leap over December the prior year.
The spread of mobile devices is facilitating video, too. In the summer 2011 PEJ survey, 13% of tablet users reported they watched video on tablets daily.
The recent comScore survey shows a similar trend. Some 65% of tablet owners had used their device to watch short clips on YouTube or elsewhere, while 15% of them had watched television shows or movies on the tablet.20 More video watching means more opportunities for advertisers to reach those individuals.
Another key is that video ads are far more lucrative than display ads. Thus, news sites have an incentive to build up video inventory.
All that is potentially good news for news organizations, provided they come up with compelling video.
Many are certainly trying. The Huffington Post, Reuters, and Yahoo News have all made major moves in recent months. In October, Yahoo signed a deal with ABC News, and the network now provides Yahoo with original video and reporting. More of its regular video coverage also runs on the website.21
In late 2011, Reuters launched a YouTube channel featuring 10 news shows. The new channel, dubbed Reuters TV, will run recorded programming rather than live broadcasts.22
The Huffington Post plans to launch an online news channel that will live-stream news video 12 hours a day. Viewers will be able to watch on computers and mobile devices, with clips available at anytime.23
The Mobile Market: As Google Steps In, Growth Explodes
Mobile advertising is also small but growing rapidly. Mobile spending is not counted as part of the $32 billion spent on digital ads in 2011; if it were, it would account for less than 5% of the total. But at $1.45 billion in 2011 – near double the previous year — it is expanding faster than any other digital ad segment. Mobile search ads alone also doubled during the year, thanks largely to an unexpected surge by Google, and mobile display ads nearly doubled, according to eMarketer. For 2012, eMarketer expects mobile ads to rise 80%, to $2.6 billion.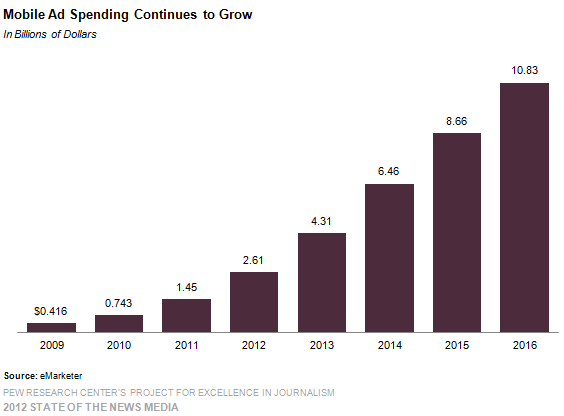 The surge also changed the makeup of mobile ad spending. Search had been only a quarter of mobile ads, but it now takes roughly the same share of mobile – 49% –as it does in digital ads over all.
A critical issue facing news organizations now is whether they can keep up with those much larger, digital-native organizations as the mobile space undergoes a rapid transformation. Google already takes in more than half of the mobile ad dollars spent in the U.S. And Facebook plans to move aggressively into the mobile display ad market.
News organizations must tackle a new and growing set of technical and financial challenges in the mobile space as well as the prospect of forever ceding a share of revenue to platform providers such as Google or Apple.
Tablet Economics
Within mobile, tablets may operate entirely differently than smartphones. Many publishers believe that display advertising within tablet apps will be create a much stronger digital advertising market. Such ads offer a richer visual experience; they also enable advertisers to add, if they choose, interactive features.
Publishers intensified efforts to bring out tablet-based apps throughout 2011. In August, for example, Time Inc. announced that it would put out tablet versions of all 21 of its publications by year-end; at that point, only its four biggest titles – People, Time, Fortune and Sports Illustrated – had apps. Hearst made a similar announcement.
One critical question for news organizations has been whether the popularity of apps would allow them to start charging money for digital content that many had been giving away free on the web.
The issue is part of a larger debate over efforts to create paywalls to charge for content. The New York Times' success with its pay wall, begun in early 2011, has encouraged others to experiment. In February, Gannett announced the most ambitious efforts to date. It will charge subscriptions for all of 80 of its local news sites; only flagship USA Today will be exempt. (For more on pay walls, see the Newspaper chapter of the State of the Media Report.)
Getting people to pay for content still appears to be a challenge, however, even on the tablet. Apps for the top 25 sites tallied by Nielsen, for example, were all free to download for the iPad, some for Android. Two out of the 25 apps, however, require subscriptions to see more than a limited amount of content.
According to PEJ's summer 2011 tablet survey, just 14% of tablet news users had paid directly for news content on their tablets. Another 23%, though, have a subscription to a print newspaper or magazine that they say includes digital access. Thus, the portion of these early tablet news users who have paid either directly or indirectly for news on their tablet may be closer to a third. That is a much higher number than previous research has found more broadly of people paying for digital content.
About one-third of respondents surveyed in September and October 2011 by Nielson said they had downloaded a news app within the prior 30 days, and 19% of them said they had paid for one.24
News organizations are also counting on mobile ads to bring in new revenue. Here, they are entering an ever-more complex ecosystem in which they must frequently work with platform owners such as Apple, Google, Amazon and others. While that can significantly expand their potential audience, it often comes at the cost of shared revenues and more limited access to data about their customers. Alternatively, news organizations can also sell ads directly on their mobile browsers and keep more of the revenue themselves.
There are pros and cons to each approach. To sell ads on their mobile apps, for example, news organizations must give some of the revenue to the platform owner. Apple takes 40% of the revenue for ads sold within iPad and iPhone apps, for example, while Google takes a 30% cut of the price of an app sold on Android devices.
When a news organization sells ads through its mobile browser, on the other hand, it does not have to share any revenue with the platform companies. However, if the ads are sold through a digital ad network, as is common, the network would take a cut. The lower quality of browser ads also means that publishers typically cannot charge as much for them as for ads inside an app.
Moreover, readers who favor apps over the browser consume news much more avidly.  In its fall 2011 study of tablet users, PEJ characterized those who rely mainly on apps as "power news users." Some 81% consume news daily, versus 63% of tablet owners who mainly use the browser. The power users spend more than twice as much time consuming news as do browser users, and they are more than three times as likely to get news from new sources.
Just as important, those who go through apps tend to be wealthier and more educated. They are also far more likely to have paid for news: 27% of app users have paid for news, versus just 5% of browser users. In other words, they are exactly the audience many news organizations and advertisers want.
Developing all of these options costs money and requires diverse technical know-how. Creating apps and content for a multitude of platforms also risks stretching already strapped newsrooms even thinner.  And they raise a series of questions every news organization has to answer when moving into the mobile space. First, do we need an app? Second, can we afford to move into both the Android and Apple markets – along with smaller ones such as Amazon's Kindle, the BlackBerry or Windows mobile? Given the amount of browser usage on tablets, do we need mobile versions of our regular website in addition to apps?  Some, without the financial or technical wherewithal to do it all, will focus simply on building scaled-down versions of their websites.
These are simply the opening questions. There are many more that follow that make the move into mobile a complicated one. But news organizations that want to survive, never mind thrive, in the rapidly evolving news ecosystem have little choice but to tackle them head-on.
Continue Reading Digital: By the Numbers
Endnotes
eMarketer. "Facebook's U.S. User Growth Slows but Twitter Sees Double-Digit Gains." March 5, 2012. ↩
Rogowsky, Mark. "iPad: How many iPads will be sold in 2011?" Quora.com. Oct. 11, 2011. ↩
Nielsen Mobile Insights. ↩
comScore data from October 2011 are somewhat lower, but show the same general sense. In that survey, 58% of the tablet users said they turned to the device to read "world, national, or local news" at least once in the month prior month and 22% said that had done so almost daily. About the same proportions reported reading e-magazines or newspapers on their tablets. ↩
comScore. "Digital Omnivores: How Tablets, Smartphones and Connected Devices are Changing U.S. Digital Media Consumption Habits." Oct. 2011. ↩
"The Washington Post Launches New Social Reader App on Facebook at f8 Developer Conference." The Washington Post. Sept. 22, 2011. ↩
Isaac, Mike. "A First Look at Social Reader, WaPo's New Facebook App," Wired.com. Sept. 22, 2011. ↩
Stefanov, Stoyan. "Introducing the Subscribe Button for Websites." Facebook Developers Blog. Dec. 8, 2012. ↩
Indvik, Lauren. "Facebook Interest Lists Turn Your Feed Into a Personalized Newspaper." Mashable. March 9, 2012. ↩
An active user is defined as one who logs on to his or her Twitter account at least once per month. ↩
Bennett, Shea. "Exclusive: "The Twitter User Who Broke News of Whitney Houston's Death and Hour Before the Press." Mediabistro. Feb. 15, 2012. ↩
Fishman, Rob. "Follow Topics, Bloggers and Reporters: A New HuffPost Feature." The Huffington Post. April 19, 2011. ↩
Facebook.com. "Top Facebook Political Articles of 2011." Dec. 14, 2011. ↩
eMarketer. "Online Ad Spending Consolidates Among Search, Banner, Video." Feb. 3, 2012. ↩
emarketer. "Revenue Gains Push Facebook to Top of U.S. Display Ad Market." Feb. 23, 2012. ↩
Pat Scanlon director of digital strategy and business development for The Pittsburgh Post-Gazette in an interview with PEJ ↩
Borrell Associates, 2011 ↩
Delo, Cotton. "Mobile, Local are Key Factors in Facebook's Post-IPO Revenue Growth." Ad Age Digital. Feb. 6, 2012. ↩
eMarketer. "Online Ad Spending Consolidates Among Search, Banner, Video." Feb. 3, 201 ↩
comScore. "How Tablets, Smartphones and Connected Devices are Changing U.S. Digital Media Consumption Habits." Oct. 10, 2011. ↩
Pepitone, Julianne. "Yahoo and ABC Partner for News 'Alliance.'" CNN Money. Oct. 3, 2011. ↩
Perez, Sarah. "Reuters Launches Web TV Channel, Bringing 10 New & Original Shows to YouTube." TechCrunch. Jan. 17, 2012. ↩
Coyle, Jake. "AOL's Huff Post to Launch Live Streaming Network." The Huffington Post. Feb. 2, 2012. ↩
Sonderman, Jeff. "Nielsen: One-third of mobile users downloaded news apps in past month." Poynter. Jan. 9, 2012. ↩