Cable: By the Numbers
By Jesse Holcomb, Amy Mitchell and Tom Rosenstiel

"By the Numbers" houses a comprehensive set of charts and tables telling the story of each media sector. For a narrative summary, visit the corresponding essay.
Cable Audience
Audiences began returning to cable news in 2011 after a steep decline in ratings during 2010, but it depended on the channel.
Television viewership can be measured using one of two calculations — the mean (or simple average) or the median (a measurement that captures the midpoint between a channel's highest and lowest viewership). This report offers the numbers in both forms, but the Project for Excellence in Journalism, in consultation with several academic advisers, considers median the better reflection of core audience because it is less influenced by momentary spikes. The mean is superior for reflecting the disproportionate impact of major breaking news events, of which there were quite a few in 2011.
In aggregate, the three major cable news channels—CNN, Fox News Channel and MSNBC—were nearly flat in terms of 2011 viewership. Median viewership in prime time was up 1% to 3.3 million, and mean viewership was up by less than 1% (3.3 million).
It is not clear, however, that this is truly a sign of cable news arresting its fall, for two reasons. First, the growth came after a year of double-digit declines, and the 2011 audience growth does not approach the ratings peak of 2008 and 2009. Second, 2011 was a year full of politics and breaking news events, including the Arab Spring movement, the death of Osama bin Laden and the earthquake in Japan—the kinds of subjects that historically have boosted cable viewership. The volatile stock market and the European debt crisis were additional nail-biter stories that may have attracted and held audiences. Thus it is unclear, given these factors, if cable news has fully halted its ratings slide.
SEE FULL DATA SET
After a very difficult 2010, CNN, more than any other news channel, rebounded. In prime time, CNN's median viewership increased 16% to 654,500. MSNBC, which has now held onto second place for two years, grew its median prime-time viewership 3% to 773,000. Fox News Channel, however, although still No. 1, experienced a slight drop in viewership, a 3% decline, to 1.9 million. HLN, CNN's sibling channel, fared even worse, plunging 11% in prime time (median) to 385,500 viewers.
When looking at mean viewership, a measurement that tends to inflate full-year ratings because of isolated, event-driven audience spikes, the numbers were slightly different. CNN's mean viewership was up 18% to 689,000 viewers. MSNBC was up 3% to 775,000 viewers. And Fox was down 6% to 1.9 million viewers. The true difference between median and mean measurement was seen at HLN, which experienced a 12% increase in mean viewership to 486,000 viewers, largely thanks to a spike in coverage during the Casey Anthony murder trial.
SEE FULL DATA SET
Coverage of events in Japan and Libya early in the year, as well as the death of Osama bin Laden, helped give CNN a ratings jolt in the first few months of 2011. At the same time, MSNBC was suffering from the absence of its marquee host, Keith Olbermann. When the international crises began to fade from the headlines, CNN's ratings died down as well.
While CNN's early-year ratings boom did not last, the data suggest that CNN retained some of the audience it gained in March, when it averaged 1.1 million viewers in prime time. In the seven months after that, from April-December, CNN's median prime-time viewership was 636,000. That was 13% more than the same period in 2010. While it is possible that the audience improvement was the result of new viewers flocking to the channel during the breaking news events and staying, it could also be that programming changes at CNN played a role. For much of 2010, the marquee 8 p.m. slot had been occupied by Campbell Brown, whose ratings were weak. Elliot Spitzer's In the Arena, and later Anderson Cooper's AC360, filled that slot in 2011, and thus ratings improvements might simply be the result of programming that was more exciting to viewers.
Daytime viewership, as in prime time, grew only slightly, in aggregate. The three main news channels experienced 1% median growth (to 1.9 million viewers) and 2% mean growth (to 2.0 million viewers).
SEE FULL DATA SET
And, at least according to the median viewership measure, Fox was the only channel to lose viewers. By far, the greatest surge in daytime came at MSNBC, which grew 20% in daytime to a median of 385,500 viewers. CNN grew 5% to 474,000, Fox dipped 2% to 1.1 million, and HLN was flat at 250,000.
SEE FULL DATA SET
The mean measurement revealed something similar, though with one important exception. CNN's viewership rose 9% to 511,000. MSNBC's rose 17% to 382,000. Fox's dipped 5% to 1.1 million. But HLN's daytime audience rose fully 30% to 323,000, again, reflective of the surge during the Anthony trial.
Another tool used to measure the scale of the cable news audience is cumulative viewership, or simply "cume." Cume counts the number of individual (or unique) viewers who watch a channel for at least a minute over the course of an extended period, such as a week or a month. Ratings, by contrast, measure how many people are watching a program at any given time.
The usefulness of the cume measure is disputed among analysts and network representatives alike. Under this measurement, CNN continued to lead its competitors among viewers who tuned in for at least one minute over the course of an average month in 2011, with 99.4 million viewers. Fox came in second with 82.8 million, followed by MSNBC with 80.7 million. CNN was also the only channel to grow its cume viewership in 2011. (Cume audience data were not available for HLN.)
SEE FULL DATA SET
While cume is useful for gaining a sense of the larger potential cable news viewing audience, ratings are better for measuring "appointment" viewers, or those who loyally tune in regularly for certain programs. It is this figure, particularly in prime time, that advertisers pay close attention to. For the channels, these hours are considered marquee billing.
As it has been for many years, Fox continued to hold a commanding lead in every hour of prime time. During the 8 p.m. hour, The O'Reilly Factor on Fox continued to be the No. 1 show on cable news. Yet both Fox and MSNBC lost viewers, attributable perhaps to the nature of news events in 2011, which tended to play to CNN's and HLN's perceived strengths, and in the case of MSNBC, the loss of a key anchor.
SEE FULL DATA SET
At 9 p.m., CNN improved its numbers with its new interview host Piers Morgan, who replaced the struggling Larry King Live. HLN replaced its own struggling program, The Joy Behar Show, with a new show hosted by Dr. Drew Pinsky (Behar's program, which moved to 10 p.m., was later canceled by the network).
SEE FULL DATA SET
At 10 P.M., both MSNBC and CNN were able to improve their ratings in part by fiddling with their lineups. MSNBC replaced a Countdown replay with Ed Schultz's show, and then moved O'Donnell's program to that hour, boosting the viewership. CNN's Anderson Cooper benefited from a stronger lead-in by Piers Morgan.
It is possible, however, that such improvements were impacted by broader trends in television consumption habits. Nielsen viewership data showed that as of May 2011, overall television viewership was up 1% in the U.S.1 And other research has suggested that American television viewers are watching more television in the later hours of the evening; late-night local TV newscasts (11 p.m.) showed audience growth in 2011, following previous years of decline.
SEE FULL DATA SET
Cable Economics
There were no major signs of flagging in the cable economic model in 2011. The relatively weak advertising environment of 2009 has begun to appear as a momentary bump in the road for a sector that has remained remarkably resilient amid a major news and information revolution.
The cable news leader, Fox News, was projected to increase its profits 12% in 2011, according to the leading financial research firm SNL Kagan. CNN, which reports its financial information with its sibling HLN, was projected to increase its profits by 11%, the same amount as at MSNBC.
SEE FULL DATA SET
Fox, the established revenue leader since 2009, experienced the most robust revenue growth in 2011, but not by much. The channel was projected to grow its revenue 9%, compared to CNN/HLN's growth of 7% and MSNBC's growth rate of 8%.
SEE FULL DATA SET
The year 2009 was the first since 2004 that any of the main news channels experienced a decline in revenue. That year, both CNN/HLN and MSNBC lost ground. The following year, 2010, proved to be one where both networks bounced back, and projections for 2011 had forecasts for continued growth for all the channels.
SEE FULL DATA SET
A key reason behind cable's robust revenue growth is its unique dual-stream revenue model. The first stream is advertising, or the amount a channel can charge for a 30-second or 60-second spot. The second is license fees, also known as subscriber revenue, or affiliate fees, which are collected from customers by the cable provider and part of which are passed along to the channel in exchange for the right to carry that channel's programming. Each stream accounts for about half of the revenue for each channel. The benefit of having two robust revenue sources continued to insulate cable from some of the turbulence experienced by other media sectors in 2011, especially local television and magazines.
SEE FULL DATA SET
In advertising revenue, all the major cable news channels were projected to experience growth in 2011. CNN/HLN and MSNBC led with 11% projected growth. Fox News was forecast to grow at 7%.
SEE FULL DATA SET
Fox has been able to convince Madison Avenue that the viewers it can deliver are just as valuable as those of its competitors. The channel reaches a wider audience than MSNBC or CNN, particularly in prime time, a day part highly valuable to advertisers. Its ad rate is equal to that of MSNBC and higher than the combined ad rate of CNN and HLN (nearly twice that of CNN).
Advertising is based on something called cost per mille (CPM), which translates from the Latin for cost per thousand viewers. Because CNN combines its accounting with its sibling channel HLN, its total revenue sum, which is near that of Fox, masks the fact that the value of its viewers to advertisers is relatively high. According to Derek Baine, senior analyst for SNL Kagan, the CNN/HLN ad rate may be low because advertisers are lukewarm on HLN, thus dragging down the value of the rate as a whole.2 And Jim Walton, president of CNN Worldwide, has said that CNN by itself has a higher ad rate than Fox, an estimate confirmed also by Rino Scanzoni, chief investment officer with the advertising firm WPP.3
Nevertheless, Fox's high ad rate in comparison to its news channel competitors suggests that advertisers are not shy about buying time on a network with highly political content in its prime-time hours.
As was the case in 2010, Fox was projected to increase its license fee revenue in 2011 by a wider margin than that of CNN/HLN or MSNBC. The channel was expected to generate 11% more license fee revenue in 2011 than it did in 2010, which is double that of CNN/HLN (5%) and MSNBC (5%).
SEE FULL DATA SET
Fox continued to make the case to cable providers that its programming is essential to any cable package, and thus the fee it charges per subscriber should be increased. Providers appear to agree, and thus the fees that Fox charges cable providers for the right to carry the channel—which are passed along to consumers—have spiked in recent years.
SEE FULL DATA SET
SNL Kagan's estimates for a given year are issued in advance, and are then revised once firmer data are made available by the cable channels.4 As a result, projections often differ, sometimes widely, from the actual figures. In 2010, all the cable news channels fell short of their revenue and profit projections, though MSNBC came the closest to meeting them.
Cable News Investment
Once again, cable channels were projected to spend more across the board on the news in 2011 than in the previous year. There were more signs that Fox News is investing more over all than CNN, which had led in this realm through 2009. Forecasts indicated that Fox would widen the gap between its budget and CNN's, while CNN reduced its total number of bureaus and announced layoffs, as did its sibling channel HLN. There were few major changes at MSNBC.
After Fox first passed CNN/HLN in total spending in 2010, that gap was only projected to widen in 2011. According to estimates by SNL Kagan, Fox was expected to increase its budget by 7%. That was followed by MSNBC with a projected 6% increase. CNN and HLN were projected to grow by 4%.
SEE FULL DATA SET
SNL Kagan separates the various expenditures made by the channels into two general categories: Program expenses, which are generally tied to specific programs, including host salaries, and SG&A (selling, general and administrative expenses), or the overhead costs related to a channel.
Using these categories, each channel allocates its resources somewhat differently. Historically, CNN and HLN have tended to invest much more of their budget on the vast newsgathering infrastructure represented by CNN's dozens of bureaus and large news staff around the world.
In 2011, CNN spent a greater share of its budget on overhead ($389 million) than on its programming ($310 million). Fox and MSNBC spent the vast majority of their budgets on specific programs ($535 million at Fox and $174 million at MSNBC), and increased that portion of their respective budgets more than the overhead portion. In the case of Fox, this reflects its emphasis on its high-profile hosts; in the case of MSNBC it also reflects the amortization of fixed newsgathering costs over the whole of NBC News. Fox was projected to spend $198 million on overhead in 2011 and MSNBC $49 million).
SEE FULL DATA SET
In terms of both staffing and bureaus, CNN has a larger overall operation than either Fox or MSNBC. Staffing numbers are hard to come by. CNN reports that it has approximately 4,000 employees, yet this does not fully reveal smaller changes in staffing, such as the 50 layoffs that occurred in November of 2011, or the staff cuts at Jakarta, Bangkok and Jerusalem bureaus that were revealed in February of 2012. Both Fox and MSNBC declined to provide staffing numbers to PEJ for this year, each stating that it is too difficult to provide an accurate number given the fluid nature of staffing and resources across the various properties held by each organization. The numbers that have been provided in the past are somewhat outdated, but still give a sense of scale. Fox told PEJ in February of 2011 that it had 1,272 employees. And MSNBC told PEJ in 2007 that it had 600 staff members at the time.
CNN continued to operate many more bureaus than at either Fox or MSNBC (MSNBC utilizes the bureaus of NBC News). In 2011, CNN closed the Bogotá and Chennai bureaus and opened a new one in São Paulo in preparation for the Brazil Olympics in 2016.
CNN Worldwide president Jim Walton told the Atlanta Journal-Constitution that "significant investments" were made in recent years to expand coverage in places like Abu Dhabi in the United Arab Emirates, Nigeria, Kenya, Chile and India.5
NBC News, whose bureaus are utilized by MSNBC, opened a new bureau in Beirut in 2010, but in early 2012, reported that it had "presence" in that city—suggesting it may have drawn down its staffing there—and also reported having a presence in Jordan, Rome and South Korea.6
Fox News in January 2012 reported no change in its number of domestic or foreign bureaus.

Cable Ownership
For data and baseline information about cable news ownership, see PEJ's interactive tool, Who Owns the News Media, on the top media companies in the United States. Readers can use it to compare financials, audience and general information of the companies that own the major U.S. cable news channels. In the section below, key trends and developments in the ownership of cable news in 2011 are examined.
After January 2011, Comcast became the majority stakeholder in NBC Universal, with its stable of cable networks including news channels MSNBC and CNBC. Little changed for the news channels now under different ownership, and the transition appeared to be smooth. It was at times a rocky year for News Corp., which owns the Fox News Channel and the Fox Business Network. The global media company was preoccupied by the News of the World scandal involving charges of phone hacking at the London tabloid owned by Rupert Murdoch's company.
Financial reporting indicates, however, that all of the major media companies that own news networks, including News Corp., managed to increase their revenues during 2011. Comcast's revenues increased by nearly 50%. Time Warner, CNN's parent, grew its revenues by 8%. And News Corp. grew its revenues by 3%.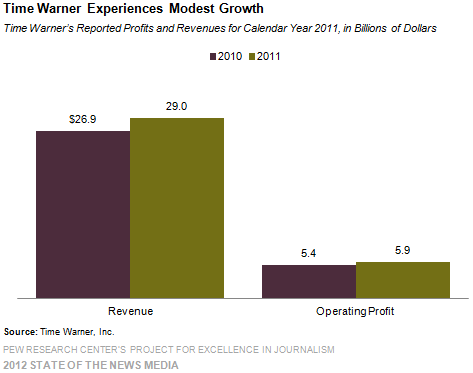 SEE FULL DATA SET
News Corp. experienced especially strong revenue growth in its cable network programming division, which includes Fox News and the Fox Business Network, with a 13% increase between 2010 and 2011, finishing the year with $8.5 billion in divisional revenues.
SEE FULL DATA SET
Comcast's revenue growth stood out among the companies that own cable networks. Its core businesses, including high-speed internet and telephone, fueled that growth in part. But the growth was also based on a strong performance by its recent acquisition of NBC Universal, whose cable networks more than made up for losses at the NBC broadcast network.
SEE FULL DATA SET
Cable Digital Trends
On the web, cable news brands remained among the most popular news destinations in 2011. That was especially true of CNN and MSNBC, though Fox News Channel maintained a highly visible web presence as well.7
According to comScore, CNN's digital network of sites — which besides CNN.com, includes sites like CNN Money, Time.com and People.com — was the No. 2 digital news property by audience behind Yahoo! News Network, with 73.2 million unique visitors per month on average in 2011 (Yahoo! News Network averaged 85.2 million). MSNBC.com was No. 3 for the year, averaging 53 million unique visitors. Foxnews.com was No. 7 with 25.5 million unique visitors.
Nielsen's data show a similar ranking, if not similar numbers: For 2011, CNN's digital network was No. 2 with 34.6 million unique visitors. MSNBC's digital network was No. 3 with 29.4 million. And Fox's digital network was No. 6 with 17.8 million.
Nielsen's data are comparable year over year, and indicate that web audiences were down for some, but not all three. CNN lost 3% of its digital audience and MSNBC lost 8%. Fox's audience, however, grew 15%.
Another web measurement company, Experian Hitwise, measures rank and market share. By their reckoning, MSNBC.com was No. 3 overall in 2011, up slightly to share of 4.02%. CNN.com was ranked No. 5, down slightly to a share of 2.29%. And Fox was ranked No. 7, also slightly down to a share of 1.50%.
The vastly different unique audience figures for news sites from comScore, Nielsen and Hitwise are the result of different measurement techniques. ComScore and Nielsen use a panel of users that install software on their computers, but in the last year, comScore has added data from internet service providers to supplement their data. And Hitwise bases its measurement on market share. The lack of standardization in the realm of online audience measurement continues to complicate selling advertising online. Please click here for a more detailed explanation of online measurement and the differences between the top analytics firms.
Separate television and web audience figures do not provide a complete picture of the reach of these cable news brands. Though somewhat early in development, new cross-platform measurements that account for both unique audiences and overlap give a sense of true reach. According to Nielsen data from a sample month of April 2011, NBC News has a wider reach than either CNN or Fox News, in part, because NBC benefits from both a broadcast and cable news platform.
In the sample month, NBC News reached 131 million different individuals, with the majority of its web audience also tuning in, however briefly, to its news programs. CNN reached 82 million different individuals and Fox reached 65 million. In the case of both CNN and Fox, less than half of their web audience also tuned into their television news programs.
SEE FULL DATA SET
Each of the news brands studied here experimented with new digital offerings in 2011, a number of which are discussed here. But one indicator in particular reveals how the news brands are using the web as another platform for their video content, an area where other news organizations have stepped in to compete recently.
CNN.com was the leader when it came to the use of video, audio or other interactive components on its website, though each of the three sites studied increased their use of such components year over year. In 2011, CNN.com more than doubled its use of audio, video or other interactive element on its home page. MSNBC.com more than doubled its integration of interactive components as well, featuring such components nearly as often as CNN did. Foxnews.com increased its use of interactive components by a wide margin between 2010 and 2011, but still trailed behind the other two sites.
SEE FULL DATA SET
Cable Specialty Channels
Among the financial news channels, CNBC remained by far the leader in overall revenues and profits in 2011. Still, The Fox Business Network and Bloomberg TV grew financially at higher rates. Fox Business's revenue grew by 27% and it cut its losses by $19 million. Bloomberg TV increased its revenues by 14% and its profits by 25%. CNBC increased revenues by 6% to $725 million, nearly double that of its sibling MSNBC.
And those numbers only represent domestic revenues. Internationally, CNBC, like CNN, is a powerful news presence. CNBC World, CNBC's international brand, was projected to generate $23.3 million in revenue in 2011, up fully 40% from 2010 levels.
SEE FULL DATA SET
Fox News chief Roger Ailes has long insisted that the Fox Business Network, the most recent arrival in the field of cable financial news, would break even in 2012. That forecast appears to have held as the channel has grown steadily since its 2007 launch.
FBN attracts about a quarter of the audience size that CNBC draws. In 2011, according to Nielsen, FBN averaged 54,000 viewers in prime time while CNBC averaged 228,000.8
SEE FULL DATA SET
Aside from financial news, a number of cable news channels continued to build their presence in U.S. markets. The year 2011 was particularly significant for two of these, Al Jazeera English and Current TV. Al Jazeera gained worldwide attention for its coverage of the Arab Spring revolutions, providing on-the-ground footage and reporting of the political upheavals in Tunisia, Egypt, Libya, Syria and elsewhere, and, in the process, gained a wider audience. Current TV, a network not built around traditional breaking news, rebranded itself in 2011 when it hired MSNBC host Keith Olbermann to be its news director and host of an 8 p.m. commentary program.
Al Jazeera English, as of early 2011, was still only available in a few markets — Washington, D.C.; Toledo, Ohio; and Burlington, Vt. – or about 2% of American households.9 In April, Rhode Island cable provider Full Channel TV announced it too would carry AJE.10
BBC World News announced a carriage deal in December with Comcast that will make the British news channel available in 15 million homes in addition to the 6 million homes it was already available in as of 2011.
Click here to read the Cable Essay