Network: By the Numbers
By Emily Guskin, Tom Rosenstiel and Paul Moore of the Project for Excellence in Journalism.
New to this year's report is a streamlined data section that houses a comprehensive set of charts and tables telling the story of each media sector. For a narrative summary, visit the corresponding essay.
In 2010, broadcast network news divisions saw an improving advertising landscape and continuing declines in viewership. All three commercial networks and PBS also moved more aggressively onto new digital platforms.
Audience
In 2010, the audience for network news programs continued its quarter-century decline.
In the evening, an average of 21.6 million people watched one of the three commercial broadcast evening news programs each night on ABC, CBS or NBC. That represents a drop of 752,000 viewers, or 3.4%, from the average the year before, according to PEJ analysis of data from Nielsen Media Research.1
Since 1980, the three commercial evening newscasts have lost 28.9 million viewers, or 55.5% of the audience they once had.2
Network evening news audiences in 2010 also declined by the two other metrics, ratings and share.
Ratings, the percentage of households with TVs tuned to a given program, fell to 15.4 for the three network evening news programs combined in November 2010, down from 15.7 a year earlier.
A third measure, share, expresses the newscast audience as a percentage of all households watching television during that timeslot. The three-network share fell.8 points for the year to 29.5.3
Individual Networks – Evening News
The declines were not spread evenly across the networks. The NBC Nightly News with Brian Williams was fairly stable. Average viewership fell by 121,300 viewers or 1.4%. Ratings fell by 1.8% to 5.6. Share remained unchanged at 11.5.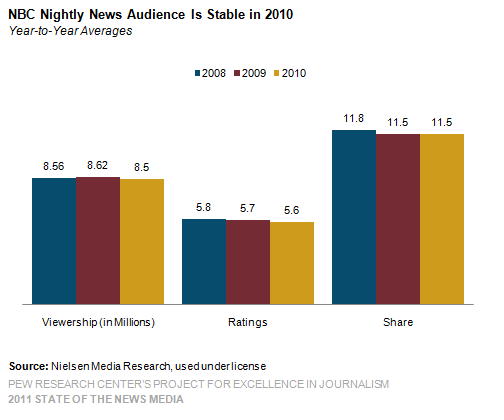 ABC World News with Diane Sawyer's average viewership declined 3.9% or by 298,100 viewers in 2010 to 7.43 million. Ratings fell 3.8% to 5. Share fell 2.8% to 10.3.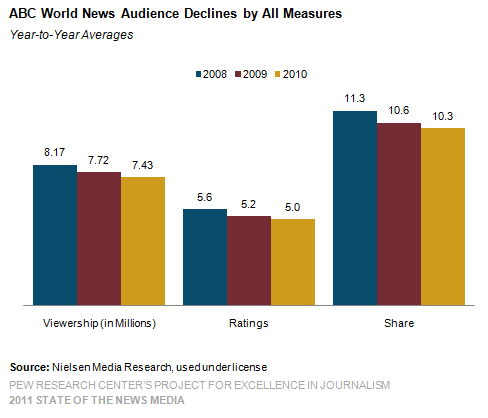 Viewership of the CBS Evening News with Katie Couric fell 5.6% to 5.65 million. Average household ratings declined 7.3% to 3.8. Share fell 6% to 7.8.
Evening News Demographics
Evening news viewers tended to be older and not as highly educated than the average American. The average age of a regular evening news consumer in 2010 was 53 — seven years older than the average age of those surveyed in a June 2010 Pew Research Center for the People & the Press study.4
Evening news audiences were slightly more likely to be female, making up 56% of the audience, versus 52% of the survey population.5
Morning News
Morning news also continued to see audience loss in 2010, for the sixth year in a row.  An average of 12.4 million people watched network morning news in 2010, down 3% from 12.8 million in 2009, according to data from Nielsen. That is a decline of 382,000 viewers for the year on average.
Viewership of ABC's Good Morning America held steady at an average 4.3 million; ratings were also stable at 3.2; share grew in 2010 to 12.4, up .5 points from 11.9, which means that a higher percentage of people who happened to be watching TV during that time period were tuned to ABC than the year before.
The CBS Early Show suffered the largest loss in viewership falling to 2.9 million viewers, from 3.1 million. Ratings fell to 2.2 from 2.3 in 2009. CBS share fell by .3 points to 8.5.
Viewership of the Today Show on NBC dropped to 5.3 million, from 5.5 million, a decline of 200,000. Ratings fell as well, to 4 from 4.1. Share rose, to 15.2 up from 15. Thus, while Today's viewership fell, it actually commanded a higher percentage of those watching TV from 7 a.m. to 9 a.m. than in 2009.
Morning News Demographics
Morning news audiences skewed slightly younger than evening news audiences and were even more likely to be female. The average age of a regular morning news show consumer in 2010 was 51 – five years older than the average survey respondent and two years younger than the average evening news consumer, according to the Pew Research Center for the People & the Press. Over two-thirds, or 68%, of morning news audiences were female, compared to 52% of the survey population.6
TV News Magazines
News magazines audiences also declined in 2010.
Nightline was the exception.  Its audience remained stable at 3.7 million viewers. Ratings and share were also stable.
In the fourth quarter, moreover, Nightline was No. 1 in total viewership during its time period, with 3.93 million viewers, beating NBC's Tonight Show with Jay Leno (3.88 million) and CBS' Late Show With David Letterman (3.60 million).7
And 60 Minutes also fared relatively well. It had a 1.9% drop in viewers, or 220,000 people, but still averaged 11.7 million viewers, making it the most popular news program on U.S. television. Ratings fell 2.6%. Share decreased by 3.7% to 12.9. The higher percentage drop in share means that some of the decline of 60 Minutes did come from people choosing to watch something else during that time rather than not watching television.
The second-biggest loser among news magazines was ABC's 20/20, which had a 9% drop in viewership, or 550,000, to 5.5 million viewers. Ratings decreased 10%; share fell 11.7%.
CBS' 48 Hours Mystery was the third-biggest loser. Viewership fell 300,000, or 4.9%, to 5.8 million compared with a year earlier. Ratings fell 4.9%. Share dropped 3.8%.
NBC's Dateline also fell: the Friday edition by 100,000 viewers (1.7%) to 6 million, the Sunday edition was the biggest loser, falling by 800,000 viewers (15%) to 4.5 million viewers.
Ratings followed a similar trend. Friday ratings were essentially unchanged; Sunday decreased by 8.6%.  Share for the Friday show decreased by 2.6% and by 14.3% for the Sunday edition.
Economics
Determining the economic health of network news divisions is a challenge.  Networks do not break out financial data for their news divisions publicly.
Market research firms estimate that 2010 was an up year for network television overall. Kantar Media, for instance, estimated that from January through September 2010, network TV advertising revenue rose by 6.6% to $18.15 billion, up from $17.03 billion the same period in 2009. This figure includes ABC, CBS, NBC, Fox, the CW, Telemundo and Univision.
Another firm, Veronis Suhler Stevenson, forecast a similar growth rate of 5.5% for all of 2010, to $17.4 billion, from $16.5 billion in 2009.8
Insiders also tell PEJ that while ratings were down for almost all news programs, the advertising market was up, which allowed revenues to grow nonetheless.
How do the numbers seem to break down by network news divisions?
ABC
Last year, PEJ estimated that ABC News revenue overall at about $600 million for the year. That number was down from 2008's estimate of closer to $700 million. We reported that the news division said it had generated a small operating profit in 2009, as it had in years past, though doing so required cost cutting in 2009 and drastic cuts in 2010.
According to SEC files, for the nine months ending July 3, 2010, Disney, ABC's parent company, had revenues of $28.3 billion, up 7.6% from $26.3 billion for the same period in 2009.9
If ABC News revenues were up, but slightly less than that, in the 6% range, that would put revenues at roughly $635 million for the year.
With the drastic budget cuts that ABC imposed on its news division in 2010, PEJ estimates that operating income at ABC News might have doubled, with margins widening from roughly 4% to closer to 8%. The projections for 2011, when the full cost cutting effects are in place, may well increase margins into double digits.
CBS
At CBS Corp., which involves all of CBS television and subsidiary operations, revenue climbed for the first two quarters of the year (11.7% and 10.8% compared with the same periods in 2009) before falling in the third quarter by 1.6%.10 Fourth-quarter results were not yet available when PEJ's annual report was compiled, but industry professionals suggest the fourth quarter was good for CBS News.
Last year, PEJ estimated that CBS News brought in revenue of about $400 million in 2009, including 60 Minutes, Sunday Morning and Face the Nation. That number was down substantially from our estimates from the year before, which were closer to $500 million. If CBS News grew at a similar rate to the rest of the network and the industry overall by say 6%, that would put 2010 revenue at about $424 million.
We estimate that late-year revenue increases combined with early-year spending cuts left CBS News overall at about breakeven, similar to our 2009 estimates.
NBC
NBC News' revenue model is different from its broadcast rivals. It can look toward its cable news channels, notably MSNBC and CNBC, for revenue and to amortize the costs of its news division across these platforms and MSNBC.com.  Unlike broadcasting, which relies solely on advertising, cable channels generate about half their revenue from subscription fees paid by cable providers. This means that cable can generate far more revenue per viewer than broadcast television and that it is less vulnerable during advertising recessions.
By our estimates, NBC News, from its various parts, brought in revenue of $2 billion in 2010.
Of that CNBC contributed the largest share, $722.9 million in revenue, according to SNL Kagan. MSNBC revenue came in at $382.5 million and CNBC World (an international business channel) had $16.9 million in revenue. PEJ estimates NBC News broadcast revenue to be in the range of about $850 million, up in single digits from 2009.
NBC News makes operating profit in double digits, in large part thanks to its cable units. SNL Kagan projected operating profit at CNBC of $447.9 million in 2010, up 8% from $414.8 million in 2009. MSNBC's operating profit in 2010 was projected at $172 million, up 7.7% from $159.7 million in 2009. CNBC World's operating profit was estimated to increase 42.5% in 2010 to $10.4 million from $7.3 million in 2009.11 NBC News broadcast profit is projected to be in the 10% range, or about $90 million.
News Investment
Assessing the state of network newsrooms is difficult also, but available information suggests these newsrooms are less than half the size they were in the 1980s.
Staffing
In addition to announcements from the networks themselves about staff levels, newsroom investment can also be measured by monitoring staff lists that the networks provide to the Leadership Directories. These self-reported lists are not comprehensive, but in past years, the percentage change in staffing in the Leadership Directories has closely matched those subsequently reported by the networks.
That may not be the case in 2010. According to the Leadership Directories, domestic network news staffing overall decreased less than one percentage point from 2009.  That does not comport with the announced cuts, especially at ABC.
ABC
Of all of the networks ABC News had the biggest overall staff reductions.
Cuts at ABC, mainly from buyouts but also through some layoffs, amounted to between 375 and 400 people, close to 25% of the roughly 1,500 employed at the beginning of 2010.12
CBS
CBS News also appeared to reduce its staff in 2010, but not as sharply.
It announced cutting 75 positions from its 1,400 to 1,500 staffers in February 2010.13
Cuts included layoffs, unfilled openings and full-time staff moving to part time.14
NBC
The most financially stable of the three news divisions, NBC showed little change in staff in 2010, although that comes after at least five years of scaling back.
Correspondent Counts
Another way to track network news investment is to examine the number of correspondents who appear on air at least five times during the year on each network's evening weekday newscast.  This offers only a rough measurement of newsgathering power, but the data go back many years.
A total of 148 reporters filed at least five packages for evening newscasts in 2010, a reduction of 10 from 158 in 2009, according to a newscast-by-newscast analysis conducted by ADT Research. These figures do not reveal whether employees also filed stories for other TV programs besides evening news.
All three newscasts used fewer correspondents in 2010 than the year before. NBC had the most people on air, 55 correspondents, down from 59 in 2009.  ABC was second with 48, down from 53. And CBS had 45, a decrease from 46 the year before.
The average network correspondent pool decreased by about three to 49.3, while the workload increased by about one story to 33 per correspondents per year, according to ADT Research.
NBC reporters had the smallest story loads in 2010 – 29.4 reports on average for the year, but these reporters can also file stories for MSNBC and other outlets that can increase their workload.  ABC correspondents averaged 35.8 stories per year, CBS 35.9.
Domestic Bureaus
The number of domestic news bureaus generally remained stable in 2010, though staffing inside them in some cases did not. ABC News, which announced that it would eventually close the majority of its domestic news bureaus, shuttered only the San Francisco office in 2010. NBC News reopened its bureau in Miami in 2010 after closing it in 1991.15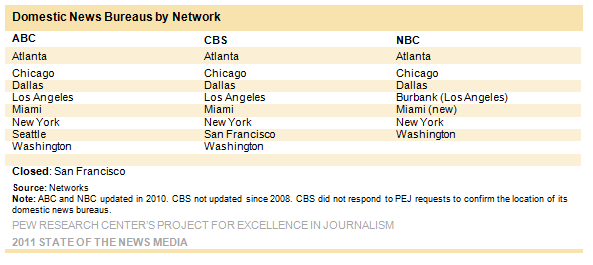 International Bureaus
Abroad, all three networks now have at least ten foreign bureaus, primarily because they shifted earlier in the decade to more one-person foreign offices. The number of foreign bureaus grew in 2010. ABC News opened offices in Islamabad, Kabul and Nairobi, bringing its total overseas to 13. NBC News opened offices in Frankfurt, Beirut and Tehran, bringing its total to 15.
The amount of coverage with foreign datelines increased 2010, according to data from ADT Research.  Each network had at least an hour increase in time devoted to stories filed abroad.
There was minimal coverage, however, of the wars in Afghanistan and Iraq in 2010. Coverage of the Afghan war fell to 6.9 hours for the year, versus 9.26 the year before.  Coverage of Iraq rose slightly, to 1.6 hours for the year, from 1.33 in 2009.
News Hole
The amount of time devoted to news within the 30-minute nightly newscasts – the time not taken up by advertisement, promos and teasers — increased incrementally in 2010 to 19.2 minutes from 19.1 the year before. The time devoted to news has been on an upward trend since 2004.
Digital
In 2010, network news continued to turn to digital as a way to seek audience and revenue, especially toward mobile apps and other new wireless platforms for disseminating news.
Audience
There is no easy way to comprehensively measure the total audience for digital network news, especially across newer mobile devices.
The total unique visitors each month offers some sense of rank and longitudinal growth for their main websites.
The comScore figures, for the month of December 2010, are notably larger than Nielsen's average monthly measurements for 2010.  Although each company uses a different method to measure, the significant discrepancy between the two is difficult to explain. PEJ is including both measurements to give the reader a more complete picture of online viewership trends.
MSNBC.com dominates in web traffic with more visitors than the other two networks combined. However, it is not just the website of NBC's network news operation – it also includes content from MSNBC and other cable news channels, original online content and content from print partners. According to statistics from comScore Media Matrix, MSNBC had 48.7 million unique visitors in December 2010, compared with 19.3 million for ABCNews.com and 15.3 million for CBSNews.com.
MSNBC.com is operated jointly by NBC News and cable channels MSNBC and CNBC – so it is cross-promoted on several different platforms.  It also draws traffic from Microsoft's MSN portal, the home page for millions of internet users.16 Microsoft is the co-owner of MSNBC with NBC.
But the ranking of the three network news divisions switches in 2010 when we look at one measure associated with social media.
Twitter
When measured in late January 2011, NBC News' main news Twitter feed had far fewer followers (76,000) than either ABC News (1.18 million) or CBS News (1.62 million). MSNBC, its online umbrella identity, had 66,000 followers.  CNBC had more (225,000) but together they do not match the other broadcast networks.
Facebook
On Facebook, the largest social network with more than 500 million users throughout the world, NBC News' numbers are also smaller than the other two networks; it had fewer than 1,000 fans the day PEJ measured in January.  MSNBC had more than 105,000; ABC News about 143,000, and CBS News 107,000. Some individual shows, though, have more than the entire network news division.
ABC
ABC had several digital innovations in 2010, using other means to share its news: Tablet and phone apps, Facebook, Twitter and Tumblr.
ABC News' digital arm, the Digital Media Group, oversees its ABCNews.com website and its mobile site as well as ABC News Now, ABC's digital cable arm that is available on cable, broadband and mobile.
At least one analyst says this digital arm needs to step up to take advantage of new media. "ABC News will have to expand beyond the narrow base of the broadcast television industry quickly in order to manage a decade-or-so-long transition to a world where its content is distributed on TV, online, on tablet screens, on cellphones… and on media we have never dreamed of," TV news analyst Andrew Tyndall, who is a consultant to this report, told Reuters.17
ABC News is trying to take advantage of new media. Among its digital innovations:
CBS
CBS News traditionally had a more modest online presence than ABC or NBC, but in November, CBSNews.com increased its unique visitors by 29% from March, according to data from comScore, and had more visitors than ABC News. By December though, ABC News was back above CBS.23
Twitter and Facebook were important tools in this jump in visitors, according to the editor-in-chief of CBSNews.com, Dan Farber.24
Among digital innovations at CBS News:
NBC
NBC News, along with its online and cable sibling, MSNBC.com, also made digital advances in 2010. One of those was a strategic decision to put more emphasis in its digital journalism on video.
"At the end of the day, what I keep coming back to, this is about telling stories with pictures.  That is what we do for a living," Mark Lukasiewicz, NBC News vice president for specials and digital, told Beet.tv, "We have more platforms than ever to do it with; there are more people consuming stories with pictures – video storytelling – than ever before. That is all good for us and we should continue to push the boundaries of that to experiment, to find new ways to do it that are fascinating."28
NBC News lags far behind the other broadcast networks in its efforts to attract followers and fans social networking sites.
NBC News' Twitter feed had far fewer followers than the other two networks when checked in January 2011 – fewer than 76,000 – and with NBC Nightly News (around 47,000), MSNBC (around 66,000) and CNBC (over 225,000) combined, NBC News still does not come close to CBS News' 1.62 million or ABC News' 1.18 million.
Several of NBC News' reporters also have Twitter feeds, including NBC Nightly News host Brian Williams, who had over 14,000 followers despite having never tweeted.
On Facebook, NBC News had only 928 fans in late January 2011 and Nightly News had about 34,000 – far fewer than ABC News or CBS News. Dateline NBC had less than 75,000 Facebook fans, more than ABC's 20/20, but fewer than CBS' 60 Minutes.
NBC News had other digital platforms from which to disseminate news:
MSNBC's First Person, a tool for people to upload video or photo content to the web so that MSNBC or NBC News can use it on the air. "On any major news event that is breaking…we call out quickly through all our social media channels, on the web, on air, for contributions from people who happen to be there," said Lukasiewicz.30
NBC News does not have a YouTube channel – instead it streams videos over Hulu, which is partially owned by General Electric, now a minority owner of NBC Universal.
PBS
While PBS has a relatively small news audience compared to the big three networks, it makes an impression online.
NewsHour's Twitter feed had almost 90,000 followers in January 2011, far more than any of the evening news programs on ABC, CBS or NBC despite its much smaller audience. (See network essay for more)

NewsHour crowd-sourced for solutions from people for the Gulf oil spill, in which more than 15,000 people submitted suggestions.35
The site's oil widget measured the amount of oil spilled into the Gulf after the Deepwater Horizon explosion.
NewsHour also provided an online Annotated State of the Union with experts providing analysis and background notes on the speech.
Frontline has a Twitter feed with about 6,000 followers and a Facebook page with about 67,000 fans –far more than ABC's Nightline (about 40,000).
Frontline's website has video access to more than 100 of its documentaries in its archive.
Endnotes
This is an annual average of all three networks with evening network news programs. ↩
The historical Nielsen data obtained by PEJ are just for the month of November, year-to-year. ↩
By using the numbers Nielsen prefers — one month rather than annual averages — share for network evening news was more stable. For four months of the year, share was unchanged, and for seven it fell just slightly, by one point. The biggest decline came during one month, April 2010, when it fell three points. ↩
"Americans Spending More Time Following the News." Pew Research Center for the People & the Press. Sept. 12, 2010. ↩
Ibid. ↩
"Americans Spending More Time Following the News." Pew Research Center for the People & the Press. Sept. 12, 2010. ↩
Ng, Philiana. "'Nightline' Tops Jay Leno and David Letterman." Reuters. Jan. 4, 2011. And Hibberd, James. "ABC Moves Jimmy Kimmel, Shrinks 'Nightline.' " Entertainment Weekly. Jan. 20, 2011. ↩
"National & Local Television Advertising Expenditures." Veronis Suhler Stevenson. ↩
CBS Corporation and Subsidiaries. Form 10-Q. For the Quarterly Period Ended June 30, 2010. And. Form 10-Q. For the Quarterly Period Ended March 31, 2010. And Form 10-Q. For the Quarterly Period Ended Sept. 30, 2010. ↩
"Economics of Basic Cable Networks: 2010 Edition." SNL Kagan. ↩
Stelter, Brian. "Job Cuts at ABC Leave Workers Stunned and Downcast." New York Times. April 30, 2010. And Schechner, Sam. "Cuts at TV-News Divisions Signal Leaner Approach." Wall Street Journal. Feb. 26, 2010. ↩
Smillie, Dirk. "New Layoffs Coming to CBS News?" Forbes. July 12, 2010. ↩
Schechner, Sam. "CBS News Cuts Jobs." Wall Street Journal. Feb. 3, 2010. ↩
Fabrikant, Geraldine. "NBC Is Closing News Bureau in New York." New York Times. July 12, 1991. ↩
MSNBC.com is the default homepage on most Microsoft-based PC browsers and has long been one of the top news destinations on the web. ↩
Zeidler, Sue. "Disney ABC Continues to Search for ABC News Chief." Reuters. Sept. 27, 2010. ↩
"ABC News Releases Innovative Application for iPad." ABC Press Release. July 21, 2010. ↩
Tumblr is a type of microblog designed to share information easily. ↩
Radnovich, Connor. "ABC News Town Hall Marks Facebook Milestones." Statepress.com. Nov. 2, 2010. ↩
"ABC News' 'Nightline' Launches NightlineNow.com." ABC Press Release. Oct. 22, 2010. ↩
Serjeant, Jill. "ABC News Chief Says Open to Bloomberg Partnership." Jan. 10, 2011. ↩
Plesser, Andy. "CBS News Bests ABC and Fox in Latest comScore Online Traffic Numbers." Beet.TV. Dec. 15, 2010. ↩
Ibid. ↩
" '60 Minutes' iPad App Debuts." CBS News. Nov. 18, 2010. ↩
"New Web Show, '60 Minutes Overtime,' To Debut." CBS News. Sept. 15, 2010. ↩
Winslow, George. "CBS Sunday Morning Launches iPhone, iPod App." Broadcasting & Cable. Dec. 15, 2010. ↩
Plesser, Andy. "NBC News Digital Video Chief: News Consumption is Bigger Than Ever." Beet.TV. Jan. 28, 2011. ↩
Cohen, David. "NBC Nightly News with Brian Williams Releases App for iPhone, iPod Touch." WebNewser. Oct. 7, 2010. ↩
Plesser, Andy. "NBC News Digital Video Chief: News Consumption is Bigger Than Ever." Beet.TV. Jan. 28, 2011. ↩
"NBC News Uses Watchitoo to Power Interactive Online Election Night Webcast." Watchitoo Press Release. Nov. 3, 2010. ↩
"PBS Announces PBS.org and Free Apps for iPad, iPhone and iPod Touch." PBS Press Release. Oct. 25, 2010. ↩
Sreenivasan, Hari. "Any Hour Can Be Your NewsHour: Download Our New iPhone App." PBS NewsHour. Sept. 28, 2010. And NewsHour Research Department. ↩
NewsHour Research Department. ↩
Ibid. ↩