Network News: Durability & Decline
By Emily Guskin, Tom Rosenstiel and Paul Moore of the Project for Excellence in Journalism.
As the economy improved in 2010, network broadcast news quietly went through an arduous period of change. The news division of one network, ABC, instituted sharp personnel cuts designed to accomplish a "fundamental transformation" in the way network news is produced.1 Another, CBS News, worked its way from financial losses back to break-even, while management continued to strengthen a depleted bench of correspondents and news producers. NBC prepared for new owners, the third such transition since NBC was founded in 1926, and if history is a guide, the change will alter the network more than most pre-sale analyses predicted.
When the year was over, the audience for most network news programs had fallen again — generally by single digits, a slide so long and gradual that few imagine it can now be abated, except perhaps by moving to new platforms. At the same time, revenues at all three news divisions grew, probably by about 6%, thanks to an improving market for television advertising. While the audience for network news continues to shrink, and those revenue gains are smaller than in some other media, the power of TV ads remains formidable.
For all that network TV news may be considered a dinosaur, two of the three news divisions made a profit in 2010; and all three hope to in 2011, despite the expectation that ratings will likely continue to fall.
Only one of the three networks, NBC, managed the previous transition in television news — to the cable era — with much success. The lion's share of its news division's revenue now comes from its cable properties, not broadcast, and the profit margins on those properties are substantial. NBC also has succeeded in the first wave of the digital age, with the most popular news website of the three networks, MSNBC.com, which has more traffic than the other two networks combined.
But it is ABC and CBS that appear for the moment to be moving more aggressively into the next wave of wireless platforms and social media. It is still too early to tell whether those efforts will translate into meaningful traffic or financial return.
Evening News Audiences
By the most tangible and financially significant measure — total viewership — the story of 2010 was familiar: the audience for network news programs overall continued its quarter-century decline.
In the evening, an average of 21.6 million people watched one of the three signature network news programs each night during the year.
That is a loss of 752,000 viewers, or 3.4%, from the average viewership the year before, according to PEJ analysis of data from Nielsen Media Research.2
It also marks an acceleration in the decline of nightly news viewership compared with the previous two years. After losing roughly a million viewers a year for 20 years, the nightly newscasts lost 565,000 viewers in 2009 and 273,000 in 2008, raising the possibility that the loss of viewers was slowing. Those hopes were dampened in 2010.3
Still, network evening news remains an important source of news for a large number of Americans. To put nightly news numbers in context, four times as many people watch the three network evening newscasts on ABC, CBS and NBC during the dinner hour than watch the three cable news channels (CNN, Fox News and MSNBC) in prime time, when vastly more people watch TV overall.4
Overall in 2010, according to Nielsen, an average of 8.5 million viewers watched the NBC Nightly News each night while 7.43 million watched ABC and 5.65 million watched CBS.
Even with the declines, that means almost twice as many people watch the lowest-rated broadcast evening news program than watch the highest-rated cable news program.
Nonetheless, the three commercial evening newscasts have lost about 28.9 million viewers since 1980, or 55.5% of the audience they once enjoyed.5
(See network data section for more on network evening news audiences in 2010, including information on the other two audience metrics, ratings and share) 
As in years past, the declines were not spread evenly across the networks. The audience leader, NBC Nightly News with Brian Williams had the smallest loss. Average viewership fell by 121,300 viewers or 1.4% in 2010 to 8.5 million for the year.
ABC's World News with Diane Sawyer remained at the No. 2 spot in 2010, but in Sawyer's first full year on the air as anchor, the audience declined by 3.9%, or 298,100 viewers, compared with that of her predecessor, Charles Gibson, to 7.43 million.
The audience for third-place CBS Evening News with Katie Couric fell even more, by 5.5%, or 330,000, to 5.65 million.
The year 2010 also marked the first full one in which that two of the evening news programs were anchored by women. Sawyer became the anchor of ABC World News in late 2009 and Couric gained the position at CBS Evening News in 2006.
Their failure to attract a young audience continues to be an issue for the evening newscast advertisers. According to data from a Pew Research Center for the People & the Press survey conducted in June 2010, the average age of a regular evening news viewer was 53 — seven years older than the average age of those surveyed.6 (See network data section for more on demographics)
Morning News Audiences
Morning news also continued to lose viewers in 2010. This marks the sixth year in a row that the combined audience for network morning news has declined, a trend that is more recent than the evening news decline, but as a result, also more noteworthy. Morning news had recently been a source of strength for the networks.
Overall, 12.4 million people on average in 2010 watched one of the three network morning news shows each day, 3% fewer than 12.8 million in 2009, according to data from Nielsen. That is a decline of 382,000 viewers for the year on average.
In the mornings, the most stable program was ABC's, not NBC's. This may be significant given that ABC had an anchor change in 2010, with George Stephanopoulos replacing Diane Sawyer.
ABC's Good Morning America's average annual viewership held steady at 4.3 million viewers at any given time. GMA's share actually grew in 2010 to 12.4, up half a point from 11.9 in 2009. That means that more people watching TV during that time period were tuned to ABC.
CBS' Early Show suffered the largest loss in viewership, falling to 2.9 million viewers, or 6.8%, from 3.1 million the year before.
NBC's Today Show viewership fell to 5.3 million, down from 5.5 million, a drop of 200,000 on average for the year, or 3.7%. Share actually rose, to 15.2 up from 15. This means that while Today's viewership fell, the program commanded a higher percentage of those watching TV from 7 a.m. to 9 a.m. Today continues to be a commanding leader in the mornings not just because its audience is larger than its competitors for the first two hours, but also because it extends its programming, without competition from the other broadcast news divisions, for a further two hours after 9 a.m.
The growth of share at two of the three networks suggests that the problem facing morning news then is not people watching other programming; it's that people are not watching television, possibly because fewer people are at home after 7 a.m., or possibly because they are using other media. In 2008, the combined share of the three morning programs was 35.5; in 2010 it was 36.1.
In other words, these three programs have grown more popular among those who are watching television, even though there are fewer people watching overall.
Morning news audiences skewed slightly younger than evening news audiences and were more likely to be female. The average age of a regular morning news show viewer in 2010 was 51 – five years older than the average respondent of a Pew Research Center for the People & the Press survey taken — and two years younger than evening news viewers. Over two-thirds, 68%, of morning news audiences were female.7
News Magazine Audiences
News magazines, which now fill about seven hours a week of the broadcast lineup, also had audience declines in 2010, in some cases at higher rates than either evening or morning news. The most notable exception to that was Nightline, which by year's end was consistently beating its entertainment rivals in the 11:30 p.m. (Eastern) timeslot.
For the year, Nightline's average annual audience remained stable at an average of 3.7 million viewers per night. In the fourth quarter, its audience increased, making it No. 1 in total viewership during its time period, with 3.93 million viewers. That beat NBC's Tonight Show with Jay Leno, at 3.88 million, and CBS' Late Show with David Letterman, at 3.6 million).8
Nonetheless, at the beginning of 2011 ABC cut the show to 25 minutes, ending the program at midnight instead of 12:05 a.m., to make more time for Jimmy Kimmel Live.9 In the move, ABC shifted national ad time from Nightline to Kimmel's show in order to increase revenue.10
The oldest news magazine on the air, and still by far the most popular, 60 Minutes, also fared relatively well compared with other magazines in 2010. It saw a 1.9% drop in viewers, or decline of 220,000 people. But it still averaged 11.7 million viewers per week, making it the most popular news program in the United States on any channel, and still the revenue engine of CBS News.
The magazine program hit by the second-biggest drop in audience in 2010 was ABC's 20/20, down 9% (550,000), to 5.5 million viewers.
The third-biggest news magazine loser in audience for the year was CBS' 48 Hours Mystery. It decreased by 300,000 viewers (4.9%) to 5.8 million compared with 6.1 million a year earlier.
Dateline NBC enjoyed mixed fortunes depending on its scheduling.  The Friday edition decreased by 100,000 viewers (1.7%) to 6 million. And the Sunday edition had the biggest drop among news magazines, droping by 800,000 viewers (15%) to 4.5 million viewers.
Economics
Determining the economic health of network news is a challenge, given that the news divisions are units of broadcasting operations that are themselves corporate subsidiaries.
Market research firms Kantar Media and Veronis Suhler Stevenson forecast that network ad revenue would grow between 5% and 7% in 2010 from the year before.
Extrapolating from industry estimates and conversations with network insiders, PEJ estimates similar growth rates for the news divisions, despite falling ratings. News, like the rest of network programming, benefited from a more robust ad environment in 2010.
How did that breakdown by network?
At ABC News, PEJ estimates revenues grew by single digits from the year before, probably in the range of 6%. That would put news division revenues at about $635 million for 2010, including digital.
To generate more profit, ABC News implemented staff cuts so sharp that they amounted to what David Westin, the news division president who stepped down at the end of the year, called a "fundamental transformation that will ultimately affect every corner of the enterprise."11 (See network data section for more)
PEJ estimates that with those cuts, operating income at ABC News might have doubled, from roughly 4% in 2009 to closer to 8% operating margins in 2010. In 2011, when the full effects of cost cutting are in place, the margins may well increase into double digits.
Digital is becoming a more important part of those ABC News finances. Revenue from ABC News' digital division may have exceeded $40 million during the year. That means that these nonbroadcast platforms accounted for perhaps as much as a fifth of the news division's operating profit. Not all of the newsgathering costs used in digital, however, may be assigned under that column on the balance sheet.
At CBS News, assuming growth in the 6% range, PEJ estimates its news division revenue was in the neighborhood of $425 million in 2010, up from $400 million in 2009. This includes revenue from all news programming, including 60 Minutes, Sunday Morning, Face the Nation and 48 Hour Mystery.
In terms of operating profit, PEJ estimates that CBS News operated at a break-even level in 2010, mainly due to spending cuts and a late-year revenue increase. CBS News projects that it will make a small profit in 2011 without further cuts.
NBC News has a broader and more complex revenue model. It benefits from three cable news channels – MSNBC, CNBC and CNBC World. It also can amortize the costs of its news division across more platforms, including MSNBC.com.
This cross-platform model helps NBC News escape the limitations of the broadcast revenue structure, which is entirely dependent on advertising. Cable channels have two revenue sources — subscription fees and advertising — roughly evenly divided. As a result, cable channels can generate far more revenue per viewer than broadcast channels. (See cable essay for more)
By our estimates, CNBC now contributes more revenue to NBC News than any other unit, even though its audiences are small compared with NBC's network programming. By most reports it is the second-most profitable of all of NBC Universal's cable networks, behind only USA.12
PEJ estimates that NBC News, from its various parts, brought in revenue of about $2 billion in 2010.
CNBC contributed $722.9 million of that, MSNBC $382.5 million and CNBC World (an international business channel) $16.9 million, according to SNL Kagan estimates. Kagan does not break out figures for the broadcast portion of NBC News, but PEJ estimates broadcast revenue to be in the range of about $850 million, up in single digits from 2009.
The NBC News division also makes a substantial profit from its various parts, and SNL Kagan offers specific figures for the cable entities. It projects an operating profit at CNBC of $447.9 million in 2010, up 8%. MSNBC's operating profit in 2010 was projected at $172 million, up 7.7%. CNBC World's operating profit was estimated to increase 42.5% in 2010 to $10.4 million.13 PEJ projects pretax profit for NBC News broadcast operations to be in the 10% range.
News Investment
Over the long term, network newsrooms are less than half the size they were in the 1980s. In 2010, the evidence suggests, fortunes varied.
The year began with the announcement of sharp cutbacks at ABC and ended with the resignation of its news division president. CBS started the year with layoffs and in 2011 named a team to run CBS News. There was little sign of changes in staffing at NBC News, although that stability comes after substantial cuts in recent years. It remains to be seen what will happen now that the sale of NBC Universal, its parent company, to Comcast has been completed. There were press reports at the time the merger was completed that despite cuts planned at NBC Universal overall, the news division might be spared.
Of all of the networks ABC News had the biggest overall staff reductions. In the buyouts announced in February, more than 300 ABC News employees departed. In April, the news division fired additional employees, to bring the total staff reductions, according to press reports, to be between 375 and 400, amounting to roughly 25% of the news staff.14
How did that affect the way ABC produced news? Among other things, it meant that ABC News increased the number of segments reported by digital journalists – individuals who report, film and edit their own stories. These "backpack" or "one-man band" journalists can operate at a much lower cost than traditional crews of three or four people. We are now, as a work force, becoming much more flexible," Jon Banner, the executive producer of World News told the New York Times in April.15
Other cost-cutting changes included conducting more interviews via Skype, relying more heavily on freelancers and assigning more stories out of ABC's New York headquarters rather than from bureaus, which have also been significantly downsized.16 The goal was to see if ABC News could produce content for its news programs in a different way at a lower cost.
ABC News also plans to shut down all of its physical domestic bureau offices except for Washington. The plan calls for the network to replace its staff of several dozen bureau correspondents with digital journalists who are expected to shoot and edit their own stories, according to press reports. Minimal staffs will remain in Atlanta, Chicago, Dallas, Los Angeles, Miami and Boston, but they will work from ABC affiliate stations instead of separate bureaus.17
In Los Angeles, ABC's largest bureau other than Washington, the 40-plus staffers were told that only a few producers would stay on staff and that two correspondents would be assigned to cover the West, down from six who worked out of Dallas, Seattle, San Francisco and Los Angeles.  Many of the functions once handled from the Los Angeles bureau are now done from a desk at headquarters in New York.18
It is not clear yet what is lost from having one person do the work that was once done by three or four, or whether audiences will begin to notice. More time is typically required before major changes in content are reflected in changes in audience habits.
The staff cuts were accompanied by significant changes in ABC News' management. In September, ABC News president David Westin announced he would resign after almost 14 years at the helm.19 After the announcement more executives also left.20
In December 2010, ABC appointed Ben Sherwood, a former executive producer of Good Morning America, as Westin's successor.21 Sherwood's appointment was a surprise to many at ABC News, according to the New York Times, because Sherwood had left the news division several years earlier to pursue a career as a writer.22
There were also some producing changes in early 2011. In February, ABC announced that Nightline's producer, James Goldston, would become the senior executive producer of Good Morning America after its producer, Jim Murphy, left the show to executive produce Anderson Cooper's new talk show.23
There were on-air changes of note as well. George Stephanopoulos took over as co-anchor of Good Morning America. In August 2010, Christiane Amanpour assumed the anchor chair from Stephanopoulos for This Week, the Sunday morning interview program. Diane Sawyer completed her first year as anchor of World News, the evening newscast she began to anchor in December 2009. In February 2011, David Muir was named sole anchor of the weekend edition of World News. Previously, he was anchoring just on Saturday, but took the Sunday broadcasts, too.24
CBS News also reduced staff in 2010, but not as sharply. In February 2010 it announced cutting 75 positions from its staff of between 1,400 and 1,500.25
A year later, CBS had significant changes at the top of its news division. In February 2011, the president of both the news and sports divisions for CBS for five years, Sean McManus, exited news, remaining with the sports division.  Jeff Fager, the executive producer of 60 Minutes, was named to the post of chairman of CBS News, and under him, David Rhodes, previously the head of television operations for Bloomberg News, became CBS News president.26 Fager will continue to run 60 Minutes.
CBS also made cuts to its London bureau in September, laying off four veteran camera/sound crews.27 In the summer, there was buzz that the news division was about to order another set of layoffs, but the network announced the rumors were unfounded.28
CBS also shook up the on-air lineup of The Early Show, its third-place morning news program.  In January 2011, Chris Wragge and Erica Hill, its Saturday anchors, replaced Harry Smith and Maggie Rodriguez on the anchor desk during the week. Marysol Castro, previously of ABC's Good Morning America, replaced Dave Price as weekday weather forecaster.29
"When you're the third-place morning show, it makes sense to do something more dramatic than if you're in second place or first place," Sean McManus, the president of CBS News told the New York Times.30
This spring, management will have to decide whether to renew the contract of CBS' main anchor, Couric.
After years of scaling back, NBC made few changes in staff in 2010.
News president Steve Capus suggested that NBC would not necessarily emulate ABC's move to one-person digital journalists. "You have to pick your spots," he told the Wall Street Journal.31
(See network data section for more)
Another way to track network news investment is by looking at the number of correspondents who appear at least five times on air during the year on each network's weekday newscast.  This accounting is only a rough measurement of newsgathering power, but it is one researchers have used for years as a proxy for network resources.
Correspondent counts decreased in 2010, after roughly six years of slight growth. A total of 148 reporters filed at least five packages for evening newscasts in 2010, down from 158 in 2009, according to a newscast-by-newscast analysis conducted by ADT Research.
All three newscasts used fewer correspondents in 2010 than in 2009. NBC had the most people on air, 55 correspondents, down from 59 in 2009.  ABC was second with 48, down from 53. And CBS had 45, a decrease from 46 the year before.
These figures also offer some insight into the workload network news staffers are carrying, although the counts do not break down whether employees also file stories for other TV programs, such as morning shows, evening magazines or online – and in the case of NBC, on cable.
This means that as newsrooms are shrinking, reporters are covering more stories than before, even for the evening news. The numbers are almost certainly much higher when other programs are taken into account.
NBC reporters had the smallest story loads in 2010 – 29.4 reports on average for the year, but these reporters also report for MSNBC and other outlets that can increase workload.  ABC and CBS correspondents both had heavier loads, an average of 35.8 stories per reporter at ABC and 35.9 for CBS.
The number of domestic news bureaus in 2010 remained stable, though staffing in those bureaus in several cases declined.  ABC News announced that it would eventually close the majority of its domestic news bureaus, moving pared-down staffs to work out of affiliate stations. In 2010, it shuttered only the San Francisco location. NBC News reopened its bureau in Miami, which had been closed in 1991.32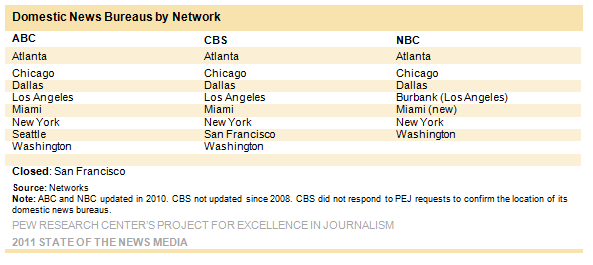 Foreign reporting has changed significantly as well since the 1990s. There are fewer fully staffed bureaus and more one-person operations.  But even with the smaller staffs, the networks expanded the number of foreign bureaus in 2010. ABC News opened bureaus in Islamabad, Kabul and Nairobi, bringing its total overseas bureaus to 13.  NBC News also opened three bureaus – in Frankfurt, Beirut and Tehran – bringing its total to 15.
There was also an increase in stories with foreign datelines in 2010, according to data from ADT Research. Each network had at least an hour increase in news coverage of stories filed abroad.
Those increases were not due to more coverage of the United States' two wars. From Iraq, where last U.S. combat brigades pulled out in August, but where a significant force still remains, the three nightly newscasts offered a combined 1.6 hours of coverage for the year, up from 1.33 in 2009.  But coverage of the continuing U.S. war in Afghanistan fell off by 25%, down to 6.9 hours of coverage for year, from 9.26 the year before.
(See network data section for more information on network news investment and details of the data discussed)
Digital
In 2010, network news continued to look toward digital platforms as a way to seek audience and revenue – especially toward mobile apps and other new wireless platforms.
ABC News led the way with Apple's new iPad, releasing the first network news iPad app in July.  Its evening news program, World News, launched a Tumblr microblog in October, on which staff members share headlines, videos and other material from various sources.33
CBS News, which traditionally had a more modest online presence than either ABC or NBC, credited its Twitter and Facebook sites with helping increase the network's website visits in 2010.  The network also created a new web-only show in October called 60 Minutes Overtime that expands on stories covered on the televised news magazine, and 60 Minutes also created a paid iPad app on which users can watch the news magazine and the web-only show.
NBC News, along with its cable sibling MSNBC, turned to viewers for content in 2010, asking audiences to upload videos or photos at an online portal, First Person. In November, MSNBC embedded the social collaboration tool Watchitoo on its homepage to power an online discussion on election night.  People were able to participate via webcam, chat and Twitter. (See network data section for more)
Digital Audiences
There is no easy way to comprehensively measure the total audience that accesses network news digitally. The relative positioning of the three networks in web traffic has not changed. NBC, whose web presence is intermingled with its cable news identity and a separate web identity called MSNBC.com, continues to lead and is among the four most-visited websites in the United States. However, it is not the website of NBC's broadcast news operation alone; it also includes content from NBC's cable news channels, original online content and content from print partners.
But in social media, at least as measured by followers on Twitter and Facebook, the other networks have moved ahead of NBC.
In terms of web traffic, MSNBC.com, cross-promoted with NBC and CNBC, has more visitors than ABC and CBS News combined. According to statistics from comScore Media Matrix, MSNBC had 48.7 million unique visitors in December 2010, compared with 19.3 million for ABCNews.com and 15.3 for CBSNews.com.  MSNBC.com's numbers benefit because it also draws traffic by default from Microsoft's MSN portal, the home page for millions of internet users.34
According to Nielsen, rankings for the three network websites are similar, but the figures are notably smaller. MSNBC's sites measure at 32 million monthly unique visitors on average for 2010, followed by ABC's news sites with 13.3 million and CBS' with 9.9 million.35
But matters differ when it comes to Twitter. In 2010, all of the major news networks had Twitter feeds.  And in many cases, individual news programs, anchors and reporters had their own as well.  Twitter provides both a way for networks to disseminate news and for news consumers to communicate with news networks.36
On Twitter, as of January 2011, CBS News (1.62 million) and ABC News (1.18 million) both had well over a million followers.  NBC News' main news Twitter feed, by contrast, lagged far behind, (less than 100,000).  Its online sibling, MSNBC, has around 66,000 followers.  CNBC had more (225,000) but together they do not match the other broadcast networks.
Certain programs with their own Twitter feeds often gained more followers than the networks themselves.  ABC's Nightline, for example, had 1.48 million followers on the day measured.
All three network news divisions are also on Facebook.  As on Twitter, NBC News' lags – it had fewer than 1,000 "fans" the day PEJ measured in January.  ABC News and CBS News each had over 100,000. Some individual shows though, had more than the entire network news division — 60 Minutes, for example, had more Facebook fans (more than 200,000) than any of the three networks when these measurements were taken.
(See network data section for more about Facebook and Twitter, including measurements taken in January)

PBS
The PBS NewsHour, the flagship news program on PBS stations, had several digital and technological advancements in 2010.
Its website retained more visitors in 2010, and it pushed news content through several other locations – on YouTube, UStream, Facebook, Twitter and Reddit.
The audience for the NewsHour broadcast, which was redesigned in 2009, also held steady for the year compared with the season before, in contrast with the other broadcast networks.37
Audience
NewsHour attracted 1.1 million viewers nightly during the 2009-10 season, according to the most recent data available from the program's research department. That was "essentially flat," according to Robert Flynn, the vice president of marketing and communications for NewsHour.  According to earlier figures, the show averaged 1.2 million the previous season, but PBS replaced its measurement methodologies and the researchers believe the new numbers are equal to those the prior year.38
NewsHour's ratings remained stable at 0.8. In general, the NewsHour draws about a sixth of the ratings of the average commercial network news program.
Audience Demographics
NewsHour's audience is slightly older and more likely to be male than the average evening network news audience.  NewsHour's mean viewer is 55, two years older than the average for the three big networks.39
Approximately 55% of NewsHour's audience is male, compared to 44% of the other network news audiences.40
NewsHour viewers, on average, are wealthier than the average American. The mean household income for a NewsHour viewer was $77,222 or $27,000 higher than the most recent census measurement of household income, of $50,221 in 2009.41
Economics
While funding has always been a challenge for PBS, 2010 (and the beginning of 2011) brought increased concern for the network and for individual stations as well.
The NewsHour budget itself for June 2010-July 2011 is expected to decrease to about $27.5 million, from $27.7 million in 2009-10, because of lower corporate underwriting, according to David Sit, vice president for operations and technology for NewsHour.
Most of NewsHour's funding, about $12 million for the 2010-11 season, comes from the federal government, Sit said. Corporate underwriting accounts for roughly $9 million of the 2010-2011 budget and foundations make up most of the remainder, about $6.5 million according to Sit.42
From 2008 to 2009, nonfederal support of public television stations declined an estimated $260 million, according to the New York Times.  And based on surveys conducted among public radio and television stations they were expecting to lose 14% more of their overall revenue in 2010.43
"We're projecting for 2010 through 2013 that the economy will recover and stations will lag," Mark Erstling, a senior vice president at the Corporation for Public Broadcasting, which dispenses the federal money, told the New York Times. "Every source of income they have other than, so far, federal, has declined."
On top of current struggles, PBS faced another challenge in early 2011. House Republicans' version of the 2011 budget would rescind any funding for the Corporation of Public Broadcasting for the year and provide no future funding.
"It would diminish stations' ability to bring high-quality local, national and international news to their communities," said Vivian Schiller, the chief executive of NPR, which also receives federal funds through the Corporation for Public Broadcasting.44
Conservative lawmakers have attempted to cut federal funding for public broadcasting for years, arguing that it has a liberal bias.
News Investment
Despite decreases in funding, staffing levels remained stable at NewsHour in 2010.
PBS' research department said that there were approximately 80 members of NewsHour's editorial staff.
While staffing levels remained stable, a new science correspondent, who is a contract employee and not counted in the total staffing figure, joined the program.45
There was no change in bureau counts in 2010. NewsHour has offices in San Francisco, Denver and Washington, and a science unit in New York.46
Digital
PBS is also making an impression digitally. In October, it announced an iPad app for its programs along with a redesign of its PBS.org website. The iPad app provides full episodes of its programs, including NewsHour and Frontline, along with several others.47 PBS NewsHour also has its own iPhone app, released in September that was downloaded over 110,000 times by January 2011.48
NewsHour's website had 1.4 million unique monthly viewers in 2010, over twice as many as the average in 2009 of 669,000.49 In addition, NewsHour creates about 140 monthly podcasts that 1.1 million people download.50
NewsHour also has a Facebook page, provides its show on YouTube and Hulu and has a popular Twitter feed. With 90,000 followers in January 2011, it had more followers than the other evening news programs, despite a smaller broadcast audience on television.
Frontline, a PBS program, also has a Twitter feed, with 6,000 followers, and a Facebook page with about 67,000 fans – that is far more than ABC's Nightline (about 40,000).  Frontline's website has video access to more than 100 of its documentaries in its archive.
(See network data section for more information about PBS' digital efforts.)
Endnotes