Local TV: Good News After the Fall
By Deborah Potter of NewsLab, Katerina-Eva Matsa and Amy Mitchell of the Project for Excellence in Journalism.
After a couple of difficult years, finally there was some good news for local television. Thanks to the economic recovery and a busy election year, revenues rose sharply in 2010. As more stations continued to add newscasts in new time slots, the overall audience for local TV news actually held steady and new delivery platforms, including mobile, raised hope for the future.
The makeup of the typical TV newsroom also continued to change. Local stations were able to hire again in 2010 after the average number of news staffers hit a seven-year low the year before. But stations are shedding high-priced anchor talent and moving to make more use of multitasking solo journalists.
A year ago, the state of local television appeared grim. Revenue was in free fall and audiences were down sharply. Today, the medium has recovered on both fronts. But the long-term prognosis may depend on how aggressively and successfully local stations pursue digital options for both programming and sales.
Audience
Perhaps the most important reality in local TV is that overall audience losses slowed to a trickle in 2010.
Among network affiliates, viewership was still down—for the fourth year in a row—in all of the major time slots: morning (5 to 7 a.m.), early evening (5 to 7 p.m.) and late (11 p.m.) across all sweeps periods we studied.1 But ABC, CBS, Fox and NBC stations gained viewers in other time slots and independent stations added viewers as well, improving the overall picture.
For the network affiliates, the one positive sign for the three key time slots is that they lost audience at less than half the rate than they did the year before. In 2009 the morning and average late news audiences for affiliates were down between 5.5 and 6.5% across the sweeps periods analyzed. In 2010, none of the three averaged more than a 2% loss across the same periods.  It is not clear whether that slowdown in audience loss is attributable to a busy news year—including the Haiti earthquake and the midterm elections—or whether it is the start of some longer trend.
The biggest problem traditional local TV newscasts face may be a decline in television viewing during those day parts. In most sweeps periods we analyzed, ratings dropped for all key time slots while share basically held steady. Share measures the percentage of TV sets in use that are tuned to a specific program. If those programs are maintaining their share of viewers, it means local newsrooms can blame at least some of their audience losses on turn off rather than tune out—in other words, more viewers are turning off their televisions altogether at traditional news times, rather than switching to watch other television programming.
Network-affiliated stations faced even more trouble holding viewers at midday and in prime time. Midday newscasts on ABC, CBS, Fox and NBC stations shed 2.9% of their audience on average, more than they lost the year before. (See data section for more)
Prime time newscasts on Fox affiliates, in particular, lost more audience than news in any other time slot. Because Fox does not provide an evening newscast to affiliates, many of them air an hour-long program at 10 p.m. Eastern Time or equivalent. Those newscasts lost 4.9% of their audiences on average in 2010.
Fox stations had somewhat better luck with the hour-long morning news that many of them air at 7 a.m. Eastern Time or equivalent. Those newscasts lost audience as well, but just 1% compared to a 4.9% decline in 2009. Still, a two-year decline in viewership does not bode well for local news in that time slot on Fox stations, considering that the losses came even as Fox stations in more markets added morning newscasts. (See data section for more)
The picture was brighter in some other nontraditional time slots. One big story in 2010 was the growth of early morning news on local television. The number of markets with newscasts starting at 4:30 a.m. more than doubled from the year before, and the audience for these early newscasts has grown exponentially. (See data section for more)
"For some viewers, it's the new 11 p.m.," said Dan Bradley of Media General, whose station in Columbus, Ohio, was the first in that market to add an early morning newscast.2
Stations have been going where the viewers are. In the past five years, the number of households that have a TV set on at 4:30 a.m. has doubled, from 8% to 16%, according to TVB, broadcast television's trade group.3 In markets like New Orleans, the potential audience is even bigger; about a third of all households have a television on at that hour, said news director Jonathan Shelley of WDSU. It launched its "First Edition" newscast in August, 2010. "We believe there is a real and consistent audience at 4:30 a.m.," he said.4
Viewership also increased for newscasts in the so-called nontraditional time slot of 7 p.m., primarily on ABC, CBS and NBC stations following the network news.5 Stations clearly are having some success with a strategy of pushing local news later to capture an audience that just isn't home in time for the traditional early evening newscast. These newscasts have held on to a larger share of their audience than newscasts in other time slots. (See data section for more)
Another headline in 2010 was that local news on stations not affiliated with one of the big four networks (ABC, CBS, Fox and NBC) fared far better than the affiliates' newscasts.  Independents offered news in twice as many markets, on average, as the year before, drawing more viewers in almost every time slot. (See data section for more) But those statistics may not tell the full story. The expansion most likely resulted from an increase in the number of network-affiliated stations producing news for another local station. This allows independent stations to get into the local news business without the expense of staffing newsrooms themselves, and gives producing stations a way to amortize their costs. (See news content section for more)
The independent stations account for less than 3% of the total local TV news audience, but as more of them added newscasts they also picked up enough viewers to make up for almost all of the losses suffered by network affiliates year-to-year. In November, independent stations gained 571,000 news viewers across all time slots, an increase of more than 35%.
That increase in viewers by independent stations contrasted with audience losses by network-affiliates, including Fox stations.  The independent stations alone added more viewers across all time slots year-to-year in November than the 496,000 lost by ABC, CBS and NBC affiliates combined.
Fox affiliates lost a total of just 92,000 viewers in November across all time slots, bringing the total news loss for all network affiliates to 588,000, or less than 1% overall.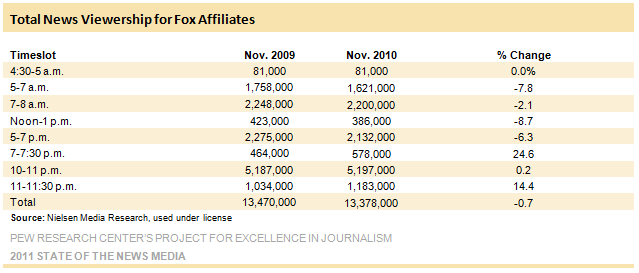 Local stations remain Americans' No.1 television news choice. Half of all Americans say they watch regularly and they have more choices than ever of when and where to watch it. Stations have been able to make up for most of the loss in audience for traditional newscasts by adding more hours of news and by producing news for other stations. But while airtime for news is up 20% on average over the past four years, news investment has not kept pace. Stations may soon find they are unable to expand their on-air offerings enough to continue to retain total audience, much less increase it. The future outlook, then, remains troublesome and highlights the increasing importance of digital platforms
Economics
The business side of local TV bounced back in a big way in 2010 after suffering huge losses during the recession a year earlier.  Broadcast ad revenues for local TV stations were projected to end the year at $18.5 billion, or 17% higher than the year before, far better than the 7.5% growth forecast by BIA/Kelsey in the spring.6 This was also the greatest revenue growth of any media sector studied for this report. (See 2011 Key Findings for more)
That said, local television had one of the greatest percentage declines of any media sector in 2009 and the forecast for 2011 calls for ad revenue to decline again, as it typically does in a non-election year. (See 2010 Key Findings for more)
And other data paint a bleak long-term picture.
When adjusted for inflation, average station revenue has dropped by almost half in just the past nine years.  And even with the gains made in 2010, station revenue still fell well short of prerecession levels for a comparable year. Put another way, stations made almost 20% less in 2010 than in 2006, the last midterm election year, and almost 9% less than in the presidential election year of 2008. Projections call for revenue to fall again in 2011 before rebounding in the next election cycle.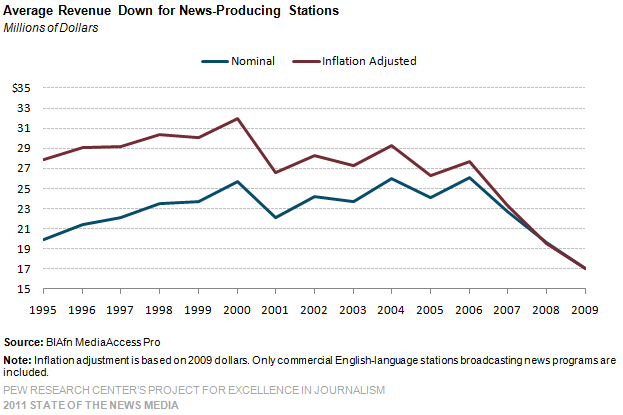 Hofstra University's Robert Papper, who surveys local TV news directors for the Radio Television Digital News Association, noted that revenue figures told only part of the story. "The drop in station revenue was accompanied by a drop in station expense – all those people who lost jobs and the survivors who were paid less," Papper said.7
Still, the 2010 economic figures offer at least some positive news and a sense that local television may be a key beneficiary as businesses continue to emerge from the economic doldrums.  And news programs remain the single most important source of station revenue, accounting for almost 45% in 2009, up slightly from the year before. That means just 5 hours a day of programming—the average amount of local news per weekday—brings in almost as much advertising revenue as the other 19 hours combined. (See data section for more)
Local stations make the lion's share of their revenue from on-air advertising, by selling time for both local and national spots. Other sources of revenue include retransmission fees from cable and satellite companies, and advertising on digital platforms such as the Web and mobile devices.
Spot Advertising
Much of the loss in 2009 and 2008 stemmed from sharp declines in auto ads, which typically make up more than a quarter of all local TV advertising. The economic recovery and the government bailout of General Motors and Chrysler boosted the auto industry, which kicked its ad campaigns back into high gear. auto advertising on local TV was up 77% for the first three quarters of 2010, to $1.85 billion according to a TVB analysis of Kantar Media data. Advertising also was up in almost every one of the top 25 broadcast TV categories, from financial institutions to department stores.  Overall spot TV revenue was up 27% in the same period.8 (See data section for more)
A potential long-term threat to local stations' main source of revenue, local spot advertising, comes from the cable companies that distribute their signals. As part of their agreement to carry nonbroadcast channels like MTV or BET, individual cable systems are allowed to pre-empt some of the national spots on those channels and sell the time to local advertisers. The broadcast stations still currently make twice as much from local spots as cable companies do, but cable sales have grown faster than broadcast sales for several years. Projections call for that trend to continue. In addition, a new threat is on the horizon. The largest U.S. satellite company, DirecTV, announced that it would start selling local spots for the first time in 2011 under an agreement with an advertising firm owned by three major cable companies.9
As the year came to an end, ownership groups of all sizes reported sharply higher revenue for the third quarter at their local stations compared to the same period in 2009. Among them:
Political Advertising
In addition to reaping more revenue from auto ads, local stations benefited from a flood of political advertising unleashed by a landmark Supreme Court decision in January. The ruling allowed corporations, unions and other organizations to make unlimited donations to outside groups supporting or opposing specific candidates.15 The result: Record high spending of $2.2 billion on local broadcast TV according to Kantar Media/Campaign Media Analysis Group.  (See data section for more)
Local TV has long been the No. 1 medium for political advertising. The reason is simple: All viewers in a specific geographic area can watch their local stations either over the air or on cable or satellite. That means candidates and issue advocates can target messages to the voters they want to reach. While local cable ads can also be targeted, many markets have several cable systems, each of them offering 200 plus channels, so no one channel has nearly as broad  a reach as a local station. Local TV newscasts also tend to deliver the largest audience of likely voters, because they appeal to people interested in local issues and to older viewers who vote in larger numbers than younger ones. "You can reach the same number of people with a dozen broadcast commercials as you would with a thousand local cable ads," said Evan Tracey, president of the Campaign Media Analysis Group at Kantar Media. "Even with the deterioration of audiences, [local TV] still is the most efficient media option."16
Because demand for TV ad time was so high in states with close races in 2010, stations in some markets were able to charge top dollar for low-rated time slots.  E. W. Scripps chief financial officer Timothy Stautberg referred to Election Day as "Christmas in November."17
That said, stations are bracing for a leaner 2011. "We and all broadcasters have the problem about replacing political revenue in an odd-numbered year," said Perry Sook, chief executive officer of Nexstar Broadcasting. "That's not news to anybody. I think the key for us is keeping our expenses as low as possible."18 That most likely means more belt-tightening in 2011, with stations looking to limit overtime and to use wireless and other technology to save costs.
While on-air advertising is expected to decline next year, stations are hoping for continued growth in other revenue, including online and mobile ads and fees paid by cable and satellite providers to retransmit broadcast signals.
Retransmission Fees
Local station groups also became more aggressive in 2010 about another source of revenue:  demanding larger retransmission fees from cable and satellite companies that pay on a per subscriber basis for the broadcast channels they carry. Fox won higher fees from Cablevision for its owned-and-operated stations after playing hardball in October by blacking out the first two games of the World Series for three million households in three states.19 CBS made a 10-year deal with Comcast that will start out paying 50 cents a month per subscriber, according to one analyst.20 That is double the average fee reportedly paid to stations in 2009.21 Other station groups are renegotiating fees as their contracts expire.
Retransmission fee totals are typically not disclosed by individual stations, but the fees make a measurable difference in their bottom lines—in some cases amounting to 7% or more of total revenue.22 At midyear, SNL Kagan forecast that retransmission revenue would top $1 billion in 2010, a 43% increase over 2009, with a further increase expected in 2011.23 No wonder stations are bullish on retrans as a revenue stream. Still, estimates suggest they will not continue to go up as sharply. Contracts are renewed every three years, and some analysts believe cable companies will try to hold the line on fees next time around, especially if more viewers switch to watching video online instead of on TV.  "This sounds like a gold mine now," said media analyst Diane Mermigas, "but I don't think it's a permanent [one]."24
Another concern is that the broadcast networks, which have their own financial problems, are determined to take a share of the retransmission revenue from their affiliates. CBS president Leslie Moonves told an investors conference in early 2010 that he would not hesitate to cut stations off from the network if they balked at handing over a substantial portion of the fees.25
While disputes over retransmission fees suggest the financial relationship between affiliates and networks may be rocky going forward, there was at least one indication of a new cooperative spirit. In the fall, ABC and its affiliates worked out an agreement to exchange some ad inventory. Stations were allowed to sell advertising in available network time during the busy campaign season when demand for local ad time is high; the network in turn could sell available affiliate time in January 2011, when the local advertising market is usually slow. Discussions were reportedly under way about keeping the exchange going for the long term.26
Digital Revenue
A third revenue stream for local stations comes from the Internet and mobile outlets, two platforms where stations are disseminating more and more of their news content. Online revenue has grown for several years and the trend continues, but, the numbers remain relatively small.  Borrell Associates, a firm that studies local online ad buys, estimated that local stations brought in $1.34 billion from online and mobile advertising in 2010, up 8% from the year before. The category represents only about 5% of station revenue on average, about half that of newspapers. But there are reasons to think it might grow more rapidly.  "The fastest growing category for online advertising is streaming video," said Larry Shaw, Borrell's director of client research."27

Local mobile ad revenue also is growing rapidly, although it is starting from a much lower level still. In 2009, stations made $29 million from mobile, about 12% of the total spent on local mobile advertising, according to Borrell data.  "I expect that figure to skyrocket into the billions within two years as the transition from desktops and laptops to hand-held devices takes off," Gordon Borrell said.28 Other analysts including Robert Papper are not quite as bullish.
Ownership
Despite the positive revenue reports, local television stations remain less than attractive take-over targets. One major reason is the enormous debt many station owners took on when they purchased properties in boom times. Now, the payments on those debts are a drag on the stations' value.29
The bottom line: Only about half a dozen full-power stations were sold in 2010. "That was a week in the old days," said Harry Jessell, editor and co-publisher of TVNewsCheck.30
The amount paid for stations also has dropped precipitously. To take just one example, ABC agreed in November to sell two of its small-market stations in Flint, Mich., and Toledo, Ohio, to the privately-owned SJL Broadcast Group for just $30 million. That is only a quarter of what ABC paid for them in 1995.31
Still, bankruptcies drove some media companies to put stations on the market in 2010.
The fate of the 23 television stations owned by Tribune remained unsettled as the company struggled to fully emerge from bankruptcy. (See Newspaper Essay for more) And Comcast's takeover of NBC Universal, including its owned-and-operated stations, was completed in January 2011.  Under the deal, Comcast acquired 51% of NBCUniversal from General Electric. While NBC agreed to sell one of three stations it owned in Los Angeles,36 the FCC approved the deal without requiring Comcast to unload any additional stations, as had been speculated. Comcast and NBCUniversal have promised to increase the amount of local news and public affairs programming on the NBC-owned stations.37
The economy was not the only factor holding down the prices of TV station sales. Media ownership rules that have been under review by the FCC since May 2010 were not completed at year's end.38 Among other things, FCC rules determine the number of stations a single company can own in a market and whether newspapers and broadcast stations can be owned by the same company. Existing rules, adopted in 2007, have been challenged in court; a hearing on one pending case was scheduled for late February. "There were very few deals done in the last four or five years because of uncertainty," said Dennis Wharton, the spokesman of the National Association of Broadcasters.39
Instead of outright sales, more stations entered into joint sales and/or shared services agreements with former competitors.  News-Press & Gazette, for example, signed a deal with Fisher Communications in December 2010 giving NP&G's station in Idaho Falls control of the Fisher station in that market and allowing the buyer to combine the station's newsrooms.40 A similar agreement was reached between station owners in Corpus Christi, Texas.41 And LIN Media announced a shared services agreement with two ACME properties in Albuquerque, N.M. where LIN already owned two other stations.42 Effectively, LIN now operates four stations in that market without running afoul of FCC ownership rules.
Schurz Broadcasting senior vice president Marci Burdick said she expected to see more "frenemies" in business relationships in the future. "Those stations that are number three or four [in news ratings] in their markets will be looking at models like this," she said.43
A few local TV stations announced partnerships with newspapers in 2010, but there is no sign that the practice is spreading more widely. "Newspaper and TV joint ventures peaked in about 2005 and have dropped steadily ever since," said Hofstra's Robert Papper.  In the most illustrative recent example, the Deseret News in Salt Lake City cut its staff by more than 40% and moved it  into the KSL television newsroom. Both are owned by the Mormon Church.44 In Palm Beach, Fla., Scripps-owned station WPTV agreed to feature content from the Cox-owned newspaper, which will use video and weather forecasts from the station.45 And in January 2011, Meredith-owned KCTV announced a partnership with the Kansas City Star, a McClatchy newspaper.46 Aside from the obvious cost-savings in Salt Lake, it is too soon to say what impact these new arrangements will have on news content or the bottom line.
One pioneering joint news venture dissolved in 2010. The Virginian-Pilot and WVEC in Norfolk had collaborated on a local cable news channel since 1997. It went dark on New Year's Eve 2010.47
News Staff
As revenues improved, local TV newsrooms started hiring again. Robert Papper, who conducts an annual survey of news directors, said he expected that the 2010 results would show that stations made up for all the cuts from the year before, when the median newsroom staff size sank to just 29, a seven-year low.  At the end of 2009, almost a quarter of news directors said they expected to increase staff in 2010, more than twice as many as the year before.
WLEX in Lexington, Ky., for example, hired nine staffers when it launched a 7 p.m. newscast in August.48 The RTDNA survey indicates that local stations added staff on the web side in 2009, with the average station reporting almost three full-time and more than four part-time web staffers, a record high.49
But while hiring more people, stations continued to let veteran anchors go as their contracts expired and replaced them with younger, presumably less expensive talent. Some examples:
Despite the recession, salaries were up overall in local TV news in 2009. (See data section for more) But the era of the highly-paid anchor who only reads the news is ending. "The value of news anchors peaked in 2007 and will never be the same," said Jerry Gumbert, CEO of AR&D, one of the major local TV consulting firms.56 Marci Burdick of Schurz Broadcasting predicts some "salary realignment" is yet to come for the so-called big four – the two main news anchors, sports anchor and weather forecaster –who have historically been the faces of the franchise. For years, stations believed that familiar, popular talent was the key to holding viewers. As ratings continue to fall, that idea has become unsustainable in many markets. "People are choosing stations now, not talent," Burdick said. "The newscast is the brand."
A few stations cut staff in 2010. There were layoffs at the Granite-owned station in Buffalo, for instance.57 And 27 news staffers lost their jobs as part of the shared services agreement between two stations in Idaho Falls.58 The commercial station owned by the university of Georgia in Athens, Ga., pulled the plug on its nightly newscast in January 2011 and laid off 17 people as it prepared to become a nonprofit PBS affiliate.59
But for the most part, 2010 was a year of rebuilding and redeployment rather than contraction. In particular, stations hired or transformed more of their staff into multimedia journalists. The use of solo journalists who report, shoot and edit continued to climb. More than 30% of news directors said they now mostly used "one-man-bands" to cover the news in 2009 (the most recent year for which data are available), up more than 9 percentage points in three years. Perhaps more telling, less than one in five said they do not use solo journalists, a drop of 35% from three years before. The numbers don't suggest that stations are eliminating reporter-photographer teams altogether, but that the vast majority of stations now have the option of using solo journalists to cover some of the news of the day.
Will the bump in revenue in 2010 lead to yet more hiring in 2011? Not likely. "I think they'll sit on it," said Jessell. Because stations expect revenue to decline, as it typically does in a year with no major political campaigns, they are nervous about spending their 2010 windfall.
News Content
After years of doing more with less, stations were able to do more with a little more. And many of them decided to do it earlier than ever, starting their local morning newscasts at 4:30 a.m. instead of 5. While the trend started in large markets, it has quickly spread to smaller ones, and it is continuing.  Schenectady, N.Y.60 and Cedar Rapids, Iowa, for instance, added an early newscast in January 2011.61 When one station in a market makes the move, others typically follow. Four local stations in Washington,62 and three in Boston63 got into this very early morning game in 2010.  In a few markets, including New York City and Indianapolis, stations pushed their start time even earlier, to 4 a.m.
Is anyone watching this early? The answer appears to be yes. Viewership for early morning newscasts increased sharply. (See audience section for more) From the stations' perspective, adding more news is one of the cheapest possible programming choices. WPTV in West Palm Beach, Fla., for example, did not add a single staffer to produce an extra half-hour of morning news. So while ad rates are low at that hour, more of the revenue from an early morning newscast is straight profit to the station.64
Not all the news expansion in 2010 came before dawn. Some stations added newscasts in other time slots as well, including mid-day in Minneapolis, early afternoon in Evansville, Ind., and early evening in Hagerstown, Md., and Lexington, Ky. Several stations brought back weekend morning newscasts that had been canceled the year before; others launched new weekend news programs.
In 2011, some stations face both peril and promise in the late afternoon. When Oprah Winfrey's long-running talk show moves to her own cable channel, OWN,stations across the country will need to fill her time slot. (See African American Essay for more) While some already have signed on to a new daytime talk show hosted by CNN's Anderson Cooper, others are looking to local programming instead, in large part because it is cheaper than buying syndicated programs and means more revenue for the stations. WSB in Atlanta announced plans to hire 20 new staffers to produce a new hour of news at 4 p.m.65 And ABC station group president Rebecca Campbell said most of the network-owned stations would "add another hour of news and go [local] from 4 to 6:30 p.m. It's really what we do best."66
More stations also are producing news for another station in the same market, as Scripps-owned WPTV in West Palm Beach, Fla., agreed to do for Raycom's WFLX beginning in January 2011. The RTDNA survey found 224 stations running news produced by another station in 2009.67 E.W. Scripps CEO Rich Boehne said his company hoped to make similar arrangements in other markets. "So if you know folks in those markets who you think should not be in the news business and you'd like us to take over their stations for them, just give us a call," Boehne told an investors conference in December.68
All of this suggests that the average number of hours of news on local television increased again in 2010, after hitting a record high of five hours each weekday in 2009.
Some stations produce considerably more than the average. Fox affiliate WXIN-TV in Indianapolis, for example, airs 8.5 hours of news per weekday.69 Media General's WJBF in Augusta, Ga., airs 5 hours of news a day, but also produces daily newscasts for the Fox affiliate and the NBC affiliate in the same market. What does that add up to? "I've kind of lost count," said news director Dan Schillinger, before coming up with the number: 9 hours per day.70
Jerry Gumbert, CEO of the consulting firm AR&D, predicted that more stations would eventually replace syndicated shows with news, locally-produced reality shows, lifestyle programs or hybrids. "We've got to come up with local programming concepts interesting enough that people will watch them," Gumbert said.
Some station groups already are ramping up local productions using repurposed content. NBC expanded its local lifestyle program, "Daily Connection," to four additional markets in 2010 – New York, Los Angeles, Miami and Denver. The program is an amalgam of content from NBC-owned stations and cable channels that is anchored locally and airs either at midday or as a lead-in to the early evening news. NBC's Washington station, which launched the program in 2009, moved it to an all-news digital channel last fall.
The Raycom station group is considering offering programming with "America Now," a weekly show made up mostly of repurposed content from its stations that produce news. Jeff Rosser, vice president for television, said Raycom hopes to offer the program five nights a week, but Rosser said it would have to achieve national distribution first.71 Fox stations CEO Jack Abernethy applauded the effort but was skeptical that it would succeed. "I haven't seen anybody really come up with a formula that works," he said.72
One newscast-in-the-making drew attention not for its time slot but its approach. Tribune-owned KIAH in Houston promised "a groundbreaking PM news format unlike anything ever attempted on local TV."73 The program, entitled NewsFix, was to debut in January 2011, presenting local news without a traditional anchor. But its launch was delayed.74

The challenge for stations that add more hours of news is whether to expand staff and resources to meet the added demands or risk damaging the quality of the overall product by stretching existing people ever thinner.
Dan Bradley, president and market leader in Ohio and Rhode Island for Media General, said his station in Columbus added a 4 p.m. newscast in 2008 that lasted only a year. "It hurt our 5 p.m. because we never added resources," he said. "At what point does the amount of local news start diluting the value of newscasts?"
Some stations have already found that more was too much and have cut back on news programming. Among them:
But at least one prominent observer, Hofstra University's Robert Papper, sees the overall increase in news time on local stations as a positive sign for the industry. "If the amount of news being produced is up then you are not looking at a business that is on its way out," Papper said.80
Digital
While TV may have been slower than other media to move to digital platforms, stations pursued a three-screen strategy in earnest in 2010, providing more news on the air, on the web and on mobile devices.
"The big picture is that the TV news department is not just on TV," said Hofstra's Robert Papper.81 Virtually every television station now has a website offering news via text, still photos and video, according to the RTDNA survey. Stations ramped up their use of audio, blogs, live camera feeds and recorded newscasts in 2009, but cut back on streaming audio and podcasts. Another feature that never really took off, "assemble your own" newscasts, almost disappeared from local TV sites. (See data section for more)
As stations have added to their web offerings, many have seen their online audience grow. Although newspaper sites reach a larger audience in most of the top 50 markets, local television stations produced the top local media sites in 14 markets in November 2010, including Minneapolis, Pittsburgh, Raleigh-Durham and Salt Lake City.82
The use of social media by local TV stations has increased sharply. In 2008, just more than a third of news directors RTDNA surveyed said they were doing nothing with social media. A year later, more than 90% said they were using it at least in some way.83 Stations set up multiple Twitter feeds and Facebook pages to interact with viewers.  WLEX in Lexington, Ky., for example, has almost 48,000 Facebook followers — an impressive number in a market with just over 500,000 TV households. WIBW in Topeka, Kan., expects everyone on staff to post to the web and social media daily. "It's a way of building rabid fans for the operation," said general manager Jim Ogle.84

More stations also offered smartphone apps in 2010. An informal PEJ count of iPhone apps available on iTunes found more than 230 offered by local TV stations. Usage of mobile news provided by local television stations is up sharply on all platforms, including iPhone, Android and BlackBerry, according to LIN Media CEO Vincent Sadusky.85 Almost half of all local stations produced news for mobile devices in 2009, up sharply from the year before according to the RTDNA/Hofstra survey of news directors, and the growth trend was expected to continue.
"Our 6 p.m. and 11 p.m. ratings may not be the same," said Dan Bradley of Media General, citing research his company conducted with AR&D in 2010, "but the number of people getting to our content at different hours, online, or through partners like radio stations is bigger."
If 2010 was the year of the smartphone, 2011 may be the year of the pad, said AR&D's Ken Elmore.  Fox stations CEO Jack Abernethy said the success of tablets so far had been "incredible," adding, "I think you can assume a younger generation that's going to expect to see television on portable devices soon. If it can be scaled properly, it could be very, very big business."86 If stations distribute only local content that they already own, they could avoid the kinds of legal disputes that cable and satellite companies have faced when proposing to stream live video from the channels they carry to additional platforms.87
This could also be the year when mobile digital television finally gets going. A coalition of 12 major broadcast groups said it planned to make free digital channels available to specially equipped portable devices in 20 markets from Atlanta to Los Angeles beginning in the fall. There is every reason to be skeptical about their chances for quick success, however. Receivers are not yet widely available and mobile TV offered by other providers, albeit for a fee, has failed to catch on in the United States so far. Qualcomm announced in 2010 that it was shutting its FLO TV service for mobile phones, citing a lack of subscribers.88
Still, Nexstar Broadcasting CEO Perry Sook sees mobile as the promised land for local television stations.  "I think that we have an opportunity with mobile to develop a business that may dwarf everything that we're doing now," Sook told investors in a conference call in November. "I think that your PDA is rapidly becoming your wallet. And if it also becomes your mobile television screen, I think that television broadcasting then is at the pre-eminent place in the food chain."89
Endnotes