Cable: By the Numbers
By Jesse Holcomb, Amy Mitchell and Tom Rosenstiel of the Project for Excellence in Journalism
New to this year's report is a streamlined data section that houses a comprehensive set of charts and tables telling the story of each media sector. For a narrative summary, visit the corresponding essay.
Audience
Though many will remember 2010 as a hard year for CNN, in reality, most cable news channels suffered audience losses.
Television viewership can be measured using one of two calculations — the mean (or simple average) or the median, a measurement that captures the midpoint between a channel's highest and lowest viewership. This report offers the numbers in both forms, but the Project for Excellence in Journalism, in consultation with several academic advisors, considers median the better reflection of core audience because it is less influenced by momentary spikes. The mean is superior for reflecting the disproportionate impact of major breaking news events, such as the earthquake in Haiti in January 2010.
By both measures, the three major cable channels — CNN, Fox News Channel and MSNBC — lost viewers in 2010. Combined median viewership in prime time was down 16% to 3.2 million. Mean viewership was down 13% to 3.3 million.1
It was the single biggest year-to-year decline in the history of this data series, which was started in 1997. It marks the first year since 2006 that the median audience of cable news has declined, and only the third year since 1997. The mean audience for the three main cable news channels has dropped for two years in a row. That may suggest that cable news is also becoming less of a destination for audiences to turn to during major breaking news events.
CNN absorbed the heaviest losses during 2010 by far, especially in prime time. Median viewership dropped 37% to 564,000 viewers. HLN, CNN's sibling channel, dipped 17% to 434,000. Fox viewership fell 11%, to 1.9 million. MSNBC, which fared least badly, had a viewership decline of 5%, to 747,000.
The audience losses occurred in daytime as well, though not as precipitously (daytime here is defined by Nielsen as the hours between 6 a.m. and 6 p.m.). Median viewership of the three main channels combined fell 12%, to 1.9 million in 2010. Mean viewership fell 12% as well, to 1.9 million.
The daytime pecking order of Fox-CNN-MSNBC-HLN remained intact in 2010, although, as in prime time, CNN lost the greatest percentage of viewers, 28%, with a median of 450,000 viewers. Fox's daytime viewership dropped 9% to a median of 1.1 million viewers. MSNBC managed to maintain its audience levels, dropping just 1% to a median viewership of 322,000. HLN lost 4% during daytime, to 250,000 viewers.
There was still one measure by which CNN led in cable news audience, and that was cumulative, or cume, audience. Cume counts the number of individual (or unique) viewers who watch a channel for at least a minute over the course of an extended period, such as a week or a month. Ratings, by contrast, measure how many people are watching a program at any given time.
CNN attracted 41.7 million viewers who watched at least 60 minutes in an average month in 2010, just barely ahead of Fox, which drew 41.1 million. MSNBC drew 36.9 million.
Cumulative audiences were down from 2009 levels, however, just as ratings were. Using the measure for which historical data are available, the one-minute-per-month threshold, CNN averaged 96.4 million viewers per month, down 13% from 110.7 million in 2009. Fox averaged 85.7 million viewers, down 11% from 97.3 million, and MSNBC averaged 83.3 million, down 3% from 85.5 million (HLN data were unavailable).
The one-minute monthly cume figure, while favorable to CNN, is of less value to advertisers, some in the industry argue, because it includes viewers who watch so little of a channel that they might never see a commercial. That is why there is some significance to the 60-minute threshold, by which CNN leads Fox and MSNBC, though by a smaller margin.
Though CNN has a larger pool of viewers from which to draw, Fox can boast a more dedicated audience. As has been the case for eight years now, Fox's prime-time programs dominated in their time slots in 2010. And, for the first time, MSNBC's programs were now consistently the closest competitors, yet still in a distant second place. At 8 p.m., the new CNN program Parker Spitzer generated a lot of media attention but it failed in its first months to even approach the audience numbers of Nancy Grace, the program on CNN's sibling channel, HLN.
At 9 p.m., Fox's Sean Hannity led the time slot, followed by MSNBC's Rachel Maddow Show. CNN's soon-to-be-ended Larry King Live fell to third place for the first time. CNN began 2011 hoping to jumpstart the nine o'clock hour with King's replacement, Piers Morgan.
At 10 P.M., CNN still trailed. MSNBC's new program, The Last Word with Lawrence O'Donnell, a political and pop culture talk show, beat CNN's Anderson Cooper, the first time that Cooper had fallen to third place for a year overall. (After Keith Olbermann and MSNBC parted ways in early 2011, O'Donnell replaced Olbermann at 8 p.m. and Ed Schultz moved from the 6 p.m. slot to 10 p.m., replacing replays of Olbermann's program.)
Economics
Despite a drop in ratings, cable news channels had a strong year financially in 2010. The ability to amortize costs across multiple platforms helped, particularly for CNN. So did a slowly recovering advertising environment. But a key advantage for the channels was the sustained ability to draw more and more revenue from cable providers through long-term license fees that are passed along to subscribers in their monthly bills. This is an aspect of the cable business model that insulates the industry from recessionary fluctuations and, in the short term at least, even declining viewership.
Fox News profits were projected to increase by 27% in 2010, according to the leading financial research firm SNL Kagan. CNN, which reports its financial information with its sibling HLN, was projected to increase its profits by 7%. At MSNBC, it was 8%.
Fox maintained its lead in revenues in 2010, as well, a status it reached for the first time in 2009 over CNN/HLN. It also experienced the strongest growth of the three, at 17% compared to 2009 estimates. MSNBC revenues were projected to increase by 7%, and CNN/HLN, by 5%.
In recent years, CNN/HLN and MSNBC have experienced flatter revenues than at Fox, the clear leader.
The reason for that is that some of Fox's older licensing fee agreements are reaching the end of their terms and the network has begun to sign new contracts with cable providers at much higher rates, cashing in on Fox's ratings success.
To understand this, it is useful to review the cable revenue model. Cable TV channels benefit from two distinct revenue streams. The first is simply advertising, or the amount a channel can charge for a 30-second or 60-second spot. The second is license fees, or subscriber revenue, which are collected from customers by the cable provider and passed along to the channel in exchange for the right to carry that channel's programming. Each stream accounts for about half of the revenue for each channel. The benefit of having two robust revenue sources continued to insulate cable from some of the economic hardships facing the media in general in 2010.
In advertising revenue, all the major cable news channels were projected to experience at least modest growth in 2010: 11% at MSNBC, 10% at Fox and 6% at CNN and HLN. Fox remained the leader overall.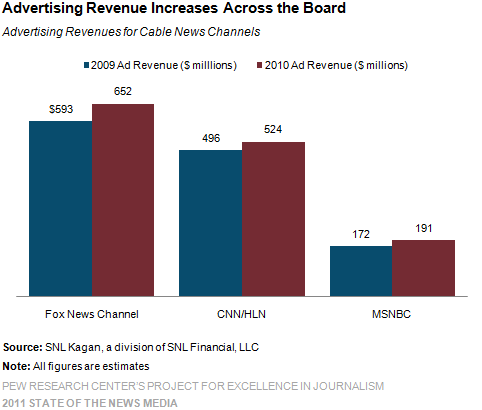 CNN has historically been able to charge higher rates for its advertising than Fox. Advertising is based on something called cost per mille (CPM), which translates from the Latin into cost per thousand viewers. CNN's dual advantage here consists of the wide multiplatform reach it promotes and the enduring image of its 30-year-old brand name. Advertisers have valued CNN viewers more than those of the channel's rivals. This helps explain part of why Fox did not become the revenue leader long ago even when its audience eclipsed CNN's. By contrast, HLN, CNN's sibling channel, charges a much lower CPM, which explains why the combined CNN/HLN rate is actually lower than its rivals.'
Put another way, the value of CNN's audience to advertisers is quite high, but because its accounting is merged with HLN's, the combined value is weighted quite low.
Fox has made the case that as its audience has grown, its viewers hold more potential value to Madison Avenue, and therefore its ad rates should rise. But it was an increase in license fees that truly caused Fox's overall revenue projections to skyrocket in 2010. The channel was expected to generate 24% more in subscriber revenue than it did in 2009. By contrast, CNN and HLN were only projected to grow by 5%, and MSNBC, by 3%.
In recent years, Fox has been aggressive in its negotiations with cable providers to increase its license fees. Those negotiations have paid off handsomely for the news channel, and in December, News Corp. president Chase Carey confirmed that Fox had entered into new rounds of talks with some cable operators to increase those fees yet again.2
SNL Kagan's estimates for a given year are issued in advance, and are then revised once firmer data are made available by the cable channels.3 As a result, projections often differ, sometimes widely, from the actual figures. In 2009, for instance, CNN and Fox earned substantially greater profits in 2009 than projections from the fall of that year had indicated.
News Investment
None of the major cable news channels cut back on investment in the news in 2010, but some spent more than others, and that spending hinted at the channels' priorities.
For the first time ever, CNN/HLN in 2010 was not expected to be the cable news leader in overall spending. Instead, according to projections from SNL Kagan, Fox News Channel would surpass CNN with a 7% increase.  MSNBC, much of whose newsgathering costs are covered by other parts of NBC News, was projected to increase spending 7% as well. CNN, with HLN, was expected to increase spending just 3%. That comes after cutting costs in 2009.
SNL Kagan separates the various expenditures made by the channels into two general categories: Program expenses, which are generally tied to specific programs including host salaries, and SG&A (selling, general and administrative expenses), or the overhead costs related to a channel.
Using these categories, each channel allocates its resources somewhat differently. In 2010 CNN spent a greater share of its budget on overhead than on its programming. Fox and MSNBC spent the vast majority of their budgets on specific programs. In the case of Fox, this reflects its emphasis on its high-profile hosts; in the case of MSNBC it also reflects the amortization of fixed newsgathering costs over the whole of NBC News.
There is no simple way to estimate the changes in newsgathering staff at the various cable channels. But the signs of greater expansion, as with news investment dollars, were found at Fox and MSNBC.
Two of the channels report overall staffing numbers — large sums that include not just newsgathering but executive, administrative and all other staff. CNN reported no change, with approximately 4,000 total staff. Fox, however, reported an increase from 1,200 in 2009 to 1,272 in early 2011. MSNBC does not report its staffing, saying that there is no way to separate MSNBC staff from NBC News. The last time it reported such a figure was in 2007, when the network had 600 staff.
Another way to estimate changes in staffing is by counting the number of core news staff listed in the online database Leadership Directories, an incomplete and rough proxy that nevertheless has accurately reflected growth trends over the years. A PEJ analysis indicates no significant changes in core news staff at CNN or Fox from year to year. The examination of MSNBC, however, indicated that it increased its news staff from 50 in 2009 to 80 in 2010. The MSNBC figures are more difficult to assess given that measuring its staff to some extent is a matter of how NBC News wants to account for people who work across different platforms at NBC, MSNBC, CNBC and MSNBC.com. By any accounting, however, CNN retains by far the largest staff.

CNN also continued to lead in overall number of bureaus: It maintained well more than the number of editorial operations, both domestic and overseas, than Fox and MSNBC combined.
Ownership
For data and baseline information about cable news ownership, see PEJ's interactive tool, Who Owns the News Media, on the top media companies in the United States. Readers can use it to compare financials, audience and general information of the companies that own the major U.S. cable news channels. In the section below, key trends and developments in the ownership of cable news in 2010 are examined.
January 2011 ushered in big changes for NBC Universal, the parent of MSNBC and CNBC, when Comcast took a majority stake in the company. It is unclear whether the new ownership will have a major impact on the news, which delivers a sizable portion of NBCU's overall cable network revenue. Of the $6.4 billion generated by these networks (which now include those brought to the company by Comcast), nearly 20%, or $1.1 billion, came from MSNBC, CNBC and CNBC World.
Two of the three parent companies that own cable news operations — Time Warner and News Corp. — increased both their revenues and profits in 2010. GE, which as of the end of 2010 still had a majority ownership stake in NBC Universal, MSNBC's parent, experienced a small drop in revenue.
Digital Trends
Along with cable news audience declines came some signs that not as many people were engaging with those same cable news brands online in 2010. Still, each of the channels' sites remained some of the most popular news and information sources on the web in 2010.
Internet audience measurement is still developing, and because of that, there is no single — or agreed upon — way of counting traffic to individual sites.
Two measurement companies, Nielsen Online and comScore, count unique visitors to websites. Another company, Experian Hitwise, ranks the sites by popularity and measures their share of the online market. The disparity in measurement limits the conclusions that can be drawn from the data. The data indicate, however, that CNN's network of websites draws a greater audience than MSNBC's or Fox's.
According to Nielsen Online, CNN's digital network—which, besides CNN.com, includes sites like CNN Money, Time.com and People.com—dropped 5.6 % from 37.8 million average unique visitors per month in 2009 to 35.7 million in 2010. Fox's digital network, which includes sites like foxbusiness.com, was down 6.1% from 16.5 million in 2009 to 15.5 million in 2010. The MSNBC digital network—which includes sites like todayshow.com and NBCSports.com—was down 12.1% from 36.4 million in 2009 to 32 million in 2010.
There are no available year-to-year comparisons for comScore or Hitwise data. ComScore also suggests CNN is the leader in unique visitors, though Hitwise suggests MSNBC.com edges out the others in terms of market share.
Specialty Channels
Among the trio of domestic financial news channels—CNBC, Fox Business News and Bloomberg — CNBC remained the distant leader in overall revenues and profits in 2010. Starting form a much smaller base, both of its rivals posted larger improvements when expressed as a percentage gain. Fox Business Network grew its revenues by 26% and cuts its losses by $16.7 million. Bloomberg TV increased revenues by 19.1% and its profits by a brisk 49.2%. CNBC increased revenues by 7%, to $722.9 million, nearly double that of MSNBC. CNBC also operates a global financial news affiliate, CNBC World, whose revenues are accounted for separately.
Rupert Murdoch, the head of Fox, has long maintained that FBN will achieve profitability in 2012. The channel has grown slowly but steadily toward this objective since it was launched.
Outside the world of financial news, a host of other dedicated news channels, many of them international, attempted to build their presence in U.S. markets. CNN's international channel is available on the upper tier of most cable systems. C-SPAN's family of not-for-profit channels provides ubiquitous coverage of the federal government. There are many channels that air documentary journalism but not breaking news, including Current, which added former MSNBC host Keith Olbermann to its payroll in early 2011. Many immigrant and expatriate communities subscribe to news channels in their native language. The English-language version of Al Jazeera, one of the largest Arabic news channels, hopes to convert from mostly video-streaming online to a commonly available cable following the attention the network drew for its coverage of the demonstrations in Egypt in early 2011.
Endnotes