Audio: By the Numbers
By Kenny Olmstead, Amy Mitchell, and Tom Rosenstiel of the Project for Excellence in Journalism
New to this year's report is a streamlined data section that houses a comprehensive set of charts and tables telling the story of each media sector. For a narrative summary, visit the corresponding essay.
New Technology's Effect on Radio Audience Is Slow but Evident
In the winter of 2010, radio reached 240 million people over the age of 12, an increase of 3 million over 2009.1 While audiences for terrestrial radio have remained mostly stable for the past 10 years, it is clear that new technologies, over time, do have an effect on traditional radio listening. The effect is most pronounced among younger people, which could mean accelerated change and a new landscape of audio habits. (See audio essay for more)
While nearly all Americans still report listening to traditional AM/FM radio (92%), they are much less likely to feel that AM/FM radio has an "impact" on their lives. Cellphones (separate from smartphones like the iPhone and BlackBerry) ranked the highest, but traditional television and DVRs also outpaced the radio dial.2 To the extent that "impact" implies how much people value a platform, that may be a warning signal. (See audio essay for more)
Another warning signal may be demographics. For the past decade, older listeners have consistently made up the largest percentage of radio news listeners. And if one looks across different data sets, from such sources as Arbitron and the Pew Research Center For the People & The Press, there is evidence that younger people are even less inclined to listen to traditional radio than they used to be. 3 (See audio essay for more)
Another potential trouble sign for traditional radio is what people are listening to online. Overall, online listening has leveled off, but the mix of what people are listening to has changed. More people now report listening to online-only audio outlets like Pandora than to streams of AM/FM stations. 4  (See audio essay for more)
Another potentially even more troubling sign for traditional radio is that the number of Americans who say they are interested in online radio in the car, a place normally dominated by the AM/FM dial, has more than doubled in the last year. 5 If this interest translates into people abandoning traditional radio programming in the car, once they have the technology to access the internet there, that could hasten enormous changes in the audio landscape. (See audio essay for more)
Users say radio station websites are improving overall, but the use of radio online still trails other media. 6 NPR may be the notable exception to this. Its website has had continued growth over the last two years and continues to command a large audience in the top 30 most popular news sites. 7  That may in part reflect the organization's commitment to digital. NPR, notably, no longer calls itself National Public Radio. It uses only the NPR abbreviation to signify that it is not limited to any platform.(See audio essay for more)
HD Radio Suffers From Lack of Awareness and Interest
One way traditional radio has tried to adapt is by developing HD radio, which allows stations to "narrowcast" to audiences by offering them multiple channels. Despite the purported benefits of HD radio, the technology continues to suffer from lack of awareness and interest. Awareness grew in the last year, but still less than a third of Americans have even heard of HD radio. 8 (See audio essay for more)
And only 7% say they are particularly interested it. 9
The company that invented and markets HD radio, ibiquity, has made some inroads in getting HD radios to come as standard in some car models, but based on BIA Financial Network data and PEJ Research, this has had little effect. So far, only a fraction (14%) of stations has added HD radio capability. 10 (See audio essay for more)
And, more tellingly, the number converting each year to HD radio, which has been falling since 2006, continued to drop in the last year. 11
News/Talk Continues to Be an Important Force in Radio
If format counts are measure of value, news remains a vital part of the radio landscape. The number of news/talk stations rose again in 2009, the latest year for which data are available. So did the number of "all-news" stations. According to Arbitron there were 30 "all-news" stations, up from 27 in 2008. 12
It is important to note that the type of stations under the news/talk label vary widely with many closer to all talk than all news.
News and news/talk stations, which represent about 23% of all stations, tend to do well in market rankings. Despite that, anecdotally at least, many stations have small staffs and many also suffered substantial cutbacks during the recession, and many news professionals have warned that news stations may see the effects of those cutbacks. (See audio essay for more)
Americans are increasingly turning to other sources for their news. In 2010, a third of Americans (34%) said they received some news through the radio "yesterday," according to the Pew Research Center For The People & the Press' biennial media consumption survey. 13 This is down just slightly from 35% in 2008, but it continues a gradual decline over the last ten years. In 2000, the number was 43%. 14
Radio Gains in Revenue in 2010
The economics of radio brightened in the last year. AM/FM radio revenue was up 6% in 2010 compared to 2009. This is the largest year over year increase since at least 2004. 15(See audio essay for more)
In addition to national and local ad revenue, AM/FM stations are seeing growth in other areas as well. Digital advertising saw the largest total growth, but it, and these other categories, remain a relatively small part of the total revenue from radio advertising. (See audio essay for more)
It is not clear how much of this upturn for radio is tied to the improvement of the U.S. economy overall. According to eMarketer, total advertising revenue for all media was up 3% in 2010. [14. "US Online Ad Spending: Online Outshines Other Media," eMarketer, December 2010] With a 6% increase in revenue, that puts radio on better footing than the media overall.
For the immediate future, radio's economics are expected to continue to improve. Veronis Suhler Stevenson predicts that radio revenue will grow across the board through 2014. Online and mobile spending will have the largest growth in revenue, but will remain a small part of the overall revenue picture. 16
Yet the signs of change are worth watching, particularly the arrival of internet capacity in cars and the listening habits of the young. The audio landscape in America is changing. One of the oldest media technologies, AM/FM radio, has only recently gained competitors. But those competitors are rapidly showing signs that they could be threats to the dominance of AM/FM radio in the coming years.
Satellite Radio Gains Subscribers and Revenue in 2010
With a loss of subscribers and rumors of bankruptcy for the newly formed Sirius XM Radio (the only provider of satellite radio), the outlook for satellite radio entering 2010 seemed uncertain. As it turned out, the year saw the fortunes of satellite seem to change for the better.
One sign was that more Americans said they were aware of satellite radio, something that had been falling in recent years. (See audio essay for more)
Another positive sign of change came in revenue. In 2010, Sirius XM posted an 8% increase in subscribers, and it had revenues of 2.8 billion, a 12% increase over 2009. That was enough for the satellite radio company to report that it had earned a small profit, the first time in three years.17
While 2010 was a good year for satellite radio, Sirius XM still faces long-term challenges. As internet radio is threatening to challenge the dominance of AM/FM radio, it also poses the same threat to satellite.
A key battleground for satellite is in the car, a place still dominated by the AM/FM dial. As online radio makes its way into the car for the first time, however, it poses a major threat to both satellite and AM/FM radio.
Small Gains in Podcast Listening in 2010
The total number of podcasts available rose sharply in the last year. In 2009 there were 69,860 podcasts, in 2010 that number grew to 89,455, a 28% increase.  But this growth in the number of podcasts has not been matched by a growth in listeners.
Trying to understand what kind of podcasts people listen to is difficult. The most popular category, as defined in the research by Podcast Alley.com, is simply labeled "general" and makes up the vast majority. Music is next, followed by technology, but they are both small.
But more product was not matched by some a similar growth in listening. The number of people who say they have listened to podcasts grew, but only by slightly from 22% to 23% of Americans. 18
The rate is even lower for news podcasts. Only 4% of respondents said they had listened to a news podcast "yesterday" and only 3% said they did so regularly. 19
Fewer than half of Americans even know what a podcast is (45%), and that number is up only slightly from 43% in 2009.
NPR
NPR's audience was up both over the air and online.
Talk Radio
Of the top 10 talk hosts by audience size, as identified by Talkers Magazine, eight are conservative, led by Rush Limbaugh's estimated 15 million listeners a week and Sean Hannity's audience of 14 million.  One of the top 10, Dave Ramsey (8 million listeners), is a financial advice host. And another, Neal Boortz (6 million), is a libertarian, although he supports a number of conservative principles.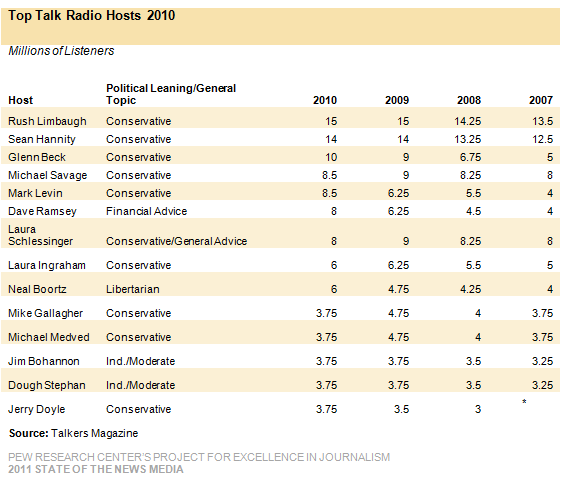 Endnotes