Audience
Newspapers
By the Project For Excellence In Journalism
Audience
Newspaper organizations reached something of a turning point in audience strategy in 2009.  After years of trying to maximize audience with relatively low circulation prices, relying more on advertising for revenue, they raised the price of print editions substantially, to 75 cents or $1 in most cities. And many were preparing for experiments with a version of paid online content early in 2010.
As a result, many companies by the end of 2009 were reporting at least a modest increase in circulation revenue.  But that came at a cost, the biggest print circulation losses yet for an industry whose audience numbers chart over the last six years has come to look like a ski slope.
Newspaper circulation fell 10.6% daily and 7.1% Sunday in the six months ended September 30 compared to the same period a year earlier, according to the Audit Bureau of Circulations (ABC).1
That left paid circulation nationwide at about 43,500,000 daily and 45,600,000 Sunday.2
Newspaper Circulation, Percentage Declines
Percent declines in circulation by six-month period, 2003-2009
Design Your Own Chart
Source: Deutsche Bank Securities and Audit Bureau of Circulations
Those numbers represent declines in print audiences of 31.5% and 27%, respectively, from peak totals in the last 25 years.3 More importantly, unlike the losses before the 1990s, which came from afternoon and second papers going out of business rather than the surviving papers losing circulation, these are circulation losses suffered at the papers that remain.
At the same time, print circulation numbers do not tell the full story. Not all of this audience is lost. Online audience continued to be a positive counterpoint for the industry.  Monthly unique visitors averaged 74 million in the third quarter of 2009, according to Nielsen Online, up 14% from 65 million in the third quarter of 2008.  Page views averaged 35.5 billion per month during the quarter, which was even with the total a year earlier.4
But the detail behind those figures is less cheering. A typical visitor spends only a little more than half an hour per month on all newspaper sites (a share of that typically going to the large national sites).5
Also, a substantial share of unique visitors, at least locally, also read the print edition.
And online users command only a small fraction of the advertising rate, by most estimates 7% to 10%, of what newspapers can charge per print newspaper reader. (For more on this see Economics.)
Do the huge and accelerating losses reported in the fall of 2009 represent some kind of tipping point at which papers, becoming less substantial, are beginning to see a flight of readers beyond simply moving to new versions of the print edition online?
The losses reported in the fall of 2009 have multiple causes. Most obviously, they represent a continued shift of audiences, especially younger ones, away from print to online as the preferred way of getting the news.
But there are a number of additional factors:
Newspapers, especially metros, continue to voluntarily cut circulation in more distant areas on the grounds that the cost of delivering papers is higher and that the readers are of marginal value to local advertisers.
With tight budgets and a need to continue cutting in tandem with ad revenue losses, newspapers had even less to spend on generating new circulation orders, a more expensive effort than it was early in the decade because of the federal do-not-call restrictions on telemarketing.  The Newspaper Association of America reported that churn (the percentage of the circulation total replaced with new subscriptions in a given year) had fallen to 31.8% in 2008 from 54.5% in 2000.6 That suggests that earlier numbers were pumped up with cheap introductory offers; now more papers are getting down to a smaller, loyal base of readers.
As newspapers aggressively marked up both single-copy and subscription prices, they lost at least some readers as a result.
That effect was heightened with the impact of recession, which led those losing their jobs, and others watching household expenses, to cut back or eliminate spending on newspapers.
Skimpy newspapers, without the volume of news and advertising that print readers expect, doubtless led to some additional erosion of subscriptions and daily sales.
While bad results from one six-month circulation period tumble into the next, the industry believes it has a chance to turn around some of the causes of decline in 2010, especially during the second half of the year.  But it will be a testing time.
The big question going forward about newspaper audiences might be summarized as follows: Can a tighter news report produced by a smaller staff hold its own with readers at a markedly higher price than they have been used to paying?
Larger metro papers have had the worst of it in print circulation losses for several years now.  That was true again in 2009, although national and mid-sized papers took hard hits as well.
The sole winner among big papers was the Wall Street Journal, which managed a 0.6% gain in the six months ended September 30 compared to the same period in 2008.7 The Journal benefits by having about 400,000 paid subscriptions to its electronic edition counted under auditing rules in the paid totals, Also, as a favored property in Rupert Murdoch's News Corp. empire, the Journal is not as starved for circulation promotion money as is the rest of the industry.
The Journal passed USA Today as the nation's highest circulation daily, 2 million to 1.9 million, a position it once safely held a generation ago.  USA Today recorded a 17.1% decline in circulation.8 That reflected weakness in travel and changing agreements with some of the hotels it has counted on for distribution, plus a decision to take its cover price to $1 in late 2008.
The New York Times, the most expensive American paper at  $770 a year for a seven-day subscription to the national edition, saw daily circulation fall 7.3% daily and 2.7% Sunday.9
Among the large metros, the San Francisco Chronicle had the worst performance, declining 25.8% weekdays and 23% on Sundays.  The Dallas Morning News and the Star Ledger of Newark were off about 22% daily and 19% Sunday.  The Los Angeles Times, with an 11% decline, now circulates 657,000 daily. That is down 39% from 1.1 million in 2000.10
Top 15 Daily Newspapers Circulation
2008-2009
| | | | |
| --- | --- | --- | --- |
| Name of Newspaper | 2008 Circulation | 2009 Circulation | Percent Change |
| Wall Street Journal | 2,011,999 | 2,024,269 | 0.6% |
| USA Today | 2,293,310 | 1,900,116 | -17.1 |
| New York Times | 1,000,665 | 927,851 | -7.3 |
| Los Angeles Times | 739,147 | 657,468 | -11.1 |
| New York Daily News | 632,595 | 544,167 | -14.0 |
| New York Post | 625,421 | 608,042 | -18.8 |
| Washington Post | 622,714 | 582,844 | -6.4 |
| Chicago Tribune | 516,032 | 465,892 | -9.7 |
| Houston Chronicle | 448,271 | 384,437 | -14.2 |
| Philadelphia Inquirer* | 300,675 | 361,480 | 20.2* |
| Newsday (NY) | 377,517 | 357,124 | -5.4 |
| Arizona Republic | 361,333 | 316,874 | -12.3 |
| Minneapolis Star Tribune | 322,360 | 304,543 | -5.5 |
| San Francisco Chronicle | 339,440 | 251,782 | -25.8 |
| Dallas Morning News | 338,933 | 263,810 | -22.2 |
Note: Circulation numbers from Audit Bureau of Circulations publishers' statements for the 26 weeks ending September.
*The jump is attributable to the inclusion, for the first time, of the Daily News, which is co-owned and now treated as an edition of the Inquirer. It is not an increase in the circulation of the Inquirer alone.
Smaller papers and weeklies generally beat the averages, and some have been able to keep circulation level, although the difference is hard to quantify because most do not have their circulation audited by ABC.
New Audience Strategies – The Options Proliferate
Very best case, print newspapers will emerge from their present troubles with a print circulation base older but willing to pay the new higher subscription or newsstand price.
That makes it more urgent than ever in 2010 for newspapers to try to identify and serve additional audiences in their communities with an assortment of digital and print products, potentially each with a different revenue stream and business model. While advertisers may not care much about a total number for the audience reached by all these efforts, an ad sales force can mix and match the offerings to sell tailored package deals to local prospects.
A few newspaper organizations – notably the Chicago Tribune with Red Eye and the St. Petersburg Times with tbt* — have established successful free alternative dailies.  They can be produced inexpensively by re-editing the material that makes up the traditional print edition. And with daily distributions of 250,000 (Red Eye)11 and 75,000 (tbt*),12 to mostly a younger demographic and others who prefer a quick, free read, the tabloid-size publications have a different advertising base.   And at least a fraction of the daily tab readership ends up buying the traditional Sunday paper.
An equivalent electronic success would be websites targeted to stay-at-home mothers or working mothers.  Gannett's MomsLikeMe sites now run in more than 75 communities,13assembling a targeted audience that itself provides much of the content for free and is attractive to both local and national advertisers for the large set of products and services that mothers buy.
For some years, newspapers have been adding other supplementary print products with lesser frequency, targeting such advertiser-friendly topics as health, travel or luxury living in an attempt to increase audiences.
In 2009, the Dallas Morning News rolled out a free compact edition, distributed to higher income zip codes.  Similarly Gannett papers in its larger cities began offering Sunday Select, essentially a package of inserts home-delivered to a set of nonsubscribers.
New technologies are creating additional options.  To date, many papers offer electronic facsimile issues, typically costing something but lots less than print, reflecting the much lower production and distribution costs.  At of the end of 2009, Amazon's Kindle offered nearly 100 papers, downloadable and easy to read on a plane or train (though in a gray, words-only format).14
These products have been surprisingly popular even with less than fabulous technical quality.
But the ante goes up in 2010 with the introduction of bigger and more versatile electronic tablets, starting with in March with Apple's much-hyped iPad. Magazine demos – like one produced by Sports Illustrated in fall 2009 – suggest these presentations can replicate the page-turning experience and also offer opportunities for deeper content and search, in short, a better product, for many, than print.
Whether the devices themselves – and their use for reading newspapers and acceptability to advertisers – will catch on in a big way is conjectural.  They are at least a significant opportunity, and in the eyes of some futurists eventually a potential escape route from the fixed expenses of print, though with uneven revenue expectations.
Similar considerations are at play as newspapers try to figure out whether there is opportunity in serving news to mobile devices.  The capabilities and presentations on mobile are on a fast upward curve. In 2009, the iPhone (and those like it) and the more than 100,000 apps that followed were runaway hits and the next generation of so-called smartphones may be even more impressive and popular (as well as cheaper).15
But a host of very basic questions linger.  Will news be among the top uses or at least big enough to constitute a business opportunity?  How can news best be delivered on the platform, beyond the plain-vanilla alert?  How do advertising messages fit and will geo-specific ads bring hesitant small local businesses onto the digital playing field?
The industry also needs to figure out whether free, get-acquainted mobile news apps, like one offered by the New York Times, is the right way to build traffic or whether such service should carry a price from the start, as the Washington Post will now do. The Associated Press is reviewing its own AP Mobile app, downloaded 3.5 million times and including member content on an opt-in basis, with an eye toward applying lessons to the iPad platform.16
Meanwhile Online Audience Is in a Stall
The good news, noted above, is that unique-visitor-per-month figures for the industry and most individual sites continue to grow. An analysis of the top news websites elsewhere in this year's annual report finds, for instance, that newspapers make up half of all the 105 news websites with at least one million unique visitors a month.  The bad news is that page views and time on-site are stalled – as low as four or five minute per month at some.  That reflects that the growth is in traffic from search engines to individual articles, some local but much of it not, worth something but not much to advertisers.
With general display rates low and falling, media consultant Ken Doctor suggested at a Poynter Institute conference in November, moderate increases or decreases in overall traffic may not be of much consequence to most papers now.  Targeting, partnerships and new ad formats are far more important.
There is another problem, well known within the industry and not unique to newspapers, but nonetheless broached publicly at a Federal Trade Commission workshop in December by Mark Contreras, senior vice president for newspapers at E.W. Scripps and incoming chairman of the Newspaper Association of America. For years, different measuring methodologies have yielded wildly divergent counts of monthly online traffic.  It baffles advertisers, he said, and is a threshold problem in telling a coherent story that will justify higher rates.  Contreras even suggested that he would welcome a nudge from the federal government for an industry effort to sort out the disparities (as Congress mandated for TV ratings in the 1960s).17
Efforts to establish common measures of mobile and social usage add to these issues.
So add to the newspaper industry's formidable to-do list for 2010 better measuring online audience and breaking down reader interests and on-site usage patterns, in a way that justifies higher rates and begins to attract the sluggish local merchant base.
Over all, the number of daily newspapers continues to fall.
In 2008, the most recent year for which data are available, the total number of dailies declined by 14 to 1,408 from 1,422 in 2007. This was the fourth year of decline.
Evening papers continued to decline in number, while the number of morning papers grew. In 2008, the number of evening papers declined by 19 while the number of morning newspapers grew by five, a smaller increase than 2007's increase of 34.18 Some of these were afternoon papers converting to morning circulation.
Number of U.S. Daily Newspapers
Weekday and Sunday editions, yearly increments, 1990-2008
Design Your Own Chart
Source: Editor and Publisher Yearbook data
Who was reading print newspapers in 2009?
According to Scarborough Research, 43% said in 2009 that they had read a daily newspaper the day before.
Daily and Sunday Newspaper Readership
2009
Type
Percentage Nationally Who Read
Newspaper the Day Before
Any Daily Newspaper
43%
Any Sunday Newspaper
48
5 Daily/1 Sunday
68
Source: Scarborough Research survey data
The numbers suggest that across all age cohorts the numbers are dropping.
Those in the youngest cohorts, 18 to 24 and 25 to 34, had the lowest readership levels. Fewer than two out of three, 27% and 28%, respectively, said in 2009 that they read a daily newspaper the day before, according to data from Scarborough Research. Both those figures were four percentage points lower than where they stood the year before.19
Those aged 35 to 44 and 45 to 54 also showed declines in readership. Both groups saw five-point decreases in 2008, to 36% and 46% respectively.
People in the oldest groups were the most likely to say they read a newspaper the day before, with 62% of those over 65 answering affirmatively, a decrease of two percentage points from 2008, and 54% of those 55 to 64, a decrease of three percentage points from 2008.20
Daily Newspaper Readership by Age Group
Percentage nationally who read any daily newspaper yesterday, 1999-2009
Design Your Own Chart
Source: Scarborough Research survey data
Between 2008 and 2009, readership dropped for all of the races and ethnicities that PEJ analyzed. The group most likely to read newspapers, whites, declined to 44% from 47% the year before. Asians dropped even more, nine percentage points, to 32% in 2008, and African Americans declined five points to 37%. Hispanics, the group least likely to have read a newspaper in the past day, dropped three points to 26%.21
Daily Newspaper Readership by Race/Ethnicity
Percentage nationally who read any daily newspaper yesterday, 1999-2009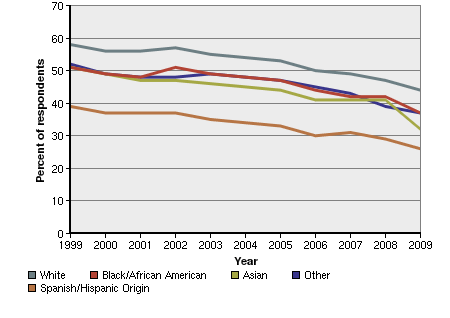 Design Your Own Chart
Source: Scarborough Research survey data
Among readers of various levels of education, readership declined across the board between 2008 and 2009. Of the groups most likely to read newspapers – those with post-graduate educations – readership dropped five percentage points to 55%. Those with some post-graduate education saw a decrease of six percentage points to 50%.  High school graduates saw the smallest decline, of three points to 41%, while those with some college education dropped four points to 44% and college graduates dropped five percentage points to 47% in 2009.22
Daily Newspaper Readership by Education
Percentage nationally who read any daily newspaper yesterday, 1999-2009
Design Your Own Chart
Source: Scarborough Research survey data
---
Footnotes
1. Richard Pérez-Peña, "US Newspaper Circulation Falls 10%,"  New York Times, October 26, 2009.
2. Newspaper Association of America, Trends and Numbers, adjusted to include 2010 declines.
3. Newspaper Association of America, Trends and Numbers, adjusted to include 2010 declines.
4. "Newspaper Web Sites Attract 74 Million Visitors in Third Quarter, Newspaper Association of America press release, October 22, 2009.
5. Jennifer Saba, "Newspaper Web Site Traffic Slipped in Q4," Editor and Publisher, February 2, 2010.
6. "New Business Models Increase Subscriber Retention," Newspaper Association of America press release, September 29, 2010.
7. Richard Pérez-Peña, "US Newspaper Circulation Falls 10%,"  New York Times, October 26, 2009.
8. Richard Pérez-Peña, "US Newspaper Circulation Falls 10%,"  New York Times, October 26, 2009.
9. Richard Pérez-Peña, "US Newspaper Circulation Falls 10%,"  New York Times, October 26, 2009.
10. Richard Pérez-Peña, "US Newspaper Circulation Falls 10%,"  New York Times, October 26, 2009.
11. Phil Rosenthal, "Chicago Tribune's Red Eye to increase distribution," December 2, 2009.
12. Times Media Solutions, online media kit 2009.
13. Ken Doctor, "Newsonomics, St. Martins Press, 2010, page 146.
14. Kindle Newspapers, list at Kindle Store, 2010.
15. Matt Silverman, "Phone Apps List 2010," Mashable.com, 2010.
16. Ken Doctor, interview with PEJ, March 4, 2010.
17. Rick Edmonds, "Confusing Audience Measures Are Crippling Online Ad Sales," Poynter Online, January 18, 2010.
18. 2009 Editor & Publisher International Yearbook Data, "Circulation of U.S. Daily Newspapers by Circulation Groups, Number of Daily Newspapers."
19. Scarborough Research Center, survey data spring 2009.
20. Scarborough Research Center, survey data spring 2009.
21. Scarborough Research Center, survey data spring 2009.
22. Scarborough Research Center, survey data spring 2009.