Ownership
By the Project For Excellence In Journalism
Ownership
For this year's State of the News Media report, PEJ has released a new interactive tool with data on the owners of the top media companies in the United States.  For the top magazine publishers, users can compare financial information, top stations, ratings, and general information on the companies themselves. See Who Owns the News Media.
The magazine chapter, too, has been restructured. You'll find more information on the performance of specific publishers in the industry overall section as well as news magazines economics.
Below is information about merger and acquisitions in the last year and some reports on foreign-based publishers (information not included in Who Owns the News Media).
Total Magazine Revenue of the Three Biggest Publishers
2002-2009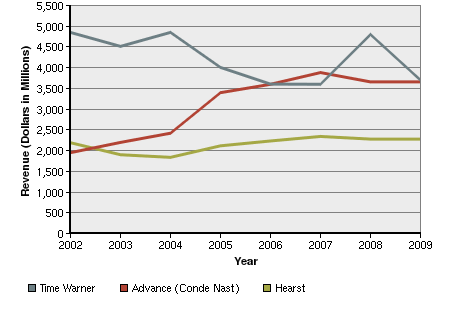 Design Your Own Chart
Source: Estimates by Ad Age, Top Ten Magazine Companies
Dealmaking in the consumer magazine market was virtually flat in 2009, with 41 deals announced compared with 42 in the same period the year before, according to the Jordan, Edmiston Group Inc., an investment banking firm that tracks media transactions.1
One of the higher-profile sales of the year was Bloomberg L.P.'s October purchase of BusinessWeek from McGraw-Hill in a deal reported to include $5 million in cash and the assumption of $31.9 million in debt.2
The deal included BusinessWeek.com, Business Exchange online news and information service, SmallBiz magazine and BusinessWeek Events.3
"The BusinessWeek acquisition will yield huge benefits for users of the Bloomberg terminal, and for our television, online and mobile properties," Bloomberg president Daniel L. Doctoroff said. 4
McGraw-Hill said the transaction would enable the company to focus its resources on its remaining brands, such as Aviation Week magazine. 5
Bloomberg's chief content officer, Norm Pearlstine, a former top editor at the Wall Street Journal and Time Inc., saw the  deal as a chance to expand the company's reach. In an interview with Paidcontent.org, Pearlstine said, "we have always had both a desire and a need to be read in the corporate suite, in areas of government where people are not subscribing to the terminal."6
In another prominent acquisition, the Economist Group in October 2009 purchased Congressional Quarterly from the Times Publishing Company, the owner of the St. Petersburg Times. Times Publishing is owned by The Poynter Institute.(link to Who Owns the News Media) Congressional Quarterly publications include CQ Weekly, CQ Today, CQ Politics, CQ Moneyline and CQ Homeland Security.
While no financial details of the deal were disclosed, Andrew Rashbass, chief executive of the Economist Group, described it as meaning that "we will be able to offer comprehensive information and analysis to customers."7
The Economist merged the CQ operation with that of Roll Call, a publication it already owned that also provides intensive online and print coverage of Congress.
After a two-month review of the operations, a reorganization was announced that resulted in the elimination of 44 positions across the merged newsroom of the newly created CQ-Roll Call Group, giving it a news staff of 184.8
Among the other transactions was the sale of TV Guide. Once the largest magazine in the United States, the weekly guide to TV programming has struggled to remain relevant in an age of on-screen and online program guides. A California-based investment firm, OpenGate Capital, bought the magazine from Macrovision for $1 — less than the cover price of a single issue – and the assumption of liabilities estimated to be worth $255 million.9
"OpenGate is stepping in with the commitment to successfully complete the magazine's turn-around, which targets restored profitability by the end of 2009, and to re-establishing TV Guide as the premier television entertainment magazine in the country," said OpenGate founder and managing partner Andrew Nikou.10
The Reader's Digest Association filed for bankruptcy in August 2009. The filing, which only affected its U.S. operations, was negotiated in advance with creditors and was expected to reduce the company's debt from $2.2 billion to $550 million. Private equity firm Ripplewood Holdings, which acquired Readers Digest in 2007 for $1.6 billion, was expected to lose much of its equity.11
A leading magazine that covers the news media, Editor & Publisher, was briefly shut down by its owner and then sold to a company that resumed publication. Nielsen Business Media announced in December that it would close Editor & Publisher, which resulted in several potential buyers coming forward. One of them, the Duncan McIntosh Company, an Irvine, Calif.-based publisher of magazines focused on boating and fishing, bought the operation in January 2010, for an undisclosed sum.12
Beyond U.S. borders, foreign owners continued to play a major role in U.S. magazine publishing. Among those is the Economist Group.
Despite a drop in ad pages in its U.S. edition, the Economist Group, which publishes The Economist, reported that its worldwide operating profit grew 26% for the fiscal year that ended March 31, 2009, to £56 million (or $80 million at the exchange rate prevailing then), setting a record for the company. Revenue was up 17%, to £313 million  ($447.5 million). The London-based company credited ad gains in Europe, Africa and the Middle East as well as from its website.
Some of this was driven by the economic performance of various regions during the fiscal year. The Economist's circulation in India grew 37% and sales of the company's regional economic forecasts were especially strong in China.
"These results demonstrate once again that great brands delivering real value to readers and advertisers thrive even when the economic cycle turns and when the structure of the industry is evolving," said Andrew Rashbass, the company's chief executive.13
However, the company warned in its annual report that although it had benefited from a "flight to quality" among advertisers, economic turmoil would take its toll on revenues and that the company was cutting expenses.14
Felix Dennis, the founder of Dennis Publishing, which owns The Week among others, said that he had received offers for his magazine, but that they had always been too low and that he had no plans to sell the magazine.15
The privately held, British-based company, which does not release its financial results, purchased Land Rover Monthly and a global entertainment portal, Kontraband.com.16
---
Footnotes
1. Jordan, Edmiston Group, press release, "Positive Signs of M&A Recovery in Second Half of 2009," January 2, 2010.
2. Stephanie Clifford and David Carr, "Bloomberg Buys BusinessWeek From McGraw-Hill," nytimes.com, October 13, 2009.
3. Jason Fell, "McGraw-Hill Sells BusinessWeek to Bloomberg: Acquisition will 'yield huge benefits for users of the Bloomberg terminal,' " Foliomag.com, October 13, 2009.
4.Jason Fell, "McGraw-Hill Sells BusinessWeek to Bloomberg: Acquisition will 'yield huge benefits for users of the Bloomberg terminal,' " Foliomag.com, October 13, 2009.
5. Stephanie Clifford and David Carr, "Bloomberg Buys BusinessWeek From McGraw-Hill," nytimes.com, October 13, 2009.
6. Staci D. Kramer, "Interview: Bloomberg's Pearlstine: Buying BusinessWeek Matches Need — And Desire," Paidcontent.org, October 13, 2009.
7. John Reynolds, "Economist Group buys Congressional Quarterly," mediaweek.co.uk, July 22, 2009. http://www.mediaweek.co.uk/news/922218/Economist-Group-buys-Congressional-Quarterly.
8. Jason Fell, "CQ-Roll Call Group Reorganizes, 44 Editorial Positions Eliminated
Changes come nearly two months after acquisition, merger," Foliomag.com. September 24, 2009.
9. Macrovision Solutions Corporation, 8-K filing with SEC dated January 5, 2009.
10. Jason Fell, "New Owner: Sale of TV Guide for $1 'Needs to be Taken into Perspective'/
Andrew Nikou targets return to profitability by end of '09," Foliomag.com, October 26, 2009.
11. Jason Fell, "Behind the Reader's Digest Bankruptcy Filing," Foliomag.com, August 18, 2009.
12. Richard Perez-Peña, "Editor & Publisher Finds New Owner," New York Times, January 15, 2010.
13. The Economist Group, press release, June 22, 2009. Accessed December 17, 2009.
14. The Economist Group, press release, June 22, 2009. Accessed December 17, 2009.
15. Dylan Stableford, "Felix Dennis Says The Week Is for Sale: But don't go falling off a cliff just yet—he wants £200 million," Foliomag.com, May 6, 2009.
16. Dennis Publishing, press releases. The Land Rover announcement was made on December 1, 2009, and the Kontraband announcement on July 20, 2009.