Digital
By the Project For Excellence In Journalism
Digital
Digital Sees Solid, but Slower Growth
Most local television news websites had strong revenue growth in 2009, although at a rate lower than in past years, and managed to slightly increase their share of local online advertising.
Borrell Associates, a media research, consulting and project firm specializing in local Internet advertising, projected in April 2009 that local TV station website revenue would increase 24% to $1.3 billion for the year, from $1.05 billion in 2008.1 In 2008, revenues grew 36%.
Neither year matched the tremendous increase observed in 2007. In that year, revenues grew 73% to $772 million from $447 million in 2006.
Moreover, even with the growth, online revenue remained a relatively small portion of total station revenues.  For 2009, that revenue is expected to be about 10% all projected revenues.2
Borrell projects still slower growth in 2010. The media research firm forecast $1.59 billion in station website revenue for the year, an increase of 22% over 2009.
Market Share Up
Despite a growing number of competitors for local online advertising, station websites have held on to their market share and are projected to increase it in coming years.
In 2009, station website revenues were expected to represent 10% of all local online revenues, up from 8% the year before, according to Borrell projections. By 2010, their share is expected to increase to 11%.
But their hold is still well behind newspapers (25%) and pure-play Internet websites (51%) according 2009 estimates.3 But if newspapers follow through on threats to erect pay walls, local TV websites could have gains in advertising revenue.
Who Gets Local Online Ad Revenue
Percentage of All Spending, 2009
Source: Borrell Associates
Despite hope among station owners that advertising on cellphones and smartphones will boost revenues in the coming years, mobile devices failed to add to the bottom line in 2009.
In 2009, shifts in the types of content on station websites were made to compete with insurgent local (and hyper-local) online news sources.
The sites are offering more blogs, video and live camera feeds and relying less on podcasts or other forms of recorded audio, according to survey responses from news directors in 2008.
More than half of all station websites have live camera feeds, mostly for traffic and weather. There were also big increases in the number of stations offering live streaming newscasts —and a corresponding drop in websites making recorded newscasts available.
The changes represent an effort by stations to draw users to their websites for live local content as opposed to encouraging downloads of station-produced content to be outside of a Web environment.
In 2009, it got easier for stations to distribute news video outside of their own websites. The video delivery company Syndicaster announced plans to distribute local TV clips toYouTube, Yahoo and AOL.4 By contrast, early adopter television groups LIN Televisionand Hearst Argyle Television, which have had YouTube channels since 2007, negotiated their own content distribution deals with the video websites.
Interactive Features on Local TV Websites
2006-2008
Source: RTNDA/Hofstra University Suveys
Based on responses of news directors
As has happened across news Web sites more broadly, some stations have also worked to broaden their online content to include more than what they do for television—particularly in cities that have lost their daily newspaper. Some of these developments include:
Rebranding websites without station call letters
Establishing Web "verticals" — sites devoted to a specific topic such as entertainment
Partnerships with nonbroadcast local journalism websites
Expanding station creative services departments to produce Internet ads in-house
These developments appear at least in part to be aimed at positioning the stations against a growing array of new Web-based competitors.5
One example of the broadening of general interest content is the growth of blogging on local station websites. In just two years the percentage of stations websites with blogs increased from 34% in 2006 to 56% in 2008.
In addition to competition from local newspaper websites, online entities like CitySearch,Yelp and Topix now offer local pages in cities and towns across the United States. And long-established national websites including ESPN, AOL, Huffington Post, Microsoft andYahoo announced plans to establish local content and court local advertisers more aggressively in 2010.

Going Hyper Local
Some TV station groups have taken their digital strategies far beyond translating broadcast content to the Web. A number of station groups developed websites and mobile platforms for news you can use on neighborhood block-by-block basis:
Text, Pictures and Audio on Local TV Websites
2006-2008
Source: RTNDA/Hofstra University Suveys
Based on responses of news directors
Video Elements on Local TV Websites
2006-2008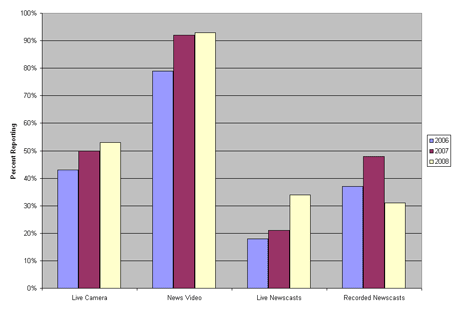 Source: RTNDA/Hofstra University Suveys
Based on responses of news directors
Mobile DTV Starts Slow in 2009, Could Expand in 2010
The expansion of mobile digital television – mobile DTV – has been eagerly anticipated by local television station owners.
It would allow consumers to watch local broadcasts on their smartphones and other devices. It could also become a small but significant new revenue source for stations. BIA Advisory Services projected in May 2009 that Internet and mobile advertising could be worth $1 billion a year to the industry by 2013. And the cost of implementing the technology is a mere fraction of what it cost stations to add digital television capabilities in recent years.10
But progress toward that goal has been slow.
Just about 30 stations had begun mobile DTV transmission by the end of 2009.11
Throughout the year tests were conducted in Seattle and Atlanta by makers of smartphones, laptop computers, netbooks — small, light-weight and relatively inexpensive laptop computers — and other types of hardware equipped with receiver chips.12 And by the end of 2009, the Open Mobile Video Coalition began consumer tests of advanced mobile DTV interactive features in Washington, D.C.
With a technical standard for transmission and delivery of mobile DTV in place at the end of 2009, Anne Schelle, the executive director of the video coalition, told PEJ in December that many more stations would launch mobile DTV simulcasts in 2010.
Ahead of a wider launch of the technology in 2010, consumers seemed to like the idea of getting live TV on their mobile devices.
A survey commissioned by the coalition and released in December 2009 indicates that 46% of mobile device owners would like to watch live TV on them. That number jumps to 65% among young adults (ages 18 to 29).13
The survey also suggests information provided by local stations would be a draw to the emerging technology. Nine out of 10 said they would watch news or get weather information through mobile DTV.
Over all, 59% said they would watch local or regional news, but that number drops to 52% for adults 18-29.14
That expansion will be dependent in part upon the availability of consumer products. At the end of 2009, just a few electronics companies had committed to make devices with mobile digital television receivers.
Along with the handset makers LG and Samsung, which developed the original mobile DTV standard, the computer maker Dell signed on to provide receiver chips in its netbooks.
In 2009 station groups began talks with wireless companies to carry mobile DTV on their networks and devices but by the end of the year no agreement had been publicly announced.15
"It's been a chicken-and-egg situation, just like it was in [the early days of HDTV]," said Harris Broadcast vice president for technology, Jay Adrick, whose company co-developed the mobile DTV transmission technology with LG.16
Although many carriers have implemented their own systems for delivery of video on smartphones and stiff competition from the fledgling mobile broadcast companyMediaFlo, mobile DTV could present some financial advantages to wireless carriers.
It relies on inexpensive tuners, not unlike those used with digital televisions, that receive transmissions from local stations. Currently, most video to smartphones comes through much more expensive mobile broadband technologies such as 3G, which also consume greater amounts of bandwidth.
Station Website Staffing and Profitability
Assessing the profitability of local TV station websites is still somewhat of a guessing game.
According to the 2008 RTNDA/Hofstra University News Staffing and Profitability Survey, many news directors do not know if their websites are making money. Four in 10 could not say if station websites made a profit, broke even or showed a loss in 2008.
Further, the budgets and staffing for broadcast and website content were still deeply intertwined, making accounts of expenses tied to digital properties difficult to separate.
Commenting on the study in October 2009, Stacey Woelfel, chairman of the Radio Television Digital News Association, told the trade publication Broadcasting & Cable that station websites needed "more editorial supervision and management vision." Woelfel said websites were increasingly the primary platform for delivering news to audiences. "This research gives every news director in America something to examine in his or her own newsroom," Woelfel added.17
Responses by news directors who could make assessments about profitability of their stations' websites suggest 31% are turning a profit, 10% are breaking even and 17% are showing a loss.18
The number of news people working on station websites has inched up, but mostly due to existing staff taking on digital duty or the hiring of part-timers.
The average station in 2008 had six newsroom staffers dedicated to the Web, with an average of 3.7 part-time employees and 2.3 full-time employees. In 2007, Web staffers were evenly split between part-time and full-time employees.
Since 2001, when the first survey was conducted, the number of station staffers dividing their time between on-air and website tasks has increased steadily. In 2003, 30% local television staffers helped with Web duties. Five years later, the percentage of staffers who performed broadcast and Web duties doubled to 60%. The figure was up from 55% in 2007.
---
Footnotes
1. Malone, Michael, "Station Websites to Make $1.3 billion in 2009," Broadcasting & Cable, April 2, 2009.
2. Borrell Associates estimate of $1.3 billion for station websites divided by BIA Advisory Services estimate of $16.1 billion for total local television revenues in 2009.
3. Malone, Michael, "Station Websites to Make $1.3 billion in 2009," Broadcasting & Cable, April 2, 2009.
4. "Syndicaster to put local TV on YouTube," BNET blogs, April 14, 2009.
5. Hyper-local refers to news coverage of community-level events.
6. David Tanklefsky, "LIN TV Reaches Agreement with News Over Wireless to Improve Mobile Growth," Broadcasting & Cable, April 29, 2009.
7. Diane Mermigas, "Digital Transition: Going Hyper Local," MediaPost Blogs, July 2, 2009.
8. Amanda Fung, "CBS launches residential real estate site," Crain's New York Business, September 24, 2009.
9. Michael Malone, "Station Websites: New Platform, New Name," Broadcasting & Cable, November 15, 2009.
10. The cost of adding a mobile DTV transmitter is estimated at about $250,000, compared to $5 million to $7 million stations were estimated to invest in digital television prior to the transition from analog television in June of 2009.
11. Anne Schelle, telephone interview with PEJ, December 22, 2009.
12. Anne Schelle, telephone interview with PEJ, December 22, 2009.
13. Glen Dickson, "OMVC Claims Consumer Appetite For Mobile DTV," Broadcasting and Cable, December 9, 2009. Among all adults surveyed, 47% said they would be interested in getting a device with mobile DTV capability if they were shopping for a new mobile device.
14. Glen Dickson, "OMVC Claims Consumer Appetite For Mobile DTV," Broadcasting and Cable, December 9, 2009.
15. Anne Schelle, telephone interview with PEJ, December 22, 2009.
16. Glen Dickson, "Mobile DTV Standard Approved," Broadcasting & Cable, October 16, 2009.
17. Michael Malone, "Study: Stations 'Have a Long Way to Go' on Web," Broadcasting & Cable, October 6, 2009.
18. The 2008 figures for all stations remained basically unchanged from responses of news directors in 2007. The percentage of news directors who said their stations made a profit in 2008 was down to 31% from 36% in 2007 and the percentage who said they did not know increased to 42% from 37% in 2007.