News Investment
By the Project For Excellence In Journalism
News Investment
CNN, which struggled with ratings in 2009, was projected to cut back its spending on the news for the first time since analysts began tracking it in 1996. MSNBC was projected to stay at 2008 spending levels. Only Fox News was projected to add to its editorial expenses, and by a wide margin, too, creeping closer than ever to CNN's levels.
CNN's cutbacks ran across several different areas. It closed two units, ended its online TV channel, and failed to fully staff its 10 all-platform journalist positions.
MSNBC, which draws on the resources of NBC News, increased its staff, but kept its already small budget where it was a year earlier.
Fox's growth, on the other hand, was fueled mostly by multimillion-dollar salary contracts that materialized in 2009, as well as adding staff internationally.

Newsroom spending
Fox's robust spending increases in 2009 were enough to produce slight growth in the combined cable investment in news.
Overall Expenses,* All Cable News Channels (Estimated)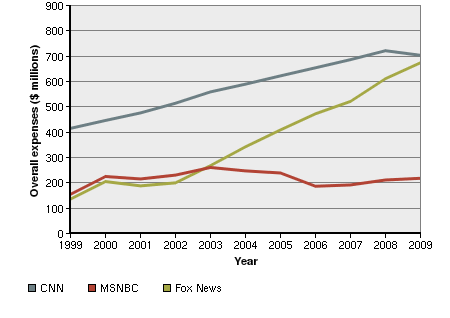 Design Your Own Chart
Source: PEJ Analysis of data provided by SNL Kagan LLC
*Includes programming as well as general/administrative expenses
The three channels' combined expenses were projected to increase 2.8% to $1.6 billion in 2009, up from $1.55 billion in 2008.
CNN/HLN was projected to decrease spending 2.5% to $703.4 million, down from $721.5 million in 2008.
Fox News was projected to increase spending 10.3% $674 million, up from $611.1 million in 2008.
MSNBC was projected to keep spending flat at $217.9 million, compared with $218.5 million spent in 2008.
2008-2009, in Millions of Dollars
| | | | |
| --- | --- | --- | --- |
| Channel | 2008 Projected | 2008 Actual | 2009 Projected |
| CNN/HLN | 763.9 | 721.5 | 703.4 |
| Fox News | 621.7 | 611.1 | 674.0 |
| MSNBC | 203.8 | 218.5 | 217.9 |
Source: SNL Kagan, a division of SNL Financial LLC
*Note: Includes programming as well as general/administrative expenses
To see how this money is spent, it is useful to break down the resources inside each channel.
CNN has the most bureaus, biggest staff, and largest newsgathering infrastructure of the three. Its general and administrative costs were projected to be $400.9 million in 2009, or 57% of the channel's budget. Programming expenses — which typically include investments tied to specific programming and taking in host salaries — were projected to be $302.7 million, or 43% of the channel's budget in 2009.
Fox's programming expenses, on the other hand, account for much more of their overall spending — 72%, or $486.2 million, in 2009, according to projections. Its general and administrative expenses, or newsgathering infrastructure, are projected to account for 28%, or $187.8 million.
MSNBC, drawing on the newsgathering resources of NBC News, has a relatively small budget of its own — only 35% to 40% of that of its competitors. Like Fox, MSNBC's greatest strengths in terms of ratings and advertising potential come from its popular prime-time, host-driven programs. Its programming expenses were projected to be 78% ($170.3 million) of the channels total spending in 2009. Its general and administrative expenses were projected to be $47.6 million, or 22% of the budget.
Newsroom Staffing

Over all, cable news staffing levels in 2009 remained on track with the prior year. CNN remained the leader in sheer newsroom numbers and total bureaus, with more than three times as many staff as Fox and more than double the number of bureaus. But there were scattered signs that the channel was pulling back. Fox News continued to spend on its marquee hosts and contributors. MSNBC appeared to do the same, though with a lower budget.
| | | | | |
| --- | --- | --- | --- | --- |
| | Total staff (2008) | Total staff (2009) | Bureaus (2008) | Bureaus (2009) |
| CNN/HLN | 4,000 | 4,000 | 46 | 47* |
| Fox News | 1,200 | 1,200 | 17 | 20 |
| MSNBC | 600 | (Unavailable) | 17 | 16** |
*CNN calls its bureaus "editorial operations/bureaus"
**MSNBC shares bureau resources with NBC News. In addition to its 16 bureaus, the channel reports that it has three
fixers
– local guides for traveling reporters. The channel declined to provide staffing numbers in 2009.
The cable news channels do not report their bureau lists according to a uniform standard. CNN calls its bureaus "editorial operations/bureaus" and includes its new all-platform journalists among them. Fox News counts three individual reporters based in different cities among its list of bureaus. MSNBC, which shares the resources of NBC News, utilizes NBC bureaus. NBC includes fixers along with actual bureaus in its list.
Nevertheless, in 2009, CNN maintained more than twice the number of these operations as its two competitors. These bureaus also support CNN International.
Domestic Bureaus 2009
Foreign Bureaus 2009
CNN/HLN
Fox News
MSNBC
CNN/HLN
Fox News
MSNBC
Atlanta
Atlanta
Atlanta
Abu Dhabi
Jerusalem
Jerusalem
Afghanistan
Boston
Boston
Burbank
Amman
Johannesburg
London
Baghdad
Chicago
Chicago
Chicago
Baghdad
Kabul
Moscow
Bangkok
Dallas
Dallas
Dallas
Bangkok
Lagos
Rome
Beijing
Denver
Denver
Washington
Beijing
London
Baghdad*
Cairo
Los Angeles
Los Angeles
Beirut
Madrid
Kabul*
Havana
Miami
Miami
Berlin
Mexico City
Islamabad*
London
MInneapolis
New York
Bogotá
Moscow
Bangkok*
Moscow
New Orleans
San Francisco
Buenos Aires
Mumbai
Singapore*
Tel Aviv
New York
Seattle
Cairo
Nairobi
Tokyo
Orlando
Washington
Chennai
New Delhi
Pakistan
San Francisco
Dubai
Paris
Seattle
Havana
Rome
Washington
Hong Kong
Santiago
Islamabad
Seoul
Istanbul
Tokyo
Jakarta
Source: The channels
Note: MSNBC uses NBC News bureaus. CNN calls its bureaus "editorial operations/bureaus."
* Single reporter
CNN Staffing
CNN reported an unchanged number of total staff — 4,000 — in 2009. But the channel does not break out specific tallies of staff involved in news gathering.
One rough proxy for news staff is to examine the numbers that CNN provides to Leadership Directories, an online database (formerly printed as the News Media Yellow Book) that lists staff contacts for leading news media organizations in the United States.
This list includes top management, staff assigned to various desks such as national, international and medical, as well as nine national bureaus, staff assigned to specific national programs, such as The Situation Room or Anderson Cooper 360. (It does not include technical, sales and promotional staff.)
While self-reported, it offers some sign of year-to-year changes:
The number of CNN's news staff in October 2009, which represents 7% of the network's reported overall staff, was down 12% from 2008.
CNN's number of bureaus rose, however, in 2009. The channel reported an increase from 46 to 47 — adding a bureau in Seattle — with 14 domestically and 33 abroad. The channel opened a "TV production facility" in Abu Dhabi in November.1
Mixed signals continued throughout the year from CNN. The channel rolled out some initiatives but scaled back on others at the same time.
In December 2008, CNN announced it was closing its science unit, led by Miles O'Brien. According to the channel, the closure was "strategic," and unrelated to the hard economic times.2 The channel also closed its documentary unit, CNN Presents, and folded most of that unit's staff into two other departments.3
CNN's much-heralded plans to add "all-platform journalists" (see last year's discussion) to 10 U.S. cities was still incomplete. As of February 2010, the channel had only hired five—in Orlando, Minneapolis, Denver, Seattle and Philadelphia.4 According to its director of coverage, Victor Hernandez, the reason is that CNN has been unable to find adequately qualified personnel who can combine solid reporting skills with technological prowess.5
A new wire service, CNN Worldwide, was formally launched in the first quarter of 2009, offering both a full wire service to outside news organizations and an a la carte option.6 The Worldwide president, Jim Walton, played down its ability to compete with Associated Press or Thompson Reuters, the major wire services. "Those are big established companies with tentacles all around the world," he said. "We're not going to build that. We have no intention."7
CNN relaunched its website, CNN.com, on October 26 with a major redesign (for more on this, see Digital Trends).8 But at the same time, CNN shuttered its online hosted portal, CNN.com/live, and dropped its four anchors and producers.
Some of these belt-tightening measures may indicate an element of caution for a channel that experienced a drop in ratings in 2009 as well as a slight decrease in revenue.
Fox News Staffing
Fox's self-reported staff tally, like CNN's, did not change in 2009, remaining at 1,200, nearly 3,000 shy of CNN. And, like CNN, Fox does not provide specific tallies of staff directly involved in newsgathering.
Fox's news investment growth appears attributable to an increase in editorial staff, more international reporters and the coming into effect of new multimillion-dollar salaries for its key hosts, many of which were renegotiated in 2008.
The Project's analysis of the Leadership Directories online database in October 2009 found 2% more news people on staff at Fox than in 2008. That number represented 18% of the reported overall staff.
Fox added a new bureau in Baghdad in 2009, and placed permanent reporters in Kabul, Islamabad, Bangkok and Singapore. It stopped staffing its Paris and Hong Kong bureaus, however.
Partly responsible for Fox's high programming expenses are the salaries of its valued prime-time hosts. Shepard Smith reportedly earns $7.5 million a year.9 Bill O'Reilly signed a contract in October 2008 for four years at over $10 million a year.10 And Glenn Beck, whose show is not in prime time, but generated considerable interest in 2009, is reported to earn about $2 million a year.11
MSNBC Staffing

MSNBC declined to report a total staff number in 2009, stating that it is impossible to break out a discrete tally of individuals who work for its operation as opposed to that of NBC News. The most recent estimate, though, is 600, which was provided by MSNBC in 2007.
The Project's analysis of the Leadership Directories online database in October 2009 found that MSNBC had significantly increased the size of its core editorial and production staff. The number of people it listed in 2009 represented 39% more news people on staff at MSNBC than in 2008. The jump in the percentage of core staff may be explained by the fact that the number of core staff listed by Leadership Directories for MSNBC is small to begin with, jumping from 36 in 2008 to 50 in 2009. (When presented with this figure, an MSNBC spokesperson Jeremy Gaines reiterated that this estimate does not represent the channel's total staff, which is "much more than that.")12
The number of NBC News bureaus remained unchanged in 2009 at 16. NBC also notes that it keeps three fixers in Amman, Beirut and Gaza. The bureaus are the domain of NBC News, and not MSNBC specifically. But MSNBC enjoys the benefit of these and other resources available through the larger network and, as such, reports a deceptively small spending budget in comparison to CNN and Fox.
As with Fox, MSNBC's program hosts attract a core audience and are extremely valuable to the channel. Keith Olbermann is reported to earn $7.5 million per year,13 Chris Matthews, whose program, Hardball, sets up the channel's prime-time hours, is paid approximately $5 million, though the exact terms of his contract were not disclosed.14
The cable news channels each hewed to their branded identities with personnel changes in their evening lineups. CNN parted ways with Lou Dobbs, the opinionated host at the 7 p.m. hour, while HLN added two hosts to its evening lineup. Fox News brought in Glenn Beck to ratings success and public controversy, and replaced its veteran lead anchor Brit Hume with Bret Baier. MSNBC hired Ed Schultz to host a liberal-leaning news talk show in the 6 p.m. slot.
CNN Programming
Of these shifts, the one with the least advance notice came in November when Lou Dobbs, the opinionated and controversial host in CNN's 7 p.m. slot, left the channel to pursue other unspecified opportunities. Dobbs had been with CNN, save for a brief hiatus, for 30 years (since its inception). In recent years, Dobbs' style and commentary at times clashed with CNN president Jonathan Klein's focus on a more neutrally toned brand. Dobbs was replaced by CNN's John King, a former AP newsman, who reflects CNN's straight-news marketing strategy. Whether his subdued persona will appeal to viewers in a prime time increasingly crowded with out-sized personalities remains to be seen.
An earlier change at CNN came on June 1, when Campbell Brown returned from maternity leave to her prime-time slot, where Roland Martin had been filling in. Her program dropped its No Bias, No Bull tagline to become, simply, Campbell Brown.15
In January 2009, CNN began airing a Sunday morning talk show of its own, called State of the Union. It was hosted by John King until he left to take over Dobbs' weeknight time slot. He was replaced in February 2010 by CNN's senior political correspondent, Candy Crowley.16 (For a detailed CNN program schedule, see the backgrounder.)
At HLN, the direction was the opposite. It added a new host to its roster of opinionated talkers that has been growing since it abandoned its headline news format in 2005.
"We position [CNN and HLN] to be alternative," said HLN's head, Ken Jautz. "Basically, we're aiming at different types of viewers. CNN is comprehensive, analytic programs. HLN is point-of-view programs and opinion shows where we debate the host's opinions. They're aimed at different niches."17
On September 29, HLN introduced The Joy Behar Show in the 9 p.m. slot. According to a TVNewser interview, Behar "gives a daily 'rant' about 'something that's bugging me,' and provide 'an infusion of humor' when it comes to the serious news of the day."18
Behar joined Jane Velez-Mitchell and Nancy Grace as women hosting programs on the channel. (Velez-Mitchell replaced Glenn Beck in October 2008, after he left the channel.)
For a detailed HLN program schedule, see the backgrounder.
Fox News Programming

In 2009, Fox News built upon its foundation of opinionated evening hosts by adding another one to its lineup, Glenn Beck, who became an instant lightening rod.

Beck started at Fox in early 2009 in the 5 p.m. slot. Two New York Times reporters, Brian Stelter and Bill Carter, gave this description of his program: "With a mix of moral lessons, outrage and an apocalyptic view of the future, Mr. Beck, a longtime radio host who jumped to Fox from CNN's Headline News channel this year, is capturing the feelings of an alienated class of Americans."19 Beck, like some of his cable news counterparts, is promoted not just on his Fox program, but also through radio broadcasts, book sales and event appearances.
In addition to Beck, there were other changes to the programming lineup at Fox. Alan Colmes departed the Hannity & Colmes program at the end of 2008, leaving its remaining host to present a singular perspective on the political news of the day. Bret Baier took over the helm at the Fox Report, a program formerly anchored by Brit Hume, who had been a mainstay at Fox since its inception.
In April, the channel canceled The Beltway Boys, a Saturday evening political talk show with Fred Barnes and Morton Kondracke.20 Former presidential candidate Mike Huckabee's Saturday program, which first aired in September of 2008, continued to broadcast on weekends in 2009. (For a detailed Fox News program schedule, see the backgrounder.)
MSNBC Programming
MSNBC remained committed to defining itself as an ideological alternative to Fox News in 2009, adding another opinionated host to its early evening lineup.
MSNBC added in April a new program hosted by Ed Schultz in the 6 p.m. hour. The Ed Show is formatted to complement the channel's prime-time lineup. It has a left-leaning, personality-driven format. Schultz continued to host his radio political talk show, which as of April 2009 was syndicated on more than 100 stations.21
Also in early 2009, MSNBC made permanent the practice of using a replay of Keith Olbermann's program in its 10 p.m. slot because of its strong ratings performance.22
When it came to daytime, MSNBC experimented with its schedule and format in 2009, only to reverse much of what it had done in early 2010.
In June, the channel rearranged its daytime schedule to include themed programming hosted by anchors who were, in some cases, reflective of the personality-driven culture of prime time and, to some extent, the early morning, which is dominated by Morning Joe. An impassioned financial reporter, Dylan Ratigan, was brought over from CNBC to host the 9-to-11 a.m. slot, focusing on the economy.23 MSNBC also began devoting the noon hour to Dr. Nancy, a health-themed show anchored by Nancy Snyderman.
After the changes failed to deliver new ratings success, MSNBC announced in early 2010 that it was reconfiguring its lineup. Much of the daytime programming would return to a live news format, with slots anchored by David Shuster, Tamron Hall and Contessa Brewer. The two-hour Morning Meeting with Dylan Ratigan was canceled and its host was given one hour later in the afternoon. One new MSNBC program that remained in place was Andrea Mitchell Reports, anchored by the NBC News chief foreign affairs correspondent.24
Political talk shows are less expensive than traditional newscasts, and MSNBC as a result was able to save money while it filled the hours. This did attract criticism, though. On weekends, MSNBC continued to replay its in-house produced documentaries. During the weekend of June 20, when other cable news channels covered the Iran election protests, MSNBC showed documentaries about human trafficking ("Sex Slaves in America") and prisons ("Lockup"). Documentaries, while expensive to produce, are cheaper in the long run because they can be shown repeatedly. This comes at the cost of breaking news coverage, however. While MSNBC denies that the cost of producing news coverage influenced its weekend programming decisions, its spokesman Jeremy Gaines did offer that "these programs generate higher viewership for us on weekends."25
(For a detailed MSNBC program schedule, see the backgrounder.)
---
Footnotes
1. "CNN Abu Dhabi marks official opening with premier of 'Prism,' " CNN.com, November 3, 2009
2. Alexis Madrigal, "CNN Guts Its Science Coverage," Wired, December 3, 2008
3. Personal communication with former CNN Washington bureau chief, Frank Sesno, January 10, 2010
4. Personal communication with Bridget Leininger, CNN publicist, February 2, 2010
5. Deb Wenger, "All-platform journalism at CNN," NewsLab, October 14, 2009
6. Personal communication with Bridget Leininger, CNN publicist, February 2, 2010
7. Sarah Rabil, "CNN Is Hiring Amid 'Tough' Ad Market, Competition," Bloomberg, April 1, 2009
8. Mercedes Bunz, "CNN.com relaunch to focus on video," the Guardian (Britain), October 23, 2009
9. Tom Junod, "Because They Hate Shepard Smith and Want Him to Fail," Esquire, February 10, 2009
10. Howard Kurtz, "O'Reilly: You Still Have Me to Kick Around," Washington Post, October 22, 2009
11. David Von Drehle, "Mad Man: Is Glenn Beck Bad for America?," Time, September 17, 2009
12. Personal communication with MSNBC spokesperson Jeremy Gaines, February 2, 2010
13. Brian Stelter, "MSNBC Extends Keith Olbermann's Contract," New York Times, November 10, 2008.
14. Bill Carter, "Matthews Renews Contract at MSNBC," Bill Carter, March 22, 2009
15. Steve Krakauer, "Campbell  Brown Returns: No More 'No Bias, No Bull,' " TVNewser, June 2, 2009
16. Marisa Guthrie, "Candy Crowley to Helm 'State of the Union,' " Broadcasting & Cable, January 31, 2010
17. Sergio Ibarra, "HLN's Growth Validates Programming Strategy, Jautz Says," TVWeek, April 5, 2009
18. Alissa Krinsky, "Joy Behar: New HLN Show 'an Infusion of Humor' During Serious Times," TVNewser, September 28, 2009
19. Brian Stelter and Bill Carter, "Fox News's Mad, Apocalyptic, Tearful Rising Star," New York Times, March 30, 2009
20. Michael Calderone, "Report: Fox cancels Beltway Boys," Politico, April 30, 2009
21. Brian Stelter, "MSNBC Expands Its Liberal Lineup," New York Times, April 2, 2009
22. David Bauder, "MSNBC Finding Rerun Is Wise Prime-Time Strategy," Associated Press, March 30, 2009
23. Marisa Guthrie, "Dylan Ratigan Joins MSNBC," Broadcasting & Cable, May 6, 2009
24. Chris Ariens, "MSNBC Dayside Changes: Return to Single-Anchor Shows; Themed Hours Go Away," TVNewser, January 26, 2010
25. Scott Collins, "At MSNBC, weekends aren't newsworthy," Los Angeles Times, June 24, 2009