New Ventures
New Ventures
By the Project for Excellence in Journalism
As revenues and resources at traditional news outlets continued to decline, a number of independent new ventures have emerged, often led and staffed by refugees of the mainstream press.
These new sites vary in how they create content, the type of news they focus on and in how they fund their operations. Some are nonprofits; others have been given start-up money with the expectation of becoming self-sustaining; still others are full for-profit entities. Some cover very local news, others report globally and still others focus on niche areas such as health or science.
But one feature they all share is original reporting meant to fill what they see as an expanding void in what mainstream media now offer.
These ventures are a new feature of American journalism worth watching. For now, our sense is that they represent something complementary to the traditional news media, much in the way that an alternative weekly and city magazine complement, enrich and broaden the journalism in a given city. Yet something new is going on here that could grow beyond that.
What follows is a listing of some of the larger-scale ventures. Most began in 2008 but some started earlier and gained more solid footing during the year.  We do not attempt to list all such undertakings here, but strive to touch upon the scope of what exists. We invite readers to alert us to other innovations.
Local News sites
The VoiceofSanDiego.org began in 2005 and by 2008 had a staff of 11 to do investigative reporting of local issues in San Diego.
The site was initially created and funded by Buzz Woolley, a retired venture capitalist turned philanthropist, because of dissatisfaction with local news coverage.  The goal, according to executive editor Andrew Donohue, was to provide San Diego residents with more choice and depth in issues that matter to the community — a need that he says has only grown as newspapers have witnessed serious declines.1
In 2008, the John S. and James L. Knight awarded a $100,000 grant over one year. In addition, voiceofsandiego.org received a two-year $200,000 grant from the John S. and James L. Knight and the San Diego Foundations.
The staff of 11 includes nine professional journalists (six beat reporters, an editor, a photo/multimedia journalist, and one columnist/blogger, who is also the CEO).  The other two employees are on the business side.  In addition, the site has a regular stable of five freelancers and hires others as needed.
All nine of the journalists have their own blogs, and some reporting is done through blog posts updated through the day. While investigative reporting may normally be thought of as long in-depth pieces, Donohue says, The Voice shows how investigative reporting can be adapted to this newer form.
In 2006, the site began running a series of investigative reports on the Southeastern Development Corp., a development arm of the San Diego city government.  The reports exposed waste and fraud at the organization and spurred a federal investigation as well as numerous other investigations that continue into 2009.
"Voice is doing really significant work, driving the agenda on redevelopment and some other areas, putting local politicians and businesses on the hot seat," said Dean Nelson, director of the journalism program at Point Loma Nazarene University in San Diego. "I have them come into my classes, and I introduce them as 'This is the future of journalism.' "2
The site gets between 70,000 and 80,000 unique monthly visitors, according to Google analytics (or between 45,000 and 50,000 if measured through another firm, Quantcast).
The nonprofit MinnPost.com was launched in 2007 by Joel Kramer, former publisher of the Minneapolis Star Tribune. It provides original reporting on the government, public affairs, the arts, business and sports of Minnesota, with relevant national and foreign news mixed in.
According to managing editor Roger Buoen, the site's target audience is civically engaged citizens and younger people intensely interested in news and in non-traditional outlets.
Initial funding of $850,000 came from a number of private donors as well as grants from the John S. and James L. Knight and Blandin Foundations. But its financial goal is to reach sustainability through a mix of member donations, corporate sponsors and advertisers. To maintain its nonprofit status, advertising will be monitored to be sure it does not begin to bring in a profit.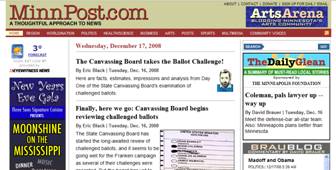 As of June 30, 2008, MinnPost had 904 member-donors contributing amounts ranging from $10 to $10,000. By asking for member donations and reporting in an informal style, MinnPost is trying to "create a site that is close to a club," said Kramer, who is the CEO and editor.3
Originally, the outlet published a five-day-a-week print edition, but in 2008 moved to online-only.  The organization employs three full-time staff members, as well as six full-time and part-time editors.  In addition it keeps six reporters on retainer, journalists who are not on staff but receive a weekly fee to report for them.  MinnPost also buys freelance articles from a pool of 40 journalists who have been published on the site before. According to Forbes magazine, Kramer had hoped to increase his $900,000 newsroom budget by 10% to 15% in 2009, but lower ad revenue from the economic downtown will keep it at the same level.4
The original content ranges from quick updates of things happening in the Minnesota Legislature to longer reports and even multipart series.  In fall 2008, MinnPost did a five-part series (the first installment is here) on how the Minneapolis school system had become re-segregated over the years.
MinnPost.com has a unique monthly audience of 180,000, with 600,000 page views per month.  In February 2009, the site had 300,000 unique monthly visitors over 31 days between January 20 and February 20.
Launched on January 5th, 2009, Arizonaguardian.com is the brainchild of political consultant Bob Grossfeld and three reporters from the East Valley Tribune.
It is a niche, subscription-only news site, tailored toward those on the inside of the political process. According to Paul Giblin, a reporter for the outlet, "We are writing about issues that are important to the insider crowd at the Capitol and people deeply involved in government and politics, issues such as rules changes . . . and proposed changes to public records law."5
As of early 2009, the Guardian employed four full-time journalists who report from the state Capitol 8 to 10 hours per day. They also, according to Giblin, make nightly updates from their homes so that the morning website has new content.
The stories are mostly short- and medium-length pieces, with longer articles expected when the Legislature is in recess.
The model is a kind of local version of what Congressional Quarterly has carved out at the federal level. With the shrinking press pool covering state governments, Giblin sees a real void waiting to be filled. "I expect news sites like the Arizona Guardian to pop up all over the country as newspapers continue to struggle with the changing economy."6
There are three tiers of subscription plans — professional, nonprofit professional and individual.  In each tier there are one-month and six-month subscriptions. The most expensive subscription is a professional subscription for six months, which costs $900, while the least expensive is an individual six-month subscription for $30.  The professional subscription will get the user access to the entire site, while the individual subscription gets access to articles, but not premium content.
The New Haven Independent, created in 2006, is a site devoted to hyper-local news about New Haven, Conn.  The Independent has 13 staff members, 3 of whom are staff writers and 5 contributing reporters.
The site, newhavenindependent.org, was formed in conjunction with an organization called the Online Journalism Project.  Paul Bass, the founder and editor of the New Haven Independent, is also a founder and board member of the Online Journalism Project.  The project helps journalists obtain grants or other financing to pursue work on their own, or to help them create local news sites similar to the Independent.


The New Haven Independent is a non-profit organization and has 3 funding sources:  grants that support specific areas of reporting (such as Connecticut Health Foundation, which gave a grant to the Independent for online health care reporting), continuing sponsorships and donations from readers.
The content of the site includes reports about all aspects of New Haven, ranging from local government to arts and culture.  The site's mission is to give citizens of New Haven in-depth reporting on their city.  The site publishes a mix of content, including video, audio, photo galleries and narrative reports. Throughout the day, there are shorter updates on breaking news such as happenings at the day's City Council meeting, often with video or audio attached. There are also longer pieces that are more investigative. One such story was coverage of a local marshal who refused to issue a restraining order to an alleged child abuser and was now being questioned by a state commission on violence. The paper publishes three to five new pieces daily; it does not publish on weekends.
Topical News Sources
Also in 2008, several news operations launched to offer in-depth reporting of specialized topic areas.
The Kaiser Family Foundation announced the creation of the Kaiser Health News Service in 2008 to produce stories related to the policy and politics of health care, including the insurance industry, physicians, hospitals and prescription drugs. The news service is based in Washington, D.C., with an expected annual budget of $2 million from the foundation.
Kaiser hired as the site's top editors a pair of news veterans: Laurie McGinley, former deputy bureau chief for global economics at the Wall Street Journal, and Peggy Girshman, former managing editor of National Public Radio and an executive editor at Congressional Quarterly. Girshman and McGinley expect to hire another editor, several full-time reporters and also work with a handful of freelance reporters.
The site went live in early 2009, but in what Girshman refers to as a "ramping-up phase." The full website and reporting operation are expected to launch in early May.
The site's in-depth reports will be posted on its website as well as shared with mainstream news outlets. The structure of these partnerships is still being determined, but the goal of the news service, according to Girshman, is to get the information out there.  There will be no fee to carry the stories.
In addition to in-depth pieces, the website offers the "Kaiser Daily," a summary of the day's top health news, based largely on their synthesis of reports from outside news organizations.
Three other organizations have similar, though less well-financed ventures under way: the Center for California Health Care Journalism, Florida Health News and the Kansas Health Institute
News Service.
"In terms of these new journalism ventures, there is more activity in health than in any other area and they're all slightly different," said Louis Freedberg, director of the California Media Collaborative.7
Kaiser Health News Service is funded by the Kaiser Family Foundation, which gets its money from the family that founded one of the world's largest health care companies, Kaiser-Permanente. However, according to the Health News Service website, neither the site  nor the Kaiser Family Foundation is affiliated with Kaiser Permanente.8
GlobalPost opened in January 2009 with a goal to provide in-depth international coverage.
GlobalPost correspondents, who live in countries around the world, are not full-time employees of GlobalPost. Instead, they are under contract, paid in cash and given an ownership position in the company.  Some of these correspondents work for other news agencies, and GlobalPost also hires freelancers on occasion.
According to Rick Byrne, the outlet's director of communications and marketing, GlobalPost tries to keep its stories short, to between 600 and 800 words, and focused on giving readers the perspective of someone living in the community.9
One of the most popular stories so far on GlobalPost, according to Byrne, was a video titled "For Which It Stands: Afghanistan, an Accordion Journey." It was a story by one of its correspondents who traveled through Afghanistan investigating the influences of American culture on Afghan pop music, as Byrne puts it, giving "a face and a voice to the people of a nation where the U.S. is involved in a military action."
The economic model for GlobalPost, though still in its very early stages, has three pieces.  The first is online advertising, with a hope that the global focus will attract a range of advertisers.
The second piece is syndication.  GlobalPost offers to sell its content to other publications, both online and print, around the world. As newspapers continue to cut back on international coverage, GlobalPost hopes its syndication will prove a more cost- effective way for news organizations to include quality in-depth international content.
The third is a membership fee. But this fee goes beyond the traditional premium content element offered by some websites. Members of the program, called Passport, will get premium content and can also suggest story ideas. Each week, the top ideas are posted. Then members vote on which story they want GlobalPost to cover. Passport costs $199 per year for an individual membership, $50 for a student.  GlobalPost also offers different rates for corporate membership, which are worked out on a group by group basis.
A section will be provided for members to suggest their ideas, such as proposals for GlobalPost to interview world leaders or newsmakers. The suggestions will then be posted online for viewing.  This idea of using an audience to generate ideas, offer eyewitness accounts and more, dubbed "crowdsourcing," is a tested one on the Web, but a new one in terms of choosing stories for journalists to cover.
Passport members also have access to twice monthly conference call in which members will be able to listen to and ask questions of a foreign correspondent writing for GlobalPost.  The conference calls are available for listening and download online after they take place.
In addition to participation in the news process, Passport membership offers a number of tools to better organize and find information a user is looking for.  One is called Global 10, which is a service that produces and organizes reports on 10 countries that are deemed under-covered by GlobalPost and in which "Americans are deeply engaged."  Members will be able to sign up for e-mails with reports on one or all of these countries every two weeks.  In addition, members can sign up for alerts in which correspondents send updates on breaking news in their respective countries via e-mail.
Full monthly audience figures were unavailable due to the recent launch of the site, but the site got 200,000 visits in its first four weeks, according to Byrne.
ProPublica, begun in 2008 as a nonprofit devoted to investigative journalism, published a series of articles on nurses with criminal records in cooperation with the Los Angeles Times that has led to investigations and regulatory changes.
According to the ProPublica website, "Our work focuses exclusively on truly important stories, stories with 'moral force.' "
Based in New York City, ProPublica is funded entirely by philanthropic organizations.  The main funding comes from the Sandler Foundation, whose founders, the California philanthropists Herbert M. and Marion O. Sandler, conceived of the idea and committed to funding the organization at $10 million annually for at least three years.10
Other funders include the JEHT Foundation, the John D. and Catherine MacArthur Foundation and the Peter G. Peterson Foundation.
The Sandlers hired former Wall Street Journal managing editor Paul E. Steiger as the editor-in-chief of the news site, and picked former New York Times investigative editor Stephen Engelberg to be the managing editor. As of February 2009, Steiger and Engelberg were running a newsroom of 28 reporters, editors and researchers.11
ProPublica mixes original reporting with aggregation of muckraking news from around the country. Among their original features is a "Promises Clock" that keeps track of promises made by public officials and how long it takes to make good on them. One of the new promises tracked in early 2009 was President Barack Obama's pledge to end no-bid contracts worth more than $25,000.
ProPublica's full-time news staff includes 17 reporters, plus editors and Web technical, design and production staff. According to Dick Tofel, the general manager of ProPublica, it hires freelancers occasionally, although it is rare.  According to Tofel, the staff constitutes the largest investigative reporting operation in the country.
Content on ProPublica is geared toward longer investigative pieces, but it does provide shorter articles as well.  The longer investigations are often featured in multiple parts.
The ProPublica-Los Angeles Times inquiry into the health care workers with criminal records appeared both on ProPublica's website and in the Times. (One piece in the series can be found here.)
ProPublica does not release traffic data for its website, in part, according to Tofel, because of the partnership model, which means stories live a number of different places.
Congressional Quarterly, a venerable publication that has evolved into a new type of subscription-based online news, was put up for sale in early 2009
Started in 1945, the magazine provided in-depth coverage of the goings-on in Congress through its magazine and then later a daily newsletter. It still publishes a newsletter daily when Congress is in session, but in recent years has made a major push toward a variety of products aimed at niche professional audiences. Included in this is a subscription-based online news product, http://corporate.cq.com, as well as products for mobile devices. The company sells ads on its various websites but they are a minimal factor.12
Its newest online products are tailored to specific issues, such as health care or homeland security, and aimed at those working in government or as lobbyists who need in-depth and up-to-date information on specific industries. Consumers can choose among the various topics areas.
In January 2009, CQ began offering mobile versions of three of its services: CQ Today, the daily newsletter of what is happening in Congress; CQ Schedules, a popular CQ service that catalogs hearing schedules and committee votes on bills, and CQ Member, which provides profiles and photos of members of Congress.  The changes are an effort to adapt existing online products for use on mobile devices.
The next month, CQ launched CQ Financial Transcripts. The service monitors statements from key officials responsible for the government's intervention in the financial crisis. The service offers transcripts of interviews, public statements and congressional testimony, as well government reports on the process. It planned to add in April another new service, StateTrack, to following legislative developments in the 50 states.
As of early 2009, the company offered more than 35 stand-alone, subscription-based products. The cost varied widely, depending upon a number of factors, such as how many services a subscriber wanted and how many users were enrolled in an organization. An individual subscription ranged from $2,000 to $18,000 a year.13
Footnotes
1. E-mail conversation with PEJ staff, February 13, 2009
2. Richard Pérez-Peña, "Web Sites That Dig for News Rise as Watchdogs," New York Times, November 17, 2008
3. "Who Will Pay for the News?" Poynter Institute Conference, St. Petersburg, Florida, November 10-11, 2008
4.  James Ables, "Tough Times for News Nonprofits," Forbes Magazine, December 12, 2008. http://www.forbes.com/2008/12/12/news-philanthropy-journalism-biz-media-cx_jea_1212npr.html.
5. PEJ email conversation with Paul Giblin of Arizona Gaurdian .com
6. PEJ email conversation with Paul Giblin of Arizona Gaurdian .com
7. Kevin Sack, "Foundation Starts News Service to Cover Health Care Topics," New York Times, November 24, 2008
8. Kaiserhealthnews.org
9. E-mail interview with PEJ staff, February 12, 2009
10. Carol Guensburg, "Nonprofit News," American Journalism Review, February/March 2008
11. ProPublica website, http://www.propublica.org/about
12. Congressional Quarterly press release, January 6, 2009. http://corporate.cq.com/wmspage.cfm?parm1=336.
13. PEJ Interview with Greg Hamilton, Chief Marketing Officer, Congressional Quarterly Inc.