Public Attitudes
Public Attitudes
By the Project for Excellence in Journalism
A strong news year in 2008 provided journalists with an opportunity to win back some of the respect and confidence they had lost from the public.
There's scant evidence, though, that happened.
The public retained a deep skepticism about what they see, hear and read in the media. No major news outlet – broadcast or cable, print or online – stood out as particularly credible. There was no indication that Americans altered their fundamental judgment that the news media are politically biased, that stories are often inaccurate and that journalists do not care about the people they report on.
And, perhaps paradoxically, a public that said it relies to a large and growing extent on the Internet for news gave it particularly low marks for credibility.
On the plus side, believability ratings were stable for leading print outlets, and even rose slightly for most of the top television news operations. And the media got high marks for the story the public cared most about: the economy.
Other conclusions from surveys taken during the year:
The partisan divide that has crept into news consumption widened. This was seen among liberals and conservatives alike, both in their general trust in the media and their perception of how the presidential candidates were treated.  Increasingly, there are Republican views of the news media and Democratic views, and they differ sharply.
Overall, voters gave so-so marks for the coverage of the election: an average grade of "C," the same as in 2004. The presumption that reporters favored one candidate, however, hit an all-time high in a survey by the Pew Research Center for the People & the Press, which has been asking the question since 1992. Most people also said they wanted to hear more about the candidates' policies, and many said they wanted to hear less about who was ahead in the polls.
There continued to be a greater trust in the paper or TV station that people actually use than the generic "media." This suggests that the credibility issues with the media are, at least in part, frustration with outlets that people are choosing not to use. They are irritated with the press generally, but have choices they prefer.
In short, the public's view of journalists hasn't worsened much in recent years. But neither has it improved, despite a technological revolution that has given the public more choices than ever before about where and how and from whom to get news.
The Last 20 Years

All this comes against a background, of course, of the general attitudes about the press over the last two decades. In general, after falling in the 1980s and 1990s, the public's view of the press according to a battery of different questions—from the morality and accuracy of the press to its professionalism and bias–have stabilized and in some cases risen slightly during the Bush years. But all of these numbers are now lower than they were a generation earlier.
Shortly after the November presidential election, for example, only a quarter of Americans rated the honesty and ethical standards of journalists as "high" or "very high" while nearly a third rated them "low" or "very low."1 Those results were within a few points of an identical poll taken in 2005.2 But they were almost the reverse of what Gallup pollsters found in 1976, in the aftermath of Watergate when a third of Americans gave journalists high marks for ethics and just 17% gave them low.3
In early 2009, similarly,  only 8% of Americans told an NBC Wall Street Journal poll they had a "great deal" of confidence in the national news media while 18% said they had "no confidence at all."4 That was similar to the results found in 2002.5

Persistent Criticisms of the Press
Percent of Survey Respondents
July 1985
Feb 1999
Sep 2001
Nov 2001
July 2002
July 2003
June 2005
July 2007
News Organizations…

%

%

%

%

%

%

%

%

Moral
Immoral

54
13

40
38

40
34

53
23

39
36

45
32

46
32

Protect democracy
Hurt democracy

54
23

45
38

46
32

60
19

50
29

52
28

47
33

44
36

Get facts straight
Stories often Inaccurate

55
34

37
58

35
57

46
45

35
56

36
56

36
56

39
53

Careful to avoid bias
Politically biased

36
45

31
56

26
59

35
47

26
59

29
53

28
60

31
55

Highly professional
Not professional

72
11

52
32

54
27

73
12

49
31

62
24

59
25

66
22
Source: Pew Research Center for the People & the Press, "Views of Press Values and Performance: 1985-2007," August 9, 2007. These survey questions were not repeated in 2008.
Source: Pew Research Center for the People & the Press, "Views of Press Values and Performance: 1985-2007," August 9, 2007. These survey questions were not repeated in 2008.
A decade ago, more than 40% of Americans said they "believed most or all" of the reporting from the most trusted newspaper or network news operations. That figure dropped steadily until 2004 when it leveled off – in the 20s for print and around 30 for television – and has remained their since.6

In 2008, the Wall Street Journal got the highest marks among newspapers, but only 25% said they believed all or most of what it reported. CNN, with 30%, did the best among broadcast outlets.
Most Americans view traditional news sources – print, TV and radio as believable. On a scale of 1-4, solid majorities rate leading print news organizations at least a 3, according to a May 2008 survey from the Pew Research Center for the People & the Press. Relatively few people – about 10% for most news organizations – gave the outlets a rating of 1 – (believing "almost nothing" of what the news organization said. 8
Notable exceptions are People magazine – only 28% of those who could rate it give it a rating of three or four – and the National Enquirer; just 14% give the supermarket tabloid a three or four.
People continue to rate their own newspaper or local TV station fairly high. And, though the gains were slight, the ratings for both were higher than at any point since 2000.
The data offer some stark warnings in about political ideology and what was once considered the gold standard among newspapers, the New York Times. More than a third of Republicans now say they believe almost nothing in the paper (36% vs. 14% of independents and 8% of Democrats).

And only 10% of Republicans give the Times the highest believability ranking – 4 – down from 16% in 2006. Democratic ratings for the Times have remained stable (23% top rating in 2006, 24% in 2008). The Times drew particularly harsh reaction from conservatives in February 2008 when it published a story about John McCain's personal and professional ties to a female lobbyist who had business before the committee he had chaired.
But the ideological divide goes beyond the New York Times. In general, Democrats continue to give most news organizations much higher credibility ratings than do Republicans. NPR, for example, is given the highest ratings by 37% of Democrats, but only 18% of Republicans. And NBC was rated highly believable by 31% of Democrats but only 16% of Republicans (This, too, could have been a reflection of controversy: some Republicans publicly blamed the network for what they viewed as bias at its sister cable channel, MSNBC).
Republicans, by contrast, are substantially more likely to give the highest credibility rating to the Fox (34%) than are Democrats (19%). Even with these low scores, Fox's ratings among Democrats are much higher than Republican ratings for The New York Times (10% give it a four).
Partisan differences in credibility ratings for news organizations have fluctuated in recent years. In 2004, for example, there was a 19-point gap between Democrats and Republicans when it came to CBS News. That dropped to 11 points in 2006 and 8 points in 2008. The gap for ABC News fell from 18 points in 2004 to 9 points in 2006 and remained at 9 points in 2008.
Most of the narrowing of the difference, however, has been driven by Democrats lowering their estimation of each network's credibility.
Political ideology was even more evident in the public's views of election coverage. Voters in a post-election poll gave the media a grade of C, the same as 2004. Among the various campaign participants tested – the candidates themselves, pollsters etc. – the press tied with the GOP for the lowest average grades (also a C).9
Late in the campaign, fully 70% of Democrats rated press coverage positively, but fewer than four-in-ten (38%) Republicans shared this view. The opinions of Republicans had not changed much over the summer and fall, but, as election day grew closer, the number of Democrats who rated the press' performance positively increased 20 points.10
A persistent and widely shared criticism throughout the primary and general campaign was that news organizations favored Obama, something that must almost certainly be seen as a point of concern for the press. In the campaign's closing weeks, 70% said that most reporters wanted to see Obama win, compared with just 9% who said they wanted a McCain victory. 11
In previous campaigns, majorities or near-majorities said the press favored the Democratic candidate. But the belief that reporters wanted Obama to win was far more widespread than it had been for any candidate since the question was first asked by Pew in 1992. While this view was nearly universally shared among Republicans, even a majority of Democrats said that reporters wanted to see Obama in the White House.
Throughout the campaign year, sizable minorities consistently said either that the press was biased in favor of Obama or that it was "too easy" on the Illinois Democrat. In June, 37% said the press had been biased in Obama's favor during the primaries, while 8% said it was biased for his chief opponent, New York Senator Hillary Clinton; 40% saw no bias.
A month later, with the general election underway, 42% felt the press had no bias for Obama or his GOP rival John McCain. But an equal percentage of people felt the media was biased in favor of Obama, versus 6% who felt the press showed bias for John McCain.
And Republicans felt that way all the more. Nearly three-quarters felt the media was biased in favor of Obama, versus 1% who felt it favored McCain. Democrats saw it differently, with more than half (54%) saying there was no bias in the media for either candidate.12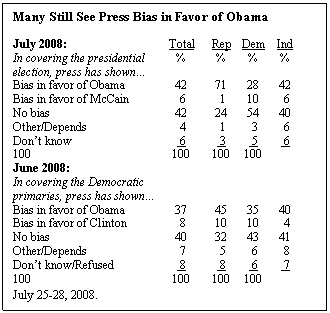 Week after week, Obama was the most visible candidate in the public's mind. With the exception of the period just following the GOP convention, far more people said they heard more about Obama than about McCain. In fact, early in the campaign, Obama did receive more coverage than McCain, according to a PEJ assessment. After August, the two rivals were in a virtual dead heat in the amount of attention paid, and the Republican ticket actually was slightly ahead when stories about the running mates were included. 13 But even then, 48% of the public said they were hearing too much about Obama; that included 34% of Democrats. Conversely, about the same percentage of Democrats said they were hearing too much about McCain.
Pew Research Center surveys consistently found a high level of public interest in the campaign. But by the end of the campaign, Americans were happy to see it end. Even as many celebrated Obama's victory by saving newspapers with election headlines, 82% said they would not miss following campaign news.
Internet Gets High Usage, Low Marks
It was a watershed year for the Internet as a source of news, with substantial increases in the number of people who said they had come to rely on the Internet regularly for their news, especially about national and international affairs.
Online news outlets, however, are viewed with more skepticism than their print, broadcast and cable counterparts. Of seven organizations evaluated, none is viewed as highly credible by even a quarter of online users able to rate them.
Only Google News and Yahoo News – which derive much of their content from traditional news organizations – receive positive marks for credibility by most users who could rate them. Six-in-ten consider Google News generally believable, but just 13% give it the highest marks. Yahoo News' ratings were similar, if just slightly lower. AOL News was rated as generally believable by less, just (46%).14
The other mega-story from 2008 was the financial meltdown. In fact, news about the economy surpassed all other news stories, including the campaign, in the list of stories said they were interested in. In late September, as the crisis exploded, 70% said they were following economic news very closely – making this one of the most closely followed stories of the past two decades.
Given the public's skepticism about the press generally, ratings of coverage of the economic crisis were fairly positive. A solid majority said the coverage was excellent (17%) or good (41%). Opinions about coverage of the economic crisis were far less divisive than views of coverage of the campaign.
Most Americans also felt that the amount of coverage of the crisis was appropriate. However, a sizable minority said that coverage of the government's financial rescue plan was not critical enough: 42% expressed this view; and just 10% said coverage of the bailout was too critical.
Footnotes
1. Gallup/USA Today Poll released November, 2008. The results: 4% rated the ethics of journalists as very high, 21% as high, 44% as average, 21% as low and 10% as very low.
2. Gallup/CNN/USA Today Poll released November, 2005. The results: 4% rated the ethics of journalists as very high, 24% as high, 44% as average, 21% as low and 6% very low.
3. Gallup Poll released July, 1976. The results: 7% rated the ethics of journalists as very high, 26% as high, 50% as average, 14% as low and 3% as very low.
4. NBC News, Wall Street Journal Poll, January 2009. Conducted by Hart and McInturff Research Companies.
5. The results for the 2002 poll: 9% of the people reported a "great deal" of confidence in the national news media and 12% "no confidence at all."
6. All of these measures are based on those able to rate the news organization, not on a total of those surveyed.
7. Pew Research Center for the People & the Press Political/Believability Survey, May, 2008.
8. Pew Research Center for the People & the Press Political/Believability Survey, May, 2008.
9. Pew Research Center for the People & the Press Re-Interview Poll, Nov, 2008. Specifically, 9% gave the press an A; 25% a B; 26% a C; 15% a D; 24% an F.
10. Pew Research Center for the People & the Press, News Interest Index, October 16, 2008.
11. Pew Research Center for the People & the Press, Weekly News Interest Index Poll, October 17-20, 2008.
12. A study of the coverage by the Project for Excellence in Journalism found that there was a difference in the tone, though much of it was driven by stories that reflected Obama's lead in the polls. In the six weeks following the conventions through the final debate, unfavorable stories about McCain outweighed favorable ones by a factor of more than three to one. For Obama, just over a third of the stories were clearly positive in tone, while a smaller number (29%) were negative. winning media campaign.
13. "Winning the Media Campaign: How the Press Reported the 2008 General Election," the Project for Excellence in Journalism, October 22, 2008.
14. Pew Research Center for the People & the Press Political/Believability Survey, May, 2008.