Ownership
Ownership
Introduction
By the Project for Excellence in Journalism
In 2008, the owners of the nation's big magazines faced difficult times that could translate into changes in the ownership landscape. Advance and Hearst, for instance, consolidated and even closed some publications. Time Warner reorganized and announced layoffs.
Fewer new magazines were launched in 2008 compared with 2007 and 2006.1 And as credit markets tightened with the deepening economic crisis in the U.S., sales of magazine properties, which had been few and far between in 2007, were fewer still in 2008.
Instead, publishers large and small sought to diversify their businesses, launching new websites or transitioning unprofitable print publications onto the web.
Total Revenues of the Three Biggest Magazine Publishers
2002-2007
Design Your Own Chart
Source: Advertising Age, Top Ten Magazine Companies
Advance Publications began 2008 on a high note. Advertising Age magazine estimated that Advance had overtaken Time Warner in magazine revenues for all of 2007, with much of their gain through expansion. But as 2008 continued, Advance faced the consolidation of some of its magazines and the closure of others.2
This came after a period of substantial growth at Advance. In the first half of the decade, Condé Nast, the magazine division of Advance, added magazines aimed at strategic categories of readers, particularly younger consumers.  Among the niche publications added were Modern Bride in 2002 and YM in 2004. And even as other business magazines such as Fortune, Forbes and Business 2.0 were having difficulties, Advance went forward in April 2007 with the high-profile launch of the business monthly Condé Nast Portfolio.3
In October of 2008, Advertising Age, based on 2007 results, reported that Advance had passed Time Warner in magazine revenue. According to Ad Age estimates, Advance in 2007 generated $3.9 billion in revenues from its magazines in 2007 (versus $3.6 billion at Time Inc. magazines), up almost 10% from the year before.4
Magazines also made up a larger share of Advance's overall revenues. Even while expanding in some other areas—namely Internet properties and regional business journals—magazine revenues accounted for 48% of Advance revenues by 2007, up from 47% in 2003.5 (The company also owned more than 20 newspapers, including the Star-Ledger in Newark, N.J., as well as the American City Business Journals chain of local business weeklies, the Newhouse news service and part ownership of the Discovery Channel.)
Although Advance's financial results are not divulged publicly, Hoover's, the business information company, estimates that Advance generated revenues of nearly $8 billion in 2007 from all its operations, up slightly over the previous year.6
It was apparently a different story in 2008, however. In July, Condé Nast announced it would not publish the scheduled second issue of Vogue Living in fall 2008. The publisher cited a weak ad climate, which has been prominent in the home goods advertising category.7 The cancellation of the issue came after the company had closed House & Garden in 2007.
In October, Advance announced it would reduce the frequency of Portfolio from 12 times a year to 10 and Men's Vogue from 10 times to 2.8
The company in 2008 also closed Golf for Women, a magazine published every two months that had a rate base of 600,000.   Advance had bought the publication, along with Golf Digest, Golf World and Golf World Business from Meredith in 2001.
And in January 2009, Advance closed Domino, which was first published in 2005.9
The closing of magazines in 2008 suggests that as the print advertising market got smaller, Condé Nast looked to cut back on publications that targeted the same audiences. That still leaves the company publishing two food magazines (Gourmet and Bon Appetit), two men's magazines (GQ and Details), and various women's fashion magazines, including Vogue, teen Vogue, W, Allure and Lucky.
Advance, owned by the Newhouse family, is known for taking a more long-term approach to its business than some other media companies. And it has clearly been committed to magazines as a sector, even while some large rivals have scaled back.
However, in January 2009, New York Times media and culture columnist David Carr suggested that in the difficult economic times, "Condé Nast may not be able to keep all 23 of its magazines in business."10
The company that not long ago stood out above all others in American magazines, Time Warner, has spent the past several years selling or shuttering weak-performing magazines to focus on its bigger ones and to develop new ways of distributing its content, while also expanding its far-flung operations outside the publishing sector.
While Time Inc. was estimated to have fallen behind Advance in magazine revenue going into 2008, it remained No. 1 in overall circulation.
Over the previous five years, the share of Time Warner's total revenue coming from magazines had already decreased by a third, to 10% in 2007, from 15% in 2003.
In 2008, the magazine division showed a $6.6 billion operating loss—blamed largely on one-time charges for restructuring and revaluation of assets—compared to a $907 million gain in 2007. Revenue fell 7% to $4.6 billion, from $5 billion in 2007.
That meant magazines accounted for 10% of Time Warner total revenue in the year.
The losses within the magazine division as well as at AOL, its online subsidiary, pulled down stronger showings in its cable, network and film divisions.  The company reported its profit rose just 1% for the year, to $13 billion. Revenues grew by 3% to $47 billion.
The situation for Time Inc. worsened as the year wore on. It announced a reduction of 600 jobs, or 6% of its workforce, in late October, and a corporate reorganization. (See News Investment)
The Time Inc. division also sought to diversify beyond magazine publishing,  expanding its websites and subscription businesses.
In December 2008, Time Inc. executives reported increased traffic to its websites People.com and CNN Money, its Maghound digital magazine store and the Sports Illustrated-sponsored social network, Citizen Sports.11
Time Inc., however, does not break out digital revenues by property, so it is unclear to what extent, if any, these might make up for losses at the print magazines.
In September, the company launched the Maghound website, which allows users to get digital copies of periodicals for a monthly subscription fee. The site also offers traditional print subscriptions by mail, allowing its users to shuffle the magazines they get each month. Time Inc.'s move into the subscription market makes it a direct competitor with Amazon, a major online seller of magazine subscriptions.
Time Inc. in August, 2008 bought QSP, a company that provides fundraising services, such as food and magazine sales, mainly to schools and youth groups, from Reader's Digest for $110 million. Time Inc. sees the purchase of the company, which it jointly owned with Reader's Digest from 1963 and 1971, as a way to sell subscriptions. The company said it "envisions benefits to operating QSP's large direct-selling force in North America."12
The purchase, which did not attract much attention when it closed in August, puzzled some industry experts. But Time Inc., which owns other subscription businesses, including Synapse, a subscription marketing operation, could be looking to expand into the youth market.13
As it headed into 2009, Time Warner seemed poised to complete a restructuring that would cast the conglomerate solely as a content company, jettisoning less profitable service-oriented businesses.
Time Warner CEO Jeff Bewkes has made no secret of plans to sell AOL in 2009.
The Internet property consistently underperformed according to the company's expectations, as revenues fell 20% to $4.2 billion, compared with $5.2 billion in revenues for the same period in 2007.
The company's other major operations, including Warner Bros. Entertainment and Turner Networks, which take in the television channels TNT, TBS, HBO, CNN and the Cartoon Network, as well as DC Comics, continued to turn a profit in 2008. On particularly good box office returns for "The Dark Knight"and the film version of "Sex in the City," filmed entertainment was the most profitable area of Time Warner's business in 2008, followed by the cable networks.
As Time Warner continues to reorganize, the future of Time Inc. is uncertain. While it is the core of the company's legacy, the magazine division's revenues have shrunk since 2004.
The No. 3 magazine publisher in America, Hearst, retrenched in 2008.
Its magazine properties include Cosmopolitan, Good Housekeeping and Esquire.
In July 2008, it announced plans to close Quick and Simple, a housekeeping tips magazine. In October, Hearst also closed the print edition CosmoGirl, the teenage spinoff version of Cosmopolitan. The publication will live on as cosmogirl.com. Hearst folded CosmoGirl's subscriber base into Seventeen, the largest-selling monthly teen magazine.
In November, the company announced that the quarterly Oprah Winfrey-branded home furnishings magazine, O at Home, would be absorbed back into the company's Winfrey flagship, O magazine.
Despite the closings and consolidations, Hearst did announce one major launch in 2008 that it hopes will bolster revenues in 2009.
In September it announced the launch of Food Network Magazine. The magazine, whose test publication hit newsstands in October, features Food Network personalities, offers recipes and cooking tips and will have an official launch in the summer of 2009 on an every-two-months publication schedule.
Revenue from magazine publishing makes up 51% of Hearst's total revenues.14 (As a private company, Hearst does not release financial data by division, but Ad Age figures indicate that newspapers bring in 32% of revenues and television 16%.)
The latest financial estimates for Hearst are from 2007, before the economic downturn. That year, according to Ad Age, Hearst revenue from its magazines grew 5% to $2.34 billion compared with $2.23 billion in 2006.
Other Top Ten Owners
Beyond the big three companies, the magazine field is notable for its lack of big media groups.
Many publishers are companies that specialize in magazines. All derive the largest share of their revenue from magazines. And most of these magazines are aimed at niche audiences with specialized advertisers.
In general, magazine revenues make up a much larger share of revenues at these companies than at the industry's three largest owners.
Meredith, the fourth-biggest magazine publisher by the Ad Age revenue figures, owns 11 local television stations, a radio station and the social media marketing firm New Media Strategies. Meredith publishes magazines targeted to majority female audience, including Better Homes & Gardens, Ladies' Home Journal and Traditional Home. About three- quarters of Meredith's revenues come from magazines.15
Magazine Revenue of Top Ten Companies, 2007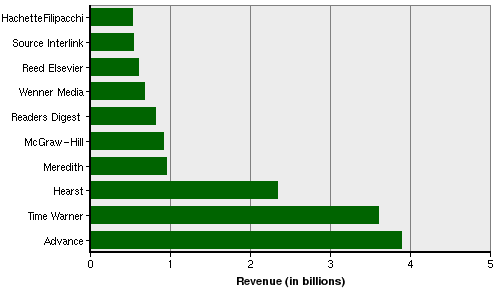 Design Your Own Chart
Source: Advertising Age, Top Ten Magazine Companies
In fifth place is McGraw-Hill, which publishes BusinessWeek and owns J.D. Power and Associates, and a number of professional and technical publications, including Aviation Week.
Reed-Elsevier is the eighth-biggest magazine company in the country. The company, which also owns the LexisNexis database service, publishes Variety, Broadcasting & Cable and New Scientist.
Three others among the top 10 magazine companies in the country are essentially magazine publishers exclusively. According to Ad Age data, magazines represent virtually 100% of the revenues of Wenner Media, the publisher of Rolling Stone; Source Interlink, which owns Motor Trend, and Elle's publisher, Hachette Filipacchi.
Bonnier, a Swedish companythat bought Time Inc.'s Parenting Group and Time 4 Media publications in 2007, has 40 publications in the U.S. and has annual revenue of about $350 million. Some of Bonnier's U.S. publications include magazines that have had huge advertising declines in 2008, including Yachting and MotorBoating, as well as some like Parenting, that have mostly weather the economic storm.16
News Weekly Owners, Outside the Top Ten
Among other owners of news weeklies, 2008 was a quiet year when it came to transactions. Industry experts noted the lack of mergers and acquisitions in the industry in 2008 as the companies struggled to restructure internally.17
Dennis Publishing, the British company that owns The Week, launched a joint venture with Media Transasia to create the largest men's magazine publishing company in India. Dennis, which also owns British Maxim and Men's Fitness, began publishing an Australian version of The Week in October.18
The company sold off all its U.S. holdings, other than The Week, in 2007.
The other two big players in the market, Newsweek and U.S. News & World Report, are owned by the 27th- and 66nd-largest media companies respectively, the Washington Post Company and Zuckerman Properties.
The Washington Post generated just 6% of its revenue from magazines in 2008. Much of that magazine revenue comes from Newsweek, although some also is derived from magazines the company owns abroad. About 18% of Post Co. revenue came from newspapers and 7% from television. The Washington Post Co.'s educational business, including Kaplan test preparation, brought in the lion's share of revenue, 52%, in 2008.
For the year, revenues were down at the newspaper (10%), magazine divisions (13%) and broadcast television holdings (4%). They were up in cable (15%) and at the education (15%) division. Over all, the company's revenues were up 7%, to $4.4 billion from $4.2 billion in 2007.19
Profits, however, fell 64% to $174.2 million, compared with $477 million the year before, in part due to one time costs associated with employee buyouts at the magazine and newspaper.20
In October, the company completed the purchase of Foreign Policy magazine from the Carnegie Endowment for International Peace, a private, nonprofit organization based in Washington.
Zuckerman Properties, which owns U.S. News & World Report, continued to retrench, following major staff cutbacks in 2006. In July 2008, U.S. News transitioned to a twice-monthly schedule and in 2009, cut back to monthly publication.
Magazine revenues grew in 2007 to $256 million, up from $254 million in 2006 – an increase of less than 1%.
Mergers and Acquisitions Over All
As credit and capital markets tightened, there were few magazine sales and mergers in 2008.21
In fact, several pending magazine sales collapsed because of the high cost of borrowing.
For example, in August, the sale of Entrepreneur (the publisher of Entrepreneur magazine) to Texas-based private equity firm Arlington Capital for a reported $200 million fell through because the buyer was unable to arrange financing for the purchase.22
Over all, there were 42 mergers and acquisitions in the consumer magazine sector, worth $192 million, a drop of 25% from 2007. The value of the deals fell a staggering 97%, according to investment banker Jordan, Edmiston Group. The firm said there were "no substantial transactions for the year."23
Jordan, Edmiston managing director Scott Peters told the magazine industry trade publication Folio that "2008 was the year that magazine M&A didn't get done." He said. "There were very few, if any, transformational, sort of eye-popping magazine deals."
Among business-to-business titles, the activity fell sharply. There were 22 deals in 2008, down 46% from the comparable year-earlier period. The value of the transactions was down 78%, to $417 million. The largest transaction was the sale of Randall Reilly Publishing to Investcorp for less than $200 million.24
In 2008, more media property purchases were made by strategic buyers—magazine or media companies—than financial buyers, who are generally backed by private equity companies. Media investment bankers DeSilva and Phillips reported that media companies have not led purchases since 2001. The investment firm attributed slower-than-usual activity by private equity buyers to "the debt crisis."25
Footnotes
1. Dylan Stableford, "New Magazine Launches Decline Again," Folio Magazine, December 16, 2008. Online at: http://www.foliomag.com/2008/new-magazine-launches-decline-second-straight-year
2. As a private company, Advance Publications does not generally disclose financial information, in contrast to public companies like Time Warner and The Washington Post Company that are required to make this information available to the public through filings to the Securities and Exchange Commission.
3. Mark Fass, "New Money," New York Magazine, April 16, 2007
4. Advertising Age, Magazine 300, 2008 edition
5. Advance Publications, Company Overview, Hoovers. Online at: http://www.hoovers.com/advance-publications/–ID__40006–/free-co-factsheet.xhtml.
6. Stephanie D. Smith,  "Vogue Living Cancels Fall Issue," Huffington Post, July 1, 2008
7. Dylan Stableford, "Condé Folds Men's Vogue, Scales Back Portfolio," Folio Magazine, October 30, 2008
8. Jason Fell, "Condé Nast Shutters Domino," Folio Magazine, January 28, 2009
9. David Carr, "When Even Condé Nast Is In Retreat," New York Times, February 2, 2009
10. Chandra Johnson-Greene, "Time Inc: Digital Saw 'Significant' Growth in '08," Folio Magazine, December 10, 2008.
11. "Time Inc. to Acquire QSP Schools and Youth Fundraising Unit," Time Inc. Press Release, August 7, 2008.
12. Rafat Ali, "Time Inc. Strange Buy: Acquiring Reader's Digest Schools Fundraising Unit QSP," PaidContent.org, August 7, 2008. Online at: http://www.paidcontent.org/entry/419-time-inc-buys-readers-digest-school-funding-raising-unit-qsp-for-110-mi/
13. Associated Press, "AOL Weighs on Time Warner, Earnings Fall 26%," August 6, 2008.
14. Advertising Age, Magazine 300, 2008 edition
15. Advertising Age, 100 Leading Media Companies, 2008 edition.
16. "Bonnier Magazine Group Buys 18 Magazines from Time Inc.," Time Inc. press release, January 25, 2007
17. Jason Fell, "Will the Deal Drought Continue?" Folio Magazine, September 2, 2008. Online at: http://www.foliomag.com/2008/will-deal-drought-continue.
18. Stephen Brooks, "Dennis Launches Indian Joint Venture," Guardian, September 11, 2008
19. Frank Ahrens, "Washington Post Co. Earnings Plummet in Third Quarter," Washington Post, October 31, 2008
20. Associated Press, "Washington Post Co. profits fall 86 percent," November 1, 2008
21. Bradley Johnson, "Revenue Growth Slowest Since 2001," Advertising Age, September 29, 2008
22. Jason Fell, "Will the Deal Drought Continue?" Folio, September 2, 2008
23. "2008—M&A Shift and Transformation Acceleration," January 6, 2009
24. "Third Quarter 2008 M&A Overview," The Jordan, EdmistonGroup, October 1, 2008
25. "Mergers & Acquisitions, An Insider's Guide to the Media Marketplace," DeSilva+Phillips Report 2009