Audience
Audience
By the Project for Excellence in Journalism and Rick Edmonds of the Poynter Institute
When it came to audience and circulation, 2007 was simply another verse in the same old song for the newspaper industry.
Paid circulation continued to fall and at just about the same rate as in the two previous years. For the six months ending September 30, 2007, the Audit Bureau of Circulations (ABC) reported that circulation was down 2.5% daily and 3.3% Sunday compared to the same period a year earlier.1
Cumulatively, newspapers end 2007 with 8.4% less circulation daily and 11.4% less Sunday than in 2001.2
Industry executives took some solace in alternative measures. Readership is, of course, higher than circulation by a factor of about 2.1 times daily and 2.5 Sunday.3 The number of people who read the print paper at least once during a given week is higher still.
Add in that the unduplicated audience of a newspaper's Web site (people who don't also read the print edition) typically is growing at a healthy rate, and you get a picture of newspaper organizations growing total audience rather than shedding it.
One of the industry's many works in progress is to get good counts and marketable demographics for each of its ventures on any platform. Some newspapers – the Sacramento Bee and the St. Petersburg Times, are two examples – now have audience development directors and teams in place of the traditional circulation department. But since audience strategies remain a work in progress, it makes sense to discuss the old measure and the new ones separately.
We have noted in earlier editions of this report that declining paid circulation has multiple causes. Several of the less obvious ones had particular relevance to continued bad results in 2007.
■ It certainly is true that some people have stopped reading print newspapers and instead get their news online. Since that is especially a preference of the younger and more Web-savvy, over time print readers die out and are replaced by online readers. Those looking for national and international news have a host of 24/7, high-quality, free options. Those who want local news will typically go to the Web sites of the local newspaper.

■ There is wrinkle to this much-ballyhooed shift to the Web. Most news consumers, Pew research and other studies show, use a combination of three or four media formats. So in many instances, the audiences for a print newspaper and its Web site are the same people. As the years go by and multimedia and breaking news Web content improve, the electronic option gets a bigger share of time and attention from this shared audience.

■ Part of the continuing paid circulation losses comes from people who used to subscribe seven days a week but now read some days and skip others. Most newspapers now offer four-day subscriptions for the weekend relaxing and shopping cycle. Skipping the print paper during the busy working days early in the week is that much easier with a good Web version now available for a quick scan.

■ Newspaper subscriptions are most often sold by phone solicitation. With the advent of the federal do-not-call registry, the cost of acquiring new subscribers has roughly tripled, and these are discounted trial subscriptions most often not renewed. Under intense pressure to control expenses, most newspapers are less willing to play the churn game to prop up numbers than they once were.

■ For similar reasons, papers – particularly large metros that once served broad regions — are eliminating distant circulation. It is expensive to serve and of comparatively little benefit to core local advertisers. Several of the papers showing the biggest 2007 circulation losses, like the Atlanta Journal-Constitution and Dallas Morning News, are heaviest into this kind of voluntary circulation cutback.

■ Beyond the big circulation-padding scandals at Newsday, the Dallas Morning News and the Chicago Sun-Times in 2004, many other papers were keeping their circulation numbers up with soft distribution paid for by third parties. Most have cut back, again with minimal damage to the number of attentive core readers advertisers hope to reach.
One more factor to watch in 2008 and beyond is whether continuing cutbacks at newspapers — in the form of reduced news space, smaller newsroom staffs and reduced ambitions in coverage — will drive a new wave of circulation losses. Ombudsman columns in 2007 were thick with complaints from those who see a less-is-less editorial philosophy for what it is and don't like it. While newspapers are dirt cheap (compared to a cup of Starbucks coffee, for instance), buyers are surprisingly price sensitive.
We may also be seeing the beginnings of what many newspaper futurists have predicted for some time — more sophisticated and more expensive print papers targeted to an older, wealthier, more educated audience. So far, there is more talk than action except at top-of-the-line titles like the Wall Street Journal and Financial Times, which take care that the print version adds a second-day twist or some other perspective to what has become old news online. At many Gannett papers, by contrast, what is most evident are the continuing cuts rather than retooling and upgrading the print report.
Results at Individual Newspapers
As in the last two years, metro papers continue to have the worst of it in circulation declines. Among the biggest losers, for the reporting period ending September 30, 2007, the Atlanta Journal-Constitution was down 8.9 daily and 9.2% Sunday; the San Diego Union-Tribune, 8.2% daily and 7.9% Sunday; the Dallas Morning News, 8.0 % daily and 7.6 % Sunday; and the Boston Globe, 6.6% daily and 6.5% Sunday. All were engaged in some of the voluntary trimming of distribution to distant areas.
A few of the 25 top papers did eke out circulation gains, daily or Sunday: the Philadelphia Inquirer ( 2.3 % daily), USA Today (1% daily), the Los Angeles Times ( 0.2% daily), the St. Petersburg Times, (0.04 % daily and 0.85 % Sunday), the St. Louis Post-Dispatch (0.43 % Sunday), and the Houston Chronicle ( 0.1 % Sunday). But the numbers are small.
The New York Times took a healthy hit – down 4.6% daily and 7.6% Sunday.4 That partly reflected a price increase and a decision to cut way back on third-party paid distribution of the Sunday paper. The Times is one of very few papers for which circulation is an important profit center, and CEO Janet Robinson told investors in December that circulation revenue was up for the year.
Searching for other good news in the generally downward trend, at least circulation losses are not accelerating (though now advertising revenue declines are). Some of the big losers of recent years, for instance, such as the San Francisco Chronicle and the Washington Post were back closer to the industry average in circulation losses in 2007. But these are pyrrhic victories at best. Lee Enterprises, with a stable of mid-sized papers in the Midwest and Mountain states, had the best company performance of any chain — losses well below the industry averages.
ABC Rule Changes
The Audit Bureau of Circulations has adopted a fairly sweeping set of changes in its reporting procedures over the next several years that might help the numbers look somewhat better over time. Since the changes are not immediate, it is too early to say whether the new counts will make a difference to advertisers.
■ Paid circulation will be redefined as paid by individuals.

■ Copies will be counted as paid regardless of the price paid. ABC will discontinue its current breakdown by percentage of cover price paid.

■ So-called "other paid" purchased by sponsors or distributed to schools or newspaper employees will be reclassified as a separate "verified" total.

■ Hotel distribution and copies businesses buy for groups of employees will be broken out in another new category.
ABC has also joined in the attempt to measure total reach to print and online audiences with a new Audience FAX product introduced in late 2007 and discussed below.
The various categories will still be added up for a count of a paper's total print circulation so it is unclear whether this may be a means to the goal of halting the regular news of yet another circulation decline. Since publishers may now discount as deeply as they wish, perhaps so. Also, the New York Times and a few other papers now offer electronic downloads of the daily paper at a price well below the print subscription. Should these hybrids pick up steam, they will help paid circulation.
Online Audience and Total Reach
Alternative measures of newspaper audience start with a simple premise — not everyone who reads the paper does so in print anymore. By the Newspaper Association of America's count, 62.8 million people visited a newspaper Web site in the third quarter of 2007, an increase of 9% compared to the same period a year earlier.5
So does that mean that online gains make up for print losses? Not exactly.
Unique visitors per month is the most frequently used measure of Web traffic. But clearly a visit or several in the course of the month (for free) is in no way comparable to the purchase of a single day's issue in print.
A second important metric is time spent on site. By the Newspaper Association's calculation in the third-quarter, the average visitor to newspaper Web sites spent 43 minutes on them in the course of the month, a modest increase over the average of 42 minutes in the period a year earlier. But that works out to less than a minute and a half a day (and is a measurement of visits to all newspaper sites including the popular national ones like those of the New York Times, Washington Post and USA Today). By contrast, a typical newspaper reader spends about 40 minute a day on a given issue.
Consultant and blogger Alan Mutter, himself a former newspaper editor, analyzed paper-by-paper measures of so-called stickiness and found that a majority were actually posting declines year-to-year in October 2007. That could be a function of more quick visits to check a single article, but it hardly represents progress.
Scarborough has developed a third way of looking at total newspaper audience. In larger markets it now measures how many adults look at either the print or online editions at least once in the course of a week. Drawing on those numbers, the Newspaper Association says that the newspapers measured reach 77% of adults one way or the other on average.6
Once again, though, the detail carries some qualifiers. Scarborough found that in the top online newspaper markets – Boston, Atlanta and Phoenix — as many as 16% to 17% of adults looked at the site at least once a week.7 But because most of those were also at least occasional newspaper readers, the addition of unduplicated audience was 4% to 7%. And in most markets, the additional reach was only a percentage point or two.
The new ABC Audience FAX report, in prototype format only for now, is similar to Scarborough's measure except that it will count the in-market audience coming to the site in the course of a month rather than a week.
All this activity, as Stephen Hills, president and general manager of the Washington Post, put it in the November announcement of the ABC initiative, is aimed at "marketing the industry." It is a little hard to see why an advertiser would care about total reach as opposed to how many readers will see a given placement in a given medium.
Still, addressing negative perceptions is part of what the industry is looking for. These totals can also be an invitation on a sales call to look at the range of offerings that are now standard at newspapers. News organizations also gain more tools directing ad messages to specific demographic groups.
Perhaps newspapers will go the next step and develop more detailed information about the most regular readers of their Web site and the attention they pay to Web advertising.
For now that information either is not available or is not helpful in making the case for advertising on newspaper Web sites.
As we will discuss in the next section on newspaper industry economics, it has become clear that a very large share of those looking for content or advertising on Web sites come through the side door of search rather than the front door of the home page. That is causing newspapers to think like their competitors, seeing whether they can capture a share of the commerce-only visitor who is looking for a specific product or service and may be indifferent to the news surrounding it.
In summary, the online audience has grown and will continue to grow. Print readership is not falling as fast as print circulation. And total readership of all the newspapers' products is fairly healthy. But it is becoming clearer year by year that the traditional model of an audience coming for news and then sampling the ads does not work as well online as in print. Following or driving news audience to the Web has become an industry fascination, but it remains, as we will see, a bold leap to an undeveloped business model.
Number of Daily Newspapers
The woes of the newspaper industry have not caused a groundswell of owners to abandon the operations of their papers.
Overall, the total number of daily newspapers was down slightly to 1,437 in 2006 (the most recent year for which there are data), compared with 1,452 in 2005.8 The net loss in daily papers is a continuing trend in the reduction of evening newspapers, some of them folding, others shifting to morning publication. There were 31 fewer evening titles in circulation in 2006 compared with 2005. On the other hand, there is also a continuing trend in the growth of morning newspapers, with a net addition of 16 papers in 2006.
Sunday editions are holding steady, fluctuating both up and down slightly in the past 10 years. In 2006, there were 907 Sunday papers being circulated, down from 914 in 2005. This marks the fourth consecutive year of a decline, albeit small.
Weekday and Sunday Editions, Yearly Increments, 1990-2006
Design Your Own Chart
Source: Editor and Publisher Yearbook data
Also free newspapers seem to have slowed as competition. Several of the Metro free newspapers are money-losing and up for sale. The Examiner papers launched in Washington and Baltimore several years ago are not expanding, either. The strongest of the free papers seem to be those, like the Chicago Tribune's Red Eye, that are basically brand extensions of the mother paper.
Newspaper readership, like paid circulation, continues to decline. And this trend is true for nearly every demographic group, regardless of age, ethnicity, education or income.
Young people continue to shun the newspaper. In 2007, just 33% of 18-to-24-year-olds and just 34% of 25-to-34-year-olds read a newspaper in an average week, according to data from Scarborough Research.9 This represents a decline of seven and six percentage points, respectively, since 2000. But the largest drop in readership is seen among those ages 35 to 44: since 2000 they have seen a 10 percentage point drop, from 53% to 43%.
Even the elderly, newspapers' most loyal readers, are losing interest in the newspaper, though at a slightly slower pace. Weekly readership among those over 65 has declined six percentage points since 2000, to 66%.
Although Sunday readership is typically higher, these figures have also declined among all age groups.
Percentage Reading Newspapers in an Average Week, 1999-2007
Design Your Own Chart
Source: Scarborough Research survey data
Percentage Reading Newspapers in an Average Week, 1999-2007
Design Your Own Chart
Source: Scarborough Research survey data
The ethnic composition of newspaper readers continues to show the same trends that we have seen over the past decade. Whites are more likely than any other group to pick up a paper during the course of the week (49% read a daily newspaper in 2007, 54% read the Sunday paper).10 Those of Hispanic descent are the least likely to read a newspaper (31% read a daily newspaper in 2007, 33% read the Sunday paper), perhaps because there are a number of Spanish-language media options (see Ethnic Chapter). Hispanic readers, however, composed the only demographic group to show a slight uptick in readership from 2006 to 2007. This could be a result of the relative expansion of second- and third-generation of English-speaking Hispanics.
Asian-Americans, African-Americans and the group of "other" ethnicities share very similar newspaper readership habits, although the decline in Asian-American daily readership may be ending.
Percentage Reading Newspapers in an Average Week, 1999-2007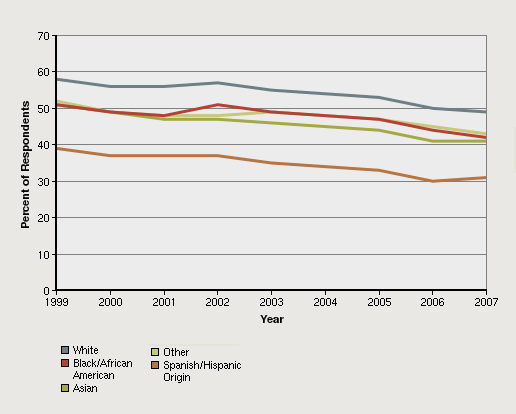 Design Your Own Chart
Source: Scarborough Research survey data
Percentage Reading Newspapers in an Average Week, 1999-2007
Design Your Own Chart
Source: Scarborough Research survey data
Education has always been a strong indicator of newspaper readership and it continues to be so. In 2007, 62% of those with postgraduate degrees said they read a newspaper in an average week, compared with 46% of high-school-only grads.11 But as in years past, these numbers continue to decline regardless of the level of education that one has received.
Percentage Reading Newspapers in an Average Week, 1999-2007
Design Your Own Chart
Source: Scarborough Research survey data
Percentage Reading Newspapers in an Average Week, 1999-2007
Design Your Own Chart
Source: Scarborough Research survey data
Footnotes
1. Paul Ginocchio, "Newspaper Circulation," Deutsche Bank Securities analyst's report, November 6, 2007.
2. Ibid.
3. Newspaper Association of America, Trends and Numbers, Readership, at naa.org
4. Paul Ginocchio, "Newspaper Circulation," Deutsche Bank Securities analyst's report, November 6, 2007.
5. Newspaper Association of America, "Online Newspaper Viewership Reaches Record in 2007," press release, January 24, 2008.
6. Newspaper Association of America, "Newspaper Web Sites Continue to Expand Medium's Footprint," press release, October 31, 2007.
7. Scarborough Research, Scarborough Newspaper Audience Ratings Report 2007," April 24, 2007.
8. 2007 Editor & Publisher International Yearbook, 87th Edition.
9. Scarborough Research Center , survey data spring 2007
10. Ibid.
11. Ibid.