News Investment
News Investment
By the Project for Excellence in Journalism
The state of radio newsrooms remains difficult.
While there have been some gains in salaries, the news investment picture becomes less attractive when all the numbers are brought together.
Radio news salaries are still generally lower than those of their television counterparts. Staffing levels appear to be declining. So is the amount of news being broadcast. The situation is further complicated as the amount of news being locally produced still remains cloudy because of the impact of consolidation on radio newsrooms.
Amount of News
The 2004 RTNDA/Ball State survey indicates that more than half of the radio news directors surveyed anticipated a decrease in the amount of news they would be producing. Some 40% indicated there would be an increase.
In that respect, consolidation may be a negative factor. According to the survey there "…were no significant differences [in the amount of news] based on commercial/noncommercial, staff size, market size or region. Group-owned stations were less likely to have increased the amount of news last year and more likely to have cut it back."1
According to the RTNDA/Ball State survey data, the average radio station in America doing news produced fewer than 40 minutes of radio news locally each day in 2004. Much of that, 18.1 minutes, occurred during the morning drive time, from 6 a.m. to 10 a.m.2
Consolidation has made it almost impossible to track long-term trends in areas like the amount of locally produced news. While anecdotal data, like the survey information from RTNDA/Ball State would appear to indicate that locally produced news is in decline, statistical data cannot be used to accurately reflect a trend.
Measured by market size, the amount of locally produced news jumps somewhat erratically. Over all, the major markets produce more than double the national average —93.5 minutes a day — and large markets are also above average at 52.1 minutes. Medium markets produce the least amount, less than half an hour (23.2 minutes) while small markets produce some 35.2 minutes.3
Especially among the major markets, though, it is important to remember that the newsroom that is "locally producing" news is probably producing news for multiple stations. That makes any kind of clear trendline regarding either the increase or decline of radio news production problematic.
Newsroom Size
Much like the figures for radio salary, the numbers for newsroom size are difficult to fully factor out. Even with salaries apparently increasing slightly, radio newsrooms appear to be shrinking. The picture gets fuzzier, too, because people working in newsrooms increasingly handle news for more and more stations.
In other words, while a single newsroom may have six employees — the same number it had three years ago — those six people may be producing news content for three additional stations, which makes the sense of newsroom stability something of an illusion.
The average news director in 2004, for example, oversaw 3.75 stations, according to the latest data from the RTNDA/Ball State survey. And the great majority produced news for more than one station. Only about a quarter of news directors in America are now programming news for a single outlet. That number rose just slightly from the year before (27% in 2004 versus 25% in 2003) but those overseeing nearly quadrupled, to19% from 5%.4
Not only have news directors taken on more newsrooms, they have less staff to help run them. Two-thirds of news directors decreased their newsroom size in 2004, according to the survey data, while less than a quarter (23%) increased them. What's more, the situation is expected to get worse. Fully 77% anticipate their newsroom decreasing, with only about 10% expecting increases. According to the survey, noncommercial news stations were twice as likely to have added staff as well as to anticipate future staff increases.5
Radio Salaries
The RTNDA/Ball State University annual news director survey showed that radio news salaries as a whole climbed 3.2% from 2003 to 2004.6 The increase, however, was largely for senior positions.
The median salary jumped $13,000 for news producers and $9,000 for news directors. The salary for a radio news reporter increased just slightly to $24,500, while news anchor salaries dropped by $2,000 to $26,000.7
Survey of news directors, five year intervals
Design Your Own Chart
Source: Bob Papper, "Salary Survey," RTNDA Communicator, June 2005, pg. 26
And as Papper points out, the numbers could be skewed by the fact that there are fewer news producers.
Radio news salaries for the most part also still sit below those of television. Radio news directors make less than half what their television counterparts do, $33,000 versus $73,000, according to the RTNDA/Ball State survey. So do radio news anchors, $26,000 versus $55,500. The difference is not as great between reporters — $24,500 for radio and $30,000 for television. Radio news producers are the lone standouts, making $38,000, $8,000 more than those in television.8
Survey of news directors, 2004
Design Your Own Chart
Source: RTNDA/Ball State University Newsroom Surveys
* Insufficient data available for News Producers serving two stations.
And what about the effects of newsrooms serving more than one station? Does the staff benefit financially from the added responsibility? The answer seems only to a certain degree. News directors serving two stations earn more than those serving one, but they also earn more than those serving three. The same holds true for reporters. Anchors, though, seem better served by sticking with just one station.
Survey of news directors, 2004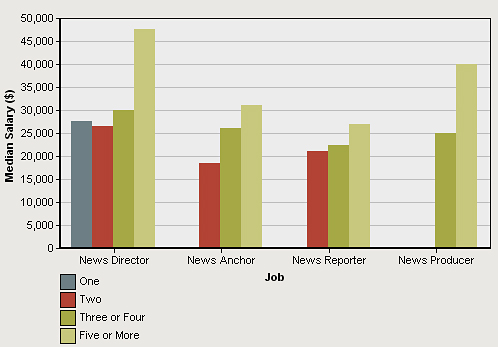 Design Your Own Chart
Source: RTNDA/Ball State University Newsroom Surveys
And when it comes to size, larger newsrooms tend to provide higher salaries, with the exception of news directors at two-man operations. A staff of three or five or more suggests, then, a station that places a higher premium — and therefore a larger budget — on its news operation.
Survey of news directors, 2004
Design Your Own Chart
Source: RTNDA/Ball State University Newsroom Surveys
It's difficult, however, to parse much more of a trend than this out of the raw numbers. Salaries fluctuate by job description, with news directors making slightly more money when they work for group-owned stations but reporters making less. News producers earn more money at group-owned stations, but sports reporters do better at independents. The salary changes between 2003 and 2004 at group-owned stations show that news directors are making more but anchors and reporters are making less. Producers and sports reporters are making more but sports anchors are making less. The bottom line is there is no way to infer from the data whether radio news salaries are affected by whether a station is group or independently owned.
Survey of news directors, 2003-2004
Design Your Own Chart
Source: RTNDA/Ball State University Newsroom Surveys
Newsroom Diversity
The latest data about newsroom diversity brought outrage among journalist organizations such as UNITY: Journalists of Color (a consortium comprising the national minority journalism membership organizations: Native American Journalists Association, Asian American Journalist Association, National Hispanic Journalist Association and the National Association of Black Journalists).
The data, again from an RTNDA/Ball State survey in 2004, show that the number of journalists of color working in local radio declined from 11.8% to just under 8%. The minority population of the U.S. , according to the survey, is approximately 33%.9
UNITY responded that it was "discouraged by the fluctuation of the percentage of journalists of color working in local radio… The percentage of people of color in radio has dropped 50% since 1988, when stringent EEOC" —Equal Employment Opportunity Commission — "rules were eliminated. Journalists of color made up 16% of the radio workforce that year."10
Hispanics are the largest minority in the U.S.; by the end of 2004, the country's more than 41 million Hispanics were roughly 14% of the total population.11 And it is a population that radio broadcasters have become increasingly interested in. Hispanics also make up the largest percentage of the minority radio news work force, 6%. African Americans, Asian Americans and Native Americans each constitute less than 1% of that work force.
In addition, the numbers were better and had improved for Hispanics in terms of news directors. Compared to 2003, the percentage of Hispanic news directors increased some 6% to 8.8. Native Americans, on the other hand, made up just 2.2% of news directors, down from 2.7% in 2003, and African Americans and Asian Americans, based on survey results, remained statistically absent form those posts on a national scale.
The average number of minorities on a radio news staff was less than one (.3).
The statistics raise more questions when looked at in relationship to minority audiences for news/talk and information programming. Neither commercial nor public radio audiences for that format include a large segment of either black or Hispanic listeners. The commercial audience has only 7.6% black listenership and 5.9% Hispanic. Public radio listenership is even lower, only 6.1% black and 5.2% Hispanic.
ta Retrieval Failure)