Economics
Economics
By the Project for Excellence in Journalism
The economics of radio are in transition. Revenues for most companies are fairly flat. Advertising, moreover, has become a double-edged sword. If there is too much of it, that can drive listeners away in a medium with so much competition. Some companies have reduced the number of commercials they carry and raised their ad rates.
At the same time, the finances of the new technologies are still evolving and remain uncertain. The picture, generally, is of a medium in which changes are occurring rapidly.
Revenue of Traditional Radio
As the notion of radio listening expands to include new digital options, traditional over-the-air radio stations and owners are faced with tough financial decisions.
In the short run, the conventional metrics suggest the industry is managing to get by. But the signs that something bigger needs to change seem unmistakable.
By one basic measure of financial health, company revenues from radio, the industry is treading water. In the year for which the latest full data are available, 2005, things were generally flat. Most of the top radio broadcasting companies increased their year-over-year radio-based revenues only marginally from 2004 to 2005. And one, Cumulus Broadcasting, was down.
The signs for the 2006 results do not look all that much more promising.
Advertising
Another measure of financial health is overall radio advertising revenue, and in 2006 the industry was flat.
According to the Radio Advertising Bureau, total ad revenue was up just 1 percent in 2006 over the year before.1
Much of the gain for the year came from national advertising, the smaller of radio's two main revenue sources. National grew 5% to $3.55 billion, while radio's biggest income generator, local advertising, fell 1 percent to $15.48 billion.2
The numbers for the year might have been even worse had it not been for a boost from the fourth quarter, when total advertising revenues rose 3%. And much of that came in October (up 6%) and November (3%), suggesting that at least part of it came from election-year advertising.
News Format Stations
Where does news fit into this economic equation?
For the larger companies, newsrooms generated only a small portion of total company revenue in the latest year for which there are data, 2005. Of the top five total revenue-generating companies (Clear Channel, CBS Radio, Entercom, Cox Radio, and Citadel), CBS was the only one that earned more than 15% of its revenue from its news operations (21.3%).3 Clear Channel, the top overall revenue-earner, generated 10.4% from news. Entercom brought in 13% and Cox, 12%. Bonneville, which ranked 11 th on the list of top revenue-earning companies, however, brought in about 35% of its total revenue from its news operations.
Other research paints an even more dismal picture of the economic viability of radio news. One major source of information is an annual survey of news directors conducted for the Radio and Television News Directors Association by Bob Papper of Ball State University. Since 2003, the survey has shown a steady decline in the number of newsrooms turning a profit for their stations, at least according to news directors who said they knew whether or not their stations were turning a profit. The number of stations actually losing money has moved up and down. In the 2006 report, the number of newsrooms showing losses rose.4
Survey of news directors, 1996-2005
Design Your Own Chart
Source: RTNDA/Ball State University Newsroom Surveys
Note: Based on survey responses of news directors
Looking at newsrooms by market size, it appears that those in major markets and large markets are doing better than their counterparts in medium and small markets. More news directors in the larger markets reported profit gains than reported losses. Few directors in medium-sized markets reported losses; most reported that they broke even. Losses were reported by a greater percentage of small-market directors, but on the whole, they broke even.5
2005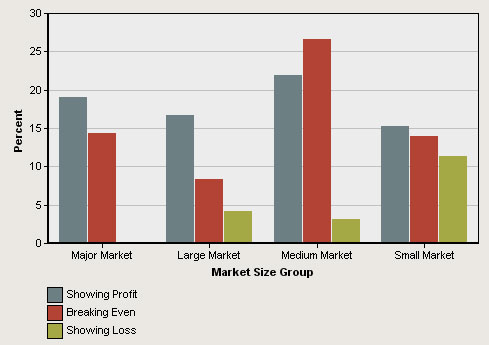 Design Your Own Chart
Source: RTNDA/Ball State University Surveys
Note: Based on survey responses of news directors. * Major markets are those with 1 million or more potential listeners. Large markets are 25,000 to 1 million; medium markets are 50,000 to 250,000; and small markets are fewer than 50,000 listeners.
Satellite Radio
If traditional radio, including news, was facing trouble, could the new audio formats be more successful?
Satellite radio, one of the first of the newer technologies, showed early promise, but as with its audience picture, it seemed to lose its economic momentum in 2006. The two companies – Sirius and XM – announced in February 2007 their intent to merge. Though rumors of a merger percolated in the media at the end of 2006, both companies initially denied such intentions. (See Ownership). So what were the economic factors that determined the merger?
For both XM and Sirius, the average cost of increasing new subscriptions has been high, as both have aimed to attract big-name and big-cost talk personalities like Howard Stern and Oprah Winfrey. In the end-of-year Securities and Exchange Commission filings for 2005, Sirius posted an $863 million net loss, XM $667 million.6
At the onset of 2006, both satellite stations predicted they would reach the magical break-even point by year's end. That didn't look likely as 2006 came to an end. Based on preliminary financial data, both companies said they achieved positive cash flow — bringing in more than they spent — in the fourth quarter of 2006. While that is a positive indicator, it isn't by itself a guarantee of longer-term economic viability, since cash flow doesn't necessarily account for things like large capital expenditures or deferred payments to talent that weren't paid during quarter. That is one reason the two companies felt compelled to merge.
Another indicator for the economic status of satellite radio is the sales of the radio devices themselves. According to Business Week, Sirius and XM sold more than 325,000 portable satellite radios in the U.S. from September 2005 to August 2006, an 88% increase over the previous year. Revenue from those sales increased by nearly 50%, generating $80 million, according to consultants at the NPD Group.7
The industry has also been beleaguered by legal challenges. In May 2006, record companies filed a lawsuit, accusing XM of copyright infringement over portable music devices that allowed users to store and download songs from XM music channels. Record labels demanded increased licensing fees, which Sirius had already agreed to pay, though the amount has not been disclosed.8 XM was also asked by the FCC to discontinue production of three handheld radio devices that the agency said failed to meet FCC broadcast emission standards and created conflicts with public radio signals.9
The two companies' decision to merge may alleviate some of these financial pressures. It remains to be seen, however, if the Federal Communications Commission will allow it to happen.
Talk Talent on Satellite Radio
In efforts to increase the popularity of satellite radio, both XM and Sirius continue to seek high-profile entertainment for talk shows. In September 2006, Oprah Winfrey launched her own 24-hour talk radio channel, Oprah and Friends, on XM Radio. How much of this is Oprah and how much is her friends is uncertain, but the schedule line-up suggests that the friends may make up the vast majority of the program time. In the ceaseless competition between the companies, Sirius signed on Jane Pratt, founder and former editor-in-chief of Jane magazine.
For both XM and Sirius, the average cost of increasing new subscriptions has been high, as both try to attract big names, which means big-cost.10 The Oprah deal, for instance, was sealed in February 2006 when she signed a three-year contract with XM for $55 million. Compared to Sirius's 2005 5-year deal with Stern at $500 million, XM's contract with Oprah was a relative bargain. But that is the gambling table where satellite radio has chosen to sit down. On a virtually commercial-free platform, it's a high-stakes game to increase revenue through subscriptions, which the companies have been betting celebrity personalities can attract. Now they are betting on the Federal Communications Commission allowing them to merge.
HD Radio
How significant financially is the emergence of HD radio? At this point, the financial impact is marginal. But the potential is there.
One deterrent to growth is cost. There are no subscription fees, but HD requires dedicated receivers to receive the multiple signals the technology offers. The receivers are expensive compared with the cost of Internet radio or even satellite radio (the basic models cost roughly $180, compared to $60 for satellite)11 and choice is limited. Manufacturers of the receivers are trying to make them more affordable, and the public seems ready to welcome that: Arbitron reports that 35% of the population would be willing to buy an HD radio if it were reasonably priced, at $50 or less.12 That number drops to 21% when the value of the hypothetical HD radio is $100, to 9% at $200 and to a meager 5% at $300.
Some radio executives hope that as more stations provide HD signals, demand and supply may converge at a price that the average consumer considers reasonable. In October of 2006, WIYY in Baltimore became the 1,000th station in the nation to broadcast with a digital signal.13
In an effort to expand the reach of HD radio and make it profitable, stations banded together in December 2005 as the HD Digital Alliance. Peter Ferrara, CEO of the alliance, told Radio Ink's Joe Howard in an interview that the alliance gave HD radio providers a chance to combine their resources and promote themselves.14 For example, they have worked with companies like BMW to put HD radios in new cars, in select models as a $500 option. Ferrara said eight other automakers are on board in the next couple of years.
According to Ferrara, station members are joining the alliance because they "understand that this is where our industry is headed. Just as we went from AM to FM, going from AM and FM to HD is an equal if not greater quantum leap in technology."15
After all, some say that HD radio holds promise to help compensate for a medium that has been permitted to consolidate to proportions that limit consumer choice. With media ownership rules being bandied about again at the Federal Communications Commission, portending further deregulation and consolidation, HD radio could offer a solution to consumers worried about limited choice and local content. As the Washington Post writer Rob Pegoraro wrote, "In lieu of a breakup of radio conglomerates such as Clear Channel or a massive shift in programming philosophy at individual stations, those 'HD2' channels may be radio's last, best hope to escape its playlist prison."16
Internet Radio
Measuring revenue from Internet radio is not a refined science. Most radio Web sites add their revenue statements to the radio station's overall revenue figure, or in the case of networks like NPR, to the total organization's economic figures. NPR said in its most recent annual report, for the financial year 2005, that it spent 3.5% of its total expenses, about $5 million, on its online product.17
One of the few indicators we have on the economic viability of Internet radio comes from the 2006 RTNDA/Ball State University Annual Survey of news directors. Based on the survey responses, only 4% of news directors reported that their news station Web sites were turning a profit. Some 20% said they were breaking even, and 11% said the Web sites were losing money. The remainder of news directors said they did not know.18
Another indicator of the economic status of Internet radio is advertiser and consumer expenditures online. According to the media and communications analysis firm Veronis Suhler Stevenson, online radio advertising spending (the standard of measurement used as a close proxy for revenue) rose 77% in 2005 to $60 million.19 Furthermore, consumer revenue to stations (subscriptions to Internet radio and podcasts) increased 170% in 2005 over the previous year, to $27 million.
Internet radio — often considered a competitor to traditional radio—has demonstrated itself as a boon to some stations, particularly local public radio stations who offer an eclectic mix of content and unique talk programs. An October article in the Wall Street Journal highlighted the success of KCRW, based in Santa Monica, Calif., which reported tens of thousands of new listeners who were checking out its online stream. In October of 2006, Google Analytics, a Web analysis service, recorded 760,000 unique visitors to the site, compared to 585,000 the year before.20
Furthermore, the Internet can add a potentially new audience base to radio — people outside the local community. KCRW, for example, maintains its largest online audience segment from Southern California, but its non-local audience collectively exceeds that number, with New York leading the pack, followed by San Francisco and then Tokyo.
Since public radio stations generally earn a large percentage of their revenue from listener pledges, the new online audience offers a potentially expanded pool of pledge donors. A management consultant for KCRW said that even if just 1% of its growing Web audience were to become members, it would be a financial success.21
In the case of KCRW, 1,000 of the 16,000 pledges it received in a recent drive came from outside the Southern California broadcast area. Could the Internet be a boon for public radio? As Ruth Seymour, KCRW's station manager, told the Wall Street Journal, "One of the things we know is how much we really don't know."22
Podcasting
The profitability of podcasting heading into 2007 also remains more a matter of potential than reality.
In July 2006, Nielsen Analytics released a report called "The Economics of Podcasting," which reported that 6% of U.S. adults (9 million Web users) had downloaded podcasts in the past 30 days. Almost 4 in 10, or 38%, of those downloaders said they listened to traditional radio less because of podcasting. The most successful podcasts were garnering as many as two million downloads a month.23
Those numbers make podcasts an attractive outlet to advertisers. With the medium still in its infancy, a few podcasts are already starting to generate income. National Public Radio has been actively attracting sponsors on its podcasts. Will it work? That is less clear. According to the Nielsen survey, 60% of survey respondents said that they "always" fast – forward past commercials.24
Economics of Public Radio
When people think about the financial picture for radio, they often overlook one of the most important platforms for news — public radio. The fact that those stations do not carry commercials hardly means those stations are immune from financial pressure.
Public radio stations have witnessed some major changes in their funding sources in the past several years. Revenue once came largely from the federal government and listener donations, but public radio budgets nowadays are increasingly dependent on corporate advertising revenue. According to Tom Thomas, co-chief executive of Station Resource Group, a Takoma Park, Md., public radio consulting firm, public radio stations now count 18% of their revenue from businesses and 11% from the federal government. In 1980, by contrast, public radio got a third of its funding from the federal government and only 8% from businesses.25 The shift has raised some concerns. A July Wall Street Journal article printed testimony from several listeners who felt that their local public stations had defected to the side of profit-maximization, causing them to tune out.
NPR, the largest programming service provider for public radio, experienced a gain in net assets of $17.7 million for the financial year 2005, according to the system's annual report.26 Of its total revenue for the year, $159 million, about $81 million came from membership dues, station programming fees and distribution services, which is about $3 million more than the previous year. Another $57.6 million came from grants, contributions and sponsorships in 2005, which compares with $267.8 million in 2004; most of that derived from the $225 million gift from the estate of the late Joan Kroc, widow of McDonalds Corporation founder, Ray Kroc.
As for NPR's expenses for the fiscal year 2005, they increased from the previous year by about $16 million.27 Spending on news and information operations increased by about $6.6 million, or 13%, to a total of $56.7 million.
Online Gurus, Google, Heading to Radio?
In 2006, Google, the new dominant company in search and online advertising, took its first glance at radio. In January, it acquired dMarc, a "digital solutions provider" for the radio industry. dMarc is known for facilitating relationships between advertisers and radio stations via an automated advertising platform that streamlines the process. The acquisition cost Google $102 million in cash, though performance-based payments could tack on additional $1 billion over the next three years.28
The benefit to Google reportedly was to create another channel of distribution — namely radio, though it is looking at print newspapers as well — for its online AdWord clients. According to Tim Armstrong, vice president of advertising sales at Google, "We anticipate that this acquisition will bring new ad dollars and accountability to radio by combining Google's expansive network of advertisers with dMarc's talented team and innovative radio advertising technology."29
With dMarc's technology, Google began testing Google Audio Ads, its new radio advertisement service, in December of 2006. The service allows advertisers to target their radio listeners by location, station type, and even the days and times they tune in. At a point when radio advertising revenue is ailing, the sorting and targeting of consumers through Google technology might breathe some life back into radio budgets. But some worry that Google's approach may be too radical. Lew Dickey, chief executive of radio station owner Cumulus Media Inc., told the Wall Street Journal, "…the Google approach…represents the antithesis of value-added selling," or having trained advertising specialists who can offer advertisers solutions based on their experience.