News Investment
News Investment
By the Project for Excellence in Journalism
While the details are sometimes hard to pin down, the evidence suggests that investment in online newsrooms continues to grow.
But it remains less clear how much of that is in what journalists would call original newsgathering, and how much is in the technical side of processing the information and content that is becoming a larger part of the news business.
A clear inventory of how much the news industry is investing in online newsgathering is difficult, as we have noted in previous editions. There is no clear system of how companies split up their accounting. Some organizations still have a handful of technicians under their Web accounts with virtually all newsgathering costs charged to the old media. Others, such as Gannett, now have their newspapers and Web site operations heavily merged.
Still, the data that are available, along with discussions with consultants and professionals in the industry, suggest that the industry has come to recognize that the future depends on the Web — even if exactly how it is financed remains murky.
Personnel Trends
In 2006 many news organization rooted in traditional media announced plans to build up their staffs dedicated to online content. At MSNBC.com, for example, the Web site's staff was expected to increase by 25% in 2006, according to the site's president and publisher.1 That was after years in which the staff was frustrated over the lack of such growth.
There were signs of growth, too, at old-media shops where online operations were added on. At CBSNews.com, staffing grew by over 20% from mid-2005 to the end of 2006, one CBS News executive told the Project.
Figures on staffing for the industry are gradually becoming somewhat more available, but comparisons can be difficult. As with a lot of industry data, how they are collected and counted can vary dramatically from one news outlet to another. Some organizations may count as online staff people who work on both online and old-media content. Others count only those who are dedicated to online news. Still, the available figures provide a baseline with which to work.
At the cable networks, according to reporting by the New York Observer, the online staff numbers vary: 250 at CNN.com, 175 at MSNBC.com, and roughly 100 at FoxNews.com, though those figures were not confirmed by the networks in the article.2
Among newspapers, the total staffing numbers appear to be somewhat smaller, at least according to data compiled by Editor and Publisher magazine in May of 2006. The Washington Post and USA Today, for example, had 75 people each in their Web operations, the article said.3 Those smaller numbers may well be due to the fact that more of the root-based content (print) is easily adapted to online.
The numbers are not usually released in a way that makes it easy to track whether they are growing. But there are signs that, at a time of cutbacks elsewhere in the news business, there is a willingness to invest online. MSNBC.com, for instance, is experiencing staff growth while the rest of NBC is shrinking.
The same may be true in newspapers. According to data from the Newspaper Industry Compensation Survey, released by the Inland Press Association, online editors experienced an 8.1% increase in base pay from 2005 to 2006, and a nearly 9% increase in total direct pay, which includes both salary and incentives. By contrast, salaries for editors on the print side of newspapers increased just 2.58%, down from 2.72% in 2005.4
What is nature of those new jobs? Are they focused on news content or more on technological innovations? Again, that is difficult to determine, but one survey completed under the direction of Associate Prof. Rich Gordon of Northwestern University, with the cooperation of the Online News Association, offers some clues.
The survey of 239 professional members of the ONA, the largest organization of people who work in online journalism, found that more online managers valued content-related skills like copyediting than technology ones like producing audio and video. For example, online news managers identified news judgment (78%) and grammar (70%) as required skills to work in online journalism, while audio (19%) and video (17%) were valued much less, the survey found.5
Survey of online news managers, November-December 2005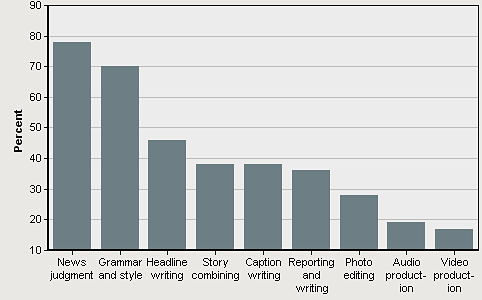 Design Your Own Chart
Source: C. Max Magee, Online News Association
The study also suggests that copyediting skills were mainly being used for production and packaging purposes, rather than in producing original content.