Audience
Audience
By the Project for Excellence in Journalism
How many people were getting news online at the end of 2006?
Answering that remains a challenge. Various survey research organizations measure online audience, but they often use slightly different methods, yielding different conclusions.
Heading into 2007, a close analysis of the data suggests the following conclusions:
Over all, roughly 7 in 10 Americans are now online, but there is conflicting evidence about whether that population is still growing.
The online audience for news in particular has apparently flattened out, and that includes those who consume news online regularly.
There is some evidence that people who are online may be spending more time there.
But the amount of time spent consuming news does not appear to be increasing.
That may vary depending on the kind of news Web site (newspaper sites do appear to be consuming more of people's time).
The Number of Americans Online
By whatever measure one uses, about seven in ten adult Americans — or roughly 141 million people — now use the Internet.1
But it is less clear whether that number — U.S. online penetration — is increasing as it was in the late 1990s and early 2000s or decreasing.
Two major groups of surveys track the number of online users, both under the aegis of the Pew Research Center. But with slightly different methodologies and conducted by different polling organizations, they offer conflicting conclusions.
The Pew Research Center for the People and the Press survey finds that the total number of Americans who report ever going online declined 2 percentage points in 2006, from 69% to 67%.2
The Pew Internet & American Life Project, however, using studies executed for it by Princeton Survey Research Associates, finds the percentage of Americans who reported going online rose 6 percentage points in April 2006 from the same month a year earlier, to 73%.3
1995-2006
Design Your Own Chart
Source: The Pew Research Center for the People and the Press
* qu: Do you ever go online to access the Internet or World Wide Web or to send and receive email?
Online News Use
When it comes to online news in particular, however, there are clearer signs that the size of the audience has leveled off. That was true both for occasional news consumption and for the percentage of those going online for news more frequently.
As of December 2005, 68% of Americans report ever going online for news, down slightly from the last time this question had been asked by the Pew Internet & American Life Project.
Meanwhile, the percentage of Americans going online for news frequently may not be growing either. In last year's annual report, we discussed that while the overall online news audience wasn't growing much, every-day use had increased.
Not so in 2006. The number of Americans who said they go online every day for news dropped 7 points, from 34% in June 2005 to 27% in June 2006, according to the Pew Research Center, sending it back to where was in 2004. When the question was asked slightly differently, did you go online for news yesterday, the numbers were flat, slipping from 24% to 23% over the last two years.4
Finally, one area of online news that continues to grow is in the number of incidental online news consumers, or those who go online for reasons other than news but end up consuming some while online. According to the latest Pew Research Center for the People and the Press survey, the figure increased to 76% in 2006, up from 73% in 2004.5
The growth in incidental use may pinpoint how Web behavior has evolved over the last couple of years. First, the Web has gradually become a part of the working day; thanks to increasing broadband penetration in the workplace, workers log on for the bulk of the day. As part of that, people are multi-tasking more. They may not log on for one specific reason, such as getting news, but use the Web in multiple ways simultaneously. In doing so, they come across news and information from time to time. Thought of as "news grazers," they get news sporadically throughout the day, rather than, say, one hour of devoted news time in the morning or around the dinner hour.
Percent accessing news online ever or yesterday, 2000 to 2006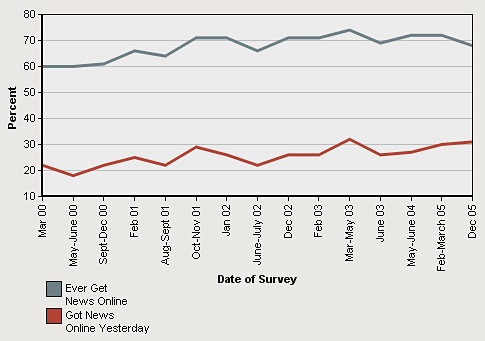 Design Your Own Chart
Source: Pew Internet and American Life Project tracking surveys
Time Spent Online
While there are questions about whether the number of people online has leveled off, there are some signs that the amount of time they spend there may be growing.
Data from the USC Annenberg Digital Future Project show that the number of hours Americans spend online rose in 2006 to an average of 8.9, a full hour more than 2005, an increase of almost 13%.6
But people do not appear to be spending more of their time online getting news.
According to data from the Pew Research Center for the People & the Press, the amount of time Americans spent getting news online "yesterday" did not change from two years earlier. Those who went online for news spent an average of six minutes doing so (far less, incidentally, than other media platforms).
Time Spent With the News "Yesterday"
| | | | | | | | |
| --- | --- | --- | --- | --- | --- | --- | --- |
| Average # of minutes spent | 1994 | 1996 | 1998 | 2000 | 2002 | 2004 | 2006 |
| Watching TV news | | | | | | | |
| Reading a newspaper | | | | | | | |
| Listening to news on radio | | | | | | | |
| Getting news online | | | | | | | |
| Total | | | | | | | |
Source: Pew Research Center for the People & the Press
There is, however, some tracking evidence to suggest that certain kinds of news sites may be faring better than others, in particular the Web sites of newspapers.
According to Nielsen/Net Ratings data compiled for the Newspaper Association of America, visitors to newspaper Web sites, among the most popular news sites each month, spent an average of 42 minutes a month on the sites in the fourth quarter of 2005, an increase of 16% from the previous year. Those data are also reinforced by what individual newspapers privately report about the migration of their readers to the Web.7
If borne out by other data over time, this trend is a double-edged sword with significant ramifications for the newspaper industry. It suggests that the newspaper audience may not be shrinking, something also evident in survey data. But it reinforces the imperative that the Internet model needs to figure out a way to "monetize" those readers. Otherwise the resources available to cover the news may shrink.
Looking Ahead
If the growth in online use has slowed, or even stopped, is that temporary? What do experts expect?
There are several factors that analysts think point to growth for online use generally and news in particular. Among the most important is the continuing spread of high-speed connections. Analysts for years have predicted that since such broadband hookups make the Internet easier to navigate, reliance on the Web will grow.8
And broadband does appear to be spreading. According to the Federal Communications Commission, there was a 33% increase in high-speed subscriptions in 2005, with 50.2 million subscribers by the year's end. DSL, which is typically less expensive than cable, added 5.7 million lines, while cable companies added 4.2 million subscribers.9
Data from Pew Internet & American Life showed broadband adoption at home grew more than 20% in 2006, from 40% of households at the beginning of year to 49% by the end.
And that growth is only expected to continue. One study, from the Leichtman Research Group, a New-Hampshire based media research firm, estimates that by 2010 some 80% of homes will be high-speed, an increase of 33% from 2006 levels.10
But why, then, if broadband penetration is increasing, has online use for news apparently stalled? There are a number of hypotheses, some of them overlapping.
First, interest in news may be declining. The number of people who say they did not check out the news "yesterday," for instance, grew from 9% in 1994 to 19% in 2006, according to the Pew Research Center for the People and the Press.11
Online news consumption may also be undercounted because people don't consider the places they go to be "news" sites. More than half the people said they got campaign news last year from blogs, candidate sites, government Web sites, comedy sites, and interest-group sites, where often they were reading wire stories.12 And that may be even more the case as people move to the next platforms — RSS, podcasts, cell phone, e-mail alerts and more.
Finally, people who get broadband now may behave differently from those who moved to it earlier. Those first adaptors may have been more oriented to news in the first place. The next generation of broadband consumers may not spend as much time online as the earlier group did, especially for news.
The Complementary Nature of Web
Then there is the question of cannibalization, the degree to which using the Web chips away at the number of consumers and the time spent with older media such as television or newspapers.
In one sense, the question of cannibalization of traditional media has been superseded. Heading into 2007, most media companies, even if they may be losing audience and advertising dollars to the Web, are now investing in their own digital components to exist alongside their traditional offline operations. The more relevant question now may be, how can the Web and traditional media work together?
A study released by the Online Publishers Association and conducted by Ball State University's Center for Media Design suggests that the Web has emerged as a partner to television, newspapers and magazines. According to the data, online may actually increase the "reach" of older media when information about a particular topic or advertisement is available both online and offline. Reach is a concept well known in the advertising industry. It represents the total percentage of people who will see a particular advertisement.
Based on observations of 350 people in Muncie, Indiana and Indianapolis, the study's authors concluded that consumers are often using the Web either "consecutively or simultaneously" with different media, including television, radio and newspapers.  Moreover, the study found that the Web actually extends the reach of those media.
"Based on our real-world observations, it is clear that consumers are consistently online even while they're watching TV or listening to the radio," said Pam Horan, president of the Online Publishers Association. "This unique attribute of Web usage means that advertising messages receive a dramatic boost when online is part of the buy."16
That doesn't, of course, alleviate the problem of trying to sell a combined audience to advertisers, or figuring out an economic model that makes the online world pay for itself. To that extent, shifts in where audiences go for news, even if it is inside the same corporate family, matters a great deal. If people turn off NBC to get news on MSNBC.com, the implications for the parent company are enormous. TV is significantly more profitable than the Web, because marketers advertise differently online than on TV, and because users online may or may not click on ads or see them. The same is true if the New York Times sees a print reader migrate to becoming an online user. With that in mind, the issue of replacement, or cannibalization, remains central to plotting the medium's future.
Online News Destinations
The places Americans visit online remain varied and vast in number, but the heaviest use continues to be for more established, traditional sites like those of newspapers and television outlets. Still, there are clearly winners among news sites that are online only, not tied to some legacy media parent. That is especially true of portals, or sites that aggregate material from many different content producers.
Where Users Have 'Ever' Gotten News Online
| | | | |
| --- | --- | --- | --- |
| Percent in each group who have EVER gone to these sites | All Internet Users | Dial-up Internet Users | Broadband Internet Users |
| National TV news site (CNN or MSNBC) | 46 | 40 | 52 |
| Portal (Google, Yahoo) | 39 | 35 | 44 |
| Local daily paper | 32 | 31 | 36 |
| Local TV news site | 31 | 31 | 33 |
| National daily paper | 20 | 17 | 24 |
| Site of radio news organization | 13 | 10 | 16 |
| International news sites (BBC or al Jazeera) | 12 | 9 | 15 |
| News blogs | 9 | 6 | 12 |
| Alternative news organizations | 6 | 5 | 7 |
| Online list serves | 5 | 5 | 5 |
Source: Pew Internet & American Life Project
Meanwhile, when news consumers are asked where they got news "yesterday," a similar pattern emerges.
Where Users Got News "Yesterday"
| | | | |
| --- | --- | --- | --- |
| Percent in each group who YESTERDAY went to these sites | All Internet Users | Dial-up Internet Users | Broadband Internet Users |
| National TV news site (CNN or MSNBC) | | | |
| Portal (Google, Yahoo) | | | |
| Local daily paper | | | |
| Local TV news site | | | |
| National daily paper | | | |
| International news sites (BBC or al Jazeera) | | | |
| News blogs | | | |
| Site of radio news organization | | | |
| Alternative news organizations | | | |
| Online list serves | | | |
Source: Pew Internet & American Life Project
Online and the 2006 Election
While online news consumption may not be growing generally, during the 2006 elections, the Internet did swell as a primary source for political news. According to the Pew Internet Project, 15% of all Americans reported getting news and information about the 2006 elections, more than twice the number (7%) who did so in the previous midterm election of 2002.
The places gaining audience during the campaign varied. The largest number of Americans using the Internet for news said they relied on Web sites of traditional news organizations, such as network and cable TV sites (60%), national newspapers (31%), and news portals such as Google News or Yahoo News (60%), according to a Pew survey. But more than half (53%) also went to blogs, comedy sites, government Web sites, candidate sites, or alternative news sites.21
The 2006 campaign season also witnessed the advent of a distinctly different kind of destination for election-related news: YouTube, the citizen-based video-sharing site founded in February 2005. In January 2007 alone, according to the measuring company comScore, 30 million different Americans visited the site.22
One reason people went to YouTube was to see video of candidates making mistakes. That became so popular that a gaffe at a campaign event could quickly become a social phenomenon and talk-show fodder. The most important example of 2006 may have been the notorious Macaca video, in which Senator George Allen, Republican of Virginia, used what was widely perceived as a racial slur to describe a young man of Indian descent who worked for his opponent. By the time the election ended, more than 300,000 users had viewed the video on YouTube. Allen lost his race, and cost the Republicans control of the Senate, by roughly 9,000 votes.
That was hardly the lone example of YouTube's political juice. Bill Clinton's critique of Fox News drew more than a million views, and the actor Michael J. Fox's pitch against the Republican Jim Talent in the Missouri Senate race for his views on stem cell research generated over two million.
Blogs also were a political draw for the Internet in 2006 — again. Most political blogs do not generate the same audiences as videos, but there is some evidence their readership increases during political campaigns. Tracking data from the Pew Internet & American Life Project showed that the number of Americans who read blogs surged in 2004, when Howard Dean's campaign first made them famous. Readership then leveled off in 2005 only to explode once again in 2006, when another national campaign season was in full swing.23
Among those blog readers, importantly, are the mainstream media talking heads who still shape the political discourse in this country. Howard Kurtz, the media writer for the Washington Post and host of CNN's Reliable Sources, said he read 20 to 25 blogs a day during the campaign.24
Thus it may be no surprise that various campaigns and bloggers began forging close relationships in 2006. In Connecticut, for instance, liberal bloggers were given credit for helping the anti-war cable executive Ned Lamont upset the incumbent, Senator Joe Lieberman, in the Democratic primary, though Lieberman recovered to win the general election as an independent.
Relationships with bloggers sometimes caused friction. In Virginia, a blogger on the payroll of Jim Webb's campaign posted a controversial item linking George Allen with white supremacists, forcing representatives of the Webb campaign to distance themselves from the blogger.
The bigger question may be whether the closeness between some bloggers and campaigns might undermine the blogosophere's appeal. If bloggers are seen as becoming yet a new extension of the establishment, just more partisan spin, might they lose the sense of authenticity they have as a grassroots, citizen form of communication?
Some advocates argue that as long as bloggers are transparent about their interests and allegiances, there should be no concern. "I believe [bloggers] can still be effective if they're clear about their own loyalties and about the various stakeholders in the blog," Bill Mitchell, the online editor at the Poynter Institute in Florida, told PEJ.
The evidence from 2006 suggests that he may be right, but the environment is still clearly evolving.
News Over the Phone
As traditional news companies continue to invest in online media, they are not only looking at the Internet but at other digital media as well. One viewed with growing enthusiasm is cellular phones.
The number of consumers who get news over phones remains small. As of June 2006, just 6% of Americans reported getting news on their cell phones, according to a survey conducted by the Pew Research Center for the People and the Press.25
The audience for TV and video delivered over the phone is even smaller. According to Telephia, which conducts research on communications and new-media markets, there were just 3.7 million mobile TV subscribers in the second quarter of 2006. But the numbers are growing; that figure was up 45% from the first quarter.26
A number of hurdles have to be overcome before mobile news can become a mass medium. First, many cell phones in the United States lack the capability to play video clips, and some cannot show photos. There is also the question of whether consumers will pay for content. Finally, it is not clear how much Americans want to watch video on such a small screen in the first place. When a survey conducted by RBC Capital Markets, an international and corporate bank, asked adults to respond to the statement: "I am not interested in watching TV programs or movies on my handheld device," three quarters (76%) said they agreed.
For the present, news distributed over cell phones appears to be in a largely trial-and-error phase, but its potential as a revenue stream has captured the attention of media companies. As CBS's chief executive, Les Moonves, told the New York Times in February 2006: "Everybody's basically putting their toe in the water. We're all aware how hugely significant this is going to become both culturally and financially in the next couple of years." 27
Things could change quickly. Most cell phone users upgrade their phones every 18 months, according to Cyriac Roeding, vice president of wireless at CBS Interactive. By that timetable, the cell phone market may start exhibiting signs of significant growth toward the end of 2007 and in early 2008. Jupiter Research, for instance, estimates that video over the cell phone will generate over $500 million in revenues by 2010.
Podcasting and RSS
Americans are increasingly getting news in two other ways: podcasting and RSS.
Podcasting involves downloading audio or video onto MP3 players to listen to at a later time. RSS, or Really Simple Syndication, refers to a computer user's subscribing to a Web feed format which then allows the user to check the feed for new content (usually headlines) published by the Web site.28
By late summer 2006, 12% of Internet users had downloaded a podcast, up from 7% the winter before, according to the latest data from the Pew Internet & American Life Project.
Market analysts expect the market to grow rapidly. The Diffusion Group, a research firm that specializes in new media, projects the number of podcast users at roughly 60 million Americans by the end of the decade, or roughly 4 in 10 Internet users, based on their current number.
An even smaller number of Americans have used RSS. An estimated 5% report using RSS aggregators or XML readers to get news and other information, according to survey data from the Pew Internet & American Life Project. Indeed, most people, 88% according to a study conducted by Ad Age in August 2006, have no idea what RSS is.29
Advertisers, however, remain interested in the potential of both podcasting and RSS, though for the moment there is very little evidence much ad money is being spent on either. "While essentially still in nascent form, podcasts offer free audio and video content that is inexpensive to create, easy to access and on a portable platform that has already reached mass distribution," Larry Gerbrandt, general manager and senior vice president of Nielsen Analytics, told Media Week in July. "This exciting new medium has only just begun to stretch its legs." 30