Economics
Economics
By the Project for Excellence in Journalism
It is here, on the question of money, that the future of Internet journalism may really depend.
Increasingly, the evidence suggests the Web is journalism's future. It is where the audiences are moving, especially and most importantly the young. What is not clear is whether the Internet will ever be as profitable as the old media.
If it isn't, most newsrooms may end up much smaller, and spread thinner than they once were. The ability to cover the waterfront of American life may be diminished. The quality of American journalism, and thus of public knowledge, may suffer.
In 2004, Internet journalism moved further toward establishing its basic economic viability.
Online Advertising Revenue
After stunning growth in online advertising during the dot-com boom, the bubble burst in late 2000 and early 2001, then staged a strong and apparently stable recovery. Total Web advertising ended 2003 at just under $7.3 billion, according to figures from Interactive Advertising Bureau.1 And in 2004 that growth appeared to continue.
How much Web advertising would ultimately increase in 2004 – the totals were not complete when this report was finished – varied depending on the source, but nearly all forecasters predicted growth, and most of them healthy growth. Internet Week, a Web site that focuses on the business and technology of the Internet, gathered growth projections for online advertising for 2004 from 14 different market research firms and found that they ranged from as small as 3.2% to as high as 30%. It is difficult to determine why the range would be so great, but the notable finding is that they all predict growth.2
Data is based on projections made by 14 different research companies
Design Your Own Chart
Source: Internet Week, August 13, 2004
Early totals for 2004 suggest that the high-end projections may closer to the mark. One measuring source, Interactive Advertising Bureau and Pricewaterhouse, found that in the third quarter of 2004, Internet advertising revenue increased 35% over the same quarter in 2003.3
Even with the growth, online advertising still has a long way to go. A full year at that second-quarter rate would put annual online revenue at around $10 billion. Broadcast television collected $42 billion in 2003, newspapers $52 billion, and cable $16 billion.4 In all, online ad spending amounted to just 4% of overall ad expenditures for all media in 2003.5
That projected $10 billion, however, has grown from nowhere in barely over a decade, and the projected growth rate outpaces most other media. Jupiter Research's estimate, for instance, that online advertising would grow 27% in 2004 to $8.4 billion, far exceeds projected growth in other media.6
As a further sign of economic health, a study sponsored by Advertising.com shows that "online media continues to have the greatest ad budget expansion plans among marketers, with more than half planning to boost spending in the medium in both 2004 and 2005."7 The boost for 2005 is expected to be smaller than for 2004, perhaps partly due to 2004's being a so-called quadrennial year with extra market activity from the Olympics and presidential elections. Still, the online media constitute the only industry for which a majority of marketing executives say they plan to increase spending.
Projections for 2004 and 2005
Design Your Own Chart
Source: Millward Brown data as reported in Media Post, September 2004
There are no data to suggest that an online site's parent company is the force behind ad spending growth, but media companies have begun making use of their cross-media offerings nonetheless. General Electric's NBC, for example, now pitches an ad package that will include exposure of a company's product not only on NBC's network programming but also on MSNBC.com. According to Mary Paris, director of business development and cross-media sales for MSNBC.com, the number of cross-media packages increased 10% during the 2004 upfront compared to the previous year.8
And all sites are not created equal when it comes to ad spending. Newspapers sites, for example, averaged $17.70 of revenue per print unit of circulation in 2003, a 22% increase. Among Web sites of papers with over 200,000 circulation, though, the average revenue was much higher, $27.10 per unit, a 33% increase.9
Newspaper Company Online Revenues
Looking deeper into the economics of newspaper Web sites can provide a useful yardstick for the economic health of the Web. Newspapers, both national and local, were quick to embrace the Web, partly because of the ease of turning the printed word into the electronic word.
Public newspaper companies, whose financial information is more available than that of private companies, report major growth in their online properties. Over all, for the nine newspaper companies analyzed by Borrell Associates, 2003 online revenue was up 34% from 2002.10
Design Your Own Chart
Source: Borrell Associates, ''What Local Web Sites Earn,'' May 2004
*Includes revenue from non-newspaper related sites, such as television Web site revenues and other Web ventures.
In the first half of 2004, that growth continued, with public-company revenues up anywhere from 21% to 57% over the first two quarters of 2003.11
Data from first six months of 2004.
Design Your Own Chart
Source: Borrell Associates, unpublished data, August 2004
*Gannett figure is based on an estimate.
The Success of Other News Sites
Several specific Web sites offer good examples of steady growth. CBS Market Watch, for example, used rich media advertising to create impressive revenue growth in the third quarter of 2004, increasing 71% to $19.8 million.12 In mid-November, Dow Jones & Company bought MarketWatch for approximately $519 million.13 And in December 2004, the Washington Post Company announced it was buying the Web magazine Slate.14
Other old-line online media players have also matured financially. Salon, for example, has now exceeded 90,000 paid subscribers, according to David Talbot, founder and CEO, and has adopted a "Day Pass" ad program where non-paying readers can gain access to the site after watching an ad. Salon, partly because it is a public company that has to entertain buyout efforts, is also rumored as a potential media acquisition.15
That potential flurry of acquisitions has a few people concerned that the unique, independent feel of news sites like Salon may wane in the wake of a buyout. As Talbot told the Online Journalism Review, "My goal and the goal of the hundreds of other publishers who jumped on Internet publishing in its pioneering days was that we were doing something different and building a new medium that was going to be more freewheeling and more democratic and more spirited than the traditional media business. Unfortunately, most of those visionaries crashed and burned. And Salon is one of the only national independent news sites left…I'm a little bit dismayed that independent news companies have such a hard time on their own."16
Growth Aside, Scale Is Still the Issue
Despite growth, however, Internet revenues continue to make up a very small percentage of total media company revenues. So far, most companies have been willing to invest in and promote their Web sites to be sure they are on top of the latest communication trend. Eventually, though, the sites will probably need to demonstrate their profitability as a company asset.
Figures are for 10 public newspaper companies from January-June 2003 and 2004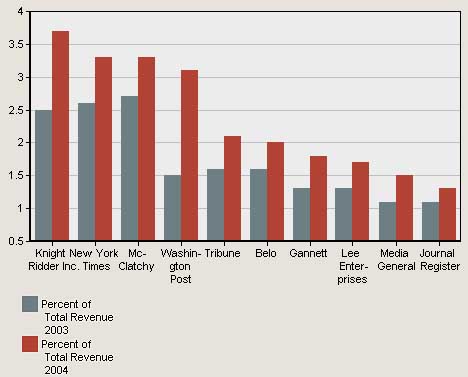 Design Your Own Chart
Source: Borrell Associates, unpublished data, August 2004
Includes Media General Inc., Lee Enterprises Inc., Belo Corp., McClatchy Co., Washington Post Co., Knight Ridder Inc., New York Times Co., Tribune Co., and Gannett Inc. 2004 McClatchy data is an estimate based on company statements.
Online advertising takes three main forms: search ads, display ads, and classified ads.
Search ads are more targeted than display or classified ads because they appear only when a reader has searched for a relevant topic.17 Data from the Interactive Advertising Bureau and Pricewaterhouse Coopers show that use of search ads more than doubled between 2002 and 2003, to 35% of all online ads from 15%.18 And the growth appears to be continuing; as of the second quarter in 2004, they accounted for 40%.19 The growth, and the status of search ads as the most popular type of online revenue, mirror a trend in the online world toward a more targeted, individualized Web experience.
Display ads, also known as ad banners, are less targeted than search ads because their position is not determined by the online viewer's behavior or search criteria. Display ads make up the second-largest percentage of total online spending revenue, but they appear to be on the decline. They accounted for 21% of total 2003 revenue and were at 20% in the second quarter of 2004 -a significant decrease from their 29% share in 2002.20
Classified ads are third as a percentage of total online revenue. In 2003, they made up 17%, and stayed at 17% in the second quarter of 2004. That was a slight increase from 15% in 2002.21
In addition to the three main advertising categories, there are some other sources of revenue online. According to the Interactive Advertising Bureau and Pricewaterhouse Coopers data for the second quarter of 2004, sponsorships accounted for 9% of revenue, rich media 8%, and e-mail, referrals and slotting fees 2% each.22
The figures can differ by type of Web site. No one compiles data on the overall specific percentage of ad revenue that comes from online sites devoted to news, but some figures have been compiled about newspaper sites, and their ad revenues offer clues to the rest of the industry.
Classified advertising, for instance, is far more important to newspapers online than to the Web overall. Newspaper Web sites receive 60% of their revenues from classifieds, according to a survey by Borrell Associates. Of that total, 62% comes from employment ads, along with 19% from both automotive and real estate.23
As revenues increase, online classified advertising is becoming more distinct from its print counterpart. In the past newspapers sold print and online ads in combination. Unlike the trend to bundle broadcast and online ads, though, online newspaper ads are increasingly being sold separately from their parent publication. In early 2004, 69% of the top 232 newspapers offered Web-only help-wanted ads, up from 45% the previous year.24
Those online ads on newspaper sites still bring in far less revenue than their print counterparts. An ad that costs $200 for a month online costs $700 a week in print.25 Nevertheless, given how large a share of newspaper online revenue classified ads make up, the success of newspapers (both print and online) depends on the percentage of advertisers migrating to non-news online sites such as Monster.com, Craigslist or ebay.
It is difficult to pin down exactly how much of an impact non-news online sites have had on newspapers' classified revenue. Monster.com, once the primary threat to newspapers, has seen its classified revenues drop by 21% since 2001 to $424 million, according to Borrell Associates.26 Yet since then, other competitors have emerged as major threats. For example, eBay enjoyed a two-year increase of 72% to over $1 billion in 2003. Some of that shift is due to the popularity of the site itself, and some is probably tied to competition. And Craigslist, offering free classified sites, is a citizen-to-citizen site. It is not a revenue producer but a revenue destroyer.
Some industry insiders argue that a number of newspaper sites have become savvier about how to compete. Sites that offer shopping, classified ads, jobs, cars and other services in addition to news – such as the Lawrence, Kansas, World Journal online, SeattleTimes.com, Roanoke Times online – have done well against competitors like Monster.com. The battle is not over yet. Google and Yahoo are duking it out over the local search market, and that again is threatening newspapers. Some online advocates believe the ultimate threat is free services like Craigslist, which would demolish Monster.com as well as newspapers and turn classifieds into a free service.
Local Online Advertising
Looking specifically at local ads -primarily employment, real estate and automotive – the signs are clearly positive. In the past, local advertisers have been the last to buy into a new medium, waiting to be sure it was solid before investing. That was true of online as well. As of 2002, local ads totaled just $1.7 billion, according to Borrell Associates.27 But the figure rose to $2.1 billion in 2003 and was projected to reach $2.7 billion in 2004.28
The growth of local ad sales appears to have developed fairly evenly across different types of Web sites. In 2003, online newspapers received 39% of all local ad spending, almost identical to 2002. That amounted to $811 million in 2003.29
Meanwhile, AOL, MSN, Google and Yahoo! are estimated to have received 15% of all online spending, or $320 million. Those sites are able to advertise locally, mainly though search-engine listings based on key words, city names or zip codes entered by the user.30
Profitability
Even more difficult than untangling revenues is trying to pin down whether a news Web site is profitable.35
One complication involves accounting procedures. Most online news sites are small divisions of larger operations. But companies differ in how much, if any, of their existing newsgathering and overhead expenses they allocate to their online operations. Some allocate to their online divisions only the additional marginal costs of producing their Web sites. Others share some of their overall newsgathering costs with their online operations, but how much they allocate differs from company to company.
A second complication is that organizations often sell ad packages across different media. Thus profitability depends on how much of that ad package is attributed to the online portion of the deal. By changing the proportion, a parent company can alter the revenue and ultimately the profits.
A third complication is that some newspapers include their non-news-site revenues in their online profits.
In time, indeed, it may make less sense to even try to separate online economics as its own category. Instead, newspaper companies will be multi-platform news providers, as will TV networks and others. (Gannett, for one, already treats the revenues and expenses as part of its newspapers.) News, the nature of the product, may be the category to examine, rather than the delivery system. Yet there is no guarantee that that is how the companies will define it.
With those caveats in mind, 2004 saw a number of sites either reporting profits for the first time or continuing to turn a profit. In the Borrell Associates survey of 463 newspaper sites in 2003, some 83% were reporting profits, with an average margin of 60%.36
Local television news Web sites are not as successful. Revenues were low in 2003 and less than 15% of the sites made a profit, according to surveys of news directors.37
Perhaps the biggest single profitability announcement came from MSNBC.com, which turned a profit in the second quarter of 2004 for the first time since the site launched in 1996. It has remained one of the top three news Web sites for the past few years, with around 20 million unique visitors a month. Much of its success with traffic is owed to its ties with the MSNBC cable network, NBC News, and the MSN network. The profit came from annual revenue of $45 million – a drop in the bucket for its parents, Microsoft and General Electric, but a sizable amount for an online company. Ad revenue came from a variety of sources, with 80% of from 60 different advertisers.38
Online Economic Models
One important question, over time, is whether consumer attitudes toward paid content and toward advertising online will change. AOL's announcement in December 2004 that much of its content would become free has only intensified the discussion. And then in January 2005, Business Week published an article speculating on whether The New York Times online would follow the lead of The Wall Street Journal and begin charging subscription fees.39
There was a time, two generations earlier, when Americans were aghast at the idea of what was then called pay TV. The airwaves were public, and no one should have to pay for television, the argument went. In the 1960s, a ballot measure to explore pay TV failed in California.
In time, with the emergence of cable, an economic model developed that has proven in many ways more durable than broadcast. Cable is bundled by companies that charge consumers a subscription fee, which is passed along to the companies that produce the content. Thus companies like CNN, Fox or Discovery get revenue both from advertising, like broadcasters, and from subscriptions, passed on by the cable companies as fees for their content. At the same time, satellite radio offers another variation – monthly payment, with few ads – though it has yet to turn a profit.
Is some model involving more subscription possible online? Would consumers in time be willing to pay in some form for access to content? People currently pay for online service, much as they do for cable. Most consumers are probably unaware that in one case they are paying just for access and in the other they are also paying also for content.
If the pay-for-content model evolves sufficiently, it could revolutionize the economics of the Web.
Online visitors spent $853 million on paid content during the first two quarters of 2004, an increase of 14% from the same period in 2003 ($748 million), according to the Online Publishers Association. The increase is largely attributed to an increase in music downloads.40
Some financial news sites have been successful in attracting paying subscribers, particularly The Wall Street Journal Online, which reported in October 2004 an increase of over 2% in online subscriptions in that third quarter.41
Major League Baseball has also had success in getting people to pay for subscriptions to receive streaming broadcasts of games.
But even with the surge in dollars spent on paid content, many in the industry are ambivalent about moving from a largely free model. The skeptics feel they can forgo the revenue from subscriptions and reach a larger audience with free content that can create revenue through advertising. Charlie Tillinghast, general manager/publisher of MSNBC.com, a free news site, told CBS Market Watch.com in November 2004, "There's been less pressure to develop a paid model. [But] even if there were, we're not sure that as a general news site, what subscribers would pay for." 42
Indeed, many industry experts think there is a future for broad paid content only if it is deemed "must have" information – The New York Times for the country's intelligentsia and political leaders, for example, or The Wall Street Journal for the business world. So-called-niche media providing information specific to an industry or interest, such as Broadcasting and Cable.com, are also considered viable.
Broadband Technology
One variable that could change the economic potential of the Web is technological. Ever-faster broadband technology may change the way consumers respond to Web advertising, and more video on the Web may change the way ads are presented, in part, by making the Web more like television. When we looked to see if there was growth in high-speed connections as of the first quarter of 2004, there were 17.3 million high-speed Internet customers, up from 12.8 million in the same quarter of 2003.43 Furthermore, July 2004 Nielsen/Net Ratings showed that U.S. broadband penetration was now over half (51%) the American online population. That is up from 38% in July 2003.44
In addition, Yahoo, Google and AOL are reported to be racing to introduce video searching that would facilitate consumption of video on demand and probably further boost broadband penetration as well as rich-media advertising.45
Broadband not only provides online users with faster service, it also allows advertisers to use more sophisticated rich media and streaming video to promote their products. Data from Double Click, a New York-based organization that distributes online ads, shows that the number of rich ads – a combination of animation, video and sound with interactive features -served by the company grew 54% in the first quarter of 2004 from the same period a year earlier.46 Yet for the first three quarters of 2004, DoubleClick said, rich ads remained stagnant as a percentage of all ads distributed.47
Design Your Own Chart
Source: Nielsen/NetRatings, July 2004
Broadband connections include ISDN, cable modems, and DSL; narrowband connections include modem speeds from 14.4K through 56K.
Some are skeptical about the future of broadband growth in the U.S. While the growth in broadband penetration is significant and the country has made great strides in ensuring broadband access among rural and low-income populations, the U.S. is ranked only eleventh in the world in broadband penetration.48 Furthermore, the addition of 1.7 million broadband subscribers in the second quarter of 2004 was less than the number added in any quarter in the previous year, according to Leichtman Research Group, Inc.49 Could this suggest that the explosive broadband growth in the U.S. has peaked? The bigger problem for broadband adoption in the medium term is that the number of dial-up subscribers has been fairly stagnant for the last three years and the overall Internet population isn't growing much any more.
In the end, going into 2005, online economics is improving. Increased portions of the advertising pie, growth in revenues and profits and plans for further investments suggest that companies and advertisers remain intrigued by the possibilities of the new medium. Nonetheless, revenues are still small comparatively, and the online industry will need to prove its competitive value on Wall Street.
Footnotes
1. Interactive Advertising Bureau press release, "Keyword Search Continues Strong, Rich Media Usage Grows." IAB.com, April 21, 2004.
2. "Online Advertising Market: $9.1 Billion in 2004." Internetweek.com, August 13, 2004.
3. Interactive Advertising Bureau press release, "$2.37 Billion Internet Ad Revenue for Q2 2004-Up 42.7 Percent from the Second Quarter 2003." IAB.com, September 20, 2004. Final IAB online ad revenue numbers are available in the spring of each year.
4. VSS News. "VSS Forecasts Solid Growth Across All Communications Sectors: First time in 4 Years," Versonisshuler.com, August 2, 2004.
5. Kris Oser, "Online Ad Spending Up 27%; Growth Twice as Fast as Cable." AdAge.com, July 29, 2004.
6. Ibid. Jupiter projections of a 27% increase for online is on top of $7.3 billion 2003. That compares to 14% growth in cable, 8% in broadcast TV, 7% in radio, 5% in magazines, 5% in newspapers, and 3% in yellow pages. Moreover, AdAge.com projected online's share of advertising to double by 2009 to 7%.
7. Joe Mandese, "Marketers Plan Slower Ad Expansion in '05." Mediapost.com, September 15, 2004.
8. Tobi Elkin, "The Art of the Cross-Media Deal." Mediapost.com, August 23, 2004.
9. Borell Associates, "What Local Web Sites Earn." Published May, 2004, pages 5 and 13.
10. Borell Associates, "What Local Web Sites Earn." Published May, 2004, page 11.
11. Borell Associates memo, "Preparing for 2005 Budgets." August 3, 2004.
12. Mark Glaser, "Hold the Froth: MarketWatch, Slate Sales Signal Online Rebound." OJR.org, November 9, 2004.
13. Andrew Ross Sorkin, "Dow Jones Agrees to Buy MarketWatch." New York Times, November 15, 2004.
14. While no numbers were released publicly, privately sources indicated to the Project that the price was around $15 million.
15. Mark Glaser, "Hold the Froth: MarketWatch, Slate Sales Signal Online Rebound." OJR.org, November 9, 2004.
16. Ibid
17. Contextual ads are sometimes included in search ad categories, sometimes not.
18. Interactive Advertising Bureau press release. "Annual Industry Revenues Grow Nearly 21% as Year Totals Nearly $7.3 Billion," April 21, 2004.
19. Interactive Advertising Bureau press release, "$2.37 Billion Internet Ad Revenue for Q2 2004-Up 42.7 Percent from the Second Quarter 2003." IAB.com, September 20, 2004.
20. Interactive Advertising Bureau press release. "Annual Industry Revenues Grow Nearly 21% as Year Totals Nearly $7.3 Billion," April 21, 2004.
21. Ibid
22. Interactive Advertising Bureau press release, "$2.37 Billion Internet Ad Revenue for Q2 2004-Up 42.7 Percent from the Second Quarter 2003." IAB.com, September 20, 2004.
23. PEJ research and Borell Associates, "What Local Web Sites Earn." Published May, 2004, page 17.
24. Corzen, Inc press release. "Web-only Recruitment Advertising Option Continues to Rise Among Newspapers," February 16, 2004.
25. Ibid.
26. PEJ research and Borell Associates, "What Local Web Sites Earn." Published May, 2004, page 11.
27. PEJ research and Borell Associates, "What Local Web Sites Earn." Published May, 2004, page 6.
28. Ibid.
29. PEJ research and Borell Associates, "What Local Web Sites Earn." Published May, 2004, page 7.
30. PEJ research and Borell Associates, "What Local Web Sites Earn." Published May, 2004, page 9.
31. Ross Fadner, "Survey: Consumers Want More Personalized Online Ads, But Don't Want Identities Known," Media Post.com, September 10, 2004.
32. Joann Loviglio for the Associated Press. "Newspapers riding out complaints over online registration," June 13, 2004.
33. Rachel Metz, "We Don't Need no Stinkin' Login." Wired.com, July 20, 2004.
34. PR Newswire Association, Inc. "Tacoda Launches Online Industry's First Audience-Centric Ad Network; Will Provide National Reach for Behavioral-Targeted Ads," November 15, 2004
35. A profit is defined by the Dictionary of Economics as "the residual share of the product of enterprise accruing to the entrepreneur after all payments for capital (interest), for land (rent), and for labor including management (salaries and wages)." Revenue, on the other hand, is the amount before any payments are made for capital, land, and for labor and management. Harold S. Sloan and Arnold J. Zurcher. Dictionary of Economics. (New York: Barnes &Noble Books, 1970.)
36. Borell Associates, "What Local Web Sites Earn." Published May, 2004, page 18.
37. Borell Associates, "What Local Web Sites Earn." Published May, 2004, page 25.
38. "MSNBC.com reports quarterly profit." MSNBC.com, July 22, 2004.
39. Anthony Bianco, "The Future of the New York Times." Business Week , January 17, 2005. Available online at: http://www.businessweek.com/@@tlPBToQQq@@x7xgA/magazine/content/05_03/b3916001_mz001.htm
40. Online Publishers Association. "Online Paid Content U.S. Market Spending Report." Published November 2004. Available online at: http://www.online-publishers.org/pdf/opa_paid_content_report_nov_04.pdf
41. Stefanie Olsen, "Extra! Wall Street Journal gives away Web content." News.com, October 22, 2004. Available online at: http://news.com.com/Extra+Wall+Street+Journal+gives+away+Web+content/2100-1025_3-5423054.html
42. Bambi Francisco, "The free vs. subscription debate." CBS Market Watch.com, November 16, 2004.
43. National Cable and Telecommunications Association press release. "New Interactive Services Lead Cable's 2004 Activity to Date," July 6, 2004. Available online at: http://www.ncta.com/press/press.cfm?PRid=512&showArticles=ok
44. Joe Mandese, "Broadband Breaks 50% of Mass, Marks a Critical Pass." Mediapost.com, August 19, 2004.
45. Stefanie Olsen, "Striking up digital video search." CNETnews.com, November 29, 2004. Available online at: http://news.com.com/Striking+up+digital+video+search/2100-1032_3-5466491.html?tag=nefd.lede
46. Ann M. Mack, "Rick Media Usage Grows in First Quarter." Adweek.com, May 11, 2004.
47. "DoubleClick's Rich Media Ads Remain Stagnant," Media Post.com, November 11, 2004.
48. Federal Communications Commission (Washington, DC). "Availability of Advanced Telecommunications Capability in the United States." Published September 9, 2004.
49. Tobi Elkin, "Just An Online Minute…Broadband Penetration Slows." MediaPost.com, August 18, 2004