Audience
Audience
By the Project for Excellence in Journalism
As mentioned at the beginning of this chapter, getting hard numbers concerning the audiences of ethnic news outlets is difficult. Many are run by small, locally owned companies, and the populations they serve are often language-specific and small. The 2000 Census, for instance, found there were 11.8 million Asian Americans living in the United States, seemingly enough to spawn a language-based advertising or publication group that might gather data. But when you break that population into its constituent language groups, the numbers don't sound quite so dramatic. The single largest group of Asian Americans in that number was Chinese-Americans with 2.7 million people. Spread across the U.S. and divided into the many dialects of Chinese, the number seems a lot smaller. And an Asian American as counted by the Census may have been here for a year or thirty years, and may have limited English or speak the language as well as or better than the average American. For such reasons, much of the data concerning ethnic-news audiences tend to be anecdotal and scattered.1
As we noted last year, the one exception to this general rule is the Spanish-language media, which have become a more organized entity as the Spanish-speaking population of the U.S. has risen dramatically in the past twenty years. The fact that so many different nations speak Spanish means immigrants from many different countries look to these media for information – not to mention the fact that one of the nations that borders the U.S. speaks Spanish.
In this section will we look at the audience numbers available – national figures and more anecdotal numbers – but also look at why various ethnicities use ethnic media outlets. We will examine which media ethnic populations say they turn to for different kinds of news and when and how often they say they turn to English-language outlets.
As other media see audience declines, the ethnic media appear to be bucking the trend. Even though hard figures are elusive, it seems clear from available data and trends that the numbers here are growing.

Spanish-Language Audience Numbers

The one group of ethnic outlets for which there is large-scale national information is the Spanish-language media. In the past few decades the Hispanic population has grown so much that its media have reached something of a critical mass. And with the growth have come the kinds of things mainstream media organizations have working for them: bigger ownership and ways to buy and sell advertisements on a larger scale than much of the other ethnic media. Those things have, in turn, led to data collection on the Spanish-language audience.
The numbers, as we discussed in last year's report, are almost uniformly up and that trend appeared to be continuing, especially in the print media.2
According to the Latino Print Network, the number of Spanish-language newspapers grew again in 2003, up to 666 overall, 40 of which were dailies. That's up from 652 total and 35 dailies in 2002. And all of that comes at a time when English-language print outlets are struggling.3
1970 – 2003, select years
Design Your Own Chart
Source: Kirk Whisler & Latino Print Network, Carlsbad, Calif.
*Includes daily, weekly and less-than-weekly newspapers
1970 – 2003, select years
Design Your Own Chart
Source: Kirk Whisler & Latino Print Network, Carlsbad, CA
Not surprisingly circulation also grew in 2003, according to the Latino Print Network, with overall and daily-paper figures showing solid increases. Overall circulation grew to 17.5 million, up 7.7% from 16.2 million in 2002. Among dailies, circulation climbed 6.4% to 1.8 million from 1.7 million in 2002.4
1970 – 2003, select years
Design Your Own Chart
Source: Kirk Whisler & Latino Print Network, Carlsbad, CA
* Includes daily, weekly and less-than-weekly newspapers
Those figures sound almost too good to be true, and to some degree they may be. Some experts note that even adding together the circulations of the three largest Spanish-language dailies – La Opinion, El Diario/La Prenza and New York's Hoy – the combined circulation is only about 225,000.5 Of the 40 dailies for which the Latino Print Network collects data, only 14 have their number audited. The same is true for only 76 of the 304 weeklies represented in these numbers, and for only 8 of the 322 papers that publish less than once a week.6
And it's impossible to discuss these papers without at least mentioning how the circulation scandals that hit the newspaper industry struck a major player in the Spanish-language press. Hoy, published by the Tribune Company, was found to be vastly exaggerating its circulation. Between September 1999 and September 2003, the paper claimed circulation increases that took it from under 40,000 to over 90,000.7 But an investigation by its competitor El Diario and the Audit Bureau of Circulations found that the paper was not properly reporting copies that were not sold. Unread papers were in some cases found in bulk in city garbage bins.
Still, looking at the sheer number of Spanish-language newspapers, it is hard to argue that they're not doing well. The fact that new papers, and new dailies, are being launched so often suggests that people believe there is plenty of audience to be tapped. And the way ownership in this market is changing – involving the entry of bigger companies with deeper pockets -it's clear that major players see not just increasing growth but also growth potential in this audience.
In Spanish-language television, the figures for audience are less dramatic and more anecdotal, but no less indicative of growth. In particular Univision, the biggest network, reported some important milestones in 2004.
Univision is now the fifth-largest network in the U.S.8, and its news programs often attract more viewers than Fox News or CNN. The July sweeps in 2004 showed a flurry of good news for the network. Univision's stations in Los Angeles, Houston, Dallas, Phoenix, Fresno and Bakersfield all overtook even their English-language competitors in prime time among adults 18-49 to finish first over all. The network's early evening local news in Los Angeles, Chicago, Miami, Houston, Dallas (tie), San Francisco (tie), Fresno, Phoenix and Bakersfield all finished atop the ratings heap among adults 18-34. And in Los Angeles, Miami, Phoenix and Fresno, Univision's early evening local news broadcasts averaged more 18-49 year-olds than the local ABC, CBS and NBC broadcasts combined.9
There are, of course, some reasons for those numbers beyond population growth. There simply aren't as many program choices for Spanish speakers as there are for those who speak English, so Spanish-speaking viewers are pushed toward Hispanic television. But the growth is nonetheless impressive and suggests that those audiences have not peaked yet.
And 2004-2005 estimated numbers from Nielsen reveal just how large the potential audiences are. The "Spanish Dominant" number is a subset of the "Hispanic" number.
| | | | |
| --- | --- | --- | --- |
| Market Name | Total TV Households | Hispanic HH | Spanish Dominant HH* |
| New York | 7,355,710 | 1,206,336 | 621,263 |
| Los Angeles | 5,431,140 | 1,716,240 | 830,660 |
| Chicago | 3,417,330 | 434,000 | 200,074 |
| San Francisco | 2,359,870 | 332,741 | 137,755 |
| Dallas | 2,292,760 | 389,769 | 198,392 |
| Houston | 1,902,810 | 454,771 | 220,018 |
| Phoenix | 1,596,950 | 293,838 | 133,402 |
| Miami | 1,496,810 | 603,214 | 378,818 |
| Denver | 1,401,760 | 194,844 | 78,522 |
| Sacramento | 1,315,030 | 220,925 | 83,509 |
| San Diego | 1,025,730 | 216,429 | 90,034 |
| San Antonio | 748,950 | 348,261 | 89,851 |
| Albuquerque | 649,680 | 222,840 | 47,091 |
| Austin | 567,870 | 120,388 | 44,062 |
| Fresno | 527,770 | 203,719 | 80,265 |
| Tucson | 417,070 | 109,272 | 37,371 |
| Harlingen | 312,300 | 256,710 | 119,113 |
| El Paso | 288,440 | 207,388 | 88,969 |
| Corpus Christi | 193,290 | 100,897 | 17,757 |
Estimates as of January 1, 2005, and used throughout the 2004-2005 television season, which started on October 2, 2005.
* Homes where only Spanish or mostly Spanish is spoken, using all Persons 2 years or older in the home.
With those numbers in mind one can only wonder how long it will be before others enter the Spanish-language television market. Right now Univision, an independent company, and Telemundo, owned by NBC, dominate it. We'll discuss that more in the Economics/Ownership section.

Other Ethnic Audience Numbers
Beyond the Spanish-language media, reliable figures are harder to gather. Television and radio stations are so small they are not normally the subjects of audits or data collection. The print outlets are almost never audited. In New York, the Independent Press Association does publish self-reported numbers from publications in the city, and even time trends, but those numbers cover only one city and there is no real way to vouch for the figures that the IPA is given. Even Hoy, the Tribune-owned Spanish-language daily that actually had Audit Bureau-certified circulation numbers, turned out to be inflating its figures by tens of thousands.
Still, the IPA's director, Abby Scher, writes in her study of the New York ethnic press, "One City, Many Voices," that the growth is hard to miss:
"The press in almost all of these [fastest-growing ethnic] communities has grown. The number of Polish and Russian language newspapers is easily a third greater than a decade ago, and the circulation of the Chinese language dailies has steadily grown to a combined circulation of half a million from about 170,000 in 1990. The Indian community, which had one newspaper 25 years ago, now has at least eight with a combined circulation 212,300. On the right newsstand, you will find a Jamaican (Weekly Gleaner or Weekly Star), Guyanese (Guyana Monitor), Dominican (El Nacional), four Filipino, and an Ecuadoran (Ecuador News) newspaper written and published in the metropolitan area. Unnoticed by outsiders, the African press of New York has grown astronomically to five magazines and three newspapers."10
Along with those figures there are the numbers from the Editor and Publisher Yearbook, which lists 134 ethnic weeklies.11 But getting national numbers on, say, the Pakistani press or the Vietnamese press is still not likely to be easy for the foreseeable future.
There are some signs that the ethnic presses are getting more interested in gathering reliable data on themselves. Along with the Spanish-language media, the black press, one of the longest-surviving ethnic media in the U.S., is undergoing a large-scale audit by an organization in Chicago called the Ethnic Print Media Group (EPMG). It will include 90 papers in 65 markets across 27 states, according to the company. The audit will include readership studies of individual markets and data from interviews with more than 13,000 African Americans. Final results of the study are to be released in the spring of 2005 and will be included in our report next year.12
Ethnic Audiences' Media Preferences
Perhaps more interesting than the growth of the ethnic audience is how the many and various ethnic groups use the media outlets at their disposal. Here again there are no hard-and-fast data showing which groups choose which outlets and for what reasons. Looking at the available information on ethnic groups in California from 2004, though, it appears that some Spanish-speakers there prefer their broadcast media in their native language more than people of other ethnicities do. This supports findings from 2003, based on a slightly different question.13
Survey of 1,845 Californians
Design Your Own Chart
Source: New California Media/Bendixen & Associates, Public Opinion Survey of California Ethnic Groups About Criminal Justice Issues'' January 2004
*Question: Do you prefer television news in ___ or in English?
Survey of 1,845 Californians
Design Your Own Chart
Source: New California Media/Bendixen & Associates, Public Opinion Survey of California Ethnic Groups About Criminal Justice Issues'' January 2004
*Question: Do you mostly prefer talk radio in ___ or in English?
In 2004, 78% of California Latinos said they preferred to get their television news in their native language, compared to 46% for Asians and Middle Easterners. The numbers for talk radio were similar – 71% "native language" for Latinos, 44% for Asians and Middle Easterners. But the numbers are not too surprising. California has large numbers of Spanish-speakers and, not coincidentally, many Hispanic media outlets, particularly television and radio. It stands to reason the "foreign language" responses to the question would be higher for Latinos; it's a matter of availability. The number of options for Hindi or Farsi speakers, for example, is much more limited; it's logical that Asian and Middle Eastern groups would necessarily have to rely more heavily on English-language outlets. But something interesting happens when one changes the question to ask about newspapers.14
Survey of 1,845 Californians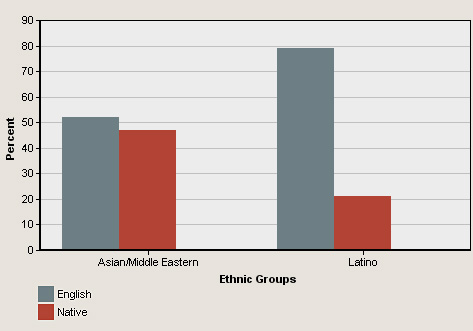 Design Your Own Chart
Source: New California Media/Bendixen & Associates, Public Opinion Survey of California Ethnic Groups About Criminal Justice Issues'' January 2004
*Question: Do you prefer newspapers in ____ or in English?
For newspapers, the "English" preference goes much higher for the Latinos questioned – the numbers are almost reversed from the TV and radio questions. The numbers for Asians and Middle Easterners on newspapers look almost unchanged from their percentages on the TV and radio questions.
The question is why Latinos so heavily prefer Spanish for television but choose English for print news? It may be that many Latinos are proficient in both languages and simply find that the spoken word is more comforting to hear in Spanish. It may be that newspapers, which can be read at one's own speed, are easier for new English-speakers to follow than TV or radio, where language can fly by. It may be that Spanish-speakers prefer English-language newspapers as a way to learn the language. And finally there is the fact that Spanish-language newspapers are not readily available even for most California Latinos. Whatever the reason, the numbers, interestingly, even out between ethnic groups when the question is asked about the Internet, a medium that combines the delivery systems of print and broadcast.
A Survey of 1,845 Californians
Design Your Own Chart
Source: New California Media/Bendixen & Associates, Public Opinion Survey of California Ethnic Groups About Criminal Justice Issues'' January 2004
* Question: Do you prefer the internet in ___ or in English?
The findings on Internet use are particularly interesting because the medium allows users to essentially tap into news outlets from around the world in native tongues and dialects. Immigrants from distant homelands can read news from other continents without the filter of western editors. Yet it doesn't seem that this pattern for the Internet is being mined to its full potential.
There may be several explanations for why the Internet is predominantly used as an English-language medium. One possible factor is economic. Many immigrants are still new to the country and may not yet be able to afford Internet connections, particularly the high-speed connections needed to download graphic-heavy pages. Another is cultural. Some immigrants may not have extensive experience on the Web and may not yet be comfortable navigating their way around it. It is also possible that immigrants who have always read a newspaper or listened to the radio simply aren't interested in reading words on a computer screen.

A Note on Latino Media Use
Data show that the media preferences of the fast-growing Latino segment of the population shift dramatically over time. A survey of 1,316 Latinos by the Pew Hispanic Center found that the percentage who prefer Spanish-language media drops from 38% among first-generation (foreign-born) Americans to only 3% by the second generation. By the third generation, the number is down to 2%. The number of Latinos who prefer getting their media in both languages drops less sharply, though, from 50% among the first-generation to 43% among second-generation. And even in the third generation 25% of American Latinos prefer their media in both languages. Over all, the appeal of the Spanish-language media appears to be somewhat limited, or at least a short-term phenomenon. But those second- and third-generation Latinos who were surveyed came of age in time when there were more limited Spanish-language media offerings.15
Following Political News
As the California recall campaign rolled along in 2003, USC's Annenberg Institute, The Pew Hispanic Center and New California Media, a nationwide association of over 700 ethnic media organizations, surveyed registered voters in different ethnic groups to see where they were going for their campaign news.
Survey of 1,608 Californians
Design Your Own Chart
Source: New California Media/Bendixen & Associates,
* Question: What media do you depend upon the most for news that shapes your voting decisions?
Black respondents chose local TV far more than any other group for election news – 45% of respondents. The next-highest local TV group was Hispanics at 38%. Over all, local TV was the number one answer across ethnic groups.16
Asian respondents turned to national broadcast TV much more than any other group, with 25% saying they relied on those networks' news teams – that number was nine percentage points higher than any other group. Asians also were less likely to turn to newspapers than other groups – only 8% of Asians polled said they relied on newspapers, and the other groups all wound up at 15 or 16%. How applicable those findings are to a national election is not known.17
Summary
Despite the lack of solid numbers, some amount of growth among the ethnic media audience in the U.S. seems clear. The self-reported numbers for Spanish-language newspapers show steady increases, as do some of the audited figures for Spanish-language papers like La Opinion in Los Angeles, which saw a 1.1% increase in circulation in the beginning of 2004. And on television, Spanish-language broadcasts, particularly on Univision, had a banner year in 2004.18
But there may be some troubling signs ahead, particularly in the Hispanic press. Some figures show that while Spanish-speakers prefer TV and radio in their native language, their choice in print is English-language sources. What's more, as competition is growing among Spanish-language print outlets, some newspapers are actually seeing a flattening of circulation or even declines. Miami's El Nuevo Herald saw flat circulation numbers in the beginning of 2004 compared to the year before, and El Diario/LaPrensa in New York actually witnessed a 4.9% decline to 50,019 in circulation.19 Across town, El Diario's competition, Hoy, is nowhere near as healthy as its stratospheric circulation numbers initially suggested. In the circulation scandal, which also hit Newsday – both papers are owned by the Tribune Company – Hoy reportedly threw extra copies of the paper into dumpsters to reduce return-copy numbers. The final adjusted audits show Hoy with a daily New York circulation of 49,681,20 numbers that put it in the same league as El Diario, but far below what Hoy had suggested its numbers were. What's more, Tribune, which once saw Hoy as a brand it could sell in the three largest U.S. cities – New York, Chicago and Los Angeles – has backed off its large-scale plans somewhat. Hoy is still available in all three cities, but is sold only in New York. Elsewhere it is given away.
Other ethnic media in the country, meanwhile, continue to be difficult to measure. The evidence of growth among them is anecdotal – hampered by dispersed audiences and small owners that have trouble attracting larger-scale advertising.
Footnotes
1. U.S. Bureau of Census, "The Asian Populaton: 2000,"www.census.gov/prod/2002pubs/c2kbr01-16.pdf
2. These figures are largely self-reported and are not audited. Some even within the Spanish-language media community question how reliable they are. Despite the problems they remain the best figures available.
3. "Hispanic Publications in 2003," Kirk Whisler & Latino Print Network, Carlsbad. CA.
4. Ibid.
5. Audit Bureau of Circulations audit reports for La Opinion, Hoy and El Diario.
6. "Hispanic Publications in 2003," Kirk Whisler & Latino Print Network, Carlsbad. CA.
7. "Audit Bureau of Circulation," report from El Diario, p. 6
8. Univision press materials. www.univision.net/corp/en/univision.jsp
9. "Univision Primetime Novela Audience Soars 23% over Course of Third Quarter," Univsion press release, October 7, 2004.
10. "Many Voices, One City, the IPA Guide to the Ethnic Press of New York City." Independent Press Association – New York, p. 6.
11. Editor and Publisher Yearbook.
12. Shields, Michael, "Ethnic Print Media Group to Audit Community Newspapers," Media Daily News, www.mediapost.com/dtls_dsp_news.cfm?newsID=275347
13. In 2002, the question asked of various ethnic groups was "Do you mostly watch television in ___?" with the ethnic group's particular language used to fill in the blank.
14. "Public Opinion Survey of California Ethnic Groups About Criminal Justice Issues," News California Media, p. 39.
15. Suro, Roberto, "Changing Channels and Crisscrossing Cultures: A Survey of Latinos on the News Media," April 2004, p.4.
16. USC Annenberg Institute for Justice and Journalism, Pew Hispanic Center, New California Media, "The 2003 Multilingual Survey of California Voters," September 25, 2003, p.9.
17. Ibid.
18. Fitzgerald, Mark, Editor and Publisher, "A Circulation Chill on the Hot Latino Press," May 9, 2004.
19. Ibid.
20. Audit Bureau of Circulations audit report for Hoy.