News Investment
News Investment
How much are companies investing in their online newsgathering? In one sense, online is the area where news companies are devoting much of their real R&D for the future. This is due to changes in technology, including the increase in the number of homes with broadband and mobile devices, such as cell phones and personal digital assistants (PDAs) that can receive video. People in the industry agree that these developments will transform online news from a chiefly text-based medium to one that is more multi-media. Such a transformation requires both new equipment and reporters able to make use of this equipment.1 Companies are devoting more efforts to getting multimedia into their sites. They are also doing a great deal to modify their product for mobile consumption. The day is near when one can watch Peter Jennings deliver the news on demand on his or her telephone.
The question of how much to invest online is one of culture, vision and guts. And different companies are taking clearly different approaches.
There are competing pressures at play that might lead one to risk more investment or make one hesitant. On the one hand, the Web is the one part of the news business that is clearly growing. That would seem to demand investment to get ahead of the curve.
On the other hand, since many Web sites are just beginning to make a profit, it may be difficult to siphon still more money and employees into something that is not yet a major contributor to the bottom line and may indeed weaken margins. Many companies, such as MSNBC.com, have not added the kind of staffing they imagined they would a few years ago. In December 2001, when the site was experiencing a huge surge in traffic following the September 11 attacks, the site actually shed 9 percent of its staff of 200.2 Much of this was due to the sustained advertising downturn that hit media outlets at the time. The site also had to deal with a phenomenon that television counterparts have not had to deal with: A larger audience requires more money in order to acquire the necessary bandwidth. Post-September 11 streaming video cost the site an extra million dollars.3
Cuts at MSNBC.com did not cease, and the staff shrank to 170 in October 2002 and then to around 155 in 2003 .Moreover, the site has revised its prediction of profitability in 2001 to 2005.4 The former head of the news site, Merrill Brown, left the company reportedly in frustration over cutbacks in June 2002. On the cable side, MSNBC has had difficulty making a profit, leading Microsoft's chief executive, Steve Ballmer, to say that had he known the difficulties that would be faced, he likely would not have made the investment.5
Washingtonpost.com does not release the number of its online employees, but taps the resources of all its reporters in varying degrees, from daily bloggers like media writer Howard Kurtz to simply posting stories from the newspaper. New York Times Digital reported employing 240 people at the start of 2003, though they didn't break down how many of those were engaged in newsgathering.6
In July 2003, The Washington Post set out to take advantage of its Web site's large daytime traffic by creating a department of continuous news in its newsroom. With a staff of five, this department is charged with getting Post stories on the Web as early as possible. The hope is that this investment will lead to less of a reliance on wire stories during the day and more exposure for Post content in the national, and even international, news arena.7
The emphasis on getting articles submitted earlier for the Web has met some resistance. The Post's ombudsman, Michael Getler, wondered whether the time spent getting earlier versions of an article in for the Web would reduce the time editors and reporters have to get the story ready for the paper. Post staffers were anxious that the new department would lead to an increased workload with no increase in pay. As online news gains in both exposure and moneymaking potential, questions arise whether news organizations will invest in new staff members or require more from those already there.8
What does a site do when it does not have the resources of a newspaper at its disposal? The online arm of CBS News shows another path. It started out in 1998 as CBS.com and was larger than it is now; like other media outlets, it was forced to make cuts in 2000 and 2001. In May 2002, CBSNews.com was formed with a smaller staff focusing on delivering around-the-clock news.9 Instead of focusing on creating original reporting (like The Post), CBSNews.com uses a lot of repackaged content and interactive features. As a result, the site is making money, according to Michael Sims, the director of news and operations.10
Data gathered about local television and radio Web sites suggest that the number of people involved in these operations remains fairly modest.
Average Staffing of Local TV News Web Sites
Survey of news directors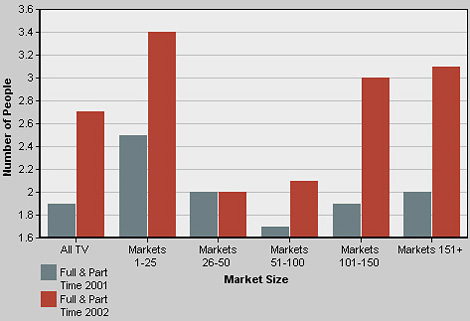 Design Your Own Chart
Source: RTNDA/Ball State Survey by Bob Papper, RTNDA Communicator, April 2003
The response rate for the survey was 62.6 percent, or 890 of the total 1,421 stations.
Average Staffing of Local Radio News Web Sites
Survey of news directors
Design Your Own Chart
Source: RTNDA/Ball State Survey by Bob Papper, RTNDA Communicator, April 2003
The number of people involved in these operations remains small. Local television stations in 2002 averaged just 2.7 members devoted to their online operations. While this is a significant increase from 2001 – 40%, in fact – the total number is modest.11
In addition, roughly half are current staff members who now devote part of their time to the Web site, rather than being full-time Web employees.
The bigger stations (in markets 1-25) have more resources, but they are not putting many more people to the task than are smaller-market stations. The average staff size for stations in the top 25 markets was 3.4, while the smallest-market stations still averaged three staff members. The difference seems to be that in the largest markets most of the staff is full-time while in the smallest the bulk is part-time.
Radio is also investing online, although to a lesser extent. In 2002, local radio stations, according to the survey data, averaged 2.1 staff members for online operations, an increase of 15 percent over 2001. The major markets by far had the most staffers, over 4 on average, while the smaller markets had fewer than 2 staffers.12
Given that the economics of online news are still evolving, it is probably not surprising to find differences in how much companies are investing in their online newsgathering. But the histories of other mediums, particularly newspapers and television, suggest that when a medium faces audience growth but an advertising downturn, the long-term winners may be those that invest in hard times to build audience loyalty, even at the cost of short-term profitability.
Whether this means, for example, that The Washington Post, which is building, will overtake MSNBC.com, which was cutting, is not so simple. One is a national online entity. The other is associated with a newspaper that circulates largely only in the Washington, D.C., metropolitan area and whose attempt at a print national product, The Washington Post Weekly, never succeeded. The picture is made more complicated by joint ventures and other agreements: The Post and MSNBC.com have one of those shared agreements. But experience would suggest that in an evolving medium, those with the long-term approach and vision will prevail, and early leaders can easily disappear.
Footnotes
1. Vivek Shankar, "Reporters, readers get new ways to publish and read," Online News Association, November 15, 2003. Online at http://www.journalists.org/2003conference/news/000040.html.
2."MSNBC.com tightens purse strings," Reuters, December 3, 2001. Available online at: http://news.com.com/2102-1023_3-276528.html
3. "NBC Announces layoffs at MSNBC.com" Marketplace, Minnesota Public Radio, December 4, 2001
4. "8 Journalists laid off at struggling MSNBC.COM," Seattle Times, October 11, 2002
5. John Lafayette, "What does Microsoft really think of the MSNBC venture?" Cable World, October 7, 2002, p. 13
6. New York Times SEC 10-K Filing, February 24, 2003.
7. Steve Outing, "News is Really Continuous at washingtonpost.com," Editor and Publisher Online, January 14, 2004
8. Michael Getler, "Department of Continuous News," Washington Post, July 31, 2003, p. B6; Erik Wemple, "Web Spinning," Washington City Paper, July 4, 2003
9. Private conversation with CBS Employee
10. Mark Glaser, "CBSNews.com trying to win as tortoise in online news race," Online Journalism Review, August 12, 2003
11. These statistics comes from RTNDA surveys of news directors conducted in 2001 and 2002 by Prof. Bob Papper of Ball State University. The response rate for television was 62.6 percent (890 total). For radio, 272 news directors from 445 radio stations responded.
RTNDA is the world's largest professional organization devoted exclusively to electronic journalism. RTNDA represents local and network news executives in broadcasting, cable and other electronic media in more than 30 countries. RTNDF promotes excellence in electronic journalism through research, education and training for news professionals and journalism students. The Foundation's work is supported by contributions from foundations, corporations, members of the Radio-Television News Directors Association, and other individuals. Its code of ethics can be found here: http://www.rtnda.org/ethics/coe.shtml.
12. Help from other staffers also increased from 2001 to 2002 for both local television and radio. In local television, three out of ten news directors (29 percent) said other staff members helped Web content in 2002, up 8 percent from the previous year. Also, the percentage of staffers helping with the Web tended to increase as the markets got smaller.
Radio Web sites are even more likely to be operated through the multitasking of current employees. Radio news directors were more than twice as likely (64 percent) as their television counterparts to report that other staffers help with the Web. That is a 14 percent increase from 2001.