News Investment
News Investment
Data on how much news magazines are spending in the newsroom are hard to come by. These expenditures are private and figures gathered by the Magazine Publishers Association are proprietary and reserved only for members of the organization. There is, though, information available through news coverage of the industry, particularly the layoffs that came with the recent recession as well as bureau closings and reduced research departments.
The most direct way of analyzing what's going on in magazine newsrooms may be simply looking at the staff boxes of the individual magazines that list the employees from the editor in chief, to correspondents to copy editors to operations staff. Looking at the staffs of Time and Newsweek, the two more popular magazines out of the big three, there are some noticeable trends:
The overall staffing of Time and Newsweek has fallen, sharply in the case of Newsweek, with the biggest hits in the lower ranks of the editorial staff.
The number of foreign and domestic bureaus has fallen, with Newsweek again experiencing the larger decline.
The number of contributors and contributing editors has increased at both magazines.
Shrinking Staffs
The push for smaller staffs has impacted all sectors of the media, not only magazines. Since 1983 there have been technological changes in the editorial and production departments that allow similar results with a smaller staff. Pagination and layout are markedly different now than they were even 10 years ago. Those processes are more streamlined and require fewer people. And the Internet has made monitoring of what's happening in remote parts of the country or the world easier, with local news outlets available on a daily basis by simply typing in a Web address.
Even taking all those changes into account, however, the staffs of the two biggest news magazines have declined significantly in the past 20 years. Time's staff has been reduced15 percent, according to its own staff box. Newsweek, meanwhile, has had a whopping 50 percent cut, according to its box. There has without question been some shuffling of names and job titles in these staff boxes. Nevertheless, overall declines are clearly evident.
Time and Newsweek select years 1983 – 2003
Design Your Own Chart
Project for Excellence in Journalism from magazine staff boxes
Where have the changes come? The staff boxes are more top-heavy than they were in 1983, with the biggest cuts coming in mid-to-lower-range positions. In those 20 years, Time dissolved its "reporter-researcher" position, an entry-level post involving fact-checking. Research now sits at the bottom of the masthead under the title "research center." Instead, Time has created new titles such as "reporters," and "writer-reporters."
Research is the area that has taken the biggest hit at Newsweek as well, where their version of reporter-researchers, "editorial assistants," has been sharply scaled back. In 1983 there were 76 editorial assistants and senior editorial assistants in Newsweek's staff box. In 2003 there were 18. More mid-level positions have also been trimmed at Newsweek. In 1983 there were 62 people who fell into the categories of associate or general editor in the staff box. In 2003 there were 22.
In part, the move away from research was due to the advent of the Internet and the ease of doing research from each reporter's computer terminal. In the mid-90s, for instance, as the Internet became more accessible and Web browsers made it easier to use, Newsweek used buyouts to essentially scrap its research department.
Another change is in the way bylines now read. In 1983 stories in Time and Newsweek generally had no byline and, instead, a string of contributing names on the end of each piece. By 1993, top-of-the-story bylines appeared on most pieces and in 2003 even Newsweek's side-bar boxes have bylines. This suggests a couple of things. First, as news magazines became less focused on telling readers what happened and more concerned with providing a "take" on the events of the week, they also wanted to give more prominence to the "voice" of the correspondents. One way of doing this is to draw attention with top-of-the story bylines. It also suggests that there is less reporting from individuals in the field, though this seems less true of Time than Newsweek. Most of Time's news stories still have "reported by" tags at the end. Newsweek's are more often the work of a single writer who one assumes also did the reporting.
Fewer Bureaus
Another manifestation of the change in how Time and Newsweek operate is the reduction in bureaus around the country and the world. The number of bureaus has dropped for each, though again more in the case of Newsweek than Time. But even more significant is the drop in the number of correspondents in those bureaus.
Time and Newsweek select years 1983 – 2003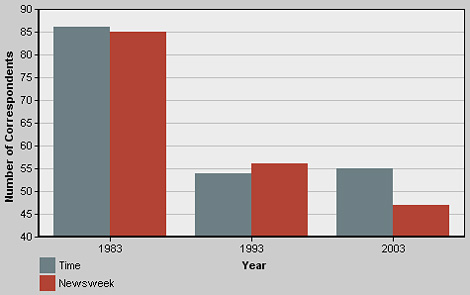 Design Your Own Chart
Project for Excellence in Journalism from magazine staff boxes
Time and Newsweek select years 1983 – 2003
Design Your Own Chart
Project for Excellence in Journalism from magazine staff boxes
Together, the drops show again how news-gathering and original reporting have become less and less of the news magazine mission. Newsweek's bureaus have fallen from 29 in 1983 to 20 today.1 Time's have declined from 33 to 24.2 Bureau staffs have seen even steeper cuts. Time's national and international bureau correspondents have decreased from 86 in 1983 to 55 in 2003. Newsweek's have gone from 85 to 47 over the same period.
Contributors
The one section of the staff box that has seen growth over the past 20 years is the area devoted to contributors. Contributors are appealing for a couple of reasons. One is that it can be a less expensive way to employ journalists, as contributors do not normally receive the same benefit packages as full-time employees. In addition, people can be brought in when need arises. Contributors allow magazines to staff up when issues arise and yet be relatively lean overall. Another appeal is that contributors often bring instant name recognition – and perhaps more authority – to the narrative.
In the magazine industry as a whole, working with freelancers or contributors is commonplace. In fact, many magazines in other genres don't have any staff writers. Editors simply have a stable of contributors they turn to when they need an assignment filled.
But news magazines for many years were the exception. Quick turn-around times that were set by breaking news made the freelance model largely unworkable for the Time or Newsweek. Today, however, news magazines have found a way to adapt this structure and use a mix of contributors and staff.
Time's "contributors" are a hodge-podge of people, but many are specialists who work for other media organizations – well-known names, some from other Time Warner companies. Some of the names on Time's list include CNN's medical editor, Dr. Sanjay Gupta; a CNN senior analyst, Jeff Greenfield, cartoonist Gary Trudeau and newspaper columnist Molly Ivins. Newsweek's approach is different. Its smaller group of "contributing editors" is largely a mix of the magazine's columnists and former staffers who have been moved into the contributors category. Some of the names on Newsweek's list include columnists George Will and Jane Bryant Quinn as well as a former religion writer, Ken Woodward, and Washington correspondent Eleanor Clift.
As staff cuts, specialization and planned issues increase at the big news magazines, the contributors lists are likely to increase as well. They are easier to add financially than staffers and their instant expertise and name recognition they bring fits in with the news magazines' continuing move away from being heavily reported and anonymously written.
In fact, it is likely that all three trends will continue in the coming years as computers and the Internet make people power less needed in the publication of the news magazines – particularly in their current form. News magazines may never be like other types of books, where freelancers and contributors dominate. But as time goes by, they will likely move more and more in that direction
Footnotes
1. Newsweek staff boxes October 3, 1983 and July 14, 2003
2.Time staff boxes October 3, 1983 and April 28, 2003